In Vitro Methods of Assessing Protein Quality for Poultry
Department of Animal and Poultry Science, University of Saskatchewan, Saskatoon, SK S7N5A8, Canada
*
Authors to whom correspondence should be addressed.
Animals 2020, 10(4), 551; https://doi.org/10.3390/ani10040551 (registering DOI)
Received: 12 February 2020 / Revised: 17 March 2020 / Accepted: 17 March 2020 / Published: 25 March 2020
Simple Summary
Over the years, broiler chickens have been selected for rapid growth which makes them very efficient at depositing body protein in a short period of time. This is important since the broiler sector is expected to contribute to the growing global demand for poultry meat. In light of this, the quality of proteins fed to poultry is becoming more important. The concept of protein nutrition is based on the sequential process through which proteins are digested, and the amino acids are absorbed and become available for metabolic processes. The nutritional quality of protein ingredients for poultry is based on their amino acid bioavailability. Animal and plant ingredients are the main sources of protein used in poultry diets and they vary in digestibility and amino acid composition. Although in vivo digestibility assays for poultry are available, they are expensive and time consuming to conduct. In vivo digestibility assays are the optimum tools for characterizing protein sources to be used in commercial production, but it is not always practical to conduct these assays in commercial settings. Commercial production, therefore, relies on the use of other assays such as in vitro assays to evaluate the quality of protein sources.
Protein quality assessment of feed ingredients for poultry is often achieved using in vitro or in vivo testing. In vivo methods can be expensive and time consuming. Protein quality can also be evaluated using less expensive and time consuming chemical methods, termed in vitro. These techniques are used to improve the user's efficiency when dealing with large sample numbers, and some mimic the physiological and chemical characteristics of the animal digestive system to which the ingredient will be fed. The pepsin digestibility test is the in vitro method of choice for quick evaluation of protein sample during quality control and in most research settings. Even though the pepsin digestibility test uses enzymes to liberate the amino acids from the protein, it does not mimic normal in vivo digestive conditions. The results obtained with this method may be misleading if the samples tested contain fats or carbohydrates which they often do. Multi-enzyme tests have been proposed to overcome the problem encountered when using the pepsin digestibility test. These tests use a combination of enzymes in one or multiple steps customized to simulate the digestive process of the animal. Multi enzyme assays can predict animal digestibility, but any inherent biological properties of the ingredients on the animal digestive tract will be lost.
View Full-Text
►

▼

Show Figures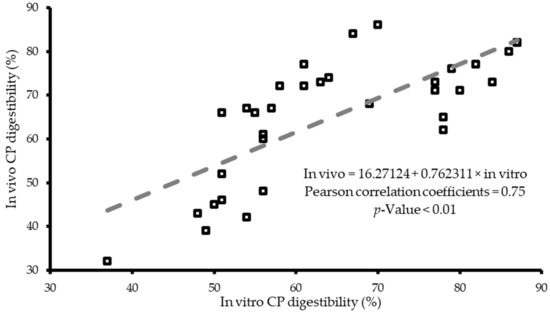 Figure 1
This is an open access article distributed under the
Creative Commons Attribution License
which permits unrestricted use, distribution, and reproduction in any medium, provided the original work is properly cited
Note that from the first issue of 2016, MDPI journals use article numbers instead of page numbers. See further details
here
.