Validation of a New Resource-Efficient Feeding System for Fattening Pigs Using Increased Crude Fiber Concentrations in Diets: Feed Intake and Ammonia Emissions
1
Institute of Agricultural Engineering, University of Bonn, 53115 Bonn, Germany
2
Institute for Animal Nutrition, University of Veterinary Medicine Hanover, Foundation, 30173 Hanover, Germany
3
Clinic for Swine and Small Ruminants, Forensic Medicine and Ambulatory Service, University of Veterinary Medicine Hanover, Foundation, 30173 Hanover, Germany
4
Hoelscher + Leuschner GmbH and Co. KG, 48488 Emsbueren, Germany
*
Authors to whom correspondence should be addressed.
†
These authors contributed equally to this work.
Received: 14 February 2020 / Revised: 9 March 2020 / Accepted: 13 March 2020 / Published: 16 March 2020
Simple Summary
The feeding of fattening pigs and its associated ammonia emissions are current core problems in social debate that affects climate change and sustainability. Feeding methods offer great potential to increase animal welfare and sustainability, and negative impacts on the environment can be reduced. Fattening pigs differ in their performance potential and in their nutrient requirements. A high feed intake capacity can lead to luxury consumption. Diets rich in crude fiber should prevent excess feed intake and cause better nitrogen fixation by microorganisms in the animals' large intestines. In a pig fattening farm, it was investigated whether and how diets rich in crude fiber can influence feed intake and ammonia emissions. The animals were divided into feeding groups according to their presumed performance potential by ultrasound examinations. Therein, body compositions were evaluated, and feed intake capacity and body weight were automatically recorded. The aim of the study was to enable adapted feeding of the animals by regarding their individual differences in body composition and performance potential. Roughage-based diets had significant influence on feed intake and did not increase ammonia emissions. Based on the results of this study a performance-based control of the feed intake should be made possible.
The housing of fattening pigs, their feeding, and the emissions associated with this process are subjects of criticism. In order to reduce emissions and ensure resource efficiency, new paths must be taken; animals must be fed closer to their actual needs. In a pig fattening farm, 655 animals were grouped according their body weight and their body composition, consisting of weight and muscle-fat-ratio, which was determined by ultrasound examinations. The influence of different concentrations of triticale whole plant silage (WPS) (from 2.5% to 10%) on the feed intake capacity (3.88 kg to 2.71 kg (88% dry matter (DM))) of each group and the ability to control it was determined. Ammonia emissions were measured and the pens floor pollution was assessed. The animals could be distinguished significantly from each other by ultrasound examinations. The crude fiber influenced the level of daily feed intake. Ammonia emissions were not negatively influenced and could be partly reduced. There was no negative impact on surface contamination due to the increased use of crude fiber. The amount of daily feed intake was controlled by crude fiber rich diets. If these findings are adapted to certain types of pigs, a reduction of emissions and an increased resource efficiency can be expected.
View Full-Text
►

▼

Show Figures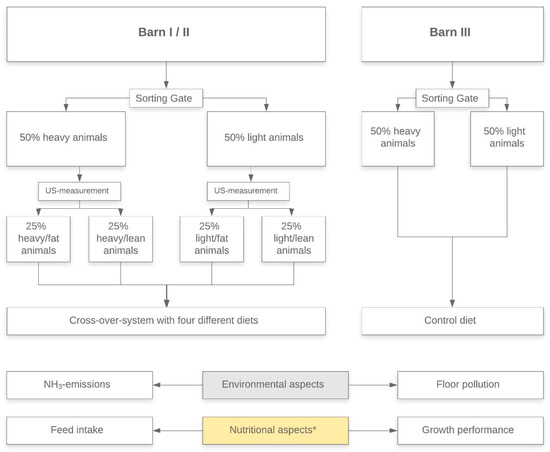 Figure 1
This is an open access article distributed under the
Creative Commons Attribution License
which permits unrestricted use, distribution, and reproduction in any medium, provided the original work is properly cited

MDPI and ACS Style
Lengling, A.; Reckels, B.; Schwennen, C.; Hölscher, R.; Waldmann, K.-H.; Visscher, C.; Büscher, W. Validation of a New Resource-Efficient Feeding System for Fattening Pigs Using Increased Crude Fiber Concentrations in Diets: Feed Intake and Ammonia Emissions. Animals 2020, 10, 497.
Show more citation formats
Show less citations formats
Note that from the first issue of 2016, MDPI journals use article numbers instead of page numbers. See further details
here
.