Effect of Accumulation of Heavy Metals in the Red Fox Intestine on the Prevalence of Its Intestinal Parasites
1
Department of Food Analysis and Chemistry, Tomas Bata University in Zlin, 760 01 Zlin, Czech Republic
2
Infrastructure Department, Mendel University in Brno, 61300 Brno, Czech Republic
3
Department of Morphology, Physiology and Animal Genetics, Mendel University in Brno, 61300 Brno, Czech Republic
4
Institute for Teacher Training, Constantine the Philosopher University in Nitra, 949 74 Nitra, Slovakia
5
Department of Microelectronics, Brno University of Technology, 616 00 Brno, Czech Republic
*
Author to whom correspondence should be addressed.
Received: 19 November 2019 / Revised: 16 February 2020 / Accepted: 19 February 2020 / Published: 21 February 2020
(This article belongs to the Section
Wildlife
)
Simple Summary
Heavy metal pollution of environmental ecosystems has become rather a significant factor in assessing them, as heavy metals can significantly influence animal health. The objective of this study was to examine a possible association between contents of selected heavy metals such as cadmium, copper, lead, chrome, zinc, and manganese in intestines of foxes and between prevalence of fox intestinal parasites. The association was not fully proven. On the contrary, sensitivity of parasites to cadmium was demonstrated; with increasing cadmium content in the intestine of the host, prevalence of parasites decreased to zero. No parasites were found in the intestine, when concentration of accumulated cadmium exceeded the level of 0.05 milligrams per kilogram, which represents the limit for meat (excluding offal) of bovine animals, sheep, pig, and poultry according to the Regulation (EU) No. 488/2014 amending the Regulation (EC) No. 1881/2006). Thus, even cadmium content below the above limit showed an impact on parasite biodiversity.
The aim of this study was (i) to compare levels of accumulated heavy metals in the fox intestines with and without parasites. Moreover, our research also dealt with (ii) examination of the relationship between heavy metal content in fox intestines and between the presence of fox intestinal parasites. The intestines of 34 hunter-killed foxes were dissected to detect the occurrence of parasites. In 15 intestinal samples, parasitic intestinal helminths were found. Heavy metal content in small intestine tissue and in parasites was determined using atomic absorption spectrometry (AAS). The prevalence of parasites was significantly dependent on Cd content in the host's small intestine (
p
< 0.01). To conclude, the authors suggest that parasites are sensitive to Cd levels; their prevalence in the intestines of the fox host decreases to zero with increasing Cd content.
View Full-Text
►

▼

Show Figures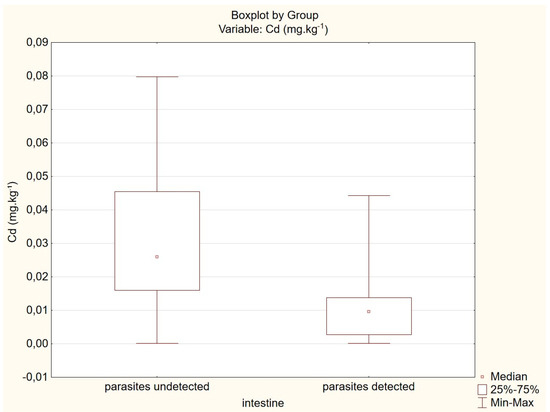 Figure 1
This is an open access article distributed under the
Creative Commons Attribution License
which permits unrestricted use, distribution, and reproduction in any medium, provided the original work is properly cited

MDPI and ACS Style
Borkovcova, M.; Fiser, V.; Bednarova, M.; Havlicek, Z.; Adámková, A.; Mlcek, J.; Jurikova, T.; Balla, S.; Adámek, M. Effect of Accumulation of Heavy Metals in the Red Fox Intestine on the Prevalence of Its Intestinal Parasites. Animals 2020, 10, 343.
Show more citation formats
Show less citations formats
Note that from the first issue of 2016, MDPI journals use article numbers instead of page numbers. See further details
here
.