Effects of
Urtica cannabina

to

Leymus chinensis

Ratios on Ruminal Microorganisms and Fiber Degradation In Vitro

1

College of Animal Science and Technology, Yangzhou University, Yangzhou, Jiangsu 225009, China

2

Department of Biosciences, COMSATS University Islamabad, Park Road, Islamabad 45550, Pakistan

3

Institute of Grassland Science, Chinese Academy of Agricultural Sciences, Huhehote 010010, Inner Mongolia, China

*

Author to whom correspondence should be addressed.

Received: 19 January 2020 / Revised: 15 February 2020 / Accepted: 18 February 2020 / Published: 20 February 2020
Simple Summary
Urtica cannabina is an unconventional forage crop that has a wide distribution in northern parts of China and is rich in nutritional values. It has a considerable practical significance in cases of shortage of quality forage, such as Leymus chinensis, which is used for the growth and production of ruminants. Our study found that proper addition ratios of U. cannabina and L. chinensis can increase the fiber digestibility by modulating the rumen microbial community in vitro. We also suggest that proper addition of U. cannabina and L. chinensis ratios may be one of the nutritional strategies that can improve the digestion and absorption performance of fiber feedstuff and potentially alleviate the shortage of quality forage for ruminants.
The study was conducted in vitro to investigate the effects of different ratios of
Urtica cannabina
and
Leymus chinensis
on fiber microstructure and digestibility in ruminal fluid. The experiment was divided into five groups based on the
U. cannabina/L. chinensis
ratios: A (0:100), B (30:70), C (50:50), D (70:30), and E (100:0). The culture medium was collected at 0, 1, 3, 6, 12, and 24 h. The results showed that: (1) in vitro crude protein degradability (IVCPD) was higher in group A, whereas in vitro neutral detergent fiber degradability (IVNDFD) was higher in group C (
p
< 0.05); (2) protozoa count was increased from 1 h to 3 h and decreased afterwards, with significant differences observed in several genera (
p
< 0.05); (3) microbial crude protein (MCP) contents at 1, 3, 6, and 24 h were higher in groups A and C (
p
< 0.05); (4) the basic tissue of
U. cannabina
was gradually degraded. At 24h, the secondary xylem vessel structure was observed in groups B and C, but not in groups D and E. In summary, there was higher neutral detergent fiber (NDF) digestibility, higher rumen MCP contents, and lower protozoa count, showing the significance of the 50:50 ratio for microbial growth and fiber digestibility.
View Full-Text
►

▼

Show Figures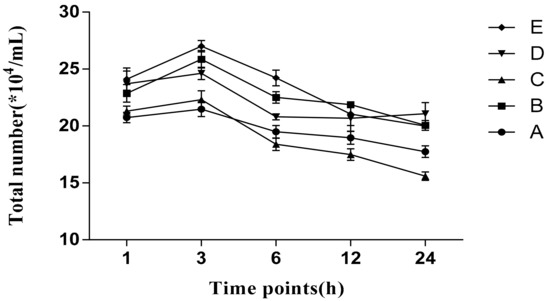 Figure 1
This is an open access article distributed under the
Creative Commons Attribution License
which permits unrestricted use, distribution, and reproduction in any medium, provided the original work is properly cited

MDPI and ACS Style
Zhang, Z.; Wang, S.; Wang, M.; Shahzad, K.; Zhang, X.; Qi, R.; Shi, L. Effects of Urtica cannabina to Leymus chinensis Ratios on Ruminal Microorganisms and Fiber Degradation In Vitro. Animals 2020, 10, 335.
Show more citation formats
Show less citations formats
Note that from the first issue of 2016, MDPI journals use article numbers instead of page numbers. See further details
here
.