Genetic Characterization of Piroplasms in Donkeys and Horses from Nigeria
1
Department of Veterinary Pathology, University of Abuja, Abuja 900001, Nigeria
2
Koret School of Veterinary Medicine, The Hebrew University of Jerusalem, Rehovot 7610001, Israel
3
Division of Parasitology, Kimron Veterinary Institute, Bet Dagan 50250, Israel
4
African Institute of One Health Research and Diagnostics, Abuja 900001, Nigeria
5
United Nations Children Fund, Yola 640101, Nigeria
6
Department of Veterinary Public Health and Preventive Medicine, University of Abuja, Abuja 900001, Nigeria
*
Author to whom correspondence should be addressed.
†
These authors contributed equally to this work.
Received: 22 January 2020 / Revised: 6 February 2020 / Accepted: 15 February 2020 / Published: 18 February 2020
Simple Summary
Theileria equi and Babesia caballi are blood-parasites of horses and donkeys that are transmitted by ticks and may cause severe clinical illness. Many infected animals are carriers of parasites without showing signs of disease and, thus, pose a risk of transmission. Nigeria is a major passageway in animal import, export and transport within Africa. This movement of animals may play a key role in the spread of parasites. The aim of this study was to characterize these parasites that infect both horses and donkeys in Nigeria. Blood was collected from horses and draught-donkeys at two separately-owned farms in northern Nigeria. Infection with T. equi was detected in both donkeys and horses, with four of the five known genotypes present in Africa. Infection with a single genotype of B. caballi was detected in donkeys. Our results suggest that donkeys may be an important reservoir of these parasites. The high diversity of T. equi supports the hypothesis that animal transport through Nigeria may contribute to the spread of parasites to and from other countries in the region.
Equine piroplasmosis (EP) is a tick-borne disease of equids, caused by the two haemoprotozoal parasites:
Theileria equi
and
Babesia caballi
. Nigeria constitutes a major crossroads of animal transport in West Africa and may serve as a factor in EP dissemination in the region. The study aim was to characterize EP parasites in donkeys and horses in northern Nigeria using a molecular approach. Blood was collected from 57 donkeys and 47 horses. EP infection was detected and characterized by polymerase chain reaction (PCR). Twenty five donkeys (43.8%) were infected with
T. equi
, five (8.8%) with
B. caballi
, three (5.3%) with dual infections. Four horses (8.5%) were infected by
T. equi
and none by
B. caballi
. Four of the five known
T. equi 18S rRNA
genotypes (A, B, C and D) were identified.
Theileria equi ema-1
and
ema-2
genes were amplified in only 2 and 10 samples, respectively, showing no genetic variation. All
B. caballi
isolates were classified as
rap-1
genotype A1. Twenty-two (42.3%) of the donkeys were positive for anti-
T. equi
antibodies and 29 (55.8%) were positive for anti-
B. caballi
antibodies, using immunofluorescence antibody test (IFAT). The study results demonstrate high genetic variation within
T. equi
parasites, suggesting that donkeys may be reservoirs of EP parasites in West Africa.
View Full-Text
►

▼

Show Figures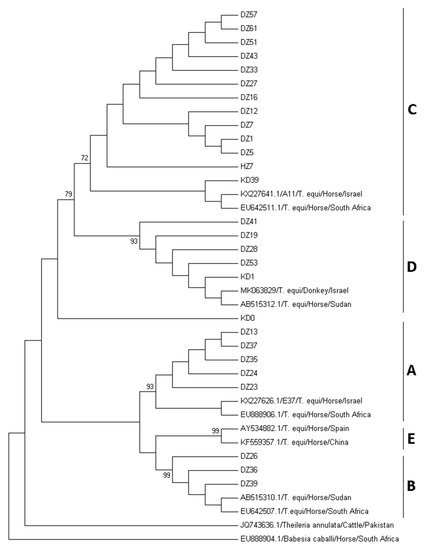 Figure 1
This is an open access article distributed under the
Creative Commons Attribution License
which permits unrestricted use, distribution, and reproduction in any medium, provided the original work is properly cited

MDPI and ACS Style
Sunday Idoko, I.; Tirosh-Levy, S.; Leszkowicz Mazuz, M.; Mohammed Adam, B.; Sikiti Garba, B.; Wesley Nafarnda, D.; Steinman, A. Genetic Characterization of Piroplasms in Donkeys and Horses from Nigeria. Animals 2020, 10, 324.
Show more citation formats
Show less citations formats
Note that from the first issue of 2016, MDPI journals use article numbers instead of page numbers. See further details
here
.