Pain and Problem Behavior in Cats and Dogs
1
Animal Behavior, Cognition & Welfare Group, University of Lincoln, Lincoln LN6 7DL, UK
2
Behavior Medicine Department, Centre vétérinaire DMV, Montréal, QC H8T 3R2, Canada
3
Department of Clinical Sciences, North Carolina State University College of Veterinary Medicine, Raleigh, NC 27606, USA
4
Veterinary Behavior Consultant, Sainte-Anne-de-Bellevue, QC H9X0A6, Canada
5
Langford Veterinary Services, University of Bristol, Langford BS40 5DU, UK
6
North Toronto Veterinary Behavior Specialty Clinic, Thornhill, ON L3T 2K9, Canada
7
Department of Clinical Studies, School of Veterinary Medicine, University of Pennsylvania, 3900 Delancey Street, Philadelphia, PA 19104, USA
8
Animal Behavior Services, Lincoln Land Animal Clinic, Jacksonville, IL 62650, USA
9
Insight Animal Behavior Services, P.C., 815 W. Randolph St., Chicago, IL 60607, USA
10
1217 Wildfern Way, Greely, ON K4P-1R4, Canada
11
Department of Animal and Avian Sciences, University of Maryland, College Park, Maryland, MD 20742, USA
12
Ars Veterinaria Hospital. Carrer dels Cavallers, 37, 08034 Barcelona, Spain
13
Animal Behavior Clinic of New Jersey, 240 Humphrey St, Englewood, NJ 07631, USA
*
Author to whom correspondence should be addressed.
Received: 18 December 2019
/
Revised: 10 February 2020
/
Accepted: 10 February 2020
/
Published: 18 February 2020
Simple Summary
The potential role of pain in problem behavior is widely acknowledged, but there seems to be a lack of reporting of this issue. It is difficult to present definitive evidence concerning the breadth of the problem given the individuality of problem behavior. In this commentary, we present evidence from our own caseloads to illustrate the scale and the nature of the issue with a view to increasing awareness of the problem by veterinarians, non-veterinary behaviorists, and owners. Among the referral caseloads of several of the authors, the prevalence in recent years ranges from 28–82%, and many of these conditions can be suspected from close observation of the patient. While the actual mechanism underpinning the association between pain and problem behavior may never be known in a given case, we suggest the relationship between the problem behavior and pain can be classified into one of four categories: the presenting complaint is a direct manifestation of pain; unidentified pain is underpinning secondary concerns within the initial behavior problem; there is an exacerbation of one or more signs of problem behavior as a result of pain; or adjunctive behavioral signs are associated with pain. We conclude that, in general, it is better for veterinarians to treat suspected pain first rather than consider its significance only when the animal does not respond to behavior therapy.
We argue that there is currently an under-reporting of the ways in which pain can be associated with problem behavior, which is seriously limiting the recognition of this welfare problem. A review of the caseloads of 100 recent dog cases of several authors indicates that a conservative estimate of around a third of referred cases involve some form of painful condition, and in some instances, the figure may be nearly 80%. The relationship is often complex but always logical. Musculoskeletal but also painful gastro-intestinal and dermatological conditions are commonly recognized as significant to the animal's problem behavior. The potential importance of clinical abnormalities such as an unusual gait or unexplained behavioral signs should not be dismissed by clinicians in general practice, even when they are common within a given breed. In general, it is argued that clinicians should err on the side of caution when there is a suspicion that a patient could be in pain by carefully evaluating the patient's response to trial analgesia, even if a specific physical lesion has not been identified.
View Full-Text
►

▼

Show Figures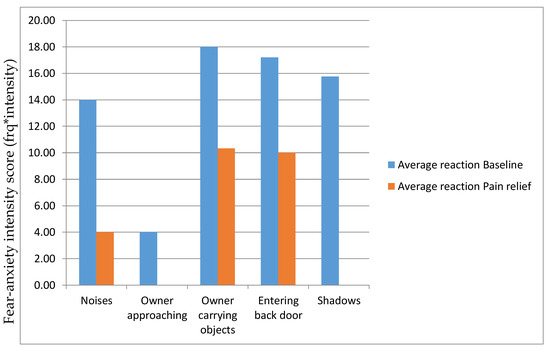 Figure 1
This is an open access article distributed under the
Creative Commons Attribution License
which permits unrestricted use, distribution, and reproduction in any medium, provided the original work is properly cited.

MDPI and ACS Style
Mills, D.S.; Demontigny-Bédard, I.; Gruen, M.; Klinck, M.P.; McPeake, K.J.; Barcelos, A.M.; Hewison, L.; Van Haevermaet, H.; Denenberg, S.; Hauser, H.; Koch, C.; Ballantyne, K.; Wilson, C.; Mathkari, C.V.; Pounder, J.; Garcia, E.; Darder, P.; Fatjó, J.; Levine, E. Pain and Problem Behavior in Cats and Dogs. Animals 2020, 10, 318. https://doi.org/10.3390/ani10020318
AMA Style
Mills DS, Demontigny-Bédard I, Gruen M, Klinck MP, McPeake KJ, Barcelos AM, Hewison L, Van Haevermaet H, Denenberg S, Hauser H, Koch C, Ballantyne K, Wilson C, Mathkari CV, Pounder J, Garcia E, Darder P, Fatjó J, Levine E. Pain and Problem Behavior in Cats and Dogs. Animals. 2020; 10(2):318. https://doi.org/10.3390/ani10020318
Chicago/Turabian Style
Mills, Daniel S., Isabelle Demontigny-Bédard, Margaret Gruen, Mary P. Klinck, Kevin J. McPeake, Ana Maria Barcelos, Lynn Hewison, Himara Van Haevermaet, Sagi Denenberg, Hagar Hauser, Colleen Koch, Kelly Ballantyne, Colleen Wilson, Chirantana V Mathkari, Julia Pounder, Elena Garcia, Patrícia Darder, Jaume Fatjó, and Emily Levine. 2020. "Pain and Problem Behavior in Cats and Dogs" Animals 10, no. 2: 318. https://doi.org/10.3390/ani10020318
Note that from the first issue of 2016, MDPI journals use article numbers instead of page numbers. See further details
here
.