Equid Assessment, Research and Scoping (EARS): The Development and Implementation of a New Equid Welfare Assessment and Monitoring Tool
The Donkey Sanctuary, Sidmouth, Devon, EX10 0NU, UK
*
Author to whom correspondence should be addressed.
Received: 24 December 2019 / Revised: 7 February 2020 / Accepted: 10 February 2020 / Published: 13 February 2020
Simple Summary
Animal welfare is a global concern which receives close public scrutiny. Numerous non-profit and non-governmental organisations exist to address problems relating to poor animal welfare, but there are multiple challenges surrounding how animal welfare is measured and recorded. We focus on the specific challenges around assessing equid welfare worldwide, and identify how stakeholders in this field of work are often unable to collaborate or pool resources due to differences in the welfare assessment tools they use. There is a need for a single welfare assessment tool which can be used across multiple contexts, yet which can yield comparable datasets to coordinate the approach to, and understanding of, global equid welfare. In response, we developed the Equid Assessment, Research and Scoping (EARS) tool which builds upon previously validated techniques, but extends them in a new framework which is applicable to multiple contexts. We have developed nine protocols, based upon 19 welfare indicators, and we describe the process of development here. We present the results from field-trialling three of the most frequently used protocols during the course of our work, assessing equids globally in farms and working environments, and equids on sanctuaries and properties in the UK and Europe. We found that the tool offered an easy and relatively quick way of collecting welfare data across multiple contexts, and propose that if developed further, it could be adopted by other organisations working to assess, understand and improve equid welfare worldwide.
The assessment of animal welfare poses numerous challenges, yet an emerging approach is the consolidation of existing knowledge into new frameworks which can offer standardised approaches to welfare assessment across a variety of contexts. Multiple tools exist for measuring the welfare of equids, but such tools have typically been developed for specific contexts. There is no 'one size fits all' which means that resulting datasets are generally non-comparable, creating a barrier to knowledge-sharing and collaboration between the many organisations working to improve equid welfare around the globe. To address this, we developed the Equid Assessment, Research and Scoping (EARS) tool, which incorporates pre-existing validated welfare assessment methods alongside new welfare indicators to deliver a larger and more comprehensive series of welfare indicators than currently exists, creating a single resource that can be used to assess equid welfare in any context. We field-trialled three welfare assessment protocols within the EARS tool, and applied these to welfare assessment of equids in a variety of contexts across nineteen countries. The EARS tool proved a useful, versatile and rapid method for collecting welfare assessment data and we collected 7464 welfare assessments in a period of fifteen months. We evaluate the EARS tool and provide ideas for future development.
View Full-Text
►

▼

Show Figures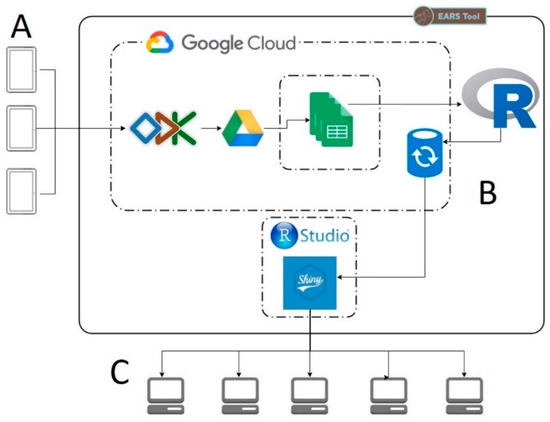 Figure 1
This is an open access article distributed under the
Creative Commons Attribution License
which permits unrestricted use, distribution, and reproduction in any medium, provided the original work is properly cited

MDPI and ACS Style
Raw, Z.; Rodrigues, J.B.; Rickards, K.; Ryding, J.; Norris, S.L.; Judge, A.; Kubasiewicz, L.M.; Watson, T.L.; Little, H.; Hart, B.; Sullivan, R.; Garrett, C.; Burden, F.A. Equid Assessment, Research and Scoping (EARS): The Development and Implementation of a New Equid Welfare Assessment and Monitoring Tool. Animals 2020, 10, 297.
Show more citation formats
Show less citations formats
Note that from the first issue of 2016, MDPI journals use article numbers instead of page numbers. See further details
here
.