Application of
Campylobacter jejuni

Phages: Challenges and Perspectives

1

Institute of Veterinary Medicine, Agricultural University of Georgia, 0159 Tbilisi, Georgia

2

Institute of Entomology, Agricultural University of Georgia, 0159 Tbilisi, Georgia

3

Institute of Medical Microbiology, University Medical Center Göttingen, 37075 Göttingen, Germany

*

Author to whom correspondence should be addressed.

Received: 11 January 2020 / Revised: 3 February 2020 / Accepted: 7 February 2020 / Published: 11 February 2020

(This article belongs to the Section

Poultry

)
Simple Summary
Campylobacter jejuni is a zoonotic bacterial pathogen found in abundance, e.g., in raw poultry. C. jejuni is part of the avian gut microbiome, causing no harm to birds. When birds are slaughtered, the bacterium is released from the intestines and contaminates the meat. Cross-contaminated foods processed in parallel to the meat cause diarrhea in humans and in rare cases may cause post-infectious complications like arthritis and paralysis of peripheral nerves. Illnesses caused by C. jejuni have been on the rise in both developed and developing countries. At the same time, C. jejuni has acquired resistance to important antibiotics, which further complicates therapeutic approaches. To decrease the Campylobacter load on chicken carcasses, chemical or thermal treatment can be used. However, this may change the taste or affect the appearance of chicken meat. Alternative treatments include application of probiotics active against C. jejuni to live chickens or the use of bacteriophages (viruses killing bacteria) to decrease Campylobacter in the guts of live chickens prior to killing. This article discusses phage-based applications already in use against other bacterial pathogens and specifically highlights the challenges associated with the use of Campylobacter phages, emphasizing the ways to overcome these challenges based on the existing research.
Bacteriophages (phages) are the most abundant and diverse biological entities in the biosphere. Due to the rise of multi-drug resistant bacterial strains during the past decade, phages are currently experiencing a renewed interest. Bacteriophages and their derivatives are being actively researched for their potential in the medical and biotechnology fields. Phage applications targeting pathogenic food-borne bacteria are currently being utilized for decontamination and therapy of live farm animals and as a biocontrol measure at the post-harvest level. For this indication, the United States Food and Drug Administration (FDA) has approved several phage products targeting
Listeria
sp.,
Salmonella
sp. and
Escherichia
coli.
Phage-based applications against
Campylobacter
jejuni
could potentially be used in ways similar to those against
Salmonella
sp. and
Listeria
sp.; however, only very few
Campylobacter
phage products have been approved anywhere to date. The research on
Campylobacter
phages conducted thus far indicates that highly diverse subpopulations of
C
.
jejuni
as well as phage isolation and enrichment procedures influence the specificity and efficacy of
Campylobacter
phages. This review paper emphasizes conclusions from previous findings instrumental in facilitating isolation of
Campylobacter
phages and improving specificity and efficacy of the isolates.
►

▼

Show Figures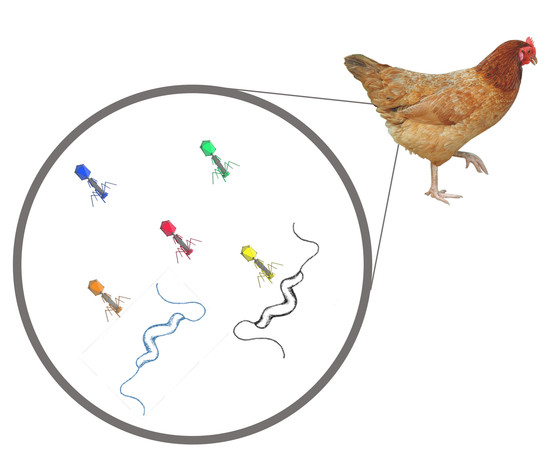 Graphical abstract
This is an open access article distributed under the
Creative Commons Attribution License
which permits unrestricted use, distribution, and reproduction in any medium, provided the original work is properly cited

Note that from the first issue of 2016, MDPI journals use article numbers instead of page numbers. See further details
here
.