Model-Based Distribution and Abundance of Three Delphinidae in the Mediterranean
1
Hydrobiology–Ichthyology Laboratory, Department of Ichthyology and Aquatic Environment, University of Thessaly, Fytokou str, 38446 Volos, Hellas
2
Department of Animal Science, Faculty of Agricultural Sciences, University of Western Macedonia, 53100 Florina, Hellas
*
Authors to whom correspondence should be addressed.
Received: 13 December 2019 / Revised: 29 January 2020 / Accepted: 4 February 2020 / Published: 6 February 2020
Simple Summary
The distribution and abundance of three Delphinidae species (striped dolphin, bottlenose dolphin, and common dolphin) were investigated in an extended area of the Mediterranean Sea. Data from nondesigned transect line surveys were modeled in order to investigate important marine areas for marine mammals. The results indicated that the environmental covariates significantly affecting marine mammals' distribution/abundance were depth and distance from 200 m isobaths for striped dolphin, latitude/longitude and depth for bottlenose dolphin, and latitude/longitude and chlorophyll concentration for common dolphin. Maps of predictions were designed in order to communicate the results of important hot spot areas throughout the Mediterranean.
Monitoring of Delphinidae species population patterns in the Mediterranean Sea was carried out in a sequence of surveys employing different approaches. Data from seven-year surveys with small catamaran sailing boats were analyzed under model-based approaches. Density Surface Models were used to produce spatial distribution prediction of three Delphinidae species (
Stenella coeruleoalba, Tursiops truncatus
, and
Delphinus delphis
) in an extended study area covering much of the Mediterranean Sea. A classical distance sampling protocol was applied in order to calculate the detection probability of clusters. Static (depth, slope, distance from the coast, and distance from isobaths of 200 m) and nonstatic (sea surface temperature and chlorophyll) variables were used to predict the species distribution/abundance in a generalized additive model context.
Stenella coeruleoalba
was found to be the dominant species, with an extended distribution in the study area; its abundance was significantly affected by both depth and distance.
Tursiops truncatus
and
Delphinus delphis
illustrated a significant abundance correlation with depth and chlorophyll, respectively, while both species showed a robust longitude correlation. Our model pinpoints the significance of nondesigned transect line surveys, suggesting the importance of specific habitat areas for future monitoring and conservation aspects of marine mammals.
View Full-Text
►

▼

Show Figures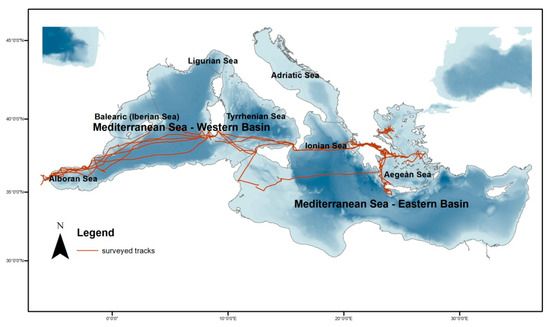 Figure 1
This is an open access article distributed under the
Creative Commons Attribution License
which permits unrestricted use, distribution, and reproduction in any medium, provided the original work is properly cited

MDPI and ACS Style
Karamitros, G.; Gkafas, G.A.; Giantsis, I.A.; Martsikalis, P.; Kavouras, M.; Exadactylos, A. Model-Based Distribution and Abundance of Three Delphinidae in the Mediterranean. Animals 2020, 10, 260.
Show more citation formats
Show less citations formats
Note that from the first issue of 2016, MDPI journals use article numbers instead of page numbers. See further details
here
.