Quality of Eggs and Albumen Technological Properties as Affected by
Hermetia Illucens

Larvae Meal in Hens' Diet and Hen Age

1

Department of Agriculture, Food, Environment and Forestry, University of Firenze, via delle Cascine 5, 50144 Firenze, Italy

2

Department of Veterinary Medicine and Animal Production, University of Napoli Federico II, via Federico Delpino 1, 80137 Napoli, Italy

3

Department of Veterinary Medicine, University of Sassari, via Vienna 2, 07100 Sassari, Italy

*

Author to whom correspondence should be addressed.

Received: 29 October 2019 / Revised: 10 December 2019 / Accepted: 30 December 2019 / Published: 3 January 2020
Simple Summary
Concurrently with the actual challenges in the poultry industry, we aimed to assess the changes induced by the inclusion of an alternative protein source (partially defatted Hermetia illucens larva meal, HI) at two different levels as well as hen age on the overall egg quality and deepened their effect of albumen technological properties. This study could provide useful information for the egg supply chain in order to optimize egg utilization, as a whole or as egg products, thus preventing food losses or undesirable wastes. Specifically, based on the obtained results, the eggs laid by hens fed the highest inclusion of HI would be directed towards egg product industry due to their reduced eggshell percentage and thickness which could increase their fragility. Contrariwise, due to the impaired albumen technological properties, as foaming, found in the egg laid by 27–35 wk-old hens, they could be preferentially sold as a whole.
The impact on the egg quality and the albumen technological properties were here evaluated as affected by diet and hen age (A) of 162 Hy-line Brown hens. Three isoproteic and isoenergetic diets were formulated respecting the requirements for Hy-line hens: the control diet (C) based on conventional protein sources, and other two where vegetable proteins were substituted at 25% (HI25) and 50% (HI50) by partially defatted
Hermetia illucens
larva meal (HI). Ten eggs collected from each group at the hen ages of 20, 27, and 35 weeks were evaluated. The eggshell percentage and thickness were significantly reduced in the HI50 eggs (11.93% and 476 µm, respectively) compared to the C (12.34%, 542 µm) and HI25 (12.54%, 516 µm). The aging lowered (
p
= 0.05) the protein and increased (
p
< 0.001) water contents of the eggs. Although the foam capacity of the HI50 albumen was halved than the C group (
p
< 0.05), it was unaffected by the aging. Additionally, this did not impair the volume and the textural properties of a batter (angel cake) in which it was included. On the opposite, the textural characteristics of the cake made by the oldest hens (i.e., 35 wk-old) were compromised. In conclusion, the diet and hen age differently affected egg quality and its technological properties, which could be positive to obtain eggs to destine directly to the market or to the egg industry.
View Full-Text
►

▼

Show Figures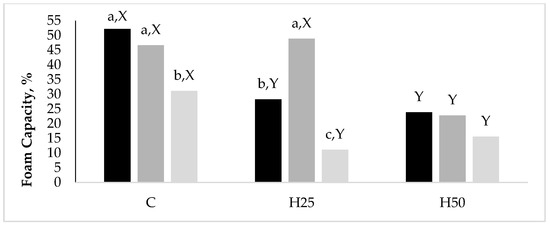 Figure 1
This is an open access article distributed under the
Creative Commons Attribution License
which permits unrestricted use, distribution, and reproduction in any medium, provided the original work is properly cited

Note that from the first issue of 2016, MDPI journals use article numbers instead of page numbers. See further details
here
.