The Overexpression of Tβ4 in the Hair Follicle Tissue of Alpas Cashmere Goats Increases Cashmere Yield and Promotes Hair Follicle Development
State Key Laboratory of Reproductive Regulation and Breeding of Grassland Livestock, School of Life Sciences, Inner Mongolia University, Hohhot 010070, China
*
Author to whom correspondence should be addressed.
†
These authors contributed equally to this work.
Received: 28 September 2019 / Revised: 19 December 2019 / Accepted: 27 December 2019 / Published: 31 December 2019
Simple Summary
Cashmere goats have double coats consisting of non-modulated fine inner hairs or cashmere fibers produced by secondary hair follicles (SHFs) and guard hairs produced by primary hair follicles (PHFs). Cashmere is an important economic product worldwide. The world market for cashmere is increasing while the current production of cashmere is limited. Thymosin beta-4 (Tβ4), a 4.9 kDa protein, contains 43 amino acids. Here, we investigated whether Tβ4 overexpression would increase SHF numbers, and thus improve the cashmere yield. We produced Tβ4 transgenic goats using a tissue-specific overexpression strategy. The Tβ4 overexpression (Tβ4-OE) goats had increased hair follicle development and higher cashmere yields than the wild type (WT) goats. The development of this goat model is not only valuable as a framework for future studies of the mechanism of goat follicular development, but will also lead to the improvement of economically important cashmere traits.
Increased cashmere yield and improved quality are some goals of cashmere goat breeding. Thymosin beta-4 (Tβ4) plays a key role in the growth and development of hair follicles. For the past ten years, we have evaluated the role of Tβ4 by establishing a flock of 15 cashmere goats that specifically overexpress the
Tβ4
gene in the hair follicles. These Tβ4 overexpression (Tβ4-OE) cashmere goats had more secondary hair follicles than the WT goats and produced more cashmere. Meanwhile, combined analysis of the skin transcriptome and proteome in cashmere goats suggested that Tβ4 may affect hair growth by interacting with keratin type II cytoskeletal 4 epidermal (KRT4) to mediate the extracellular signal-regulated protein kinase (ERK) signaling pathway, thereby promoting the development of secondary hair follicles, and consequently, increasing cashmere yield. Thus, the specific overexpression of Tβ4 in the hair follicles of cashmere goats effectively increased the cashmere yield.
View Full-Text
►

▼

Show Figures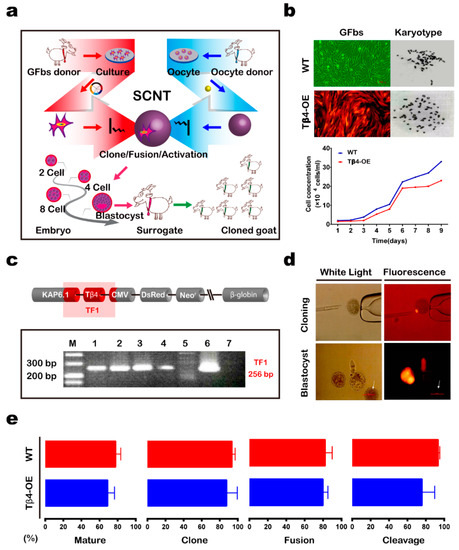 Figure 1
This is an open access article distributed under the
Creative Commons Attribution License
which permits unrestricted use, distribution, and reproduction in any medium, provided the original work is properly cited

MDPI and ACS Style
Dai, B.; Liang, H.; Guo, D.-D.; Bi, Z.-W.; Yuan, J.-L.; Jin, Y.; Huan, L.; Guo, X.-D.; Cang, M.; Liu, D.-J. The Overexpression of Tβ4 in the Hair Follicle Tissue of Alpas Cashmere Goats Increases Cashmere Yield and Promotes Hair Follicle Development. Animals 2020, 10, 75.
Show more citation formats
Show less citations formats
Note that from the first issue of 2016, MDPI journals use article numbers instead of page numbers. See further details
here
.