Macro-Nutritional Adaptive Strategies of Moose (
Alces alces

) Related to Population Density

1

Feline Research Center of Chinese State Forestry Administration, College of Wildlife and Protected Areas, Northeast Forestry University, 26 Hexing Road, Harbin 150040, China

2

Key Lab of Animal Ecology and Conservation Biology, Institute of Zoology, Chinese Academy of Sciences, 1-5 Beichenxi Road, Beijing 100101, China

3

University of Chinese Academy of Sciences, Beijing 100049, China

4

School of Agriculture and Environment, The University of Western Australia, 35 Stirling Highway, Perth 6009, Australia

5

Charles Perkins Centre and School of Life and Environmental Sciences, The University of Sydney, Sydney, NSW 2006, Australia

6

College of Animal Science and Technology, Jinlin Agricultural University, Changchun 130118, China

7

Institute of Tropical Agriculture and Forestry, Hainan University, No. 58, Renmin Avenue, Haikou 570228, China

*

Author to whom correspondence should be addressed.

†

These authors contributed equally to this work.

Received: 25 October 2019 / Revised: 13 December 2019 / Accepted: 21 December 2019 / Published: 31 December 2019

(This article belongs to the Section

Wildlife

)
Simple Summary
Animals living in variable environments require flexible nutritional strategies for dealing with nutritional uncertainty. We investigated the diet and macro-nutritional strategies of male and female moose in six sites in northeast China, representing variable habitat quality and using spatially explicit capture-recapture to determine the local population density of moose during the snowy seasons. The moose populations experienced different forage availability and quality. Female and male moose equally tended to maintain a specifically balanced diet with a high ratio of protein and total nonstructural carbohydrates (N:C) across all populations, despite their differences in forage availability. A higher ratio of N:C in the vegetation was a positive indicator for population density.
The distribution area of moose in China has been shrinking back toward the north and northeast because of climate change and human disturbance, and the population number has been declining. Between 2011 and 2015, we studied moose at six sites in the northeast of China during the snowy seasons. We collected fecal samples and plant samples that were used to estimate population densities for moose, as well as their macro-nutrient selection. Out of a total of 257 fecal samples collected at six sites, we identified a total of 120 individual moose (57 females and 63 males). The population density (moose/km
2
± SE) was highest at Hanma with 0.305 ± 0.064 moose/km
2
and lowest at Meitian with only 0.028 ± 0.013 moose/km
2
. Forage availability was different among sites, with the lowest availability at Mohe (58.17 number/20 m
2
) and highest was Zhanhe (250.44 number/20 m
2
). Moose at Zhanhe, Hanma, and Nanwenghe had a balanced diet with higher N:C (1:7), while at Meitian, Shuanghe and Mohe the N:C was 1:8. Our results indicate that the southern areas had low forage quality and quantity and this may be the reason for the distribution of the population of moose shrinking northward.
View Full-Text
►

▼

Show Figures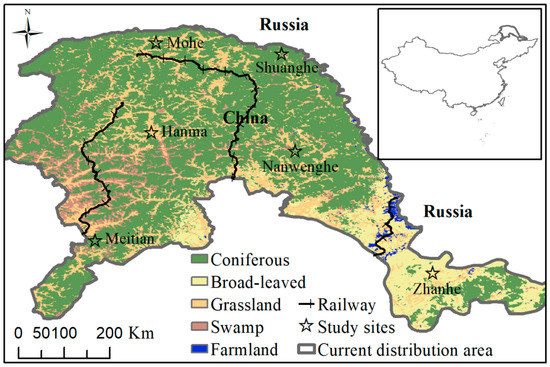 Figure 1
This is an open access article distributed under the
Creative Commons Attribution License
which permits unrestricted use, distribution, and reproduction in any medium, provided the original work is properly cited

MDPI and ACS Style
Ma, Y.; Bao, H.; Bencini, R.; Raubenheimer, D.; Dou, H.; Liu, H.; Wang, S.; Jiang, G. Macro-Nutritional Adaptive Strategies of Moose (Alces alces) Related to Population Density. Animals 2020, 10, 73.
Show more citation formats
Show less citations formats
Note that from the first issue of 2016, MDPI journals use article numbers instead of page numbers. See further details
here
.