Naturally Produced Lovastatin Modifies the Histology and Proteome Profile of Goat Skeletal Muscle
1
Institute of Tropical Agriculture and Food Security, Universiti Putra Malaysia, Serdang 43400, Malaysia
2
Faculty of Veterinary Medicine, Universiti Putra Malaysia, Serdang 43400, Malaysia
3
Faculty of Agriculture, Universiti Putra Malaysia, Serdang 43400, Malaysia
4
Faculty of Sustainable Agriculture, Universiti Malaysia Sabah, Sandakan 90000, Malaysia
5
Agricultural Biotechnology Research Institute of Iran, Mashad 844, Iran
6
Rumen Microbiology, AgResearch, Palmerston North 4442, New Zealand
*
Author to whom correspondence should be addressed.
Received: 23 September 2019 / Revised: 11 November 2019 / Accepted: 12 November 2019 / Published: 31 December 2019
Simple Summary
Enteric methane formation in ruminants is one of the major contributors to climate change. Among the potential strategies, the supplementation of naturally produced lovastatin has been reported as one of the promising approaches for the mitigation of methane emissions. Nevertheless, statins have been associated with the development of muscle-related adverse effects which could affect the health and wellbeing of the animals. We have reported previously that supplementation of naturally produced lovastatin at 2 and 4 mg/kg body weight (BW), reduced methane emissions in goats without adversely affecting rumen fermentation and animal performance, except at higher level of lovastatin (6 mg/kg BW). However, the effects of lovastatin on the skeletal muscle in goats and the associated mechanisms have not been studied. Hence, the present study aimed to examine the effects of lovastatin on the histology of the goat skeletal muscle from the above study and to further elucidate the related underlying biochemistry processes. Histology analysis observed marked degeneration in the longissimus thoracis et lumborum muscle of goats supplemented with 6 mg lovastatin/kg BW. Our preliminary label-free proteomics analysis identified approximately 400 proteins in total, a number of which were differentially expressed, which are involved in energy metabolism and may have contributed to the observed skeletal muscle damage above 4 mg/kg BW.
This study was conducted to examine the effects of different levels of lovastatin on the histological and sarcoplasmic proteome profile of goat skeletal muscle. A total of 20 intact male Saanen goats were randomly assigned in equal numbers to four groups and fed a total mixed ration containing 50% rice straw, 22.8% concentrates and 27.2% of various proportions of untreated or treated palm kernel cake (PKC) to achieve the target daily intake levels of 0 (Control), 2 (Low), 4 (Medium) or 6 (High) mg lovastatin/kg BW. A histological examination discovered that the
longissimus thoracis et lumborum
muscle of animals from the Medium and High treatment groups showed abnormalities in terms of necrosis, degeneration, interstitial space and vacuolization. Our preliminary label-free proteomics analysis demonstrates that lovastatin supplementation induced complex modifications to the protein expression patterns of the skeletal muscle of the goat which were associated with the metabolism of carbohydrate and creatine, cell growth and development processes and other metabolic processes. The changes in these biochemical processes indicate perturbations in energy metabolism, which could play a major role in the development of myopathy. In conclusion, the present study suggests that supplementation of naturally produced lovastatin above 4 mg/kg BW could adversely affecting the health and wellbeing of treated animals.
View Full-Text
►

▼

Show Figures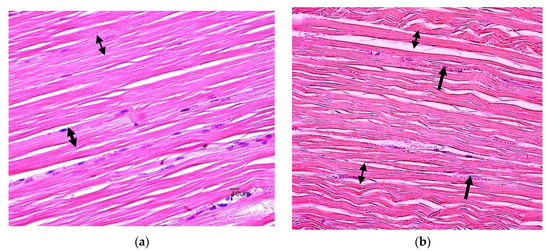 Figure 1
This is an open access article distributed under the
Creative Commons Attribution License
which permits unrestricted use, distribution, and reproduction in any medium, provided the original work is properly cited

MDPI and ACS Style
Leo, T.K.; Garba, S.; Abubakar, D.; Sazili, A.Q.; Candyrine, S.C.L.; Jahromi, M.F.; Goh, Y.M.; Ronimus, R.; Muetzel, S.; Liang, J.B. Naturally Produced Lovastatin Modifies the Histology and Proteome Profile of Goat Skeletal Muscle. Animals 2020, 10, 72.
Show more citation formats
Show less citations formats
Note that from the first issue of 2016, MDPI journals use article numbers instead of page numbers. See further details
here
.