Morphometric Evaluation of Spermatogenic Cells and Seminiferous Tubules and Exploration of Luteinizing Hormone Beta Polypeptide in Testis of Datong Yak
1
Key Laboratory of Yak Breeding Engineering, Lanzhou Institute of Husbandry and Pharmaceutical Sciences, Chinese Academy of Agricultural Science, Lanzhou 730050, China
2
Department of Animal Reproduction Shaheed Benazir Bhutto, University of Veterinary and Animal Sciences, Sakrand 67210, Pakistan
3
State Key Laboratory of Grassland Agro Ecosystems, School of Life Sciences, Lanzhou University, Lanzhou 730050, China
*
Author to whom correspondence should be addressed.
Received: 6 November 2019 / Revised: 23 December 2019 / Accepted: 28 December 2019 / Published: 30 December 2019
Simple Summary
Previous studies revealed that luteinizing hormone βeta polypeptide (LHB) plays an essential role in fertilization. Therefore, we aimed to confirm the importance of LHB in the testis of yak and to determine their association with male yak fertility. Histomorphological analysis of the testes is essential for predicting the fertilizing ability of the bull. To the best our knowledge, this is the first study to evaluate the micro anatomical changes and histometric alternation in testes of Datong yak. These findings could help to predict the sperm production capacity and to understand the specific molecular mechanisms of LHB during spermatogenesis.
Histological examination of testes is essential for understanding infertility, sex development, and growth. Therefore, to understand the histomorphology of testes at different developmental stages, we performed hematoxylin and eosin staining of Yak testis. Our results revealed that the diameters of spermatogenic cells and their nuclei were significantly larger (
p
< 0.05) in the testis at six years compared to at six and 18 months. No significant difference was noted between 30 months and six years. The study was designed to compare the expression profile of
LHB
in Datong yak. The expression pattern of
LHB
was explored using quantitative PCR, semi-quantitative PCR, molecular bioinformatic, and Western blot analysis. Our observations indicated that expression of
LHB
was significantly higher (
p
< 0.05) in the testis of Datong yak. Western blotting indicated that the molecular mass of LHB protein was 16 kDa in yak. The protein encoded by yak
LHB
included conserved cysteine-knot domain regions. The high expression of
LHB
in testis indicated that
LHB
may be vital for the development of male gonads and the fertility of Datong yak.
View Full-Text
►

▼

Show Figures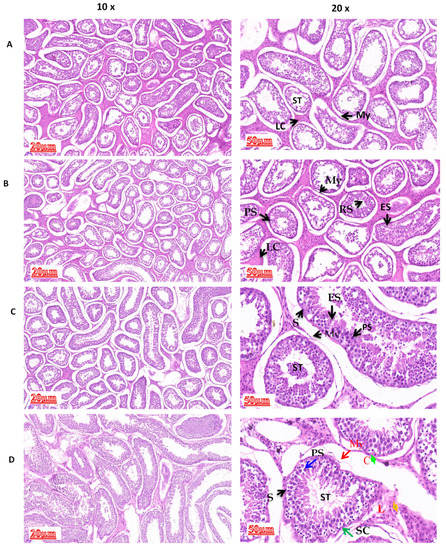 Figure 1
This is an open access article distributed under the
Creative Commons Attribution License
which permits unrestricted use, distribution, and reproduction in any medium, provided the original work is properly cited

MDPI and ACS Style
Kalwar, Q.; Chu, M.; Ahmad, A.A.; Ding, X.; Wu, X.; Bao, P.; Yan, P. Morphometric Evaluation of Spermatogenic Cells and Seminiferous Tubules and Exploration of Luteinizing Hormone Beta Polypeptide in Testis of Datong Yak. Animals 2020, 10, 66.
Show more citation formats
Show less citations formats
Note that from the first issue of 2016, MDPI journals use article numbers instead of page numbers. See further details
here
.