GBS Data Identify Pigmentation-Specific Genes of Potential Role in Skin-Photosensitization in Two Tunisian Sheep Breeds
1
Faculty of Science of Bizerte, University of Carthage, Carthage 1054, Tunisia
2
AgResearch Ltd., Invermay Agricultural Centre; Mosgiel 9092, New Zealand
3
National Agricultural Research Institute of Tunisia, Laboratory of Animal and forage Production, University of Carthage, Ariana 1004, Tunisia
*
Author to whom correspondence should be addressed.
Received: 7 November 2019 / Revised: 9 December 2019 / Accepted: 11 December 2019 / Published: 18 December 2019
Simple Summary
Maintaining the flexibility of the genetic resources of native animals to face local environment constraints is still a major challenge. In Tunisia, the Noire de Thibar breed is a local sheep, typically with black coloration, known for its ability to tolerate "hypericum perforatum", which causes skin photosensitization in white colored sheep. The goal of this study was to perform a genome scan, by considering genotyping-by-sequencing (GBS) markers that were genotyped in divergent coat colored sheep (black vs. white) to identify strong, and recent, artificial selection that is involved in skin-photosensitization. Interestingly, the genomic differentiation analysis identified FST markers within genomic regions containing key pigmentation and photosensitivity related-genes. These findings help in understanding the background of coat color genetics and its potential role in adaptation to local environment constraints.
The Tunisian Noire de Thibar sheep breed is a composite breed, recently selected to create animals that are uniformly black in order to avoid skin photosensitization after the ingestion of toxic "
hypericum perforatum
" weeds, which causes a major economic loss to sheep farmers. We assessed genetic differentiation and estimated marker F
ST
using genotyping-by-sequencing (GBS) data in black (Noire de Thibar) and related white-coated (Queue fine de l'ouest) sheep breeds to identify signals of artificial selection. The results revealed the selection signatures within candidate genes related to coat color, which are assumed to be indirectly involved in the mechanism of photosensitization in sheep. The identified genes could provide important information for molecular breeding.
View Full-Text
►

▼

Show Figures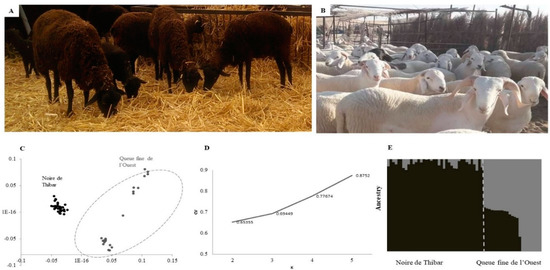 Figure 1
This is an open access article distributed under the
Creative Commons Attribution License
which permits unrestricted use, distribution, and reproduction in any medium, provided the original work is properly cited

MDPI and ACS Style
Baazaoui, I.; McEwan, J.; Anderson, R.; Brauning, R.; McCulloch, A.; Van Stijn, T.; Bedhiaf-Romdhani, S. GBS Data Identify Pigmentation-Specific Genes of Potential Role in Skin-Photosensitization in Two Tunisian Sheep Breeds. Animals 2020, 10, 5.
Show more citation formats
Show less citations formats
Note that from the first issue of 2016, MDPI journals use article numbers instead of page numbers. See further details
here
.