Understanding the Toxin Effects of β-Zearalenol and HT-2 on Bovine Granulosa Cells Using iTRAQ-Based Proteomics
College of Animal Science and Technology, Nanjing Agricultural University, Nanjing 210095, China
*
Author to whom correspondence should be addressed.
Received: 11 December 2019 / Revised: 6 January 2020 / Accepted: 10 January 2020 / Published: 13 January 2020
(This article belongs to the Section
Cattle
)
Simple Summary
Zearalenone (ZEA) and T-2 are two important mycotoxins, which have deleterious effects on the health of humans and livestock. ZEA and its derivatives, α-zearalenol and β-zearalenol, disturb the hormonal homeostasis and lead to numerous problems in the reproductive system. The HT-2 toxin, as the primary metabolite of the T-2 toxin, exerts a series of toxic effects on humans and livestock. The T-2 toxin and its metabolite HT-2 toxin induce damages in multiple tissues, which include the reproductive system. However, toxic response profiles of these mycotoxins on bovine ovarian granulosa cells (bGCs) are unclear. In this study, we determined the importance of heat shock proteins, clarified oxidative stress, and the caspase-3 signaling cascade involved in the mycotoxin-treated toxic response. These results could provide new insights for future studies on prevention and treatment of reproductive problems caused by mycotoxins in bovines.
Zearalenone (ZEA) and T-2 are the most common mycotoxins in grains and can enter the animal and human food-chain and cause many health disorders. To elucidate the toxic response profile, we stimulated bovine granulosa cells (GCs) with β-zearalenol or HT-2. Using isobaric tags for relative and absolute quantification (iTRAQ)-based proteomic, 178 and 291 differentially expressed proteins (DEPs, fold change ≥ 1.3 and
p
-value < 0.05) in β-zearalenol and HT-2 groups were identified, respectively. Among these DEPs, there were 66 common DEPs between β-zearalenol and HT-2 groups. These 66 DEPs were associated with 23 biological processes terms, 14 molecular functions terms, and 19 cellular components terms. Most heat shock proteins (HSPs) were involved in the toxic response. Reactive oxygen species accumulation, the endoplasmic reticulum (ER)-stress related marker molecule (GRP78), and apoptosis were activated. β-zearalenol and HT-2 inhibited oestradiol (E
2
) production. These results emphasized the important function of HSPs, clarified oxidative stress, and demonstrated the caspase-3 signaling cascade involved in mycotoxin-treated toxic response, along with decreased E
2
production. This study offers new insights into the toxicity of β-zearalenol and HT-2 on ovarian granulosa cells.
View Full-Text
►

▼

Show Figures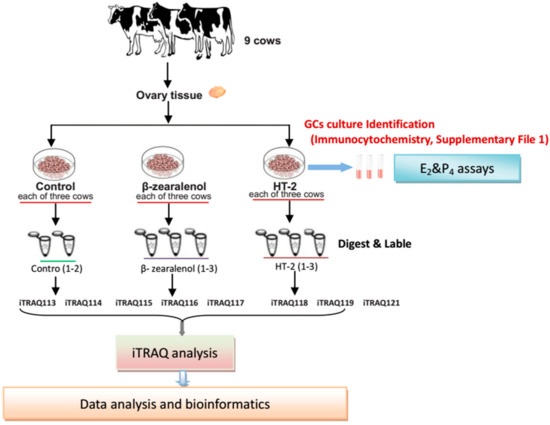 Figure 1
This is an open access article distributed under the
Creative Commons Attribution License
which permits unrestricted use, distribution, and reproduction in any medium, provided the original work is properly cited

Note that from the first issue of 2016, MDPI journals use article numbers instead of page numbers. See further details
here
.