Green Assets of Equines in the European Context of the Ecological Transition of Agriculture
1
Research Unit MOISA (Marchés, Organisations, Instituts et Stratégies d'acteurs)-French National Research Institute for Agriculture, Food and Environment (INRAE), CIHEAM-IAMM, CIRAD, Montpellier Supagro, Univ Montpellier, 34060 Montpellier, France
2
Pôle Développement, Innovation, Recherche-French Institute for Horse and Horse Riding (Ifce), 61310 Exmes, France
3
Université Clermont Auvergne, AgroParisTech, French National Research Institute for Agriculture, Food and Environment (INRAE), VetAgro Sup, Research Unit Territoires, 63000 Clermont-Ferrand, France
*
Author to whom correspondence should be addressed.
Animals 2020, 10(1), 106; https://doi.org/10.3390/ani10010106 (registering DOI)
Received: 30 October 2019 / Revised: 24 December 2019 / Accepted: 2 January 2020 / Published: 8 January 2020
Simple Summary
Equines have a peculiar place in our society. From livestock to sport, through to landscape managers and leisure partners, equines show a wide range of little-known environmental advantages and assets. Today's wake-up calls about the environment are progressively putting pressure on stakeholders of the agricultural sector, including the equine industry. This study focusses on the main environmental consequences of equine use and possession in Europe based on scientific and technical sources under the lens of five leading sectors where equines show unique impacts as green assets. Now, more than ever before, it is important to highlight the role of equines as a green alternative in political debates and management practices to give them the place equines deserve in the ecological transition of agriculture.
Despite the decline of equine populations in the middle of the 20th century, the European horse industry is growing again thanks to economic alternatives found in the diversification of the uses of equines (sports, racing, leisure, etc.). Equines have many environmental advantages, but the fragmentation of the sector and the lack of synthetic knowledge about their environmental impacts do not enable the promotion of these assets and their effective inclusion in management practices and European policies. To highlight the equine environmental impacts, a literature review was carried out to cover the main European stakes. This work led to the identification of five "green assets", fields where equines show unique environmental advantages compared to other agricultural productions. These green assets are linked to the nature of equines (grazing and domestic biodiversity), to their geographical distribution (land use), and to their use by human beings (tourism and work). Today, when searching for sustainable solutions to modern environmental issues, the use of equines is a neglected green alternative. Better knowledge and use of equine green assets could partly respond to more ecological agricultural needs and contribute to the development of this animal industry, which has a place in regional development and in Europe's sustainable transition.
View Full-Text
►

▼

Show Figures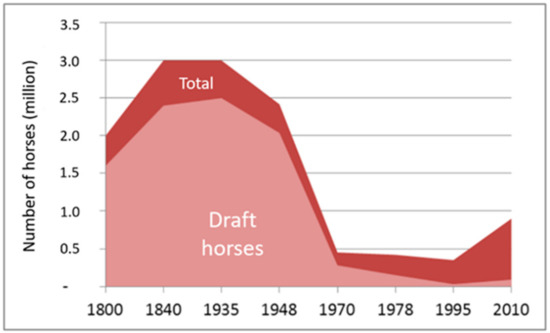 Figure 1
This is an open access article distributed under the
Creative Commons Attribution License
which permits unrestricted use, distribution, and reproduction in any medium, provided the original work is properly cited
Note that from the first issue of 2016, MDPI journals use article numbers instead of page numbers. See further details
here
.