Open Access This article is
freely available
re-usable
Review
Propionibacterium acnes
and Acne Vulgaris: New Insights from the Integration of Population Genetic, Multi-Omic, Biochemical and Host-Microbe Studies
1
Northern Ireland Centre for Stratified Medicine, School of Biomedical Sciences, Ulster University, Londonderry BT47 6SB, UK
2
Department of Dermatology, Harrogate and District NHS Foundation Trust, Harrogate HG2 7SX, UK
3
School of Biological Sciences, Queen's University, Belfast BT9 7AE, UK
*
Author to whom correspondence should be addressed.
Received: 1 April 2019 / Accepted: 9 May 2019 / Published: 13 May 2019
Abstract
:
The anaerobic bacterium
Propionibacterium acnes
is believed to play an important role in the pathophysiology of the common skin disease acne vulgaris. Over the last 10 years our understanding of the taxonomic and intraspecies diversity of this bacterium has increased tremendously, and with it the realisation that particular strains are associated with skin health while others appear related to disease. This extensive review will cover our current knowledge regarding the association of
P. acnes
phylogroups, clonal complexes and sequence types with acne vulgaris based on multilocus sequence typing of isolates, and direct ribotyping of the
P. acnes
strain population in skin microbiome samples based on 16S rDNA metagenomic data. We will also consider how multi-omic and biochemical studies have facilitated our understanding of
P. acnes
pathogenicity and interactions with the host, thus providing insights into why certain lineages appear to have a heightened capacity to contribute to acne vulgaris development, while others are positively associated with skin health. We conclude with a discussion of new therapeutic strategies that are currently under investigation for acne vulgaris, including vaccination, and consider the potential of these treatments to also perturb beneficial lineages of
P. acnes
on the skin.
Keywords:
Propionibacterium acnes
;
Cutibacterium
; phylogroups; MLST; clonal complex; sequence types; multi-omic analyses; virulence factors; host-microbe interactions; novel therapeutics; vaccination
1. Introduction
The human skin, which is the largest organ of the body, is composed of a variety of key microbial genera associated with skin health, including
Staphylococcus
,
Propionibacterium
,
Streptococcus
,
Corynebacterium
and
Malassezia
[
1
]. In particular, the Gram-positive anaerobic bacterium
Propionibacterium acnes
is a major resident of the normal human skin microbiota and dominates pilosebaceous units. Along with other well described cutaneous propionibacteria (
P. avidum, P. granulosum
), it is believed to play an important role in maintaining skin health via occupation of ecological niches that could be colonised by more pathogenic microbes; it produces short chain fatty acids, thiopeptides, bacteriocins and other molecules with inhibitory properties against such organisms [
2
,
3
,
4
].
P. acnes
and
P. granulosum
are most abundant in the sebaceous gland-rich sites of the skin, which includes the face and upper trunk, although
P. acnes
can also be recovered from other body sites including the mouth, gastrointestinal tract and prostate, suggesting potential mutualistic effects that extend beyond the skin [
5
]. In contrast,
P. avidum
prefers colonisation of moist areas including sweat-rich axilla, nares, groin and rectum [
6
]. In keeping with a role in maintaining skin health, reduced abundance of propionibacteria have been observed on the skin of patients with the chronic skin diseases psoriasis and atopic dermatitis [
7
,
8
].
While cutaneous propionibacteria help to maintain and support the natural microbial balance of the skin, they are not always beneficial and can cause disease given the correct set of conditions (
Figure 1
). Of the cutaneous propionibacteria,
P. acnes
appears the most frequent cause of opportunistic infection and is linked to a wide range of seemingly disparate conditions including the skin diseases acne vulgaris and progressive macular hypomelanosis (PMH), medical device-related and dental infections, sarcoidosis, cervical disc disease, prostate cancer and various soft tissue infections [
9
,
10
,
11
,
12
,
13
,
14
,
15
,
16
,
17
,
18
]. Indeed, over the last 20 years, there has been a growing recognition of the role of this pathobiont in human disease due, in part, to improved detection methods, such as adherence to strict anaerobic conditions while processing clinical samples, as well as extended anaerobic culture incubation times (14 days).
The purpose of this review is to re-focus on the role of
P. acnes
in the skin condition acne vulgaris in light of new data emerging from population genetic, multi-omic and biochemical studies, as well as investigation of host-microbe interactions.
2. Taxonomy and Intraspecies Diversity of
Propionibacterium acnes
The last ten years have seen a fast-moving shift in our understanding of the population genetic structure of
P. acnes
alongside changes to its taxonomic description [
19
,
20
,
21
,
22
,
23
,
24
,
25
]. As a result of extensive single, multi-locus and whole genome sequence analyses, the bacterium has been shown to have a clonal population structure and to comprise several distinct, major phylogenetic groups classified as types I, II and III, with the major type I clade being further divided into sub-clades known as types IA
1
, IA
2
, IB and IC (
Figure 2
). The developments in our understanding of the intraspecies phylogeny, as well as descriptions of the various clonal complexes (CC) and sequence types (STs) characteristic of the different phylogroups or sub-clades, have recently been reviewed in detail elsewhere, including current molecular methods to type the organism. As a result, we would refer the reader to this source for further information [
26
]. While two Multilocus Sequence Typing (MLST) schemes with similar levels of resolution have been described for
P. acnes
, for the purposes of this review we will restrict all discussion of CC and ST data to that from the MLST
8
scheme [
22
,
27
], although both MLST
8
and MLST
9
[
21
] schemes have been used with similar frequency based on our detailed review of the literature.
As we will discuss later in this review, these distinct phylogroups vary with respect to a wide range of characteristics, including cellular morphology, aggregative and biochemical characteristics, inflammatory and immunogenic properties and production of virulence factors, which may also help to explain differences in their associations with health and disease [
13
,
16
,
19
,
20
,
21
,
28
,
29
,
30
,
31
,
32
]. Collectively, such studies have now led to the proposal that the major type I, II and III clades should be classified as distinct subspecies known as
P. acnes
subsp.
acnes
,
P. acnes
subsp.
defendens
and
P. acnes
subsp.
elongatum
, respectively [
23
,
24
]. Furthermore, a parallel proposal that the genus
Propionibacterium
should now be divided into four genera based on whole genome analysis and consideration of isolation source has also been made, with the cutaneous propionibacteria being reclassified within the new genus
Cutibacterium
[
25
]. This proposal has, however, proved controversial for a number of reasons [
33
], and also did not accommodate the subspecies proposals due to the overlapping timeline of the publications; very recently, the latter issue has been corrected [
34
]. For the purposes of this current review, and to prevent any confusion, we have decided to still use
Propionibacterium
(which it is still valid to do) [
33
] until the new genus name is broadly adopted by the wider medical microbiology community.
3. Acne Vulgaris
The chronic inflammatory and recurrent skin condition acne vulgaris, commonly referred to as acne, is a disease of the pilosebaceous unit (hair, hair follicle, erector pili muscle and sebaceous gland) and, strikingly, the eighth most prevalent disease globally, affecting approximately 10% of the world's population [
35
]. The disease has a multifactorial aetiology and is triggered initially during adrenarche in susceptible individuals, and can be mild to very severe with respect to symptoms [
36
]. Furthermore, for a growing number of individuals, particularly females, the condition can continue, or occur for the first time, in adulthood [
37
]. Although not life-threatening, acne can have profound social and psychological effects, which are frequently more significant when symptoms are severe and scarring occurs.
In relation to acne pathogenesis, the perceived wisdom has always been that the condition develops within a follicle as a result of four main events: (1) androgen-induced hyperseborrhoea, (2) follicular hypercornification, (3) colonisation and proliferation of
P. acnes
and (4) stimulation of a local innate immune reaction [
36
,
38
]. These changes then cause a normal follicle or pore to evolve into an invisible subclinical precursor lesion known as a microcomedo, which then progresses to a non-inflammatory (open and closed comedones) and inflammatory lesion (papule, pustule or nodule). While comodogenesis was once thought to precede the inflammatory phase of lesion development, this view has now changed with evidence that inflammation may play a fundamental role in the development of microcomedone lesions, even before keratinocyte proliferation [
39
].
4. Conclusions
In conclusion, the last number of years has seen some very significant developments in our understanding of
P. acnes
biology and the capacity of this bacterium to cause human disease. The observation that certain lineages are acne-associated, while other appear to promote skin health, has breathed new life into the study of acne pathogenesis. The integration of data from phylogenetics, multi-omic, biochemical and host-microbe studies has also provided a more holistic understanding of the mechanisms driving the pathogenicity of certain strains, thus creating opportunities for the future development of new therapeutics. As lineages of
P. acnes
positively associated with skin health appear to exist, new antimicrobial treatments should ideally target acneic type IA
1
lineages only, leaving beneficial strains intact and minimising any further dysbiosis.
Author Contributions
Conceptualization, A.M. and J.M.; data research and analysis, A.M., J.M. and S.W.; original draft preparation, A.M. and J.M.; E.B., A.J.B. and A.M.L., review and editing of manuscript content.
Funding
J.M. is currently funded by a British Skin Foundation studentship to A.M. (Grant Project No. 025/s/16).
Acknowledgments
This publication made use of the
Cutibacterium acnes
MLST website (
http://pubmlst.org/cacnes/
) which was developed by Keith Jolley and is sited at the University of Oxford [
116
]. The development of this site was funded by the Wellcome Trust.
Conflicts of Interest
The authors declare no conflict of interest.
Figure 1.
Key requirements for cutaneous propionibacteria, especially
P. acnes
, to cause an opportunistic infection.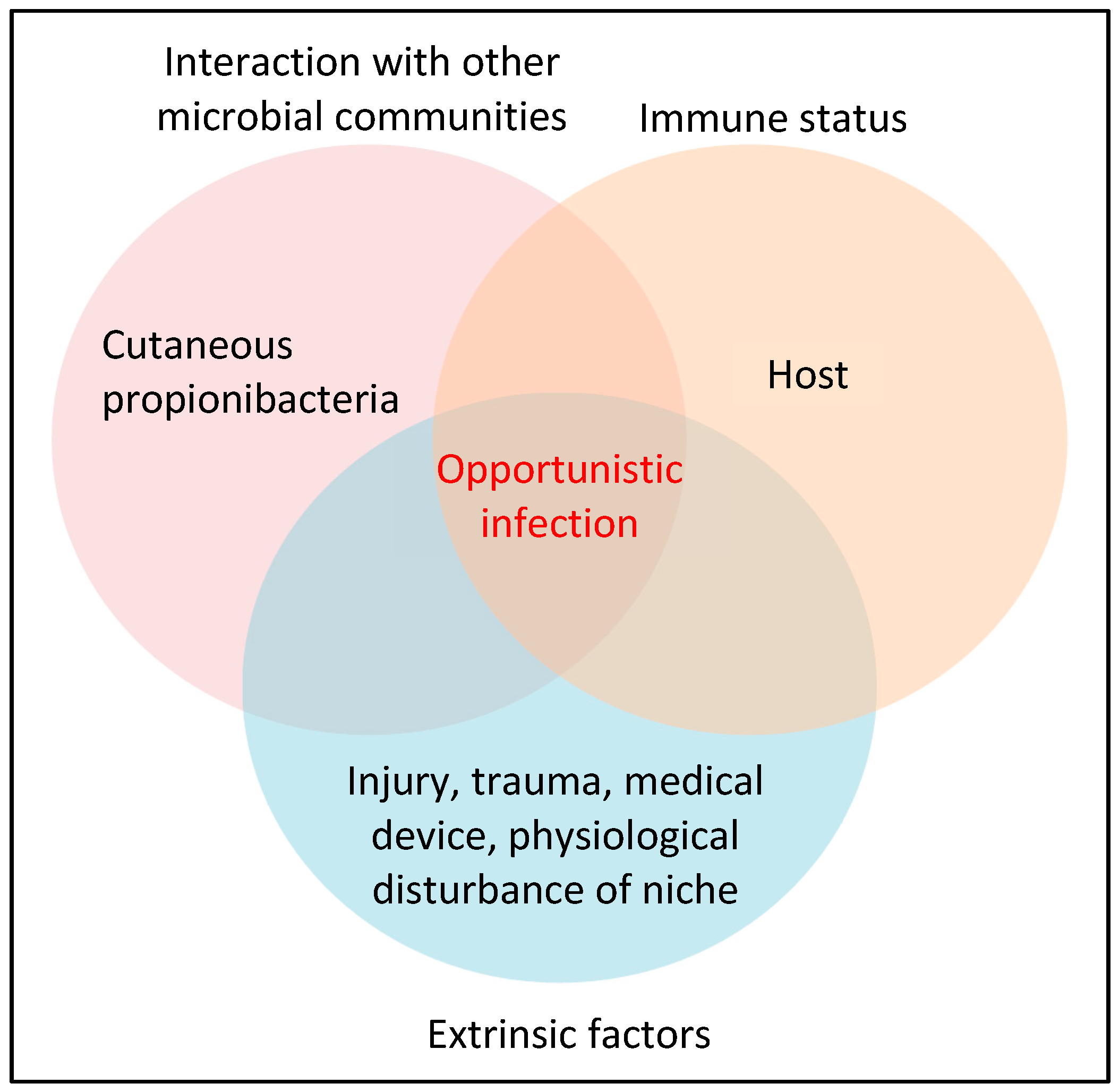 Figure 2. Minimum evolution phylogenetic tree of concatenated gene sequences (4253 bp) from all current STs in the MLST8 database. Bootstrapping statistics were performed using 500 data sets, and only bootstrap values ≥70% are shown. Clonal complexes (CC) are indicated.
Figure 3. A 14-year-old adolescent boy who presented with moderate inflammatory and non-inflammatory acne lesions (A). After consultation and initial treatment for three months with oral minocycline (100 mg/d) and a topical antimicrobial gel, his condition was greatly improved (B).
Figure 4.
Association of
P. acnes
phylogroups with acneic and healthy skin. Data was analysed from the current MLST
8
isolate database. Statistically significant differences (
p
< 0.001, Fisher's exact test) were observed for type IA
1
and type III distributions between acneic and healthy skin based on this isolate cohort (type IC numbers too small for statistical analysis).
Figure 5.
Principal component analysis (PCA) plot of
P. acnes
STs associated with acneic and healthy skin. Data is from the MLST
8
isolate database. Using the presence or absence of an allele at each specific gene locus as a separate coordinate, each ST is represented here as a point in a 111 dimensional space. The PCA plot separates STs into four clusters representing types IA
1
/IA
2
/IB, type IC, type II and type III. Note: phylogroup III has never been associated with acne.
Figure 6.
Association of type IA
1
(CC1, CC3, CC4) and type IC (CC107) CCs (
A
), as well as ST1, ST3 and ST4 genotypes (
B
), with acneic and healthy skin. Data was analysed from the MLST
8
isolate database.
p
-values were calculated using N-1 Chi squared test for independent proportions.
Figure 7.
Association of antibiotic resistance with
P. acnes
phylogroups (
A
). Data is combined from the MLST
8
studies of McDowell et al. [
22
] and Giannopoulos et al. [
74
]. Countries to date in which inter-continental spread of multi-resistant forms of the ST3 lineage (CC3) of
P. acnes
have been reported based on MLST analysis (
B
) (other countries are also likely to contain this multi-resistant lineage).
Figure 8. Circular map of the KPA171202 genome. From the outside to the centre: ORFs in the positive (red) and negative (green) strands, pseudogenes, tRNA (blue), rRNA (green), %GC plot and GC skew (purple and green equates to negative and positive values, respectively).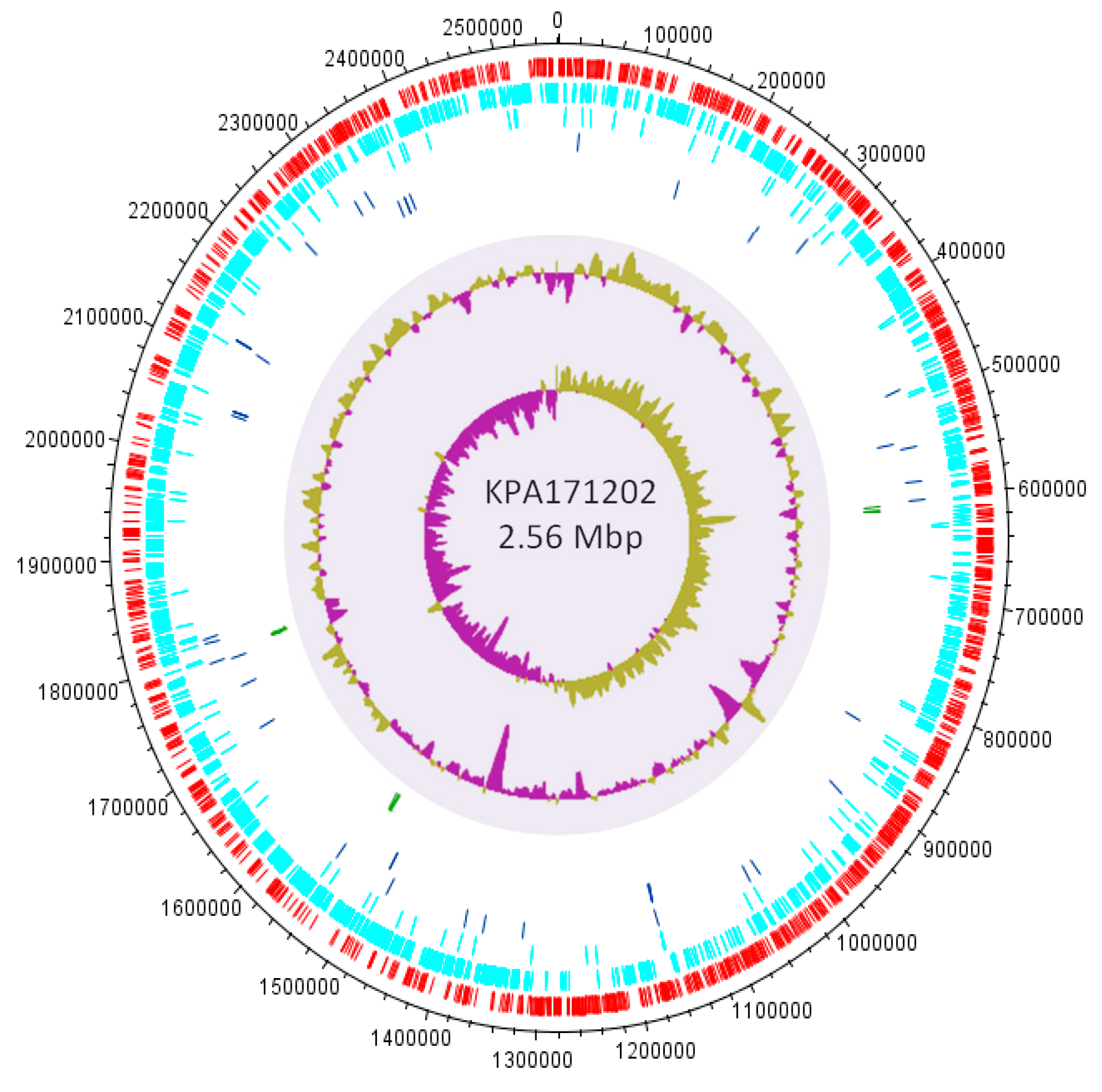 Figure 9.
Clustering of noncore genomic regions present in 82
P. acnes
genomes. Rows represent genomes, and columns represent 314 noncore regions that are longer than 500 bp. The presence of a noncore region is coloured in yellow, and the absence is coloured in blue. Taken from Tomida et al. [
67
].
Figure 10. Homopolymeric C tract within the 5' end of the ORF for DsA1 (PPA2127) leading to putative differences in phylogroup expression due to frameshift mutations.
Figure 11.
Key secreted (
A
) and cell-wall (
B
) proteins (fmol/µg total protein) produced by representative strains of phylogroups IA
1
(CC1, CC3, CC4), IA
2
, II and III. Organisms were grown in reinforced clostridial media before mass spectrometry analysis. Secreted and cell wall protein concentration data is taken from the study of Yu et al. [
51
]. Endogly = Endoglycoceramidase. HL005PA1 (normal skin; ST11, CC1), HL043PA1 (acne; ST3, CC3), HL110PA1 (acne; ST4, CC4), HL013PA1 (acne; ST2, CC2), HL110PA4 (acne; ST7, CC6), Asn12 (cervical disc; ST33, CC33).

Figure 12. Summary of key virulence determinants expressed by type IA1 strains that, collectively, may help to explain, alongside host response, their dominant association with acne versus other phylogroups. Data is compiled from genomic, proteomic, transcriptomic and biochemical studies.

Table 1.
Skin strain differences between acne and healthy subjects based on the study and data of Fitz-Gibbon et al. [
66
].
Ribotype
Type
MLST8 Clonal Complexes (CC)
N *
Percentage of Clones from Acne
Percentage of Clones from Controls

p

-Value
RT1
IA1/IB
CC1; CC3; CC4; CC5
90
48%
52%
0.84
RT2
II
CC6; CC72
48
51%
49%
0.36
RT3
IA2
CC2
60
40%
60%
0.092
RT4
IA1
CC3
23
84%
16%
0.049
RT5
IA1/IC
CC1; CC3; CC107
15
99%
1%
0.0005
RT6
II
CC6
11
1%
99%
0.02
RT7
ND
ND
10
99%
1%
0.12
RT8
IA1
CC4
5
100%
0%
0.024
RT9
III
CC77
4
99%
1%
0.29
RT10
ND
ND
5
100%
0%
0.024
| Putative Gene Function | KPA171202 ORF Number | Potential Effect on the Host |
| --- | --- | --- |
| CAMP-factors | PPA0687, PPA1198, PPA1231, PPA1340, PPA2108 | Haemolytic, cytotoxic |
| Haemolysins | PPA0565, PPA0938, PPA1396 | Haemolytic |
| GehA lipases | PPA1796, PPA2105 | Tissue damage, inflammation |
| Sialidases | PPA0684, PPA0685, PPA1560 | Tissue damage |
| Hyaluronate lyase (HYL) | PPA0380 | Tissue damage |
| Endoglycoceramidases | PPA0644, PPA2106 | Tissue damage |
| Endo-ß-N-acetylglucosaminidase | PPA0990 | Tissue damage |
| Dermatan sulphate adhesin (DsA1) (PTR) * | PPA2127 | Colonization/adhesion/Fibrinogen-binding/inflammation |
| Dermatan sulphate adhesin (DsA2) (PTR) * | PPA2210 | Colonization/adhesion/inflammation |
| PTRs * | PPA1715, PPA1879, PPA180, PPA1881, PPA1906, PPA2130, PPA2270 | Colonization/adhesion/inflammation |
| GroEL | PPA0453, PPA1772, PPA1773 | Inflammation |
| DnaK | PPA1098, PPA2040 | Inflammation |
| DnaJ | PPA0916, PPA2038 | Inflammation |
* PTRs: Proline-Threonine Repeats likely involved in cell-cell and/or cell-matrix interactions.

© 2019 by the authors. Licensee MDPI, Basel, Switzerland. This article is an open access article distributed under the terms and conditions of the Creative Commons Attribution (CC BY) license (http://creativecommons.org/licenses/by/4.0/).