C1-Pathways in
Methyloversatilis

universalis

FAM5: Genome Wide Gene Expression and Mutagenesis Studies

1

Department of Microbiology, University of Washington, Seattle, WA 98195-1700, USA

2

Department of Chemical Engineering, University of Washington, Seattle, WA 98195-7735, USA

3

Science Institute, University of Washington, Seattle, WA 98195-1570, USA

4

Biology Department, San Diego State University, North Life Science Room 401, San Diego, CA 92182-4614, USA

*

Author to whom correspondence should be addressed.

†

Current address: Department of Microbiology and Molecular Genetics, Michigan State University, 6198 Biomedical Physical Sciences. East Lansing, MI 48824, USA.

‡

Current address: College of Science, Northeastern University, 360 Huntington Avenue, Boston, MA 02115, USA.

Academic Editor: Ludmila Chistoserdova

Received: 5 January 2015 / Revised: 17 February 2015 / Accepted: 26 March 2015 / Published: 9 April 2015
Abstract
Methyloversatilis
universalis
FAM5 utilizes single carbon compounds such as methanol or methylamine as a sole source of carbon and energy. Expression profiling reveals distinct sets of genes altered during growth on methylamine
vs
methanol. As expected, all genes for the
N
-methylglutamate pathway were induced during growth on methylamine. Among other functions responding to the aminated source of C
1
-carbon, are a heme-containing amine dehydrogenase (Qhp), a distant homologue of formaldehyde activating enzyme (Fae3), molybdenum-containing formate dehydrogenase, ferredoxin reductase, a set of homologues to urea/ammonium transporters and amino-acid permeases. Mutants lacking one of the functional subunits of the amine dehydrogenase (
ΔqhpA)
or
Δfae3
showed no growth defect on C
1
-compounds.
M.
universalis
FAM5 strains with a lesion in the H
4
-folate pathway were not able to use any C
1
-compound, methanol or methylamine. Genes essential for C
1
-assimilation (the serine cycle and glyoxylate shunt) and H
4
MTP-pathway for formaldehyde oxidation showed similar levels of expression on both C
1
-carbon sources.
M. universalis
FAM5 possesses three homologs of the formaldehyde activating enzyme, a key enzyme of the H
4
MTP-pathway. Strains lacking the canonical Fae (
fae1
)
lost the ability to grow on both C
1
-compounds. However, upon incubation on methylamine the
fae1
-mutant produced revertants (
Δfae1R
), which regained the ability to grow on methylamine. Double and triple mutants (
Δfae1RΔfae3
,
or
Δfae1RΔfae2
or
Δfae1RΔfae2Δfae3)
constructed in the revertant
strain
background showed growth similar to the
Δfae1R
phenotype. The metabolic pathways for utilization of methanol and methylamine in
Methyloversatilis
universalis
FAM5 are reconstructed based on these gene expression and phenotypic data.
View Full-Text
►

▼

Figures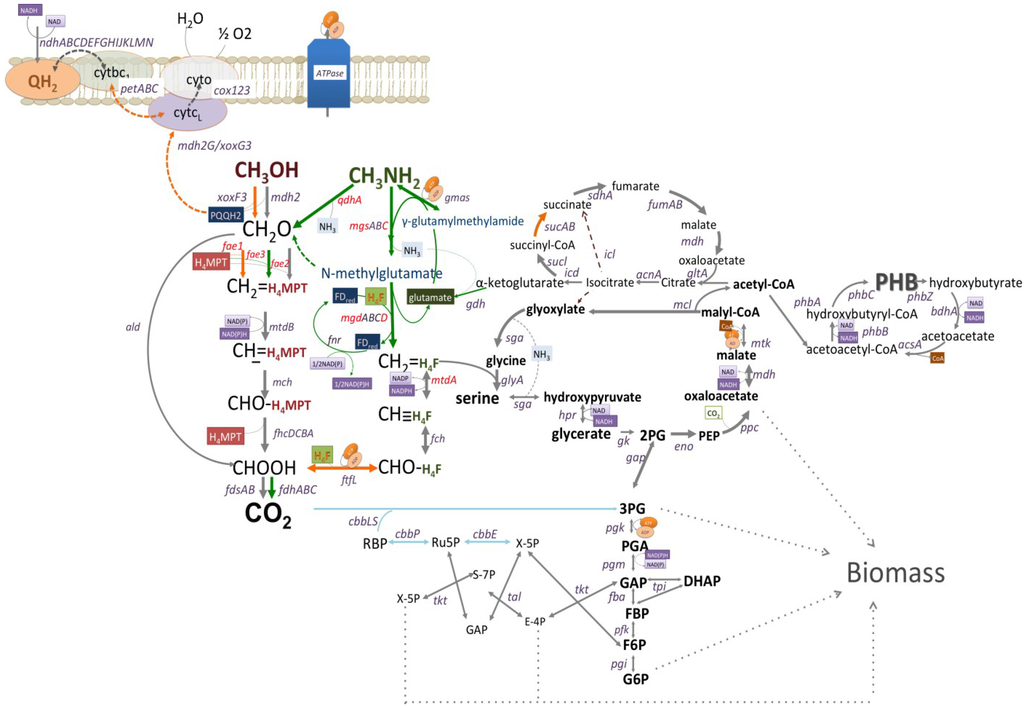 Figure 1
This is an open access article distributed under the
Creative Commons Attribution License
which permits unrestricted use, distribution, and reproduction in any medium, provided the original work is properly cited (CC BY 4.0).

Share & Cite This Article
MDPI and ACS Style
Good, N.M.; Lamb, A.; Beck, D.A.C.; Martinez-Gomez, N.C.; Kalyuzhnaya, M.G. C1-Pathways in Methyloversatilis universalis FAM5: Genome Wide Gene Expression and Mutagenesis Studies. Microorganisms 2015, 3, 175-197.
Related Articles
Comments
[Return to top]