Open Access This article is
freely available
re-usable
Review
New Insights on the Pathogenesis of Takayasu Arteritis: Revisiting the Microbial Theory
1
Department of Hematology and Rheumatology, Kindai University Faculty of Medicine, 377-2, Ohno-Higashi, Osaka-Sayama, Osaka 577-8502, Japan
2
Faculty of Medicine, Kindai University, 377-2, Ohno-Higashi, Osaka-Sayama, Osaka 577-8502, Japan
*
Author to whom correspondence should be addressed.
Received: 16 August 2018 / Accepted: 5 September 2018 / Published: 6 September 2018
Abstract
:
Takayasu arteritis (TAK) is a chronic vasculitis that mainly affects the aorta, its major branches, and the pulmonary arteries. Since the description of the first case by Mikito Takayasu in 1908, several aspects of this rare disease, including the epidemiology, diagnosis, and the appropriate clinical assessment, have been substantially defined. Nevertheless, while it is well-known that TAK is associated with a profound inflammatory process, possibly rooted to an autoimmune disorder, its precise etiology has remained largely unknown. Efforts to identify the antigen(s) that trigger autoimmunity in this disease have been unsuccessful, however, it is likely that viruses or bacteria, by a molecular mimicry mechanism, initiate or propagate the auto-immune process in this disease. In this article, we summarize recent advances in the understanding of TAK, with emphasis on new insights related to the pathogenesis of this entity that may contribute to the design of novel therapeutic approaches.
Keywords:
pulseless diseases; vasculitis; microbiome; molecular mimicry; autoimmune diseases; Tertiary lymphoid organ
2. Takayasu Arteritis: An Overview
3. Immunopathogenesis of TAK
5. Is Microbiota Implicated in the Pathogenesis of TAK?
6. Concluding Remarks and Future Directions
TAK is a rare vasculitis affecting the aorta or its principal branches. Technical and ethical issues are important limitations that impede obtaining suitable arterial samples from living patients with TAK for the study of this disease. Although the pathogenesis of this disease has not been clarified, it is well-known that an immune reaction targets the arterial wall, leading to progressive wall fibrosis, which ultimately results in luminal stenosis or aneurysmal formation. A crucial role of autoimmunity in the etiology of this entity is demonstrated by a good clinical response observed in most patients treated with corticosteroids or immunosuppressive drugs. In addition, several effectors that play important roles in the inflammatory process of this disease have been identified, including lymphocyte subsets, macrophages and proinflammatory cytokines (IL-6, IL-17, IFNγ and TNFα). However, the antigen(s) that trigger such autoimmune reaction remain elusive. Identifying the triggering mechanism is essential not only to improve the immunomodulatory therapies for this disease but also for the possibility that interrupting the eliciting agent can revert or attenuate the inflammatory process that leads to vascular stenosis.
An association of microorganisms with TAK has been extensively investigated and, so far, based on epidemiological and laboratory data, the most likely pathogen that appears to be implicated in the pathogenesis of TAK is mTB. Surprisingly, while mTB can infect mice, and various mouse models of tuberculosis have been reported [
100
,
101
], to the best of our knowledge, there are no studies on the effects of this pathogen on the mouse vasculature and therefore, it is currently unknown if mTB can cause TAK-like changes in the infected mice. Colonization of vascular tissues by pathogenic or commensal microbial agents, has been documented in vascular diseases, especially in atherosclerosis, aneurysms, and more recently in Behcet disease. In addition, recent evidence indicates that healthy blood vessels may harbor their own commensal microbiome, and it is likely that vascular dysbiosis may account for the chronic inflammation occurring in systemic vasculitides, however, as mentioned above, the study of such a "vascular microbiome" in patients with TAK is challenging due to the challenges of obtaining suitable specimens. Nevertheless, gut microbiota is more accessible due to the relative simplicity of acquiring samples and the extensive experience in the analysis of its composition. It is expected that ongoing studies investigating the gut microbiome composition in patients with TAK will likely shed some light on a putative implication of microbes with the pathogenesis of this disease.
Author Contributions
J.L.E.: conceived the idea, collected references, wrote the manuscript and drew the figures; S.A.: collected references and wrote the manuscript; I.M.: Discussed references and contribute to writing the paper.
Funding
This research received no external funding.
Conflicts of Interest
The authors declare no conflict of interest.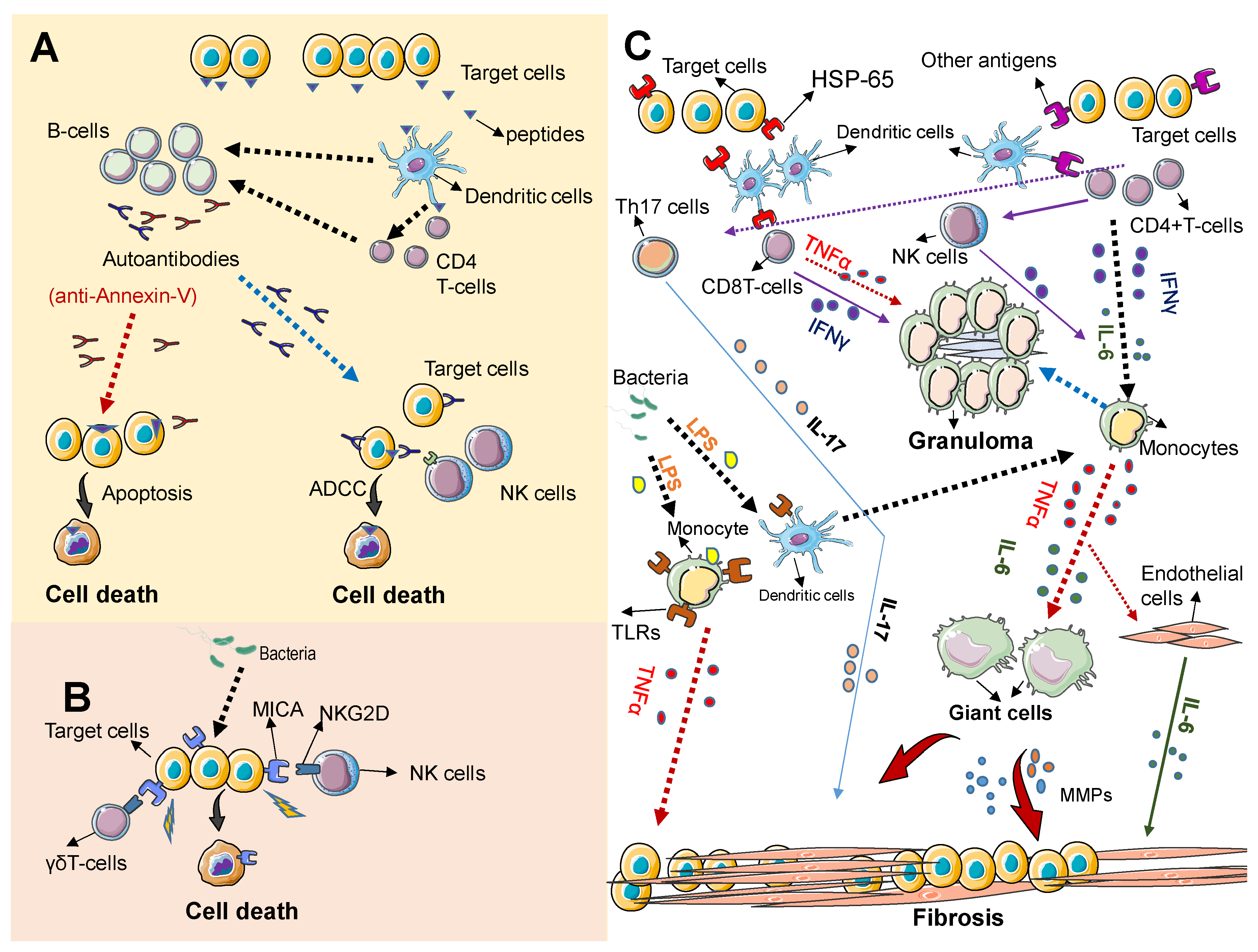 Figure 2. Potential role of pathogenic or commensal microbes in the pathogenesis of Takayasu arteritis. (A) Gut microbiota. A normal gut microbiota contributes to the development and education of the immune system, which is essential for the maintenance of physiologic homeostasis. Conversely, in the presence of dysbiosis, the number and function of regulatory T-cells are impaired and hyperactive cytotoxic T cells may grow without control, consequently the immune equilibrium is lost. The growing of pathogenic bacteria in the gut, likely harboring antigens that resemble antigens expressed by aortic or vascular tissues of the host, may promote the sensitization of the immune cells to the host own antigens, via molecular mimicry leading to autoimmunity. (B) Vascular microbiota. The colonization of pathogenic bacteria in aortic tissues may promote a local immune reaction against pathogen proteins and recruited immune cells may cross-react with antigens expressed in normal tissues leading to autoimmunity.
Demographic Data
Ref
Predominant gender:
Female (80%)
[11,22,23]
Age at onset (years)
23 (0–65)
[11,22,23]
Ethnicity
Rare in western countries (0.4–3 per million people).
More common in southeast Asia, Japan, China, India.
(40 per million in Japan)
[11,22,23,24]
Clinical Findings
* Frequency (%)
Constitutional Manifestations
[19,25,26,27]
Malaise
29–56
Fever
17–32
Anorexia
15–34
Weight loss
20–25
Cardiovascular Findings
[19,22,25,26,27,28]
Hypertension
33–56
Bruit of carotid arteries
32–62
Claudication
30–80
Dyspnea
10–50
Carotidynia
10–36
Central Nervous System
[19,25,26,27,29]
Headache
50–70
Dizziness/vertigo
24–55
Syncope
4–19
Visual disturbances
15–35
Stroke
3–22
Skin and Musculoskeletal
Myalgia
30
[25]
Arthralgia
28–39
[19,22,25]
Synovitis
7.7
[25]
Skin rash
7.8–20
[19,26]
* The frequency of the clinical findings varies depending on the reference consulted and may be determined by differences in data collection, patient assessment, the geographic precedence of the study and whether the reported cases were hospitalized patients or outpatients.

© 2018 by the authors. Licensee MDPI, Basel, Switzerland. This article is an open access article distributed under the terms and conditions of the Creative Commons Attribution (CC BY) license (http://creativecommons.org/licenses/by/4.0/).