Open Access This article is
freely available
re-usable
Review
Differences of Rotavirus Vaccine Effectiveness by Country: Likely Causes and Contributing Factors
Department of Medicine, University of Cambridge, Addenbrooke's Hospital, Cambridge CB2 0QQ, UK
Received: 20 September 2017 / Accepted: 7 November 2017 / Published: 12 December 2017
Abstract
:
Rotaviruses are a major cause of acute gastroenteritis in infants and young children worldwide and in many other mammalian and avian host species. Since 2006, two live-attenuated rotavirus vaccines, Rotarix® and RotaTeq®, have been licensed in >100 countries and are applied as part of extended program of vaccination (EPI) schemes of childhood vaccinations. Whereas the vaccines have been highly effective in high-income countries, they were shown to be considerably less potent in low- and middle-income countries. Rotavirus-associated disease was still the cause of death in >200,000 children of <5 years of age worldwide in 2013, and the mortality is concentrated in countries of sub-Saharan Africa and S.E. Asia. Various factors that have been identified or suggested as being involved in the differences of rotavirus vaccine effectiveness are reviewed here. Recognition of these factors will help to achieve gradual worldwide improvement of rotavirus vaccine effectiveness.
Keywords:
rotavirus; vaccine efficacy; low income countries; malnutrition; avitaminoses; zinc deficiency; gut microbiome; microbial co-infections; immunological immaturity
Acknowledgments
The author gratefully acknowledges discussion on the topic of this review with Beth D. Kirkpatrick and her research group at the University of Vermont, USA.
Author Contributions
U.D. wrote the review as a single author.
Conflicts of Interest
The author declares no conflict of interest.
Figure 1.
Structural organization of rotavirus. (
a
) Rotavirus dsRNA migration pattern by SDS-PAGE and gene-protein assignment (SA11 strain). (
b
) Surface representation and (
c
) cut-away of rotavirus structure (based on reconstructions from cryo-electron micrographs): VP4 spikes (red), VP7 outer layer (yellow), VP6 middle layer (blue), VP2 inner (core) layer (green), VP1/VP3 complexes, attached to the inside of the VP2 layer (red). Modified from: Pesavento JB, Estes MK and Prasad BVV. Structural organization of the genome in rotavirus. In: Viral Gastroenteritis, edited by U Desselberger and J Gray, pp. 115–127. Elsevier Science, Amsterdam, 2003 [
9
], where further details are described (with permission of authors; permission of publisher applied for).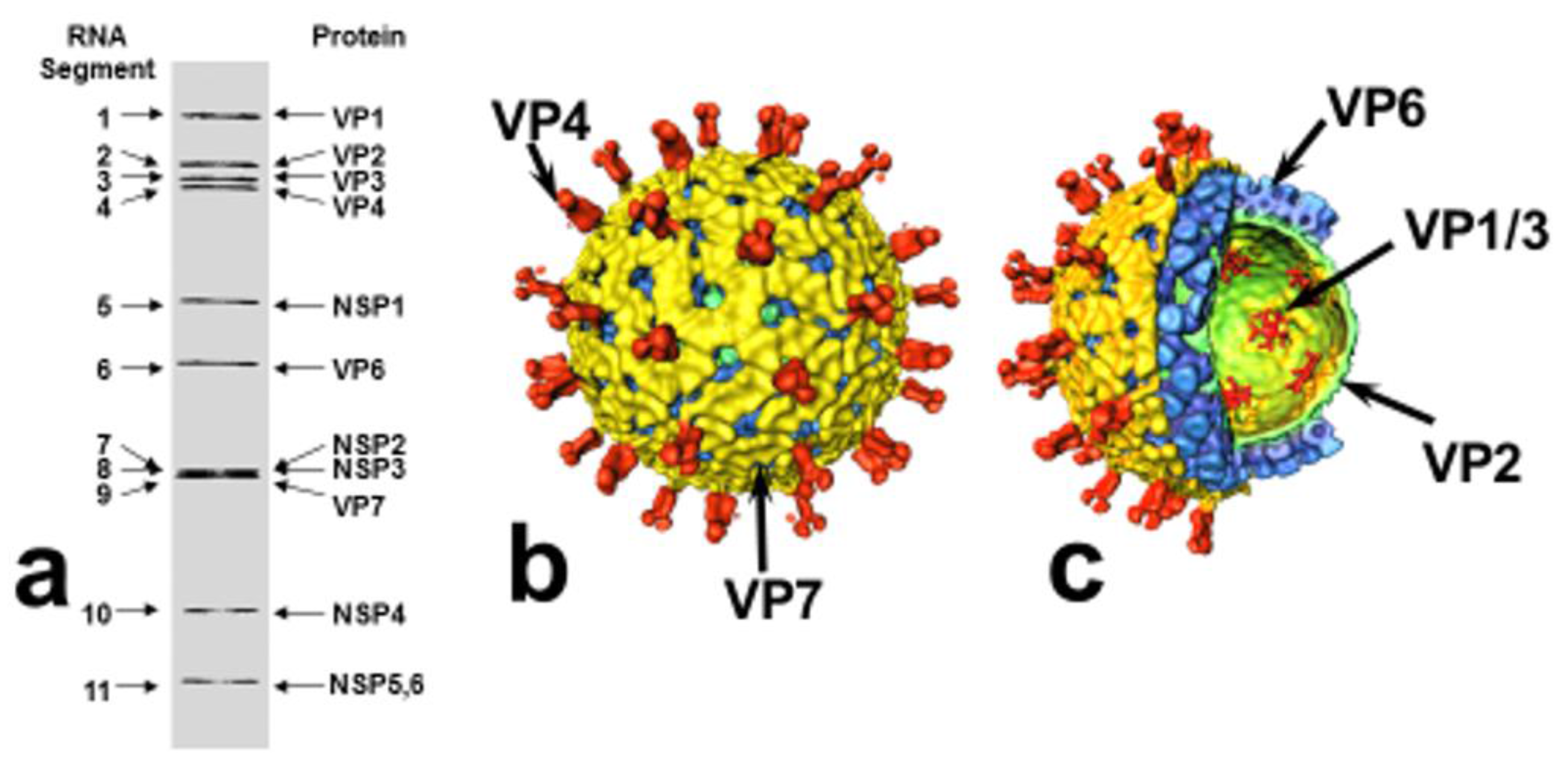 © 2017 by the author. Licensee MDPI, Basel, Switzerland. This article is an open access article distributed under the terms and conditions of the Creative Commons Attribution (CC BY) license (http://creativecommons.org/licenses/by/4.0/).