Open Access This article is
freely available
re-usable
Article
Current Status of European Oyster Decline and Restoration in Germany
Alfred Wegener Institute Helmholtz Centre for Polar and Marine Research (AWI), Am Handelshafen 12, 27570 Bremerhaven, Germany
Received: 29 November 2018 / Accepted: 8 January 2019 / Published: 11 January 2019
Abstract
:
Marine ecosystems of temperate regions are highly modified by human activity and far from their original natural status. The North Sea, known as an intensively used area, has lost its offshore oyster grounds due to overexploitation in a relatively short time. Native oyster beds as a once abundant and ecologically highly important biogenic reef-type have vanished from the North Sea ecosystem in most areas of both their former distribution and magnitude. Worldwide, oyster stocks have been severely exploited over the past centuries. According to estimates, about 85% of the worldwide oyster reef habitats have been destroyed over the course of the last century. This loss of oyster populations has meant far more than just the loss of a valuable food resource. Oyster reefs represent a characteristic benthic community which offers a variety of valuable ecosystem services: better water quality, local decrease of toxic algal blooms, increase in nutrient uptake, increase of bentho-pelagic coupling, increase in species richness, increase of multidimensional biogenic structures which provide habitat, food, and protection for numerous invertebrate and fish species. The aim of oyster restoration is to promote redevelopment of this valuable missing habitat. The development of strategies, methods, and procedures for a sustainable restoration of the European oyster
Ostrea edulis
in the German North Sea is currently a focus of marine nature conservation. Main drivers for restoring this ecological key species are the enhancement of biodiversity and ecosystem services in the marine environment. Results of these investigations will support the future development and implementation of a large-scale and long-term German native oyster restoration programme to re-establish a healthy population of this once-abundant species now absent from the region.
Keywords:
marine environmental history; nature conservation; biodiversity; ecosystem restoration; ecosystem service; keystone species; reintroduction; biogenic reef; shifting baseline
1. Eradication from Coastal Ecosystems and Human Memory: Environmental Generational Amnesia as a Specific Challenge for Oyster Restoration
Oysters are important ecosystem engineers as they build up ecologically relevant hard structures by forming reef habitats. Worldwide oyster stocks have been exploited intensively over the past centuries. Ever more efficient harvesting techniques led to the destruction of oyster reefs and their associated species-rich fauna and flora. Biogenic temperate reefs are among the most threatened habitats globally and much of the continental shelf and some deeper ocean seafloors have been homogenized by bottom trawling and dredging (
Airoldi et al. 2008
).
There is clear evidence that the German North Sea not only encountered the loss of oyster reefs from its coastal ecosystems, but also the loss of an ecological baseline through the eradication of oyster reefs from coastal ecosystems and human memory (
Alleway and Connell 2015
). The tendency for younger generations to lose the past as a benchmark for interpreting the present is called "environmental generational amnesia" e.g., (
Kahn and Friedman 1995
;
Kahn 2002
;
Papworth et al. 2009
). It is based on the concept of shifting baselines (
Pauly 1995
) and, for the German situation, on the fact that oysters vanished around 70 years ago from their original habitat and commercial use of the species ended even longer ago, almost 100 years before today. As observers of these times left the system, the population's perception of normality updated and past conditions were forgotten (
Papworth et al. 2009
), which is clearly the case for former oyster abundance in Germany. Even coastal communities in Germany no longer remember the former existence, vast distribution, and ecological relevance of the species. This contemporary state can be considered as an environmental generational amnesia and, in consequence, as the failure of adequate calibration of conservation and restoration goals. It accounts for altered expectations for food, economic value, and ecosystem services from coastal waters (
Alleway and Connell 2015
). The vast presence of oyster reefs in German waters as a key ecological system has been forgotten. This is something that eventually impairs the progress of restoration and recovery. It also reduces expectations and the potential value of these coastal ecosystems. In the marine environment, we lose or eventually lost species which we do not explicitly see. These may not be spectacular and might therefore not be on the agenda of the general public. Conservation and restoration efforts have to be linked closely to education programs, by respecting the historical and cultural relevance, and by explaining the ecological role and value of these species for our marine ecosystems.
2. Historical Distribution of
Ostrea edulis

in Europe and in the German North Sea: Reasons for its Drastic Decline
3. Reasons for Restoration: Reef Habitat Protection and Biodiversity Enhancement
Native oyster species were once vital ecosystem engineers and relevant reef-builders. However, much of the continental shelf and some deeper ocean seafloors have been homogenized by bottom trawling and dredging (
Airoldi et al. 2008
). Today, these temperate biogenic reefs are among the most threatened habitats globally. According to the Habitats Directive for the protected habitat type "reef", a favourable conservation status has to be preserved or restored. Reintroduction and restoration of
Ostrea edulis
in the German Bight contribute to the objectives of the OSPAR Convention on Protection of the Seas (
OSPAR 2010
), the EU Flora–Fauna–Habitat Directive (FFH Directive, 92/43/EWG) (
Council of the European Union 1992
) and the Marine Strategy Framework Directive (MSFD) (
Council of the European Union 2008
).
Oyster beds form specific reef-communities with associated algae, invertebrates, fish, and fish larvae as the three-dimensional structure provides habitat, food, settlement substrate, shelter, and spawning ground. (
Möbius 1877
) created the ecological term "biocoenosis" by describing the outstanding biodiversity and the ecological function of oyster beds in the German North Sea. Oyster beds and reefs are biodiversity hotspots, which provide a variety of ecosystems services and which must have played a key role in the North Sea ecosystem. As filter-feeding bivalves, they filter small particles of plankton and suspended organic particles with high efficiency. Selected particles are ingested. Surplus particles are ejected as pseudofaeces and are deposited on the seafloor. The capacity of water filtration enhances the water quality by removing particles from the water body and by reducing harmful algal blooms at local scales. Improved water clarity increases sunlight penetration, which results in higher growth rates of algae and an increase in oxygen availability, upgrading the complex system. Furthermore, the biodeposition of organic particles enriches surrounding sediments and leads to higher nitrogen fixation and removal rates (
zu Ermgassen et al. 2016
). The loss of oyster bed communities has contributed to associated declines in productivity of oysters, reef-associated invertebrates, and fish species, complex hard substrate and biological capacity for water filtration and shoreline protection.
An increase of biodiversity and of described ecosystem services is expected from the recovery of oyster beds. The biodiversity enhancement will be closely monitored and quantified. It represents the key ecosystem service and main driver for the restoration approach in the German North Sea.
4. Development of Restoration Guidelines
Several constraints to restoration have to be considered, e.g., lack of broodstock and degraded habitats, which are probably less suitable for recruitment. Although, recent developments in water quality improvements as well as the existing knowledge on sustainable management and preservation practices increase the prospects of successful restoration. These aspects will be examined and discussed and aim at the development of strategies for the preservation of this endangered species in European waters.
5. Current Efforts towards Regeneration of Oyster Stocks: The Special Situation in Germany—Restoring Deep Offshore Oyster Beds
These fundamental aspects have to be addressed as preconditions for an appropriate large-scale and long-term restoration programme, reaching the size required to improve ecosystem services at the landscape scale.
6. Conclusions
Ecosystem services are defined as specific types: there are supporting, regulating, provisioning, and cultural services (
Vilà et al. 2010
). Today, we are aware that native oyster reefs provided multiple services out of all four types in the past and were therefore key elements of our marine coastal ecosystems (
Coen et al. 2007
). Human impact of extensive oyster fishery resulted in overexploitation and loss of oyster reefs. Human-induced large-scale transfers of oysters (e.g., within Europe, but also from and to the US, Africa, Australia, and Asia) to stabilize declining fisheries resulted in the spread of diseases and invasive species. In sum, this directly caused dramatic negative effects on the health and functionality of oyster reefs and the wider ecosystem. We actively shaped our coastal and shelf seas by driving native oyster beds to extinction and by destroying valuable biogenic hard substrate. The loss of these three-dimensional structures is critical and the ecological consequences of changes in biodiversity are complex (
Tilman 1999
). As humans show limited memories when it comes to environmental degradation, most cases of biodiversity decline are probably a lot worse than we assume or than existing data might suggest. This aspect must be respected when it comes to the management of marine protected areas and oyster reef restoration. By implementing successful restoration and mitigation measures, we will again actively shape our coastal and shelf seas in the future, certainly with corresponding positive effects for both humans and the North Sea ecosystem.
Future success will rely on a general upscale and connection of current restoration efforts as well as on a long-term sustainment of European oyster research and restoration. It is challenging and relevant to involve European-wide initiatives for the restoration of the native oyster and its habitat.
Funding
This research was funded by EU COST Action IS1403 Oceans Past Platform, grant number OPP COST Action IS1403-30556 and by the German Federal Agency for Nature Conservation (BfN), grant number FKZ 3516892001.
Acknowledgments
I thank the Marine Directorate of the German Federal Agency for Nature Conservation for the constant and substantial support of oyster restoration. Furthermore, I would like to thank the members of the Native Oyster Restoration Alliance (NORA) and the members of the Oceans Past Platform (OPP) for sharing their knowledge and thoughts. Janet H. Brown helped to improve the manuscript, thank you for your critical comments.
Conflicts of Interest
The authors declare no conflict of interest. The founding sponsors had no role in the design of the study; in the collection, analyses, or interpretation of data; in the writing of the manuscript, and in the decision to publish the results.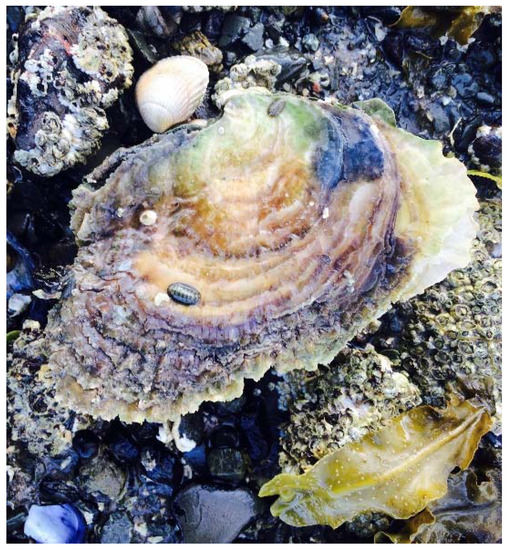 Figure 1.
The native European oyster
Ostrea edulis
, Genus
Ostrea
(flat oysters) (Picture taken by Pogoda).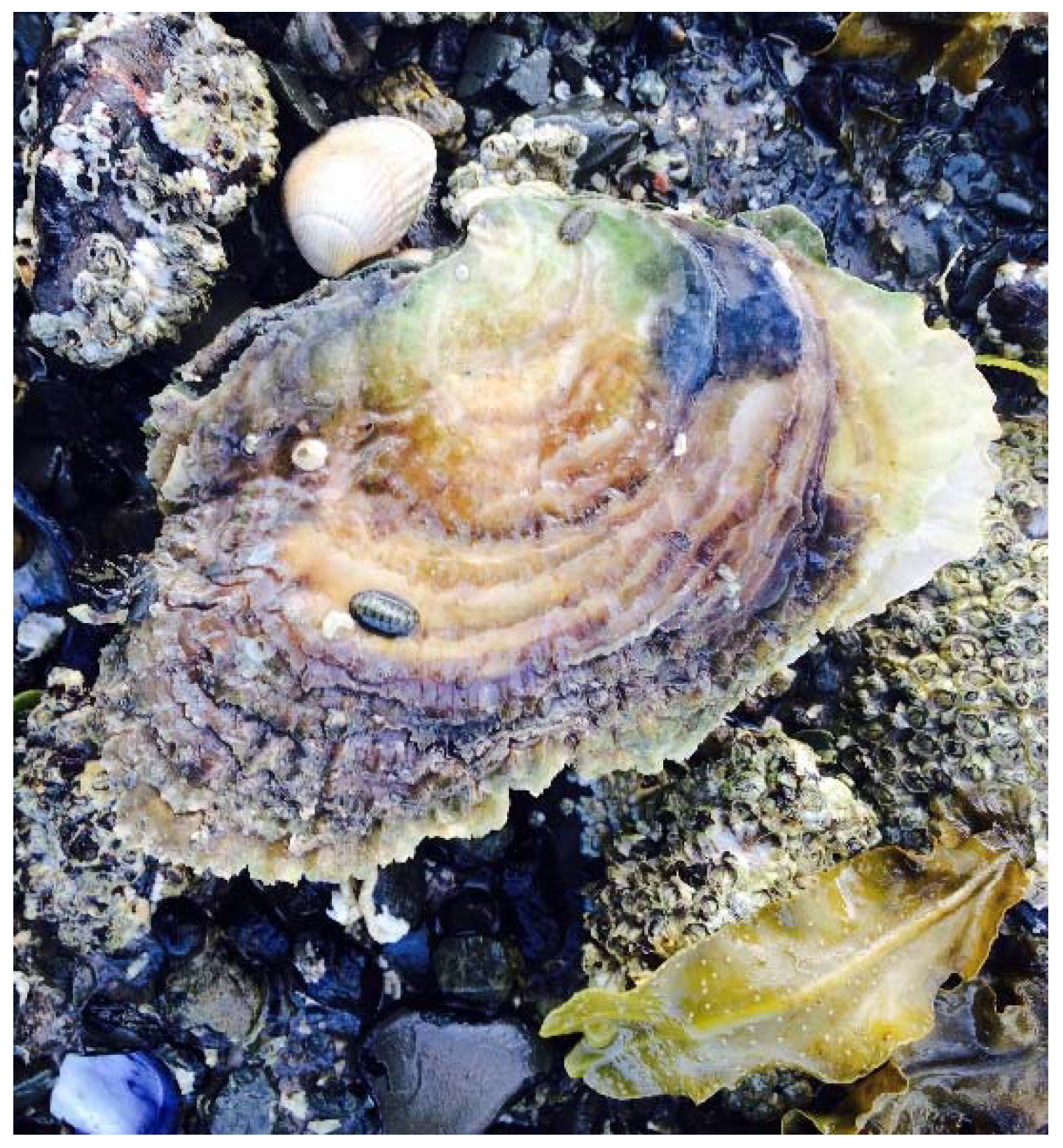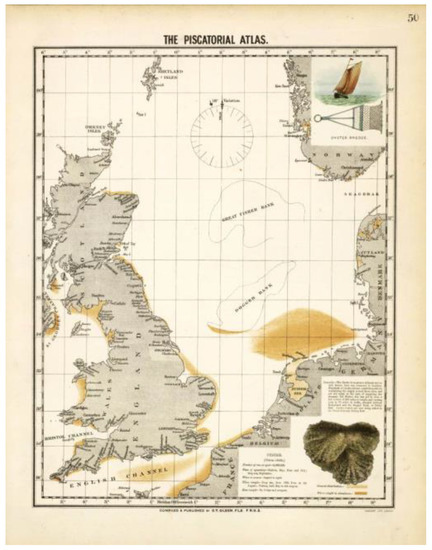 Figure 2.
Piscatorial Atlas Map on the distribution of the European oyster in the North Sea (
Olsen 1883
).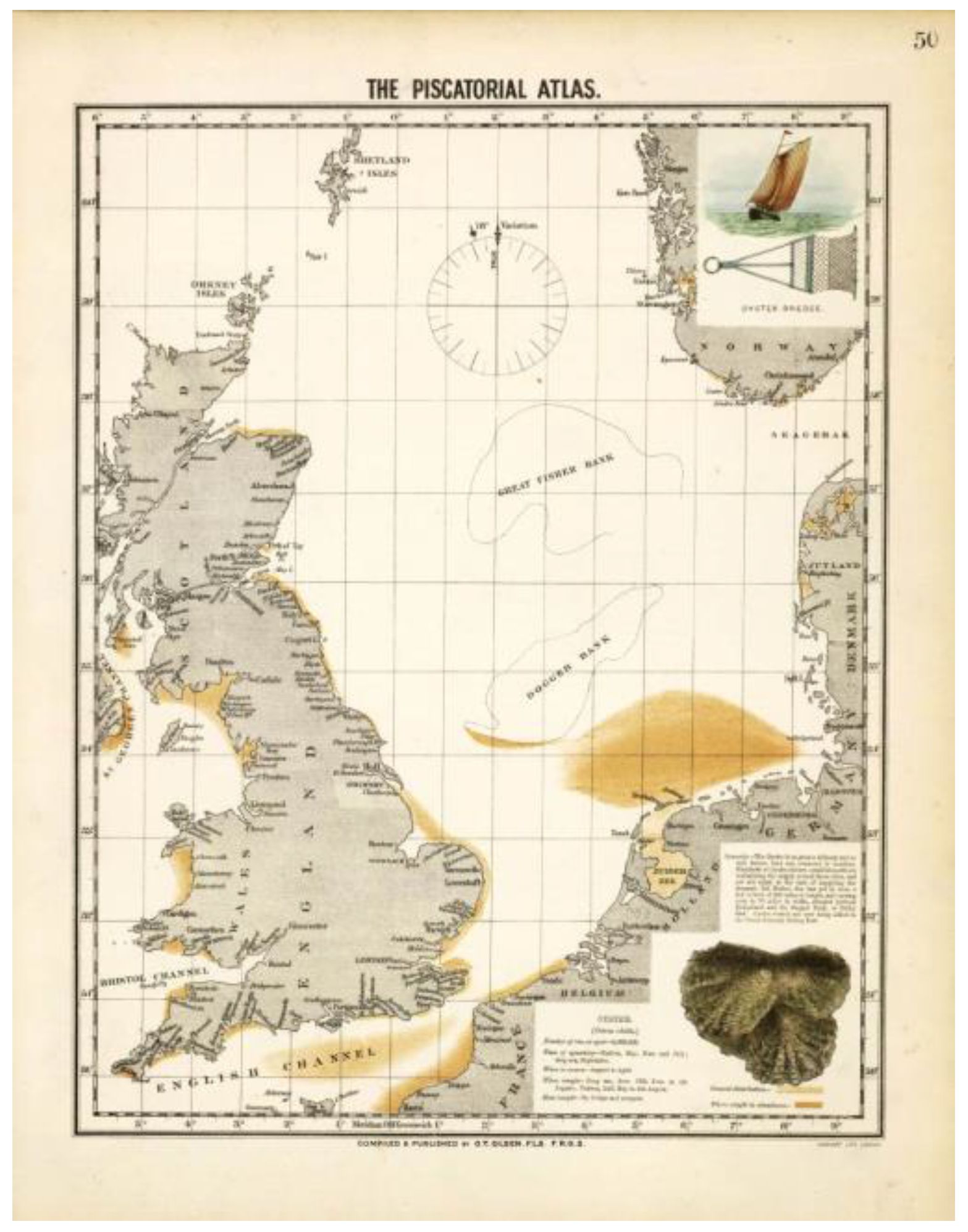 Figure 3.
Oyster trawler Gelbstern (
A
) and oyster dredges (
B
). Modified after
Hagmeier and Kändler
(
1927
). Neue Untersuchungen im nordfriesischen Wattenmeer und auf den fiskalischen Austernbänken. Aus der Biologischen Anstalt auf Helgoland und deren Zweiglaboratorium in List a. Sylt 16(6): 1–90.


© 2019 by the author. Licensee MDPI, Basel, Switzerland. This article is an open access article distributed under the terms and conditions of the Creative Commons Attribution (CC BY) license (http://creativecommons.org/licenses/by/4.0/).