Open Access This article is
freely available
re-usable
Article
Student Mobility and Transnational Social Ties as Factors of Reflexivity
1
School of Advanced Social Studies in Nova Gorica, Institute for Social Transformations, Gregorčičeva 19, SI-5000 Nova Gorica, Slovenia
2
Faculty of Information Studies, Ljubljanska 31a, SI-8000 Novo mesto, Slovenia
*
Author to whom correspondence should be addressed.
Received: 29 October 2017 / Accepted: 13 March 2018 / Published: 16 March 2018
Abstract
:
The article seeks to develop and apply new quantitative measurement instruments capable of significantly improving understanding of the relationship between the transnational mobility and transnational social ties of students, along with their reflexive capacities. With a focus on students building their personal networks, educational and professional activities that extend beyond the nation's borders and organising their day-to-day routines in transnational social spaces, we analyse the role of mobility in their reflexive capacities. Applying a tool that is line with Archer's theory and indicators to measure reflexivity, and transnational social ties as proposed by Molina et al., we analyse data collected via an on-line survey questionnaire administered to Slovenian students. In addition, students from the Middle East (Lebanon) and the USA (Hawai'i) are added for comparative purposes. The results of path analysis show the Slovenian students' mobility as such implies higher scores for meta reflexivity, combined with lower scores for communicative and fractured reflexivity. Further, social transactions reaching beyond one's physical localities in terms of transnational social ties implies they have higher levels of reflexivity in general.
Keywords:
reflexivity; transnational personal ties; students; mobility
1. Introduction
Student mobility implies involvement in all types of mobility. We argue that being actively mobile in in a variety of ways ensures that constructing a self occurs in a constant confrontation with ambivalent meanings that cause certain identity crises and clashes. In such circumstances, the referential frames substantiating one's self-perceptions and identifications become multiple, contested and ever-changing. Considering the latter, the underlying assumption made in the text is that there is a crucial difference between individuals who are chiefly wedded to their local and national environment and those who regularly participate in transnational social spheres that extend over national borders. In that regard, the article's central purpose is to develop and apply new quantitative measurement instruments so as to significantly contribute to understanding of the relationship between the transnational mobility and social ties of students, as well as their reflexive capacities.
2. Connecting Mobility, Transnational Contexts, and Reflexivity
Our discussion of the idea of reflexivity stems from interpretations of social changes and transformations linked to the expansive changes in communication technologies and structures. Reflexivity has become an important concept in the social theory mostly associated with Beck, Giddens, and Lash, and has offered an intellectual framework for interpreting modernity to a wider range of theorists, from Habermas to various postmodernists such as Lyotard, Bauman, Touraine, and Melucci (for more, see (
Delanty 2000
)). Reflexivity is associated with individualism and individualisation and refers to the relationship between subjectivity (Oneself) and objectivity (Other). It is a means of mediation that links subjective and objective domains (
Delanty 2000
). Reflexivity as a category of mediation has been systematically explored by Giddens in his structuration theory (
Giddens 1984
), which emphasises the dialectical interplay of agency and structure, and sees structural properties as both the medium and outcome of practices. People engage in practices and it is through those practices that both consciousness and structure are produced. Giddens (
Giddens 1991
) has also argued that in late modern societies reflexivity plays a major role in self-identity. Giddens attributes individuals with the ability to make a difference in the social world as their everyday activities seem to have a global impact. By monitoring the continuing flow of activities and structural settings, the individual lives a reflexively organised biography. Institutional positions determining individuals have started to present not just events and conditions influencing their lives, but at a minimum the consequences of the decisions they make on their own (
Beck 1992
). However, it has been argued that those perspectives view reflexivity more as the ability to self-monitor and neglect personal creativity and imagination (
Mutch 2010
). Attention should also be paid to ideas of the individual's uniqueness and the ability to identify oneself and others within the unique world of thoughts, feelings, and performances. Further, it has been argued that Giddens exaggerates the degree of reflexivity and overlooks the limited capacity of individuals to reflect and their willingness to act upon the consequences (
Mutch 2010
).
When conceptualising reflexivity, we lean considerably on Archer's perspectives as she argues for analytical dualism and rejects the conflation between structure and agency (
Archer 2003
). In that regard, reflexivity is not just a reflection referring to self-transcendence, merely implying that one is capable of observing oneself as an object, but it also leads to deliberate actions. Each person has their own private space and exercises reflexive deliberations, yet there are some conditions that influence whether one can evaluate the situation in which she or he is embedded, such as enablements or constraints acting as potential causal powers of social emergent properties (
Archer 2003
,
2012
).
The conscious deliberations and unconscious reproductions of the external social contexts vary among individuals and depend on the individual's social embeddedness in the social environment and the specifically constructed social context in the moment of internal mental activity. Here Archer (
Archer 2003
) distinguishes: (a) communicative reflexivity: the context is stable and continuous; internal conversations need to be confirmed and completed by others before they lead to action; (b) autonomous reflexivity: the initial context itself lacks stability, internal conversations are self-contained, leading directly to action; (c) meta reflexivity: which acquires a driving ultimate concern, internal conversations that critically evaluate previous inner dialogues and are critical about effective action in society; and (d) fractured: internal conversations cannot lead to purposeful courses of action, they lead to personal disorientation in action. On the basis of reflexivity, individuals adopt certain 'stances' on society, which constitute the micro-macro link and produce the 'active agent'.
Therefore, reflexive deliberations take place through inner conversation, which enables different modes of reflexivity to emerge.
Archer
(
2003
), for instance, argues that different time periods induce particular modes of reflexivity. In traditional societies, the dominant mode of reflexivity is a communicative one, as it is collectivistic towards the social. Modernity enabled autonomous reflexivity, which is accommodative towards the social. In recent decades, new unpredictable and uncertain social areas have emerged that have influenced a number of transitions in everyday life. Structural uncertainties have increased the importance of meta-reflexivity, which is transcendental towards the social, and also allows a sub-category of fractured reflexivity to emerge.
The particular mode of reflexivity to emerge and become a subject's personal property refers to the nexus between a context contributed by the socio-cultural structure, and concerns contributed by active agents. Based on reflexivity, individuals adopt certain 'stances' on society which constitute the micro-macro link and produce the 'active agent' (
Archer 2003
,
2012
). Having a personal identity, as defined by individuals having their own configurations of concerns, they are able to decide what they care about most and what they seek to realise in society (
Archer 2003
). In that light, reflexivity is a key mechanism of social change, taking shape through the relationship between individual and structure, but always in the individual domain (
Archer 2003
). Individuals reflexively influence their actions; by so doing, they simultaneously influence the social structure. Seen this way, reflexivity is a mediator between structure and agency.
So how is reflexivity linked to mobility? As
Archer
(
2003
) shows, internal conversations leading to reflexivity have been shown to be radically varied and shaped by the interplay of the social situation and the personal concerns of agents. As part of this formation, differential access to resources (cognitive and physical) is crucial (
Mutch 2010
;
Archer 2003
). Mobility can be seen as a source for enhancing reflexive capacities, which enable better adjustment to the social order while also offering a range of lifestyle varieties for someone to choose. Here it has been shown that mobility strategies can influence one's adaptation to European societies to a certain extent (
Andreotti et al. 2013, p. 3
). It has also been examined as a reflexive decision embracing ideas of lifestyle migration (
Benson 2010
), self-searching migration (
Kato 2013
) and liquid migration (
Engbersen et al. 2010
). One study, on student mobility (
European Union 2014
), revealed that students who engage in study mobility are half as likely to suffer long-term unemployment compared to others. It showed the unemployment rate of mobile students was 23% lower, even five years after graduation. They are also more likely to occupy managerial positions (on a low and medium level). Further, they are also better endowed with transversal skills such as language competencies, communication, problem-solving, and intercultural understanding due to spending study periods abroad. Besides finding jobs and transversal skills, mobility plays a protagonist role in material and symbolic practices marking the transition from adolescence to adulthood (
Thomson and Taylor 2005
). By traveling, young people obtain individual control over their lives as travel offers a scenario of the individualised construction of the self (
Bagnoli 2009
).
However, differences are likely to arise not just between mobile (being on a student exchange) and non-mobile (not on a student exchange) individuals, but also those who are actively mobile in the long run and the others. An important indicator is not simply the mobility experience per se, but the regularity of social practices and interactions in the transnational social sphere. Abilities to reflexively deliberate upon the social context and different modes of such reflexivity in individual cognition (
Archer 2003
) are influenced by the involuntary agential position of the individual that is given by birth and also by their access to the resources ensuing from it and from further life stances. Another considerable role is played by 'interactional' and 'figurational' inter-relations (
Mouzeis 2007
). The latter have a substantial impact on how individuals contextualise the social environment, i.e., their semantics of (self)-description resulting in reflexive deliberations.
We hypothesise that the more individuals actively participate in different social environments (local, national, and transnational), the more they are confronted with the multiple and ambivalent meanings of social orders (
Golob 2016
). The contested and overlapping semantics offered by the social environment should somehow force individuals to actively respond to a social context. We hypothesise that regular presence in trans-local or transnational social environments enables access to various resources (social, cultural, economic, etc.), which enhances the individual's reflexive and agential emergent properties. We understand this presence as the frequency of transnational social ties, implying the number of direct contacts with alters in the egocentric network who live in a country different to the ego.
Transnationalism generally refers to the processes, activities, people and their ties across national borders (
Portes et al. 1999
). Based on contacts with transnational alters, certain types of transnational practices emerge that connect people through social and symbolic ties. These people are thus encouraged to become involved in the production of particular transnational social spaces (
Faist 2000
). It has been argued (
Basch et al. 1994, p. 1
) they are engaged in networks, activities, and patterns of life which encompass both their host and home societies. Networks have turned out to be particularly significant for students' mobility (
Van Mol and Michielsen 2015
), especially within Europe. While it has been shown that social networks form right
after
arrival, empirical evidence also demonstrates that certain interaction and networks are formed
before
the actual period of mobility (
Van Mol and Michielsen 2015
). On one hand, these networks do not encourage transnationalism since students tend to socialise with their fellow nationals. On the other, the transnational component is paramount: first, because mobile students maintain transnational contacts with their local and national environments (
Gargano 2009
) and, second, because new contacts in the host society are added to the existing social network.
When paying attention to student mobility and their transnational social networks, we must consider the development of their transnational personal ties, their social positioning in the national environment, specific national semantic contexts, and students' reflexive considerations, including the different types of reflexivity they employ.
We see individuals as experiencing the world indirectly, through their thoughts and perceptions, whereas observations of a wide variety of environments stimulate self-observations and consciousness (
Luhmann 1999
). Different national (and transnational) contexts stimulate individuals' mental activities in different ways. An important role is played by discursive influences presenting semantic variations of reality (
Hasan 2009
), which substantiate a person's perceptions. Through structural coupling, the way, in which individuals describe themselves, results in their contextualisation of the social semantics leading to their personal or collective identities.
While our study focuses on Slovenian students, it also provides some tentative insights regarding a comparison of individuals coming from different structural and semantic national contexts.
On that basis, we can identify three main questions that call for empirical testing:
Is mobility a significant factor in enhancing the reflexive capacities of the students?

Is there a relationship between the students' transnational social ties, their mobility, and their reflexive capacities?

Are there any other relevant impacts on reflexivity from the environments of the students, including both their national contexts and their family backgrounds?
3. Methodology
Our research questions are based on a broad range of studies dealing with the issues of mobility, transnationalism and/or reflexivity described above. What is clearly missing in the existing research, however, are proper measurement tools combined within a single study—to use quantitative research methods to examine what links students' mobility, their transnational social ties and their reflexive capacities. Our research thus entails three main steps.
First, we operationalised the key theoretical concepts to develop the instruments to measure reflexivity levels, reflexivity types, transnational social ties and mobility. Here, we were not only able to build on existing theory and research but to improve and adapt it to suit our research focus on the students. The development of the primary measurement instruments is described in the next two sections.
Second, we applied our measurement instruments in an on-line administered questionnaire. We obtained our samples from different sampling frames:
-

The sampling frame targeted the sub-population of Slovenian students registered as participants in student exchanges by their universities'/faculties'/departments' international offices—all Slovenian higher education institutions were contacted and asked to distribute the survey. The entire sub-population was thus targeted but encountered a limited response—first, at the level of the international offices, then among individual students.

-

In order to provide a control group, we targeted Slovenian students generally using direct contacts, e-mails, and social media. The majority of them reported not having engaged in transnational student mobility, while those who did were grouped together with the mobile students from the first sampling frame.
The final sample used to build our statistical explanatory model contains 146 respondents from Slovenian higher education institutions. Given the limited responses within the first sampling frame and the convenience sampling for the second one, we also cannot speak about representative probability sampling. This clearly hindered the potential for broader generalisation but is sufficient for initially testing the connection between reflexivity, transnational personal ties, and mobility.
In addition, using the same on-line survey questionnaire we targeted students from a high-ranking university in Hawai'i and a private American university in Lebanon to include some other world regions: USA-Pacific-Asia, and the Middle East. For these additional comparisons, 30 respondents from Hawai'i and 12 respondents from Lebanon are used, which might be relevant for future research, but not for our explanatory model: because both foreign samples are quite small and limited to a single (comparatively high-ranking) academic institution.
Finally, we conducted statistical analysis, first through some basic quantitative techniques and then through path analysis of the Slovenian sample. The intention was to test the hypothesised causal relationships among the key variables, especially between mobility, having transnational personal ties, levels and types of reflexivity, while controlling for certain other potentially relevant background variables.
4. Measuring Reflexivity
To test the relationship between reflexivity and the presence of transnational social ties among higher education students, we first need to develop a tool to measure reflexivity. Moreover, we should operationalise the concept of transnational mobility for the students and quantify their transnational social ties.
The key steps in quantifying the issue of reflexivity as understood by Archer were initially provided in her own Internal Conversation Indicator—ICONI (
Mutch 2010
) clearly showing that this complex theoretical concept can be operationalised for use in questionnaires. The measurement instrument was further developed by
Porpora and Shumar
(
2010
) who used a battery of five statements to measure levels of reflexivity, selected from Archer's original instrument. Using five-level Likert scales, they asked respondents to determine the frequency of the following actions:
plan your own future;

rehearse what you would say in an important conversation;

imagine the best and worst consequences of a major decision;

review a conversation that ended badly; and
They asked the respondents whether each of these actions had been done in their own minds (as a supposed measure of autonomous reflexivity) and/or in talk with family and friends (communicative reflexivity). They further combine meta reflexivity with the autonomous and communicative forms of it (
Golob 2016, pp. 212–16
).
However, while their instrument has a clear strength in providing the reflexivity levels and acknowledging that reflexivity types are not mutually exclusive, their operationalisation of reflexivity types is questionable. It is no surprise they find that purely communicative reflexivity (compared to autonomous or 'full' reflexivity is quite rare, i.e., one per cent of their sample). One can hardly imagine people talking about something with other people without also considering it in their own minds or, in other words, talking about something without thinking about it. In fact,
Porpora and Shumar's
(
2010
) operationalisation of the two reflexivity 'styles' is problematic because communicative reflexivity should not simply be seen as 'talking' with other people but as looking for confirmation of one's own reflexive deliberation in one's social environment—something not needed by autonomously reflexive individuals.
While Porpora-Shumar's instrument can be used to determine the
levels
of reflexivity, it struggles to provide a valid measure for the reflexivity
types
. We therefore suggest further development of the instrument.
First, we apply the same set of five items, each with a five-level Likert scale ranging from 0 (never) to 4 (all the time), to determine the level of reflexivity (ranging from 0 to 20 in total, since a respondent can gain up to four points for each of the five statements). Unfortunately, Porpora and Shumar do not report whether their reflexivity is based on a combination of the five questions, is truly a one-dimensional concept or, in other words, whether the five different items truly measure the same thing. Regarding our own adaptation of their set of five statements, we found that our instrument is one-dimensional, with an acceptable value for the Cronbach alpha reliability test (0.70).
Second, we developed an alternative measure of the reflexivity types where each statement listed in
Table 1
indicates a certain reflexivity type.
The statements in
Table 1
, however, should not, as such, be seen as indicators of reflexivity—without combining them with the reflexivity levels. For instance, individuals can make decisions with or without the full agreement of others but neither of these necessarily means such decisions are linked to reflexivity. Decisions may arise from sudden impulses or traditional habits—not reflexivity. Consequently, the frequencies of behaviours listed in
Table 1
should only be seen as indicators of different reflexivity
types
when combined with the
levels
of reflexivity measured by the five statements presented above. We establish this combination by simply multiplying the scores for the reflexivity level (from 0 to 20) with each score for the reflexivity types (from 0 to 4). The final score for each reflexivity type combined with the reflexivity intensity is thus between 0 (minimal reflexivity of the given type) and 80 (maximal reflexivity for the given type). The calculations are presented systematically in
Table 2
.
Unlike the one by
Porpora and Shumar
(
2010
), our measurement instrument does not make an arbitrary binary opposition between reflexive and non-reflexive persons (they attempt to soften this arbitrariness by distinguishing between absolute and comparative perspectives). Such an opposition would be questionable since we are dealing with a Likert scale, not binary variables. We thus do not see people as divided between reflexive and non-reflexive but as being more and less reflexive.
5. Measuring the Mobility and Personal Transnational Social Ties of the Students
Different types of student mobility could be viewed as relevant indicators. In studies on student mobility, one can differentiate spontaneous and organised student mobility, which is the most common type in Europe due to the institutionalised Erasmus programme (
Waters and Brooks 2011
). Student mobility can be either intra-European or inter-continental, either an exchange (within the Erasmus study exchange framework or outside it) or degree-seeking. However, the present study does not aim to detect differences in various types of student mobility but how such mobility, regardless of the different types, affects the students' reflexivity. Nevertheless, the duration of mobility must be taken into account since a longer period of mobility may generate a stronger impact. We asked the respondents whether they had ever spent at least one month or more (and, if so, how many months) in another country for study purposes. We included all levels of study (BA, MA, and PhD) and did not explicitly distinguish them due to the comparatively small overall sample size. However, we have controlled our model for students' age.
While it may be hypothesised that mobility is related to higher reflexivity scores, a crucial variable that is linked to them both is the presence of students' transnational social ties. The latter is the next element we have to operationalise. In this regard, we mostly drew on the work of
Molina et al.
(
2014
). Thus, we measured the students' transnational social ties through their "personal networks [as] an intermediate level of analysis, in which both agency and institutional constraints can be studied simultaneously" (
Molina et al. 2014, p. 2
). While considering transnational social ties it is not only important for the ties to be present, but also that they are dense and continuous. Another important element is whether the ties derive from the private sphere (such as family, friendship, romantic ties) or the sphere of business, career and study.
In our own research, each respondent was thus first asked to list 20 persons "important in your current life, including your family, friends, acquaintances, colleagues, business contacts etc.". They were then asked to provide basic information about each of these persons (or alters in the egocentric network). This information includes:
The frequency of contacts: "How often did you contact this person, including web and phone-based communication, in the last year?" (Never/Less than once a month/At least once a month but not every week/At least once a week but not every day/Almost every day);

The number of years for which the alter has been known to the respondent ("For how long have you known this person?");

The sphere of life related to the alter: "Is the person related to"… "your private life" or "your study, business, career etc.";

The alter's country of origin ("What is this person's country of origin?") and country of current residence ("Where does the person live now?").
Based on the country in which the respondent has spent most of his/her life and each alter's current country of residence, we identified whether an alter can be considered transnational or not. The number of transnational alters identified by each ego (respondent) was then used as a measure of personal transnational social ties.
6. Descriptive Statistics
Based on our samples of students, we have no reason to believe that student mobility as such increases reflexivity
levels
. For the Slovenian students, the mean reflexivity level is 13.2, with no significant difference between mobile (13.1) and non-mobile ones (13.4). With a score of 14.8, the differences between Slovenia and Hawai'i are also nonsignificant. Yet the score for Lebanon (16.5) is somewhat higher. Due to the small sample sizes, we obviously cannot test the differences between mobile and non-mobile students in statistical terms for Lebanon and the USA/Hawai'i.
The differences clearly become significant when considering the mean scores for different
types
of reflexivity as shown in
Table 3
, where we present both the mean scores for each reflexivity type and the share of students with a score above 40. There is no significant difference between the Slovenian and the US non-mobile students in terms of communicative reflexivity. In contrast, mobile Slovenian students are characterised by significantly lower communicative reflexivity and the Lebanese students generally are characterised by higher levels than the rest. The explanations for both are quite straightforward. Mobile students may find it more difficult to maintain very strong and close social bonds with other people and take their opinions and actions into account. On the other hand, such bonds may be more present in somewhat more traditional societies, like the Lebanese, which encourage communicative reflexivity. The situation of the Lebanese students included in our survey may be even more complex than the situation of other Lebanese students. While their society may be characterised by certain traditional elements usually linked to the pronounced role of religion and religion-/tradition-related social norms (
Inglehart and Welzel 2014
), they are studying at an elite and western-style educational institution. This may lead to interesting contradictions expressed in both high
levels
of reflexivity, high scores for meta-reflexivity and extremely high scores for fractured reflexivity—more than twice the level for the Slovenian and US students.
While mobility is linked to lower communicative reflexivity, it is not connected to higher autonomous reflexivity (or is not caused by autonomous reflexivity). In this case, national differences seem to be more important. The students from Hawai'i stand out in terms of their higher autonomous reflexivity. These results may be linked to some individualist features of American culture (
Inglehart and Welzel 2014
) and specifics of the local environment, educational institutions, and the frequency of interactions with people from quite different cultural backgrounds.
Slovenian mobile students have no higher scores for meta reflexivity than non-mobile ones, whereas the differences seem to be greater for the Hawai'ian and Lebanese students. However, due to the small sample sizes, we are unable to draw any firm conclusions on this basis.
Fractured reflexivity, on the other hand, has—with the exception of the Lebanese students—comparatively the lowest scores. However, if fractured reflexivity is seen as a problem, its scores may still be seen as too high. Mobility as such does play its part here since it is linked with lower scores for fractured reflexivity. This calls for further research on both intercultural and institutional differences.
To summarise: in line with our expectations, students' mobility is linked to lower communicative and fractured reflexivity. The mobile students seem to have greater control over their lives and depend less on the opinions and support of others while making their reflexive deliberations. In contrast, mobility as such neither increases general levels of reflexivity nor autonomous reflexivity. Yet any comparisons between Slovenian, Hawai'ian, and Lebanese students can only be seen here as tentatively indicating that similar differences between the more and the less mobile students regarding their reflexivity levels may appear in quite different cultural and institutional settings. Due to the sampling limitations mentioned above, we can draw no firm conclusions regarding inter-cultural differences. Our further analysis is therefore limited to the Slovenian students.
7. Towards an Explanatory Model: The Case of Slovenia
Based on the existing theoretical assumptions and what can be inferred from our empirical data regarding the Slovenian students, we can develop an explanatory model applying path analysis. It is a version of structural equation modelling that remains on the single level of analysis and includes no latent variables. Due to the limitations of our sample mentioned above, these models should not be seen as the final generalisation but more as providing tentative guidance for further research.
To construct our explanatory model, we operationalised mobility in three different ways: (1) as a distinction between students mobile for at least one month and the rest; (2) as a distinction between students mobile for at least three months (i.e., the minimum length of an Erasmus exchange) and the rest; and (3) as the total number of months of the period of mobility. We note the relationships in the model remain the same regardless of the mobility indicator.
Yet, this does not mean that the significance of short-term student mobility (i.e., even for just one month) implies that transnational personal ties are irrelevant. Our path analysis confirms mobile students have a bigger number of transnational alters. The standardised coefficient between the number of transnational alters and mobility is 0.268. While mobility does not affect the general level of reflexivity as such, the latter is positively affected by the numbers of transnational alters (0.269), while negatively affected by the number of transnational private alters (−0.278) and by being a male (i.e., female students are more likely to indicate higher levels of reflexivity).
Further, we attempt to identify the relationship between levels of reflexivity and scores for different reflexivity types, while controlling for the background variables provided within our sample. The relationship between reflexivity levels and reflexivity types is obvious since the scores for the reflexivity types were constructed by taking the reflexivity levels into account. A more interesting part of our model is the impact of mobility, participation in the transnational sphere (in terms of the number of transnational alters) and the control variables, defining our respondents' backgrounds, on the scores for different reflexivity types.
Our path analysis confirms the negative relationship between mobility and communicative reflexivity as already noted and explained above. Being mobile implies that students' reflexive deliberations depend less on receiving other people's confirmations.
Further, mobile students seem more likely to be able to take control over their situations and social contexts, to make decisions and perform actions based on their reflexive deliberations. Consequently, they are less likely to experience fractured reflexivity—as demonstrated by our path analysis model.
Mobility also implies higher scores for the meta reflexivity type. Mobile students are more likely to participate in heterogeneous socio-cultural contexts and enter social environments that differ significantly from their own. They are more likely to reject simplifications, stereotyping and to instead critically reflect on their social contexts and even their own reflections. These patterns of thinking and behaviour clearly make them more meta reflexive.
Finally, fractured reflexivity decreases with age. With higher age, students seem more likely to be able to organise and arrange their lives in such a way they do not feel lost and/or completely unable to control the things happening around them.
8. Interpretation and Concluding Thoughts
Our study shows that transnational mobility does affect reflexivity but the relationship between them is not straightforward. It directly affects three reflexivity types, being positively linked to meta reflexivity, and negatively to communicative and fractured reflexivity. Its effects on the levels of reflexivity generally and autonomous reflexivity specifically, on the other hand, are more indirect—through participation in the transnational sphere.
Author Contributions
The research design and key ideas were developed with the equal contributions by both authors. Tea Golob played a major part in providing the theoretical framework. Matej Makarovic played a major part in providing the statistical analyses. The interpretation of the results was shared equally between both authors.
Conflicts of Interest
The authors declare no conflicts of interests.
| | |
| --- | --- |
| 1 | Mobility for at least three months can be explained in a similar way as the at least one-month mobility by father's education (coefficient equals 0.170) and the number of transnational alters (0.255). It is also linked to communicative reflexivity in a similar way (−0.182). However, it is less persuasive in statistical terms when linked to meta (0.087) and fractured (−0.097) reflexivity. Taking the total number of months spent abroad due to study reasons as the mobility indicator, on the other hand, produces statistically significant—but weaker—links with the number of transnational alters (0.137) and meta reflexivity (0.128), while the links with father's education, communicative, and fractured reflexivity are clearly insignificant in statistical terms. |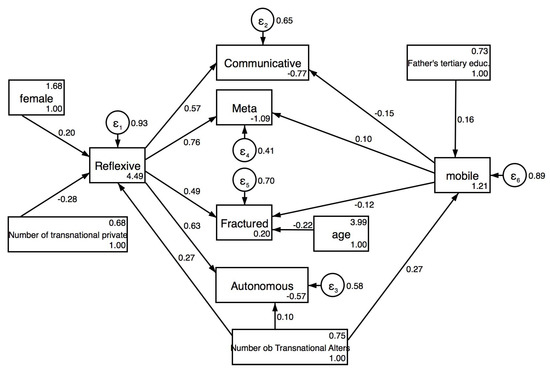 Figure 1. Path analysis explaining the relationships between mobility, inclusion in the transnational sphere, levels, and types of reflexivity and background variables.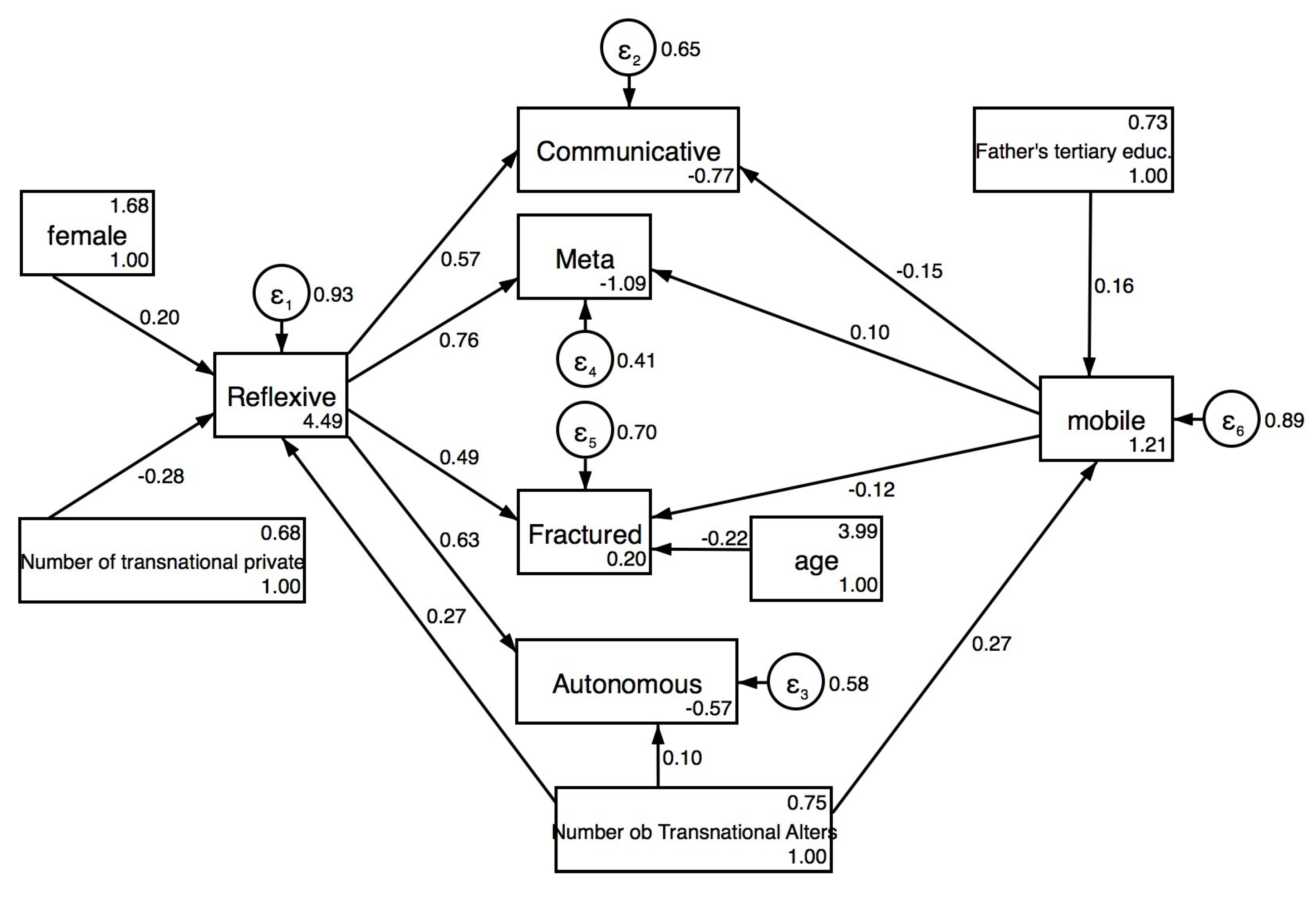 Reflexivity Type
Type of reflexivity indicator: five-level Likert scale each transformed into scores from 0 (never) to 4 (all the time):

During the last year, how often did you…

Communicative
Make important decisions with full agreement and support of the people close to you only.
Autonomous
Make important decisions based on your own best judgement regardless of what others think or say.
Meta
Carefully consider the key priorities of your life and why you are doing what you are doing.
Fractured
Feel lost and did not know at all what to do because of the things happening around you.
Reflexivity Level (5-Level Likert Scale for Each Item)
Plan Your Own Future (L1)
Rehearse What You Would Say in an Important Conversation (L2)
Imagine the Best and Worst Consequences of a Major Decision (L3)
Review a Conversation That Ended Badly (L4)
Clarify Thoughts about Some Issue, Person or Problem (L5)
Total Score for Reflexivity Type (TS)
ReflexivityType (5-Level Likert Scale for Each Item)
Communicative (T1)
S1c = L1 × T1
S2c = L2 × T1
S3c = L3 × T1
S4c = L4 × T1
S5c = L4 × T1
TSc = S1c + S2c + S3c + S4c + S5c
Autonomous (T2)
S1a = L1 × T2
S2a = L2 × T2
S3a = L3 × T2
S4a = L4 × T2
S5a = L4 × T2
TSa = S1a + S2a + S3a + S4a + S5a
Meta (T3)
S1m = L1 × T3
S2m = L2 × T3
S3m = L3 × T3
S4m = L4 × T3
S5m = L4 × T3
TSm = S1m + S2m + S3m + S4m + S5m
Fractured (T4)
S1f = L1 × T4
S2f = L2 × T4
S3f = L3 × T4
S4f = L4 × T4
S5f = L4 × T4
TSf = S1f + S2f + S3f + S4f + S5f
Thresholds
0 ≤ S1 ≤ 16
0 ≤ S2 ≤ 16
0 ≤ S3 ≤ 16
0 ≤ S4 ≤ 16
0 ≤ S5 ≤ 16
0 ≤ TS ≤ 80
Thresholds for the reflexivity level (R = L1 + L2 + L3 + L4 + L5)
0 ≤ L1 + L2 + L3 + L4 + L5 ≤ 20

Table 3. Mean scores and percentages with scores exceeding 40 (out of 80) for the four reflexivity types.
Communicative
Autonomous
Meta
Fractured
Mean Score
% with Score >40
Mean Score
% with Score >40
Mean Score
% with Score >40
Mean Score
% with Score >40
Slovenia
not mobile *
31.9
26.2
38.9
45.2
42.1
50.0
25.4
19.1
Mobile **
25.3
17.3
35.4
37.5
41.4
50.0
22.0
13.5
USA—Hawai'i
not mobile *
32.5
20.0
43.0
60.0
42.3
50.0
26.3
20.0
Mobile **
33.1
30.0
43.4
55.0
52.0
70.0
27.1
20.0
Lebanon
not mobile *
41.9
40.0
36.6
30.0
46.1
60.0
53.4
60.0
Mobile **
56.0
50.0
48.0
50.0
72.0
100.0
40.0
50.0
* Not experiencing mobility related to transnational study for at least one month; ** Experiencing mobility related to transnational study for at least one month.
No. of Transnational Alters
No. of Transnational Alters Contacted at Least Monthly
No. of Transnational Alters in Private Sphere
No. of Transnational Alters Not Known before the Mobility
experiencing transnational mobility for study purposes ≥3 months
2.56
1.81
1.68
1.97
experiencing transnational mobility for study purposes ≥1 month
2.52
1.77
1.64
1.88
others (no transnational study related mobility for at least 1 month)
0.83
0.86
0.62

t

-test: mobile for at least three months vs. the rest (significance)
4.08 (0.000) **
2.19 (0.030) *
3.17 (0.002) **

t

-test: mobile for at least one month vs. the rest (significance)
4.70 (0.000) **
2.30 (0.023) *
3.10 (0.002) **
Correlation with the length (number of months) of transnational study related mobility (significance)
0.13 (0.123)
0.06 (0.481)
0.08 (0.317)
0.05 (0.671)
* Equal variances assumed; ** Equal variances not assumed.
Variables: Effect
Variables: Causal
Standardised Coefficients
Standard Errors
Significances
Variances Explained (R2)
Level of reflexivity (Reflexive)
No. of transnational alters
0.269
0.130
0.038
0.07
Female
0.201
0.083
0.015
Number of transnational private alters
−0.278
0.130
0.032
Constant
4.487
0.359
0.000
Communicative reflexivity score (Communicative)
Level of reflexivity (Reflexive)
0.572
0.059
0.000
0.35
Mobile ≥1 month
−0.153
0.071
0.031
Constant
0.772
0.348
0.027
Autonomous reflexivity score (Autonomous)
Level of reflexivity (Reflexive)
0.632
0.052
0.000
0.42
Number of transnational alters
0.0980
0.067
0.142
Constant
−0.571
0.308
0.064
Meta reflexivity score (Meta)
Level of reflexivity (Reflexive)
0.762
0.036
0.000
0.59
Mobile ≥1 month
0.099
0.056
0.075
Constant
1.088
0.253
0.000
Fractured reflexivity score (Fractured)
Level of reflexivity (Reflexive)
0.493
0.064
0.000
0.30
Mobile ≥1 month
0.117
0.074
0.116
Age
0.221
0.072
0.002
Constant
0.200
0.486
0.680
Mobile ≥1 month
Number of transnational alters
0.268
0.079
0.001
0.11
Father's tertiary education
0.162
0.082
0.047
Constant
1.209
0.156
0.000
Model's overall goodness of fit
CFI = 0.998
0.24
TLI = 0.997
RMSEA = 0.012

© 2018 by the authors. Licensee MDPI, Basel, Switzerland. This article is an open access article distributed under the terms and conditions of the Creative Commons Attribution (CC BY) license (http://creativecommons.org/licenses/by/4.0/).