Open Access This article is
freely available
re-usable
Article
Topic Modeling The Red Pill
Independent Researcher, Brighton BN1 4SG, UK
Received: 10 December 2017 / Accepted: 1 March 2018 / Published: 9 March 2018
Abstract
:
The Men's Rights Activism (MRA) movement and its sub-movement The Red Pill (TRP), has flourished online, offering support and advice to men who feel their masculinity is being challenged by societal shifts. Whilst some insightful studies have been carried out, the small samples analysed by researchers limits the scope of studies, which is small compared to the large amounts of data that TRP produces. By extracting a significant quantity of content from a prominent MRA website, ReturnOfKings.com (RoK), whose creator is one of the most prominent figures in the manosphere and who has been featured in multiple studies. Research already completed can be expanded upon with topic modelling and neural networked machine learning, computational analysis that is proposed to augment methodologies of open coding by automatically and unbiasedly analysing conceptual clusters. The successes and limitations of this computational methodology shed light on its further uses in sociological research and has answered the question: What can topic modeling demonstrate about the men's rights activism movement's prescriptive masculinity? This methodology not only proved that it could replicate the results of a previous study, but also delivered insights into an increasingly political focus within TRP, and deeper perspectives into the concepts identified within the movement.
Keywords:
machine learning; digital humanities; men's rights activism; masculinities; online communities
1. Introduction
Using this methodology, this paper demonstrates what insights topic modeling can provide into TRP's prescriptive masculinity. To prove that the methods are reliable, this paper compares the topics produced by the data models against the topics manually created by Schmitz and Kazyak. Furthermore, this paper aims to analyse the coherence of these topics manually, to assess the insight potential of these clusters. By automating as much of the research as possible, this paper demonstrates the practical time and resource-saving potential of these methodologies, balanced against the limitations of clarity and depth.
3. Methodology
The online space is ideal for purely text-based NLP topic modelling analysis, as many paralinguistic features of communication are stripped out by the inherent nature of the medium. It would be incorrect to suggest that the proposed methodology would be appropriate to analyse transcripts of pickup artist coaching, as the body language and the wider context of rapport between the participants might be more meaningful than the actual words said. However, in the context of blogs online, the audience is only reading the blog articles, removing the potential of rapport and past history to corrupt NLP analysis. This reduction in communication features outside of text allows us to be more confident in the accuracy of the two model's outputs, through the very nature of the internet.
The topics that were formed are coherent with any HTML that was inline in the text being isolated from the topics this paper will study. Because of the repetitive nature and limited vocabulary of HTML, this code been isolated into its own topic. This has been labeled "Navbar", as the most representative terms were those that were used in the navigation bar and are ignored from analysis.
These topics were then reapplied to the documents the topics were trained on, in order to analyse the patterns within which the topics would be found within the same document, implying that the subject matter and motivations overlapped. From this, an overlap matrix could be created, using the average percentage certainty with which the model predicted each topic to be in each document, using a phi value probability.
Benefits of This Methodology
The depth of the insight available to the coder in
Schmitz and Kazyak
(
2016
) was limited to the number of articles they were able to ingest, code, and analyse. With more data, is it unreasonable to propose that more insights can be extracted from how members of TRP write and therefore what they believe? This paper believes that the LDA/Word2vec methodology is able to provide coherent insights, and that it can be applied to a similar if not larger number of sources, to find more reliable insights into how TRP and other communities interact. By limiting the scope of this initial paper to only one source, the accuracy can be proven without time investment into the crawling and processing of many sources. Furthermore, by keeping the source scope small, this paper is able to build on the less in-depth analysis of textual analysis in the same field, such as
Jane
(
2017
), by analysing the context of language used instead of the more limited data model of Jane's "Random Rape Threat Generator". This would achieve the same aims as Jane of understanding how TRP can be interacted with, despite the counter-productive vicious cycle that
Gotell and Dutton
(
2016
) identify, through understanding the relational nature of feminist outrage and manosphere victimhood.
Ging
(
2017
) performed a similar research project to that proposed in this paper, by categorising and topic clustering in the manosphere, but was limited to only 38 sites and one item of content for analysis in its critical discourse analysis. Regardless of the reliability of Ging's sampling method of intuitively identifying interlinked sites, the methodology proposed in this paper allows for whole population analysis, as the models are built on the content from the entire available corpus. This methodology avoids typical sampling errors in non-random samples, as well as ascertainment bias, where important representations of a trend can be ignored after the symptoms of the trend are excluded from analysis.
4. Results
Analysing the frequency with which the topics were identified (as graphed in
Figure 2
), there are three obvious groupings. "Goals and Growth" is by far the most common classification, being found in 46% of documents.
The core topics of "Pickup", "Personal Relationships Are Political", "Prescriptive Society", "Stats and Examples", and "International Society Comparison" are the second grouping, with frequencies between 28,647 and 24,313, being found in 7965 more documents than the next closest grouping.
Between frequencies of 16,348 and 10,071 are the complementary topics of "Teaching and Learning", "Government and State", "Social Media Censorship", and "Exercise", in that order. The prevalence of lifestyle content, both in the topics within RoK and the style of the content written by Cyberlads, indicates strength in the reproductive powers of this methodology.
Investigating the network graph of topics (
Figure 1
), a similar distribution to that of the frequency graph (
Figure 2
) can be seen. There are two hub topics of "Goals and Growth" and "Pickup", with a cluster of topics that are both linked to the hub topics and closely to each other. Beyond these densely interconnected groups there are outlier topics that are only linked to the two hub topics. This distribution suggests that RoK has two hub topics that are always referenced in content, as they are central to the site's ideological positioning, complimented by special outlier topics that serve to illustrate and augment these hubs. The distribution also suggests that there is a second group of topics that, whilst not as central as the hub topics, is usually mentioned with each other, implying a repetitive nature to the way that they are discussed.
4.1. Self-Help, Lifestyles and Ascetic Hedonism
4.1.2. Pickup
The second most frequent topic, and also the second most-interlinked hub topic, regards pickup. The pickup topic, found in 35% of documents, is focused on prescriptive dating advice and recounting encounters with women, who are predominantly referred to by their physical appearance or gendered insults, e.g., "bitch", "blonde", and "brunette" (
Mountford 2018b
). This maps against the two approaches that The Red Pill use for developing their arguments according to
Schmitz and Kazyak
(
2016
); these are a lifestyle prescription and worldview framing that offer "a breadth of lifestyle advice aimed at empowering men and encouraging them to unapologetically embrace their masculinity". The topic "Pickup" is clearly made up of advice and examples. The most representative words of the topic are "get", "just", and "go", and the most representative documents encourage the reader to "imagine" being in a situation. The topic also includes recollections of Roosh's experiences about times he has had sexual success with women. The second most-representative document refers to the women only by their hair colour, and documents their and Roosh's actions as part of the wider use of learning examples as a teaching tool, with the writer giving strategies and methods through evidence-based examples.
The portrayal of women as sexual commodities in the topics generated by the model comes in two flavours: overt in the language in "Pickup", and implicit in the case of "Goals and Growth". Overtly, women are referred to as identifying features, rather than as people; they are blondes and brunettes that are linked to further objectification through their connotations with "wearing", "tit", "bra", and "dressed" (
Mountford 2018b
). Furthermore, the use of "girl" as the female collective noun compared to the male "guy", in the terms most representative of the pickup topic, demonstrates the gendered and sexist language used. Whilst these insights are neither new nor unexpected, the fact that the data models have isolated it as a trend indicates the models have reliability in replicating existing theory.
Drilling deeper into the connotations of "girl", compared to other female pronouns of "woman", "lady", and "female", significant differences can be seen (
Mountford 2018b
). "Girl" has strong links to "guy" and "hot", but also with negative and promiscuous terms, such as "slut" and "slutty", indicating that girls are predominantly an object of sexual desire. The other female pronouns for comparison all share the links to promiscuity, but differ in terms of the wider perception of the term. "Woman" has connotations with "pedestal" and "entitlement", linking to the TRP belief that feminism has elevated women to a level they do not deserve. "Lady" is more linked to weddings and long-term partnership, with terms such as "dress", "girlfriend", and "sweet". "Female", being a more scientific term, has links to more theoretical terms, like "decriminalized", "perpetuating", "bolstering" and "devaluing".
The common links to promiscuity maps against Schmitz and Kazyak's identification of the Madonna/whore dichotomy in MRA writings, whereby women are both presented as vulgar objects of sexual desire and also prescribed to remain pure, virgin, sexless beings. Looking into the connotations of the word "virgin", this trend is seen to be borne out. Virgins are mentioned in similar contexts as marriage ("marry", "marrying", "bride") and as long-term partners ("loyal", "girlfriend"), but are also linked to promiscuity ("slutty", "whore", and "debaucherous"). Again, the models' ability to replicate this trend proves their reliability as research tools.
4.1.3. Political and Societal Gender
The overlap edge of "Prescriptive Society" with "Goals and Growth" is also the strongest of all topic overlaps, indicating that the two topics are found alongside one another around 16% of the time. This links to one of the most interesting points: how can RoK both be prescriptive in how it tells is members to behave, whilst also rejecting and complaining about society by prescribing changes to it? The link between "Prescriptive Society" and "International Society Comparisons" is the answer to this question; it is not a prescription when it is framed as a return to a traditional practice. Indeed, the historical leaders that are presented in "International Society Comparison" are not only presented as societal leaders, but as political figures, and also as personal figures for the audience to learn from. The difference for RoK is between a prescription of a progressive change that has not yet taken place, with effects that are not yet known, and in which traditionally privileged men are finding women elevated to their equals, as opposed to a traditional way of life, which is presented as successful and the basis for current societal success.
4.1.4. Outlier Topics
The notable outlier topics (topics that are only connected to the two core hubs) are "Social Media and Censorship", "Government and State", "Teaching and Learning" and "Exercise". "Exercise" is notable in its lack of connection to "Personal Relationships Are Political", implying that RoK rarely writes of exercise as a means for achieving long-term relationships; rather, it is only for pickup and short-term relationships. Furthermore, the topic not linked strongly to societal or political topics. Exercise is purely personal. It yields social rewards by making the practitioner more attractive, but is not linked strongly to the more personal "Goals and Growth". The exercise is to demonstrate strength to women.
The "Social Media and Censorship" topic (found in 18% of documents) shows the projected victimisation of TRP, which sees itself as censored by the feminist media that is restricting what views are acceptable online and offline. The most representative documents are those exploring events on social media, including the resignation of Milo Yiannopoulos from Breitbart, Yiannopoulos having his twitter account removed by Twitter moderators, and the rise of Medium as a left-leaning crowd-blogging platform. The importance of social media to TRP is high—indeed, it is one of the core mediums of the movement, allowing users to find others that may be far away, but who are equally passionate. These interactions would not happen pre-internet, and they are facilitated by the ease of content creation and of finding users and groups of similar mindsets to the reader (
Johnson 1997
). The fact that social media has a topic to itself implies that it is both a medium and a subject to TRP, which views it as a means to an end of disseminating their message as well as a battleground where they are restricted from their aims.
4.1.5. Virtual Victims and the Evils of Feminism
As this analysis framed RoK as predominantly a Cyberlad masculinity, can we expect to see policing of masculinity solely in cyber masculinities? As noted earlier, the policing comes in a prescription of a traditional masculinity, with PUA modifications. Roosh's background in PUA would explain the scale of impact of PUA, with the topic being present in 35% of documents. This proscriptive masculinity is shown in the rejection of the left and of "cuckservatism". In TRP, this is termed "blue pill" masculinity, which would make up the othered masculinity that is presented as the alternative to taking "the Red Pill". The data demonstrates that this policing is something inherent within all the topics that are identified as a methodology, to prove the topics importance.
5. Conclusions
This paper proposes a novel methodology for coding and analysing large corpuses in decreased time, requiring significantly less human time invested. The results demonstrate the accuracy and insightful potential of this methodology in replicating expected findings, but also offer both novel insights and quantitative metrics than have the potential, when compared to a control corpus, to yield quantitative reliability to qualitative methodology. Furthermore, while it was not the principal aim, the potentially unpleasant nature of reading and comprehending violent or malevolent texts that
Gotell and Dutton
(
2016
) describe can be significantly negated with less in-depth engagements between the researcher and the texts.
The implications of this methodological successes are twofold. Firstly, that research of smaller and more extreme groups is feasible. Splinter groups that are likely to become crucial in later development can have their entire textual output analysed in ways that can be mapped against traditional research, because there is significantly less cost associated with open and closed coding methodology. Secondly, this methodology is able to ingest entire corpuses with negligible costs, thus removing potential sampling bias.
By using NLP models, this paper was able to effectively replicate pre-existing topics and provide deep insight. Topic modeling can demonstrate that TRP's masculinity is based around self-development and societal changes. Furthermore, NLP can give insights into specific conceptual framings, such as the importance of historical male leaders, the perceived actions of feminism, and the importance of PUA in achieving the goals of their audience. The data models succeed in both correctly identifying overlap and representative terms within core topics, and providing effective information retrieval when queried for simple and complex collocations.
In analysing the overall success of the data models used, it is undeniable that they flourish in the replication of proposed topics and themes, using both manual open and closed coding. The Word2vec model was perhaps the most useful tool in this research. The speed of query and insight from similar words facilitated interpretation and specific insights from the similar terms, such as TRP's presentation of how they perceive their opponents to be spreading their views (sneakily and underhandedly), and to prove the links between descriptions of women and objectivising terms. By using the Word2vec model to dig for further insight into relevant terms, as with the term "princess", the model was also used to test for expected links, as with "degenerate". The ability to replicate the Madonna/whore dichotomy and objectification re-enforces the reliability of the models proposed. With this methodology, it was possible to gain insights into the connotations and contexts of core terms, in order to re-enforce conclusions. Further work can be done with visualising this data and applying a statistical rigour to incorporate the cosine similarity, and not just similar terms.
Using the LDA topics to classify a query proved invaluable in both understanding the nuances of the topics and in understanding the query themselves. The ability to classify queries allowed for finding themes that were restricted to a topic, but which were not the most prominent strand of that topic; for example, with homosocial policing, the expected terms were within the "Personal Relationships are Political" topic, but because of the scope of this topic the terms were eclipsed without the ad-hoc query classification. For further improvement of the methods, using a graphical representation of the output of a single or multiple queries could aid the researcher in interpreting insights, while a statistical method could aid in further data mining within the returned similar terms and the topics identified. With the association, overlap, and frequency analysis of these topics, it was possible to understand the position, use, and importance given to each topic culminating in a deeper understanding of how RoK will write an article. It was most useful for understanding the co-occurrence of topics, which are common and therefore form a centre for RoK's content, and understanding which topics are often found together and which rely on each other for their arguments.
The further usage of these methodologies can extend beyond academia, to include automatic addition to extremist programmatic ad exclusion lists—such as "Excluding White Supremacist and Alt-Right Sites On Adwords" (
newwhyweb 2017
)—early identification of users influenced by extremist media, and for auto-moderation or augmented moderation of sites based on user generated content, such as Reddit, which continues to have problems with extremist content (
Chandrasekaran et al. 2017
). For future research, the use of models needs to be standardised for inter-research comparability, as this is the first paper using this methodology to study reliability and the comparison of different communities and corpora.
Conflicts of Interest
The author declares no conflict of interest.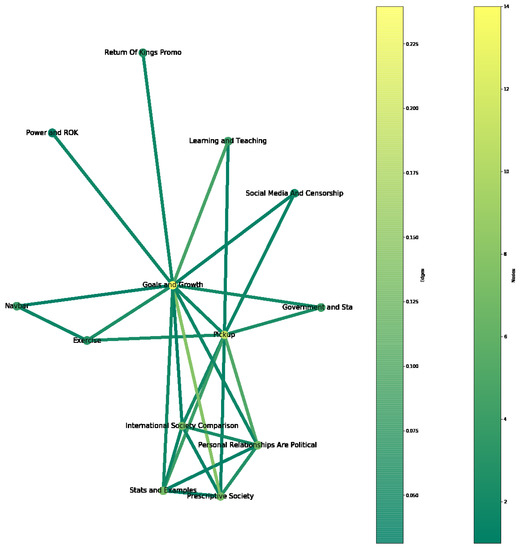 Figure 1. Network graph of topic co-occurrence. Edges are coloured by co-occurrence strength. Nodes are coloured by the number of links remaining after the removal of all edges under a strength of 0.03.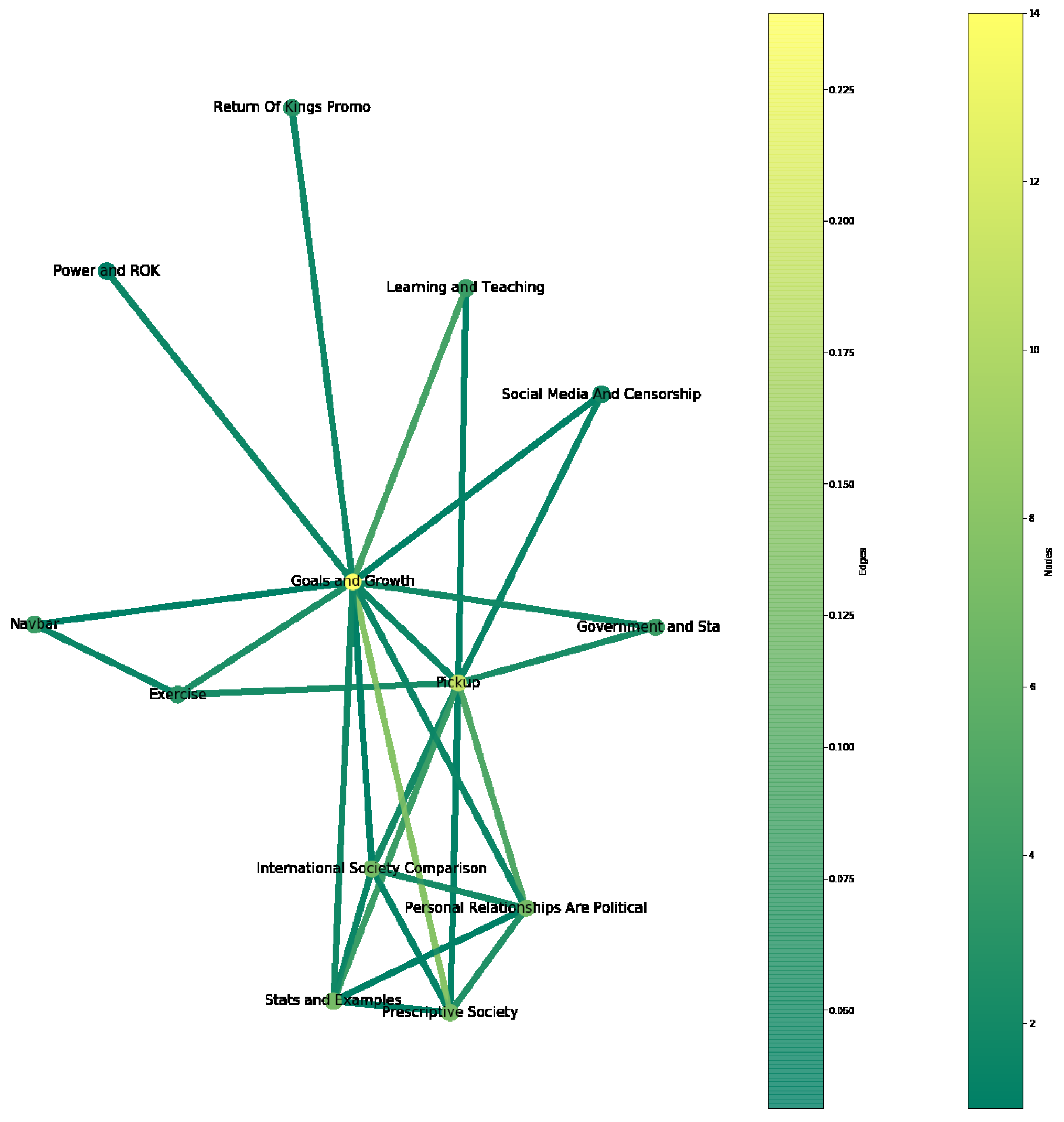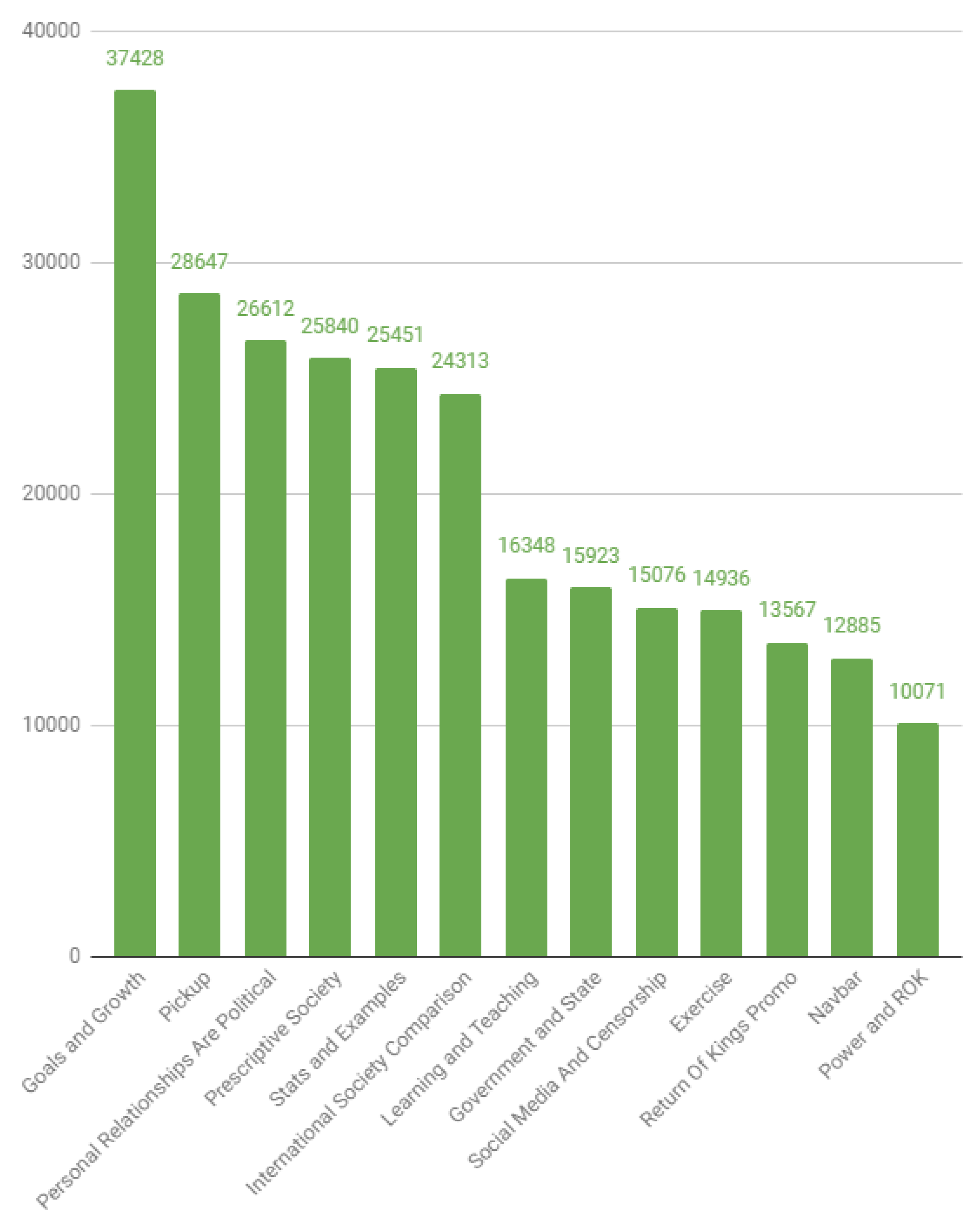 © 2018 by the author. Licensee MDPI, Basel, Switzerland. This article is an open access article distributed under the terms and conditions of the Creative Commons Attribution (CC BY) license (http://creativecommons.org/licenses/by/4.0/).