Properties of NiTi Shape Memory Alloy Micro-Foils Obtained by Pulsed-Current Sintering of Ni/Ti Foils
1
Department of Solid State Physics, Faculty of Physics and Applied Computer Science, AGH University of Science and Technology, Al. Mickiewicza 30, 30-059 Krakow, Poland
2
Department of Engineering Science and Mechanics, Shibaura Institute of Technology, 3-7-5 Toyosu, Koto-ku, Tokyo 135-8548, Japan
3
Faculty of Metals Engineering and Industrial Computer Science, AGH University of Science and Technology, Al. Mickiewicza 30, 30-059 Krakow, Poland
*
Author to whom correspondence should be addressed.
Received: 30 January 2019 / Revised: 5 March 2019 / Accepted: 8 March 2019 / Published: 13 March 2019
Abstract
Successful one-step manufacturing of micro-foils of NiTi shape memory compound by pulsed-current sintering of nickel and titanium is reported. Sandwich-like starting configurations of Ni/Ti/Ni (ST1, ST4), Ti/Ni/Ti (ST3), and a simple Ni/Ti (ST2) one, were used. XRD and differential scanning calorimetry (DSC) measurements revealed multistep martensitic transformation, much more pronounced for ST1 than for ST2 and ST3. SEM/energy dispersive X-ray spectrometer (EDS) measurements showed the predominant NiTi phase in ST1, ST4, and other intermetallic compounds in addition to it, for ST2 and ST3. The temperature dependence of the electrical resistance for ST4 shows a peak corresponding to the R-phase and a high residual resistivity. The shape memory effect of 100% was obtained for ST1 and ST4, with the temperature range of its recovery dependent on the initial strain. The ST2 and ST3 materials revealed brittleness and a lack of plasticity due to the dominancy of the austenite phase and/or the intermetallic compound content.
View Full-Text
►

▼

Figures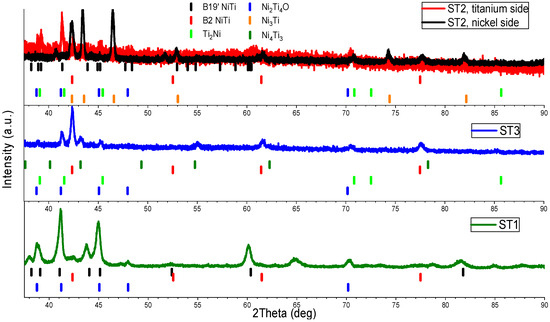 Figure 1
This is an open access article distributed under the
Creative Commons Attribution License
which permits unrestricted use, distribution, and reproduction in any medium, provided the original work is properly cited (CC BY 4.0).

Share & Cite This Article
MDPI and ACS Style
Prendota, W.; Goc, K.; Strączek, T.; Yamada, E.; Takasaki, A.; Przewoźnik, J.; Radziszewska, A.; Uematsu, S.; Kapusta, C. Properties of NiTi Shape Memory Alloy Micro-Foils Obtained by Pulsed-Current Sintering of Ni/Ti Foils. Metals 2019, 9, 323.
Note that from the first issue of 2016, MDPI journals use article numbers instead of page numbers. See further details here.
Related Articles
Comments
[Return to top]