Open Access This article is
freely available
re-usable
Article
Carbon Dissolution Using Waste Biomass—A Sustainable Approach for Iron-Carbon Alloy Production
Centre for Sustainable Materials Research and Technology (
[email protected]
), School of Materials Science and Engineering, UNSW Sydney, NSW 2052, Australia
*
Author to whom correspondence should be addressed.
Received: 26 March 2018 / Accepted: 19 April 2018 / Published: 23 April 2018
Abstract
:
This paper details the characterisation of char obtained by high-temperature pyrolysis of waste macadamia shell biomass and its application as carbon source in iron-carbon alloy production. The obtained char was characterised by ultimate and proximate analysis, X-ray diffraction (XRD), Raman spectroscopy, Fourier-transform infrared spectroscopy (FTIR), X-ray photon spectroscopy (XPS), Brunauer-Emmett-Teller (BET) surface area via N2 isothermal adsorption and scanning electron microscopy (SEM). The results indicated that obtained char is less porous, low in ash content, and high in carbon content. Investigation of iron-carbon alloy formation through carbon dissolution at 1550 °C was carried out using sessile drop method by using obtained char as a carbon source. Rapid carbon pickup by iron was observed during first two minutes of contact and reached a saturation value of ~5.18 wt % of carbon after 30 min. The carbon dissolution rate using macadamia char as a source of carbon was comparatively higher using than other carbonaceous materials such as metallurgical coke, coal chars, and waste compact discs, due to its high percentage of carbon and low ash content. This research shows that macadamia shell waste, which has a low content of ash, is a valuable supplementary carbon source for iron-carbon alloy industries.
Keywords:
biomass; waste; carbon dissolution; iron carbon alloy
1. Introduction
Iron-carbon alloy is also known as steel when the dissolved carbon into liquid iron is below 2.1%, and is referred to as cast iron when the percentage of dissolved carbon is even greater. From last few decades, demand for steel has been increasing day by day due to a worldwide population increase. Steel is used in wide range of applications due to its unique combination of strength, formability, and versatility. Global crude steel production reached 1691 Mt in the year 2017, and by 2050 will increase 1.5 times [
1
]. Overall, 70% of the total global iron-carbon alloy production depends directly on coal. Worldwide, the consumption of coal was over 7800 Mt in 2016, of which 15% was coking coal (~1.2 billion tonnes) used in steel production. Around 70% of global iron-carbon alloy is produced in basic oxygen furnaces (BOFs), which consume 770 kg of coking coal to produce 1 tonne of steel. Furthermore, 28% of iron-carbon alloy/steel is produced in electric arc furnaces (EAF), and significant quantities of electricity used for the EAF process are generated from coal-fired power stations [
2
,
3
]. There is a need to reduce the carbon footprint in iron-carbon alloy industries all over the world, and hence it is crucial to explore environment friendly carbon resources as a replacement of coal or coke.
Biomass is a major renewable, sustainable, and environmentally friendly source of energy, and is constituted by a broad range of organic materials derived from plants. Biomass, as an alternative to carbon, is also cheap and abundantly available, and therefore has gained considerable interest over last few years for various applications [
4
,
5
,
6
]. In recent years, biomasses including coffee ground, fruit peels, vegetables, have attracted attention for biocompatible packaging, filtration and energy production applications [
7
,
8
,
9
,
10
,
11
]. Biomass is composed of high quantity of fixed carbon and less content of inorganic materials, sulphur and nitrogen compare to coal and hence biomass looks as promising materials in steelmaking application [
12
,
13
,
14
]. Australia is a leading commercial producer of macadamia nuts, producing around 40,000 tonnes a year, out of a total global production of 100,000 tonnes. Waste produced during nut processing which is around 65% of total nut is also expected to increase significantly and currently industry in Australia generates 28,000 tonnes of empty shells each year. Macadamia shell waste is under-utilized, often used for garden mulching and as animal filler, or else incinerated [
15
]. Limited research has been carried out using waste macadamia shell for producing activated carbons [
16
]. Macadamia shell contains less inorganic content and high fixed carbon compared to other biomasses. Therefore, macadamia shell has the potential to be used as carbon material for replacement of coal and coke.
In our previous studies, we have utilised various types of waste plastics as an alternative carbon source for steelmaking applications [
17
,
18
,
19
,
20
]. Present study investigates the use of waste biomass i.e., macadamia shell as a replacement of coal and coke in steelmaking industries to produce iron-carbon alloy. Iron-Carbon alloy was produced by using char of macadamia shell waste into iron at 1550 °C. Macadamia shell waste char was characterised in detail, by using various analytical techniques. Our result shows that high temperature pyrolysis of macadamia shell waste produced ~22 wt % of solid char residue containing ~98% C. The kinetics of carbon dissolution and wettability studies was also investigated. Carbon dissolution rate in iron-carbon alloy using macadamia char as source was higher than other carbonaceous materials such as metallurgical coke, coal chars, etc. This novel approach of using macadamia shell waste could be an alternative promising carbon resource for synthesis of iron-carbon alloy.
2. Experimental
2.1. Materials
The macadamia shell waste powder was obtained from the Macadamia Processing Co., Limited, New South Wales, Australia. Prior to experiments, the powder was dried in a hot air oven at 100 °C for 3 h. X-ray florescence (XRF) spectroscopy (PANalytical AXIOS-Advanced WDXRF spectrometer), proximate and ultimate analysis was performed to determine fixed carbon and various elements in macadamia waste and results are represented in
Table 1
.
2.2. Pyrolysis of Macadamia Shell Waste
The pyrolysis of macadamia shell waste was carried out in horizontal tubular furnace (Ceramic Oxide Fabricators Pty. Ltd., California Gully, Australia) in argon atmosphere under isothermal conditions. The furnace was preheated to 1550 °C and weighed amount of sample was placed on crucible and inserted into hot zone region of furnace. After 15 min of pyrolysis time, the crucible along with the sample was removed from hot zone to cold zone region for cooling. After cooling, the sample was collected, weighed and carefully characterised using carbon and sulphur analyser. Further characterisation of char was also performed by XRD (Cu-Kα radiation on a Philips Multipurpose X-ray Diffraction system with step size of 0.026; PANalytical, Sydney, Australia), FTIR (PerkinElmer Spotlight 100; PerkinElmer, Waltham, MA, USA), Raman analysis (Renishaw inVia Raman spectrometer coupled to a microscope with a 514 nm argon ion laser; Renishaw, Wotton-under-Edge, UK), X-ray photon spectroscopy (XPS; Thermo ESCALAB250i; Thermo Scientific, Loughborough, UK), BET surface analysis (TriStar 3000, V6.08 A, N2 adsorption at liquid nitrogen temperature of −196 °C; Micromeritics, USA), SEM (Hitachi 3400i; Hitachi, Chiyoda, Japan) coupled with energy-dispersive X-ray spectroscopy (EDS, Brüker X flash 5010; Bruker, Preston, Australia) techniques. The collected char after characterisation was used for carbon dissolution for synthesis of iron-carbon alloy. Thermogravimetric analysis (TGA) of waste macadamia shell, at a heating rate of 10 °C/min in nitrogen atmosphere from room temperature to 1000 °C was conducted using Simultaneous Thermal Analyser (STA 8000, PerkinElmer; PerkinElmer, USA).
2.3. Formation of Iron-Carbon Alloy
Investigation of iron-carbon alloy formation between macadamia shell char and molten iron at 1550 °C was carried out using sessile drop method [
21
] in horizontal tubular furnace (
Figure 1
). Char collected at 1550 °C was ground and sieved by 100–125 µm size. Approximately 1 g of char was placed in a die and compacted with a load of 50 kN using a hydraulic press. The compacted char substrate was placed on a graphite sample holder and around 0.5 g of pure electrolytic iron was placed on top of the substrate as shown in
Figure 2
A.
Sample holder was initially placed in cold zone for 5 min and slowly pushed into the hot zone region where the temperature was 1550 °C. Experiments were carried out in argon atmosphere and were repeated at different time period to investigate the carburization behaviour. Charge-coupled device (CCD) camera along with video recorder was used to observe the reaction behaviour between iron and carbon. The samples were quenched by withdrawing the sample holder into the cold zone after predefined reaction time. Iron-carbon alloy droplet as shown in
Figure 2
B was collected and the surface was cleaned with ethanol to remove any attached carbonaceous particles. The percentage of carbon in iron-carbon alloy was measured using LECO carbon analyser (LECO-CS-230).
The interfacial region between molten iron and char substrate was also examined at underside of the droplet which effectively represents the iron/carbon interface. Interfacial investigation was performed for iron-carbon alloy droplet after 30 min of carburisation time in which saturation level of carbon into molten iron was achieved. SEM coupled with EDS was used to examine the interface layer of iron-carbon alloy.
3. Results and Discussion
In depth characterization of macadamia shell char, carbon pick up from char by molten iron and associated kinetics are detailed and discussed below. The obtained results have also been compared with various carbonaceous materials such as synthetic graphite, natural graphite, coke, coal chars and waste Compact Disk (CD) char.
3.1. Elemental Analysis and TGA
A material with high carbon, less volatile contents and low in ash content is desirable to get high carbonaceous residue. The nature of biomass waste and pyrolysis conditions will determine the char yield and quality. Proximate, ultimate analysis and XRF spectroscopy results were performed to determine fixed carbon and various elements in macadamia waste and obtained results are represented in
Table 1
. The results show that the moisture content is 5.5%, fixed carbon 20.8%, volatility content 73.5% and ash around 0.2% in macadamia shell waste. The ash content is generally lower than other nut shells such as coconut shell (2.78%) and kukui nut shell (3.27%). The volatile content is around 73%, which is lower compare to other biomasses (like pictachio shell) as they contain around 80–85% [
22
,
23
,
24
]. Low volatile content compared to other biomasses, less ash, high fixed carbon and low cost biomass makes the macadamia biomass as potential and good precursor of carbon for various applications.
TGA was performed to gain knowledge of pyrolysis of macadamia shell waste.
Figure 3
represents the TG curve for pyrolysis of macadamia shell waste at a heating rate of 10 °C/min in nitrogen atmosphere from room temperature to 1000 °C. Initial mass loss occurred between 25 to 150 °C can be attributed to the moisture loss. The main degradation of macadamia shell waste during pyrolysis was observed between 280 to 400 °C which was evident from the maximum peak of the differential thermogravimetric (DTG) curve. The progressive decrease in char yield with pyrolysis temperature is due to increase in primary or secondary decomposition in char. The residue obtained was around 20% of the sample, which consist of carbon and ash.
3.2. Characterisation of Char
This research was an attempt to simulate the direct dissolution of carbon from macadamia shell into molten iron at 1550 °C. Hence char was prepared at 1550 °C; a time of 15 min was found adequate for the completion of macadamia shell degradation as no further weight loss was observed after this time. The aim of this section is to describe the structure and morphological characteristics of macadamia shell char obtained at 1550 °C.
3.3. Iron-Carbon Alloy
In the absence of interface blockage between molten iron and carbon source, more contact area of iron was available for carbon to transfer. Hence a very high dissolution rate and high carbon pickup was observed for waste macadamia shell char. This study evidently confirms that waste macadamia shell can be used as a promising supplementary carbon source in Iron-Carbon alloy making.
4. Conclusions
In this study, the use of waste macadamia shell biomass as a carbon source for Iron-Carbon alloy making was investigated. The main conclusions are summarised below.
High temperature pyrolysis of waste macadamia shell yield 22 wt % char residue with rich in carbon content of ~98 wt % C and negligible amount of ash impurities.

Less ash, high char yield, high fixed carbon and aromatic contents makes char as ideal carbon precursor for Iron-carbon alloy synthesis.

The high rate of carbon dissolution into molten iron was observed using macadamia shell char as a carbon source reaching to 5.2 wt % of C in Iron-carbon alloy.

Carbon dissolution rate using macadamia char was comparatively higher than other carbonaceous materials such as metallurgical coke, coal chars and waste CD char due to high % of carbon and low ash content.
This research shows the sustainable way of recycling low ash content waste macadamia shell through their transformation into higher carbon Iron-Carbon alloy.
Acknowledgments
This research was supported under Australian Research Council (ARC) funding scheme.
Author Contributions
Irshad Mansuri performed the experiments and analyzed the data and wrote the initial draft of the manuscript. Ravindra Rajarao and Rifat Farzana contributed to design the experiments, data interpretation and revising the manuscript. Veena Sahajwalla supervised the project and provided valuable suggestions.
Conflicts of Interest
The authors declare no conflict of interest.


Figure 2. (A) Macadamia char shell substrate and iron—before heat treatment; (B) Macadamia shell char substrate and iron-carbon alloy—after heat treatment.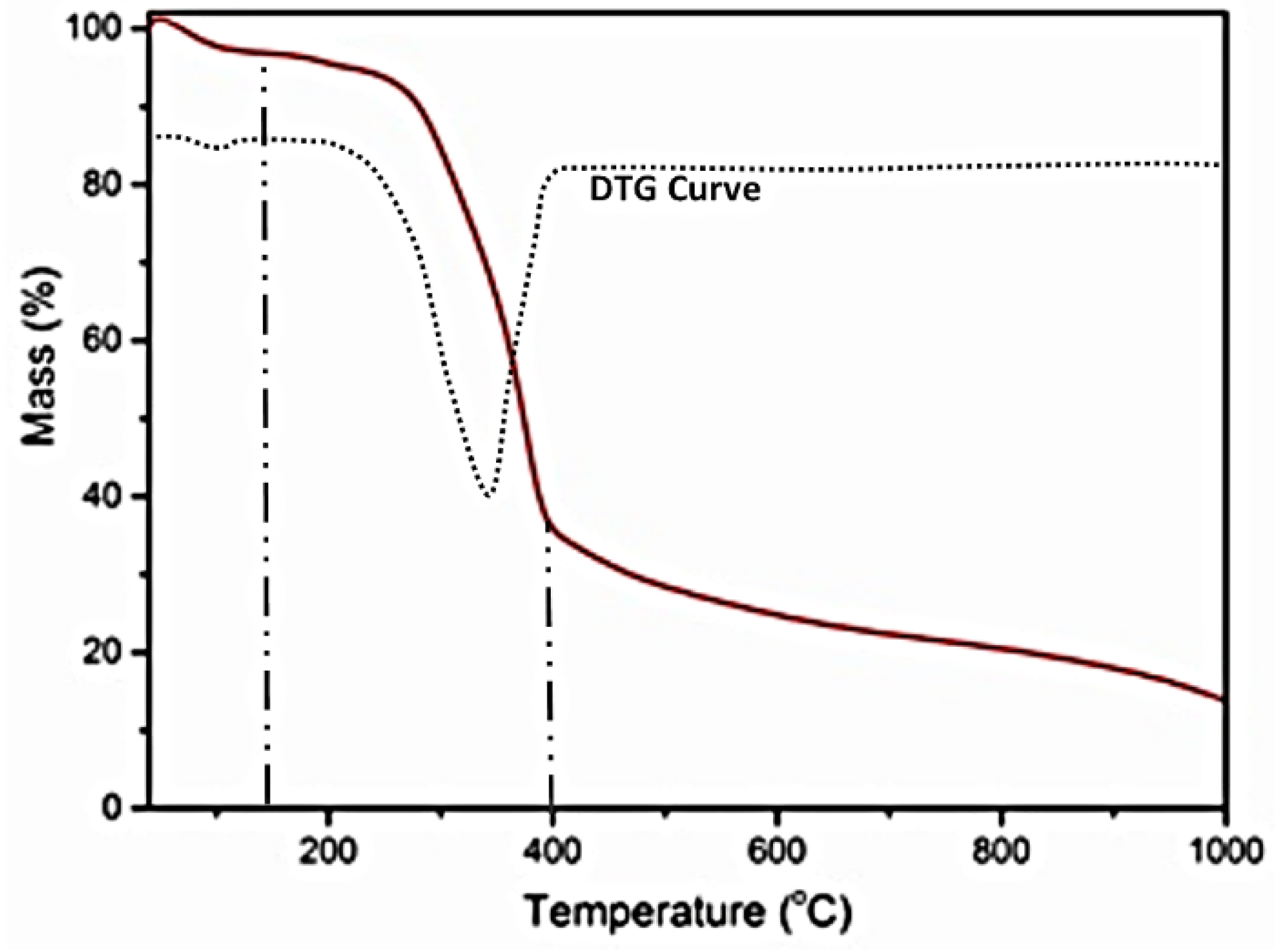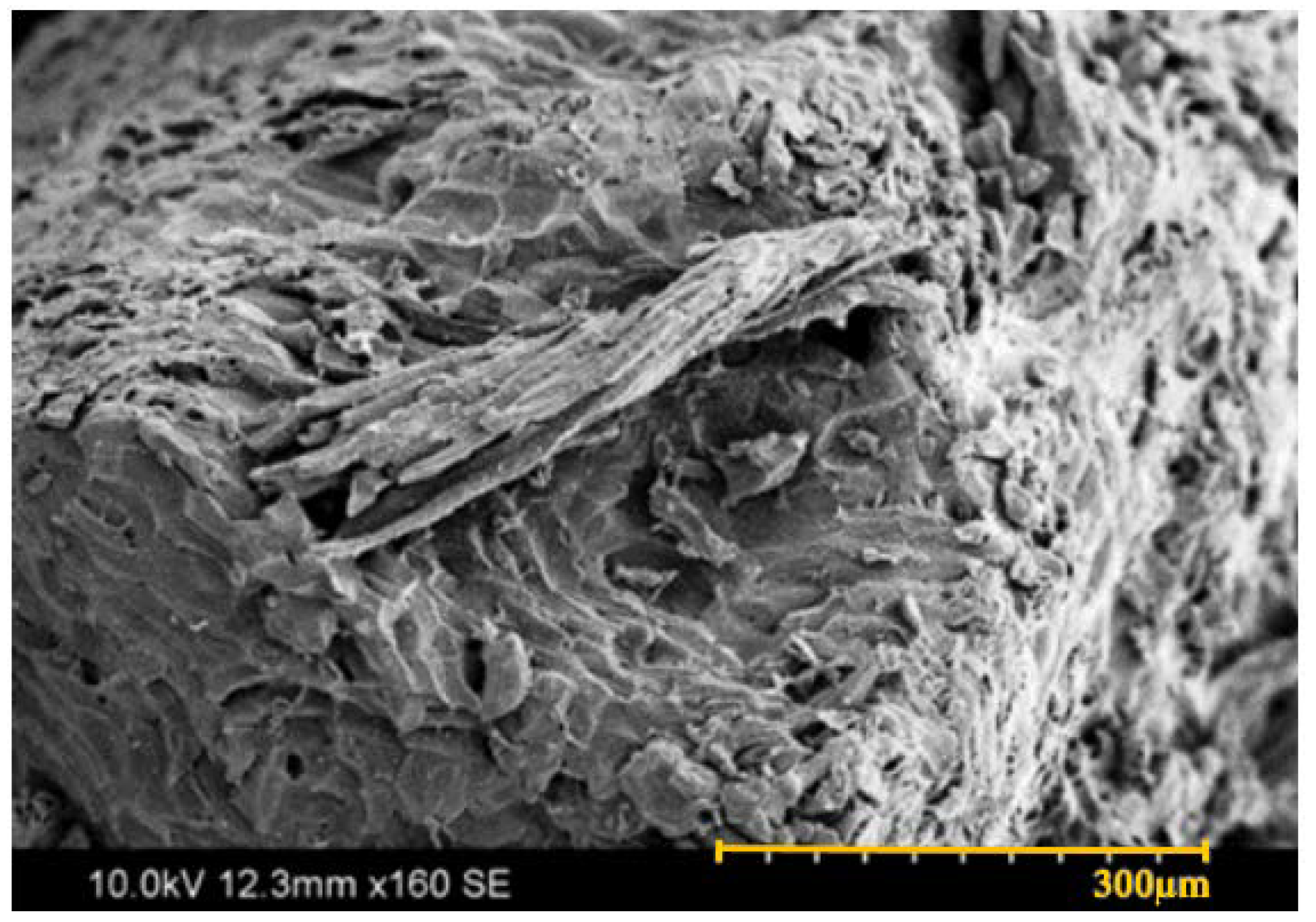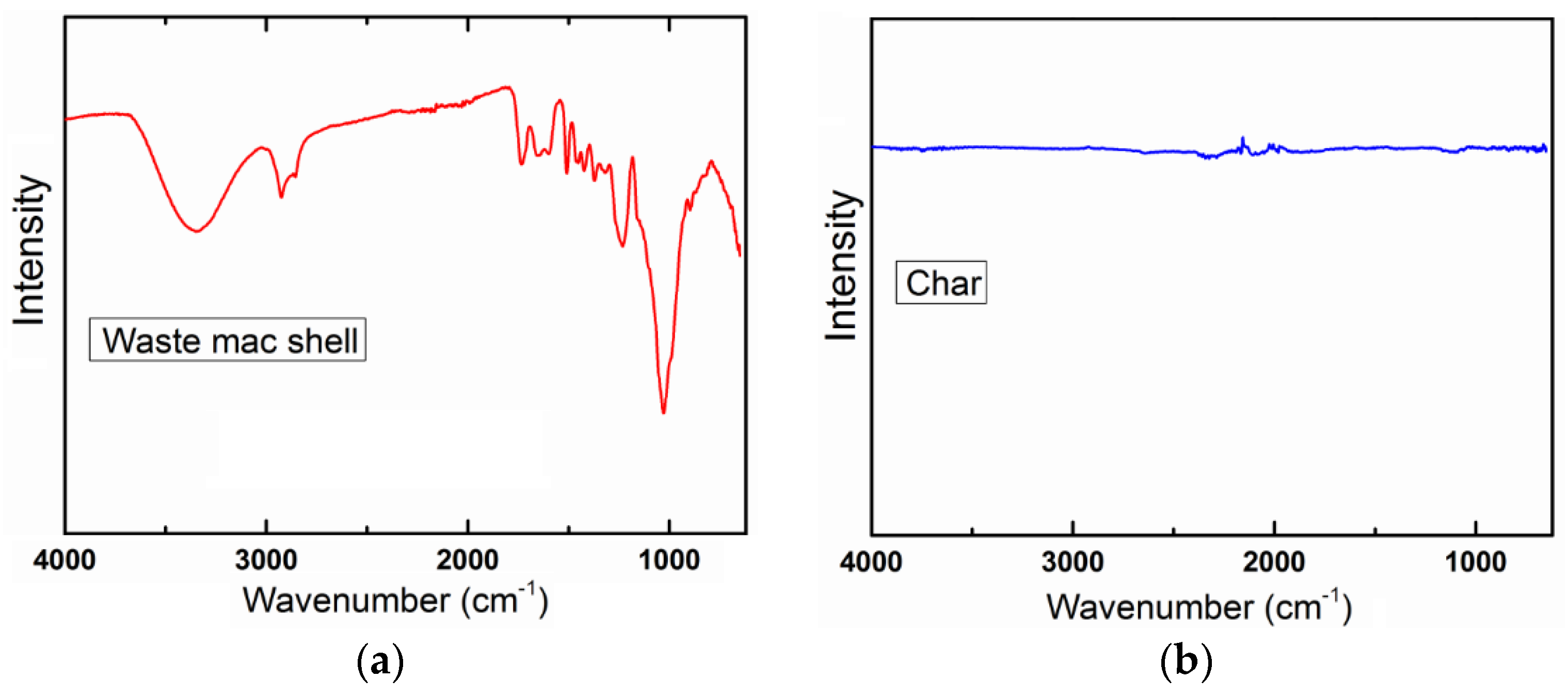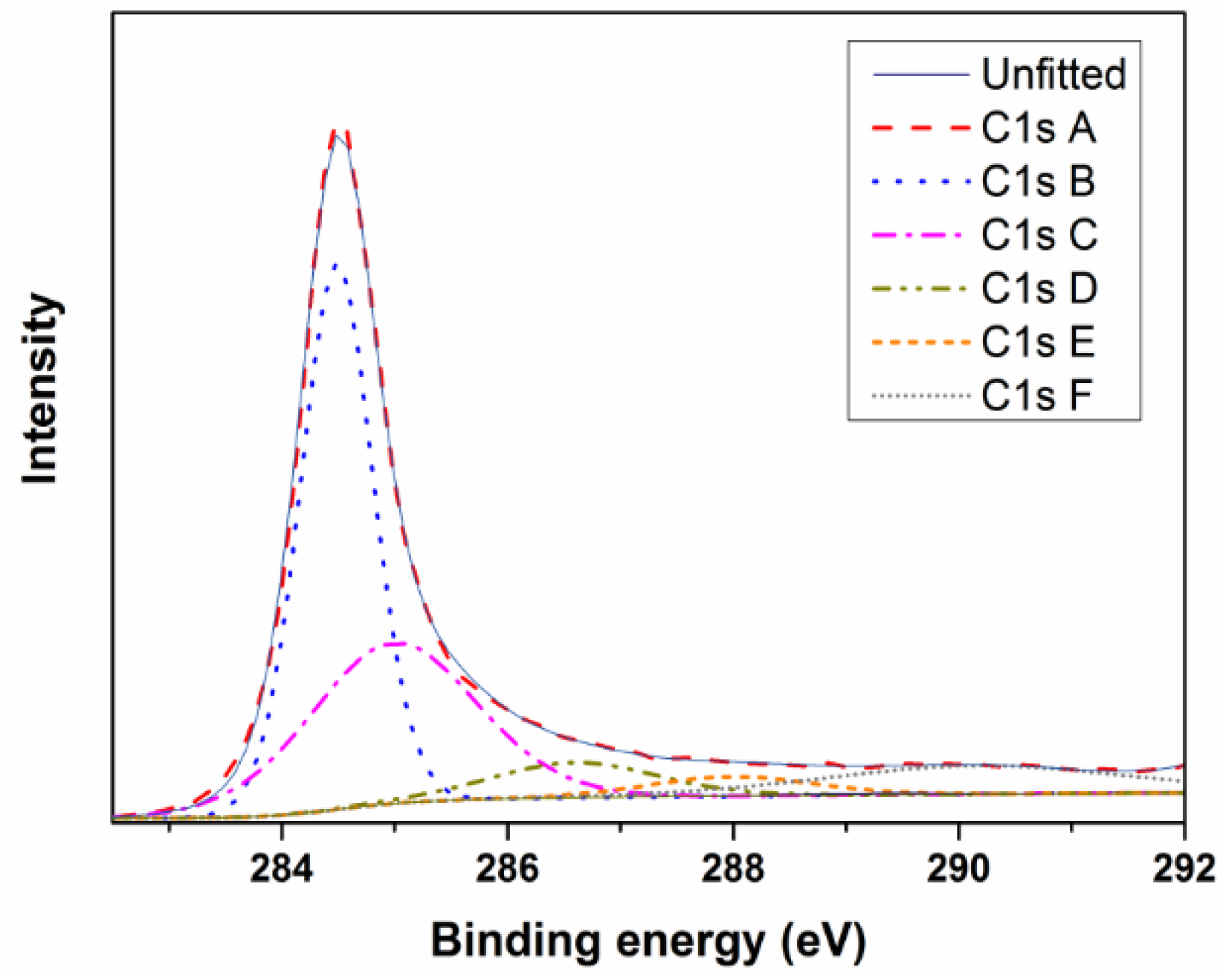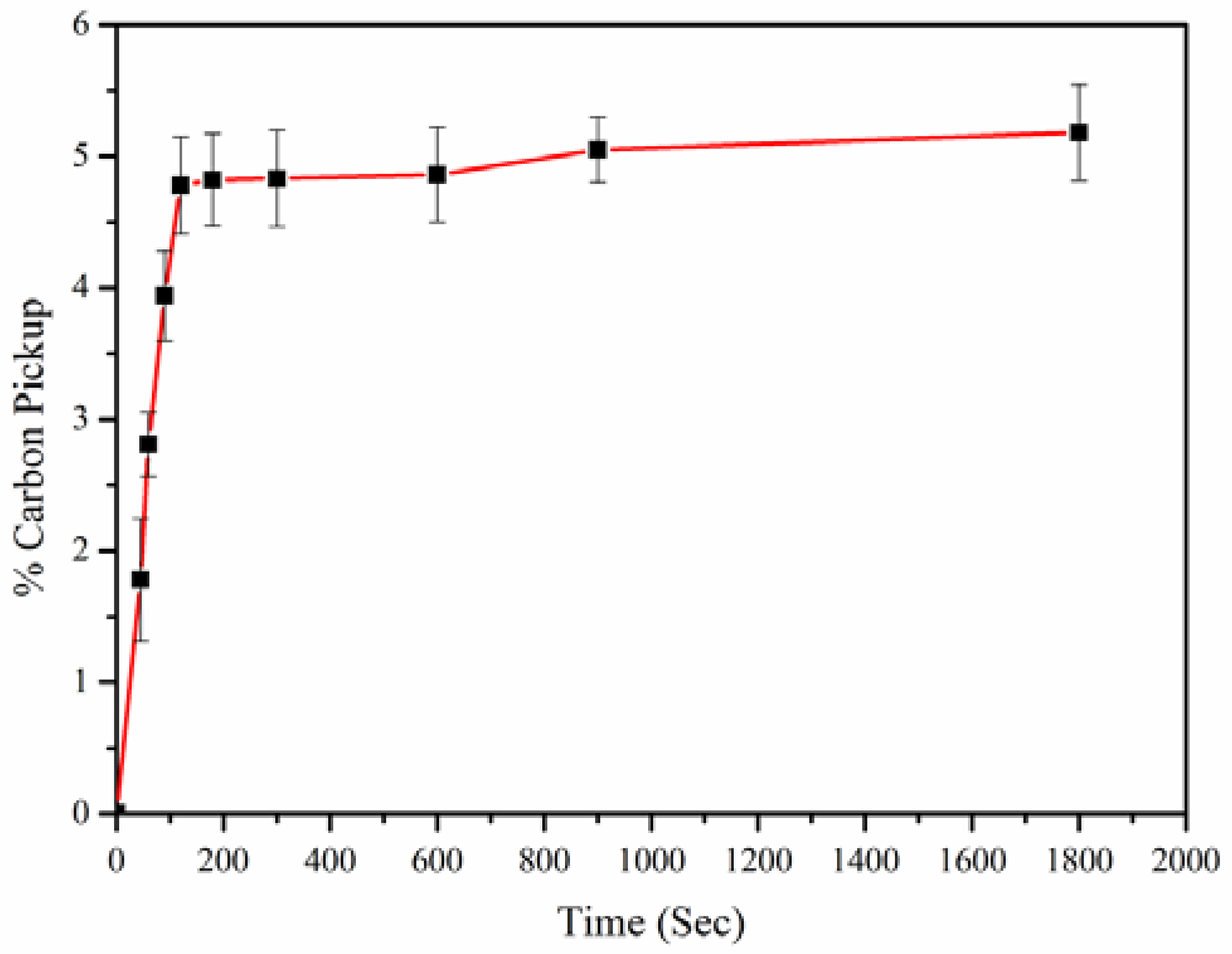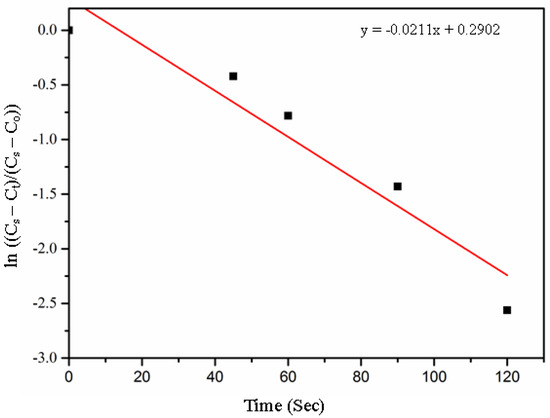 Figure 9.
Plot of ln ((
Cs
−
Ct
)/(
Cs
−
Co
) vs. time for first 2 min to show carbon dissolution rate constant using waste macademia char.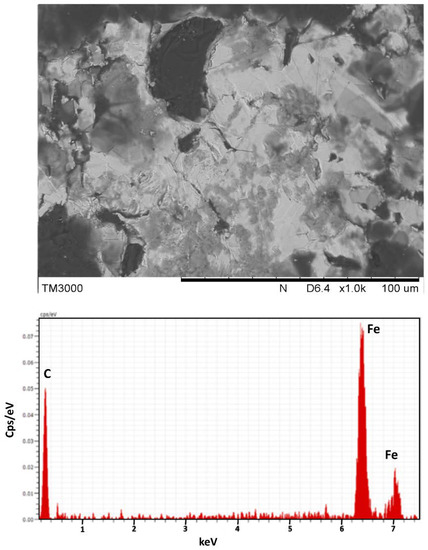 Figure 10. SEM images coupled with EDS of metal/carbon interface of macadamia shell char substrate and iron.
Proximate Analysis (wt % as Received)
Moisture
5.5
Ash
0.2
Volatile Matter
73.5
Fixed carbon
20.8
Ultimate Analysis (wt % as Received)
C
48.39
O
40.31
N
0.333
Elemental Analysis (X-ray Fluorescence Studies)
Analyte
Concentration (%)
Na
0.0298
Mg
0.0450
Al
0.0620
Si
0.0770
P
0.0140
S
0.0400
Cl
0.0008
K
0.1550
Ca
0.0350
Cr
0.0008
Mn
0.0047
Fe
0.0113
Co
0.0001
Cu
0.0015
Zn
0.0005
Se
0.0004
Br
0.0004
Rb
0.0001
Cd
0.0001
Pb
0.0002
| Name | Start BE | Peak BE | End BE | FWHM (eV) | Area (CPS eV) | At % |
| --- | --- | --- | --- | --- | --- | --- |
| C1s A | 298.48 | 284.49 | 281.38 | 0.76 | 20,714.98 | 40.23 |
| C1s B | 298.48 | 284.99 | 281.38 | 1.73 | 13,978.33 | 27.15 |
| C1s C | 298.48 | 286.59 | 281.38 | 1.73 | 3051.44 | 5.93 |
| C1s D | 298.48 | 287.99 | 281.38 | 1.73 | 1671.52 | 3.25 |
| C1s E | 298.48 | 289.19 | 281.38 | 1.73 | 147.05 | 0.29 |
| C1s F | 298.48 | 290.16 | 281.38 | 3.2 | 4575.57 | 8.89 |

© 2018 by the authors. Licensee MDPI, Basel, Switzerland. This article is an open access article distributed under the terms and conditions of the Creative Commons Attribution (CC BY) license (http://creativecommons.org/licenses/by/4.0/).