Open Access This article is
freely available
re-usable
Review
Microstructure and Properties of Semi-Solid Aluminum Alloys: A Literature Review
1
DIMI—Mechanical and Industrial Engineering Department, Via Branze, 38-25123 Brescia, Italy
2
Department of Materials Science & Engineering, The University of Sheffield, Sir Robert Hadfield Building, Mappin Street, Sheffield S1 3JD, UK
*
Author to whom correspondence should be addressed.
Received: 4 February 2018 / Accepted: 6 March 2018 / Published: 13 March 2018
Abstract
:
Semi-solid processing of aluminum alloys is a well-known manufacturing technique able to combine high production rates with parts quality, resulting in high performance and reasonable component costs. The advantages offered by semi-solid processing are due to the shear thinning behavior of the thixotropic slurries during the mold filling. This is related to the microstructure of these slurries consisting of solid, nondendritic, near-globular primary particles surrounded by a liquid matrix. This paper presents a review on the formation of this nondendritic microstructure, reports on the different proposed mechanisms that might be responsible, and illustrates the relationship between microstructure and properties, in particular, tensility, fatigue, wear, and corrosion resistance.
Keywords:
semi-solid; microstructure; mechanical properties; wear; corrosion
1. Introduction
This paper presents a review on the formation of nondendritic microstructures, microstructures that have a key role in semi-solid processing, and discusses the different proposed mechanisms together with ways to analyze SSM microstructures. In addition, the review provides information on the variation of mechanical properties and corrosion behavior through modification of microstructures that are typical of SSM processing.
2. Formation of Nondendritic Microstructures in SSM Processing
3. Microstructural Analysis of Semi-Solid Alloys
4. Performance of Semi-Solid Aluminum Alloys
In recent years, several studies have been focused on the mechanical properties of parts fabricated by semi-solid/thixoforming processes, often in comparison to conventional routes.
4.1. Mechanical Properties
Al alloys are widely used in semi-solid processing as discussed in the previous section. The proven better quality of components obtained by SSM processes, and associated better properties, are often cited in textbooks about the topic [
11
,
13
], in particular highlighting the possibility to perform T6 heat-treatment to further increase their characteristics. There are also many scientific studies on the mechanical properties of Al SSM alloys (both casting and wrought ones), even though significantly less than those on microstructural modification in comparison with conventional casting alloys.
4.3. Corrosion Resistance
5. Summary
In the present review paper, the microstructural characteristics of various semi-solid Al alloys are thoroughly summarized, together with the description of the evolution of their typical nondendritic microstructure during solidification. Furthermore, the influence of microstructural features on mechanical properties is systematically analyzed. This is fundamental in order to understand the different performance of SSM parts in comparison with components obtained by conventional production routes. Apart from tensile properties, other important characteristics are also discussed in order to provide a complete overview of the performance of semi-solid Al alloys, such as fatigue behavior, wear, and corrosion resistance.
Conflicts of Interest
The authors declare no conflict of interest.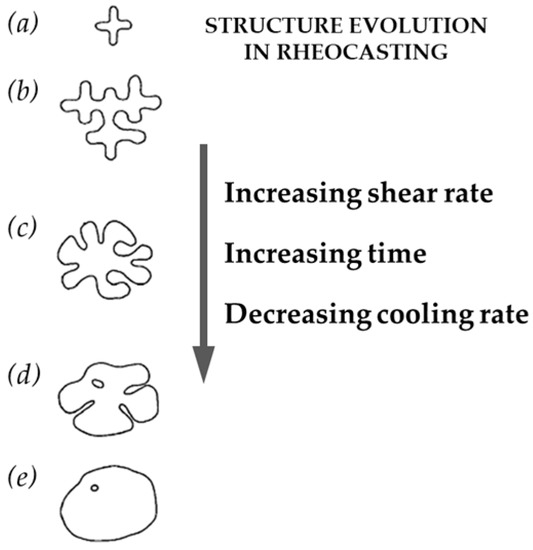 Figure 1.
Globule formation during stirring in the semi-solid range: (
a
) initial dendritic fragment, (
b
) dendritic growth, (
c
) rosette, (
d
) ripened rosette, and (
e
) spheroid [
4
].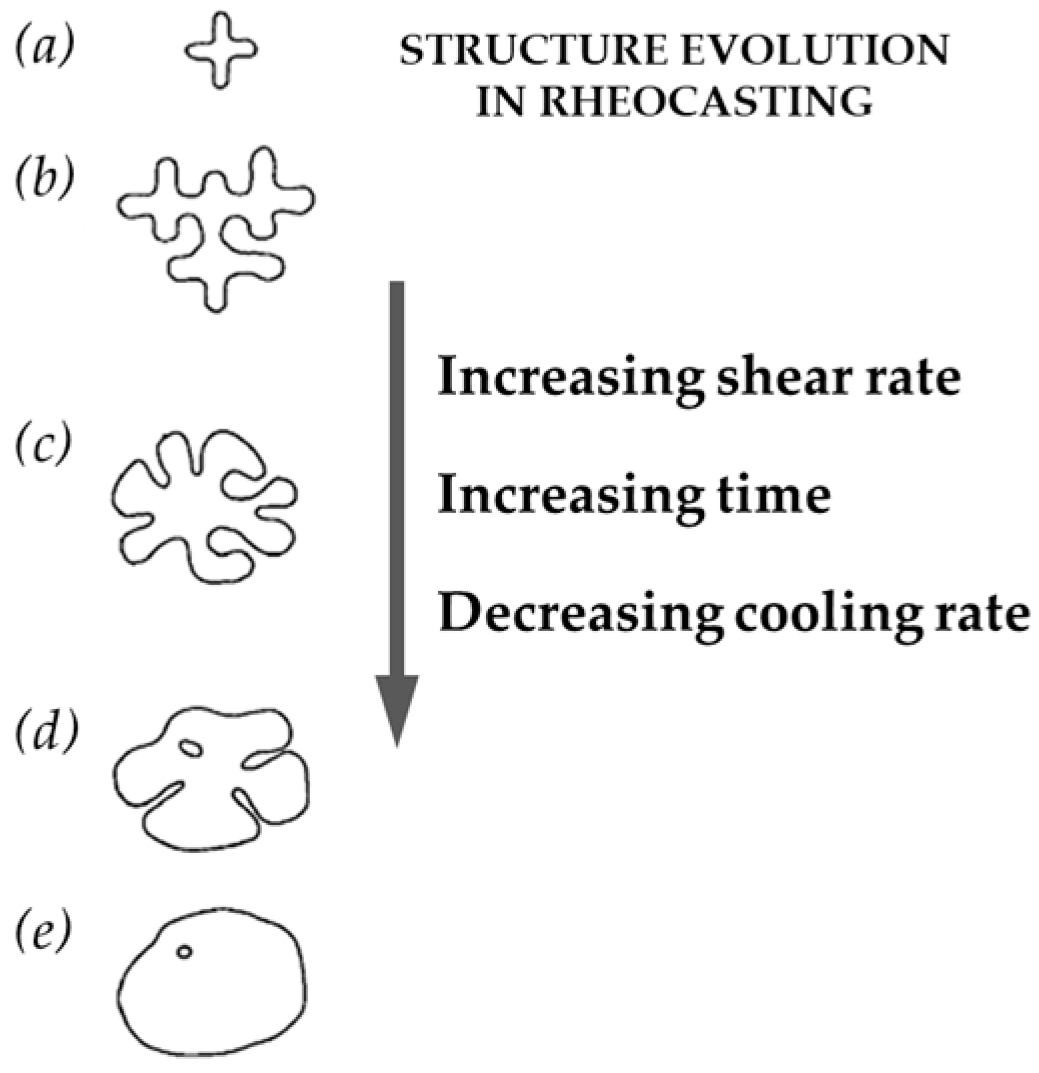 Figure 2.
Schematic model of fragmentation mechanism: (
a
) undeformed dendrite, (
b
) after bending, (
c
) dislocation rearrangement to give grain boundary, and (
d
) grain boundary wetting [
35
].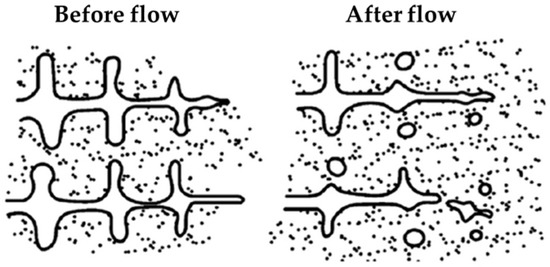 Figure 3.
Schematic model of dendrite arms remelting [
4
].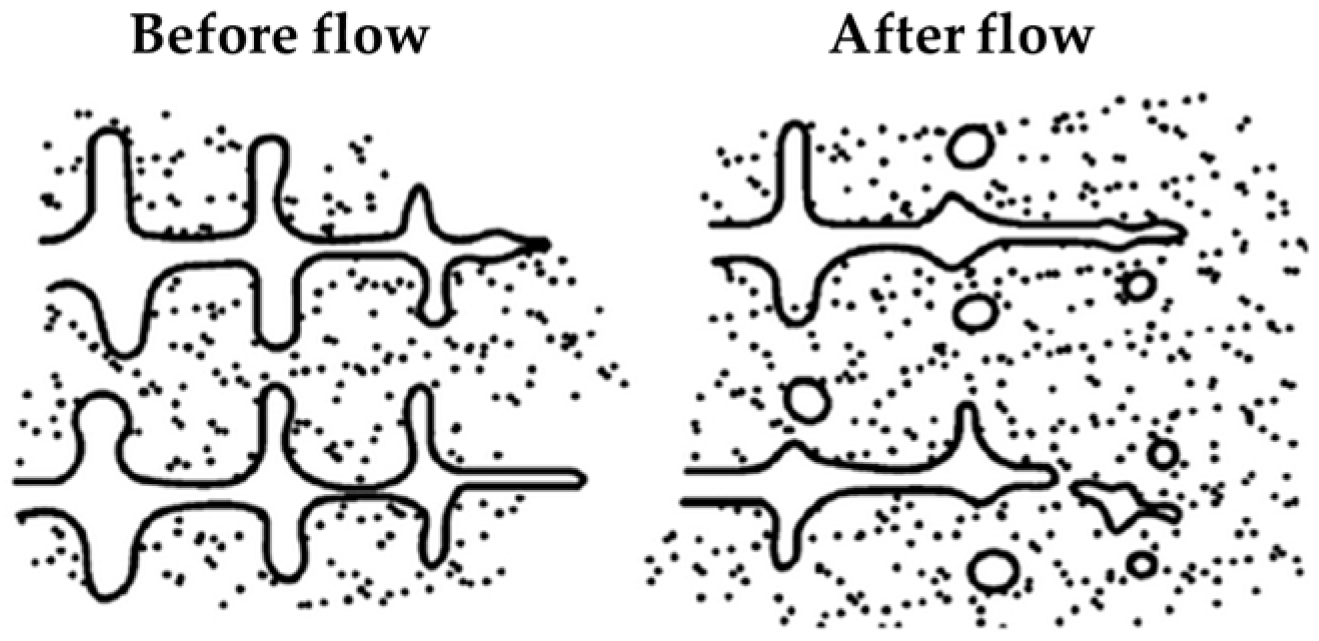 Figure 4. Typical microstructures of AlSi7 component (a) semi-solid cast and (b) conventionally cast.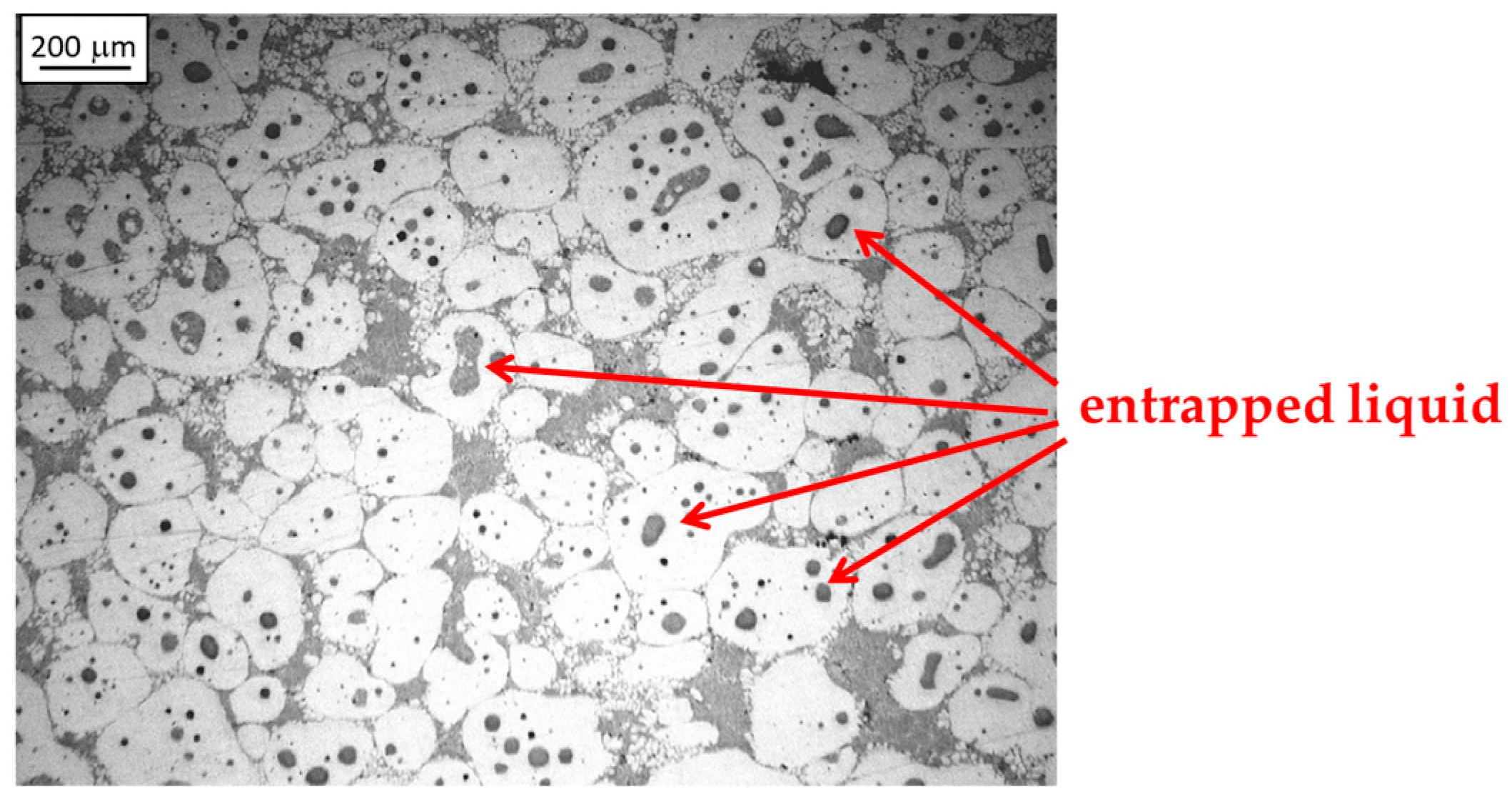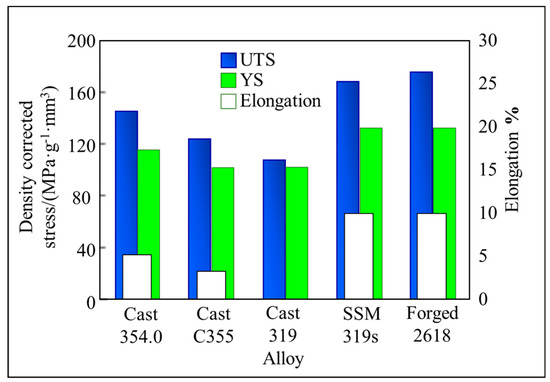 Figure 7.
SSM 319 vs. cast C355, 354.0, 319 alloys and forged 2618 alloy after T61 heat treatment [
66
].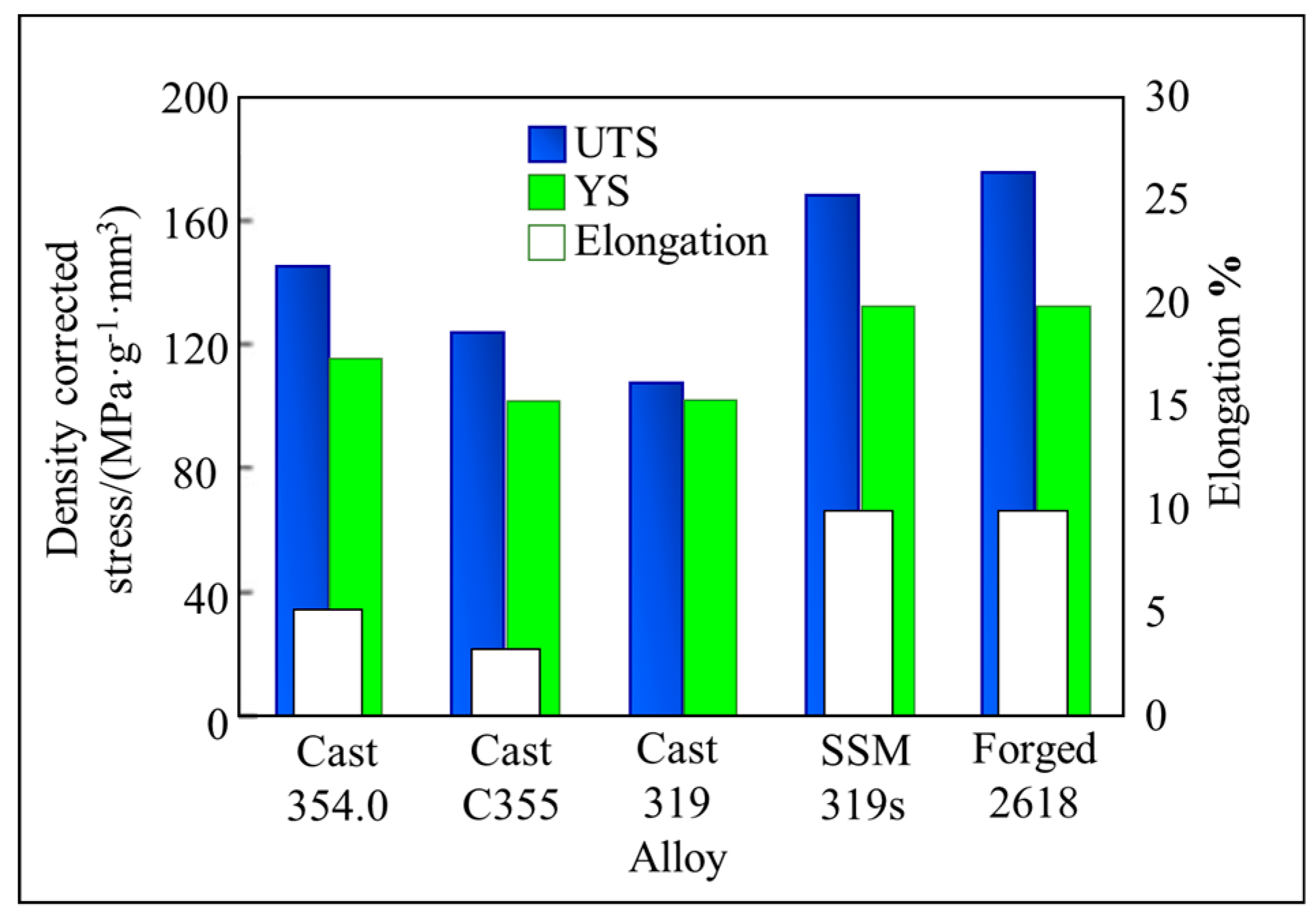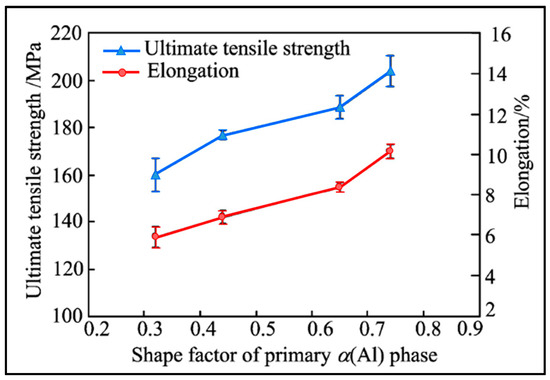 Figure 8.
Effect of shape factor of primary α-Al phase on ultimate tensile strength and elongation of semi-solid slurry for Al–Si–Mg–Fe alloy in as-cast condition [
68
].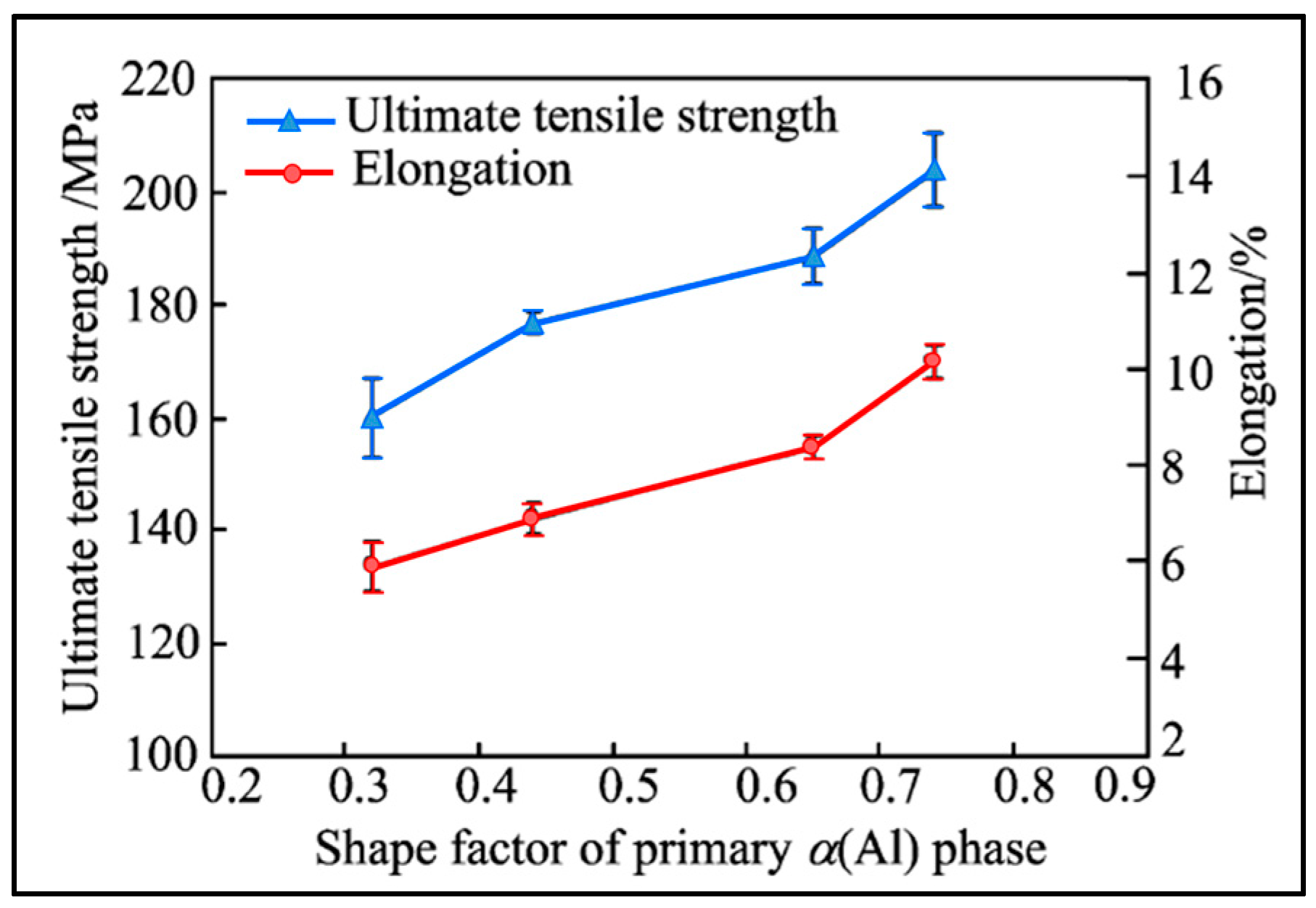 Figure 9.
SEM micrographs of tensile fracture for samples produced under different processing conditions: (
a
) Rheo-HPDC; (
b
) conventional HPDC, and (
c
) conventional GC [
69
].




Figure 11.
Scanning electron microscope analysis of the fatigue fracture surface of SSM A357 samples after T6 treatment [
95
].


Figure 12.
Surface topographies of the damaged areas of conventionally as-cast (
a
) before and (
b
) after T6, semi-solid in (
c
) as-cast and (
d
) after T6 [
111
].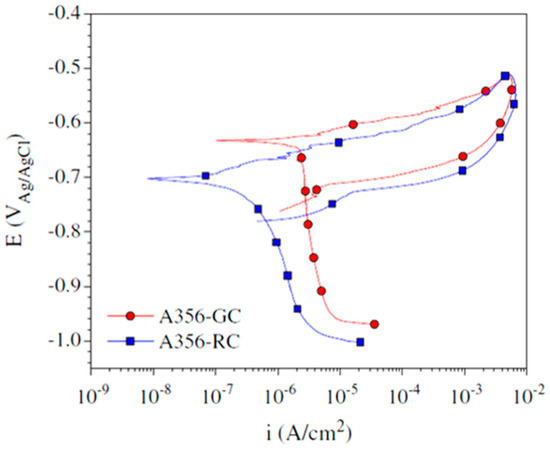 Figure 13.
Cathodic polarisation curves of (
a
) gravity cast (GC) and (
b
) SSM (RC) A356 alloy after 1 h immersion in 3.5 wt. % NaCl naturally-aerated solution [
113
].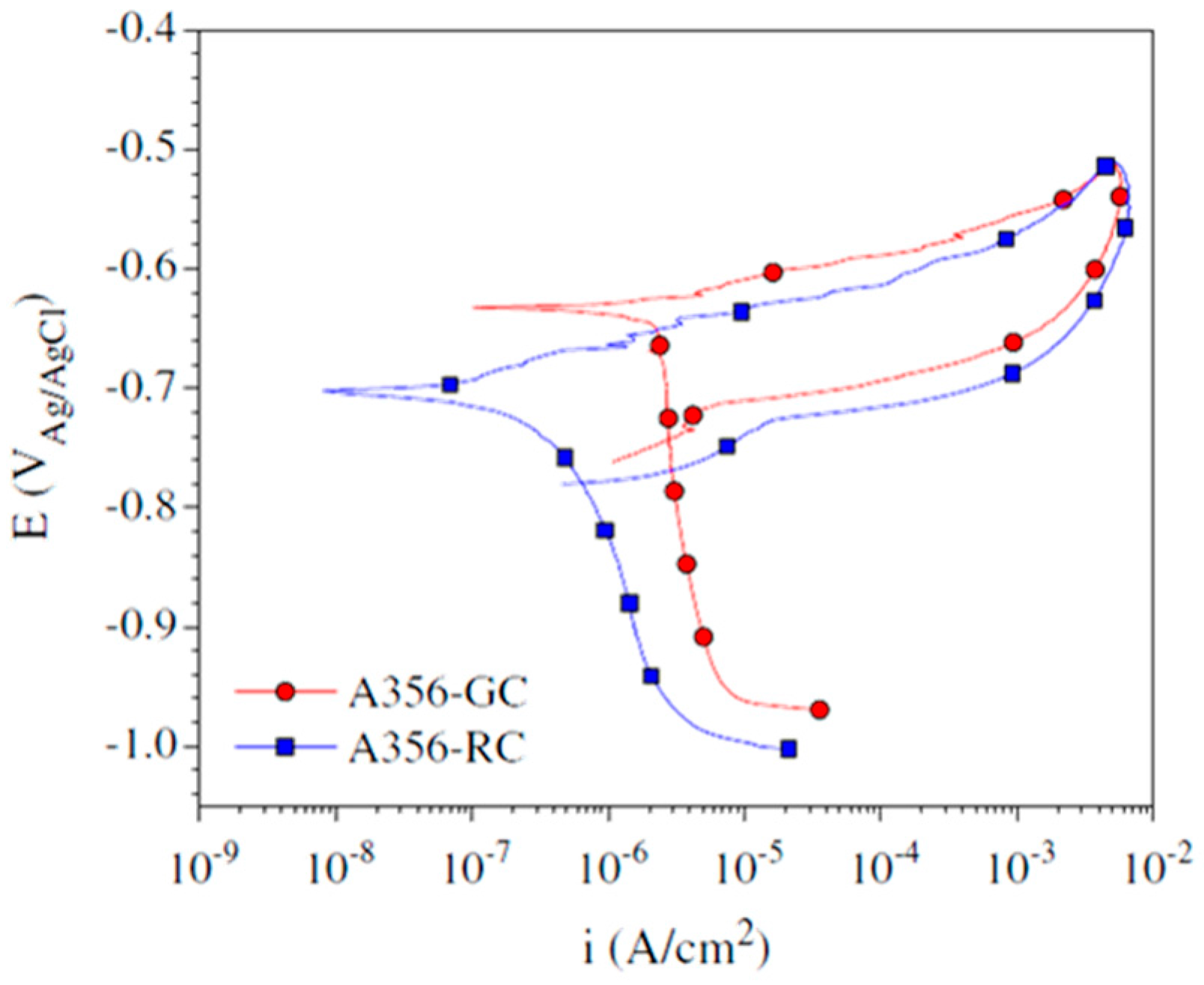 Figure 14.
Cathodic effect of silicon and intermetallic particles [
116
].


© 2018 by the authors. Licensee MDPI, Basel, Switzerland. This article is an open access article distributed under the terms and conditions of the Creative Commons Attribution (CC BY) license (http://creativecommons.org/licenses/by/4.0/).