Slurry Erosion Behavior of AlxCoCrFeNiTi0.5 High-Entropy Alloy Coatings Fabricated by Laser Cladding
1
College of Mechanics and Materials, Hohai University, Nanjing 210098, China
2
College of Mechanical and Electrical Engineering, Hohai University, Changzhou 213022, China
*
Authors to whom correspondence should be addressed.
Received: 7 January 2018 / Revised: 4 February 2018 / Accepted: 5 February 2018 / Published: 11 February 2018
Abstract
High-entropy alloys (HEAs) have gained extensive attention due to their excellent properties and the related scientific value in the last decade. In this work, Al
x
CoCrFeNiTi
0.5
HEA coatings (
x
: molar ratio,
x
= 1.0, 1.5, 2.0, and 2.5) were fabricated on Q345 steel substrate by laser-cladding process to develop a practical protection technology for fluid machines. The effect of Al content on their phase evolution, microstructure, and slurry erosion performance of the HEA coatings was studied. The Al
x
CoCrFeNiTi
0.5
HEA coatings are composed of simple face-centered cubic (FCC), body-centered cubic (BCC) and their mixture phase. Slurry erosion tests were conducted on the HEA coatings with a constant velocity of 10.08 m/s and 16–40 meshs and particles at impingement angles of 15, 30, 45, 60 and 90 degrees. The effect of three parameters, namely impingement angle, sand concentration and erosion time, on the slurry erosion behavior of Al
x
CoCrFeNiTi
0.5
HEA coatings was investigated. Experimental results show AlCoCrFeNiTi
0.5
HEA coating follows a ductile erosion mode and a mixed mode (neither ductile nor brittle) for Al
1.5
CoCrFeNiTi
0.5
HEA coating, while Al
2.0
CoCrFeNiTi
0.5
and Al
2.5
CoCrFeNiTi
0.5
HEA coatings mainly exhibit brittle erosion mode. AlCoCrFeNiTi
0.5
HEA coating has good erosion resistance at all investigated impingement angles due to its high hardness, good plasticity, and low stacking fault energy (SFE).
View Full-Text
►

▼

Figures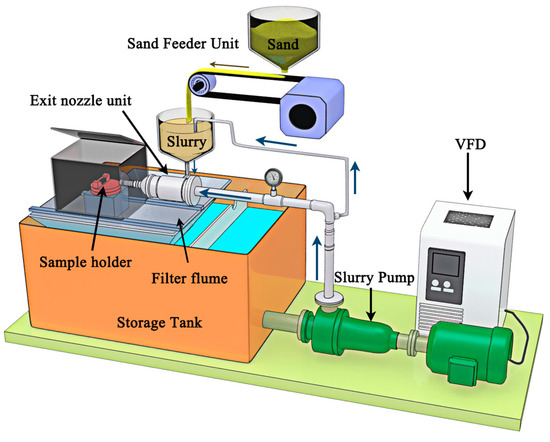 Figure 1
This is an open access article distributed under the
Creative Commons Attribution License
which permits unrestricted use, distribution, and reproduction in any medium, provided the original work is properly cited (CC BY 4.0).

Share & Cite This Article
MDPI and ACS Style
Zhao, J.; Ma, A.; Ji, X.; Jiang, J.; Bao, Y. Slurry Erosion Behavior of AlxCoCrFeNiTi0.5 High-Entropy Alloy Coatings Fabricated by Laser Cladding. Metals 2018, 8, 126.
Note that from the first issue of 2016, MDPI journals use article numbers instead of page numbers. See further details here.
Related Articles
Comments
[Return to top]