Characterisation of Calcium- and Phosphorus-Enriched Porous Coatings on CP Titanium Grade 2 Fabricated by Plasma Electrolytic Oxidation
1
Division of BioEngineering and Surface Electrochemistry, Department of Engineering and Informatics Systems, Faculty of Mechanical Engineering, Koszalin University of Technology, Racławicka 15-17, PL 75-620 Koszalin, Poland
2
HORIBA France SAS, Avenue de la Vauve-Passage Jobin Yvon CS 45002, 91120 Palaiseau, France
3
Department of Physics, Norwegian University of Science and Technology (NTNU), Realfagbygget E3-124 Høgskoleringen 5, NO 7491 Trondheim, Norway
4
Hochschule Wismar-University of Applied Sciences Technology, Business and Design, Faculty of Engineering, DE 23966 Wismar, Germany
*
Author to whom correspondence should be addressed.
Received: 1 August 2017 / Revised: 16 August 2017 / Accepted: 1 September 2017 / Published: 8 September 2017
Abstract
In the paper, Scanning Electron Microscopy (SEM), Energy-dispersive X-ray Spectroscopy (EDS), X-ray Photoelectron Spectroscopy (XPS), and Glow Discharge Optical Emission Spectroscopy (GDOES) analyses of calcium- and phosphorus-enriched coatings obtained on commercial purity (CP) Titanium Grade 2 by plasma electrolytic oxidation (PEO), known also as micro arc oxidation (MAO), in electrolytes based on concentrated phosphoric acid with calcium nitrate tetrahydrate, are presented. The preliminary studies were performed in electrolytes containing 10, 300, and 600 g/L of calcium nitrate tetrahydrate, whereas for the main research the solution contained 500 g/L of the same hydrated salt. It was found that non-porous coatings, with very small amounts of calcium and phosphorus in them, were formed in the solution with 10 g/L Ca(NO
3
)
2
·4H
2
O, whereas the other coatings, fabricated in the consecutive electrolytes containing from 300 up to 650 g/L Ca(NO
3
)
2
·4H
2
O, were porous. Based on the GDOES data, it was also found that the obtained porous PEO coating may be divided into three sub-layers: the first, top, porous layer was the thinnest; the second, semi-porous layer was about 12 times thicker than the first; and the third, transition sub-layer was about 10 times thicker than the first. Based on the recorded XPS spectra, it was possible to state that the top 10-nm layer of porous PEO coatings included chemical compounds containing titanium (Ti
4+
), calcium (Ca
2+
), as well as phosphorus and oxygen (PO
4
3−
and/or HPO
4
2−
and/or H
2
PO
4
−
, and/or P
2
O
7
4−
).
View Full-Text
►

▼

Figures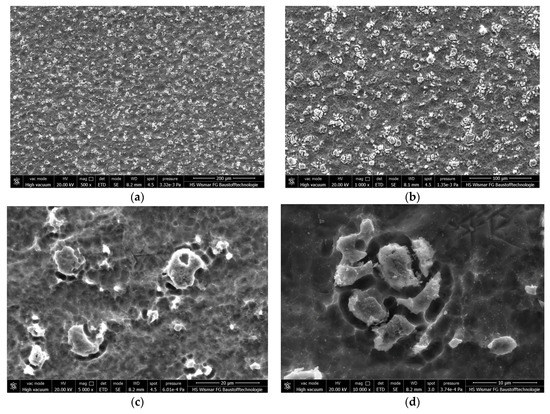 Figure 1
This is an open access article distributed under the
Creative Commons Attribution License
which permits unrestricted use, distribution, and reproduction in any medium, provided the original work is properly cited (CC BY 4.0).

Share & Cite This Article
MDPI and ACS Style
Rokosz, K.; Hryniewicz, T.; Gaiaschi, S.; Chapon, P.; Raaen, S.; Pietrzak, K.; Malorny, W. Characterisation of Calcium- and Phosphorus-Enriched Porous Coatings on CP Titanium Grade 2 Fabricated by Plasma Electrolytic Oxidation. Metals 2017, 7, 354.
Note that from the first issue of 2016, MDPI journals use article numbers instead of page numbers. See further details here.
Related Articles
Comments
[Return to top]