Application of Co and Mn for a Co-Mn-Br or Co-Mn-C2H3O2 Petroleum Liquid Catalyst from the Cathode Material of Spent Lithium Ion Batteries by a Hydrometallurgical Route
1
Resources Recovery Research Center, Korea Institute of Geoscience & Mineral Resources, Daejeon 305-350, Korea
2
Department of Metallurgical Engineering, Pukyong National University, Busan 608-739, Korea
*
Author to whom correspondence should be addressed.
Received: 30 August 2017 / Revised: 29 September 2017 / Accepted: 11 October 2017 / Published: 18 October 2017
Abstract
We investigated the preparation of CMB (cobalt-manganese-bromide) and CMA (cobalt-manganese-acetate) liquid catalysts as petroleum liquid catalysts by simultaneously recovering Co and Mn from spent Li-ion battery cathode material. To prepare the liquid catalysts, the total preparation process for the liquid catalysts consisted of physical pre-treatments, such as grinding and sieving, and chemical processes, such as leaching, solvent extraction, and stripping. In the physical pre-treatment process, over 99% of Al was removed from material with a size of less than 0.42 mm. In the chemical process, the leaching solution as obtained under the following conditions: 2 mol/L sulfuric acid, 10 vol % H
2
O
2
, 0.1 of solid/liquid ratio, and 60 °C. In the solvent extraction process, the optimum concentration of bis (2,4,4-trimethylpentyl) phosphinic acid (Cyanex 272), the equilibrium pH, the degree of saponification, the organic phase/aqueous phase ratio isotherm, and the stripping study for the extraction of Co and Mn were investigated. As a result, Co and Mn were recovered by 0.85 M Cyanex 272 with 50% saponification in counter current two extraction stages. Finally, a CMB and CMA liquid catalyst containing 33.1 g/L Co, 29.8 g/L Mn, and 168 g/L Br and 12.67 g/L Co, 12.0 g/L Mn, and 511 g/L C
2
H
3
O
2
, respectively, was produced by 2 M hydrogen bromide and 50 vol % acetic acid; it was also found that a shortage in the concentration can be compensated with cobalt and manganese salts.
View Full-Text
►

▼

Figures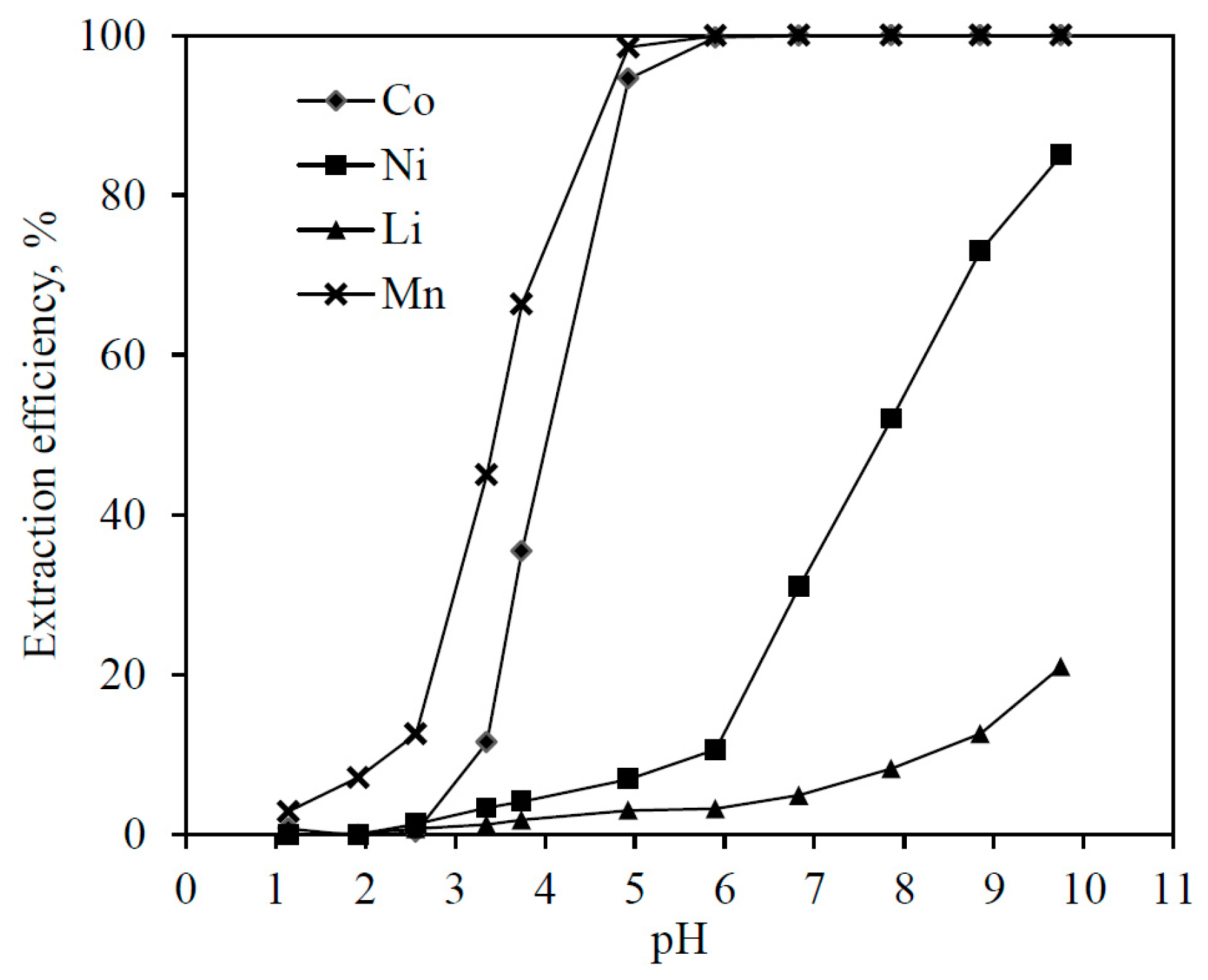 Figure 1
This is an open access article distributed under the
Creative Commons Attribution License
which permits unrestricted use, distribution, and reproduction in any medium, provided the original work is properly cited (CC BY 4.0).

Share & Cite This Article
MDPI and ACS Style
Joo, S.-H.; Shin, D.J.; Oh, C.H.; Wang, J.-P.; Park, J.T.; Shin, S.M. Application of Co and Mn for a Co-Mn-Br or Co-Mn-C2H3O2 Petroleum Liquid Catalyst from the Cathode Material of Spent Lithium Ion Batteries by a Hydrometallurgical Route. Metals 2017, 7, 439.
Note that from the first issue of 2016, MDPI journals use article numbers instead of page numbers. See further details here.
Related Articles
Comments
[Return to top]