Preparation, Microstructure Evolutions, and Mechanical Property of an Ultra-Fine Grained Mg-10Gd-4Y-1.5Zn-0.5Zr Alloy
1
College of Mechanics and Materials, Hohai University, Nanjing 211100, China
2
Jiangsu Wujin Stainless Steel Pipe Group Company Limited, Changzhou 213111, China
3
College of Materials Engineering, Nanjing Institute of Technology, Nanjing 211167, China
4
College of Materials Science and Engineering, Southeast University, Nanjing 211189, China
*
Authors to whom correspondence should be addressed.
Received: 30 August 2017 / Revised: 14 September 2017 / Accepted: 25 September 2017 / Published: 28 September 2017
Abstract
In this work, the microstructural evolutions and mechanical properties of an as-cast Mg-10Gd-4Y-1.5Zn-0.5Zr (wt %) alloy during successive multi-pass equal channel angular pressing (ECAP) were systematically investigated by X-ray diffractometer, scanning electron microscopy, transmission electron microscopy, and compression test. The obtained results show that the microstructure of as-cast alloy consists of α-Mg grains, Mg
3
Gd island phase, few Y-rich particles, and lamellar 14H LPSO (long period stacking ordered) phase located at the grain boundaries. During ECAP, the Mg
3
Gd-type phase is crushed and refined gradually. However, the refined Mg
3
Gd particles are not distributed uniformly in the matrix, but still aggregated at the interdendritic area. The 14H phase becomes kinked during the early passes of ECAP and then broken at the kinking bands with more severe deformation. Dynamic recrystallization of α-Mg is activated during ECAP, and their average diameter decreases to around 1 μm, which is stabilized in spite of increasing ECAP passes. Moreover, nano-scale γ′ phases were dynamically precipitated in 16p ECAP alloy. Compression tests indicate that 16p ECAP alloy exhibits excellent mechanical property with compressive strength of 548 MPa and fracture strain of 19.1%. The significant improvement for both strength and ductility of deformed alloy could be ascribed to dynamic recrystallization (DRX) grains, refined Mg
3
Gd-type and 14H particles, and dynamically precipitated γ′ plates.
View Full-Text
►

▼

Figures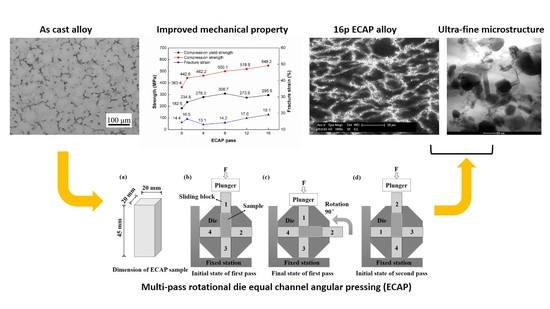 Graphical abstract
This is an open access article distributed under the
Creative Commons Attribution License
which permits unrestricted use, distribution, and reproduction in any medium, provided the original work is properly cited (CC BY 4.0).

Share & Cite This Article
MDPI and ACS Style
Liu, H.; Ju, J.; Bai, J.; Sun, J.; Song, D.; Yan, J.; Jiang, J.; Ma, A. Preparation, Microstructure Evolutions, and Mechanical Property of an Ultra-Fine Grained Mg-10Gd-4Y-1.5Zn-0.5Zr Alloy. Metals 2017, 7, 398.
Note that from the first issue of 2016, MDPI journals use article numbers instead of page numbers. See further details here.
Related Articles
Comments
[Return to top]