Open Access This article is
freely available
re-usable
Article
Structural and Corrosion Study of Uncoated and Zn-Cu Coated Magnesium-Based Alloy
1
Metallurgical and Materials Science Engineering Department, Gaziantep University, Gaziantep 27310, Turkey
2
Department of Engineering Physics, Gaziantep University, Gaziantep 27310, Turkey
*
Author to whom correspondence should be addressed.
Academic Editors: Adem Kurt, Necip Fazil Yilmaz and Halil Ibrahim Kurt
Received: 31 October 2016 / Accepted: 14 December 2016 / Published: 19 December 2016
Abstract
:
Zn-Cu alloy was deposited onto AZ63 substrate, and the corrosion behaviour of resulting modified electrodes was investigated in 3 wt % NaCl solution in comparison with uncoated AZ63. Electrochemical, structural, and morphological study of the coating is presented. SEM images reveal that the surface morphology of the films is uniformly small spherical grain distributions. The XRD patterns illustrate polycrystalline structure and the formation of peaks corresponding to hexagonal close-packed ε-phase of Zn-Cu with various crystallographic orientations. Cyclic voltammetry was used to determine the potential ranges where the various redox processes occur. Linear sweep voltammetry results illustrate that longer exposure of uncoated AZ63 in NaCl solution produces a greater corrosion potential shift because of the formation of an oxide layer that did not prevent the progression of corrosion attack. The corrosion resistivity of Zn-Cu coated AZ63 is approximately two orders of magnitude greater than that of uncoated AZ63.
Keywords:
magnesium alloys; brass; electrodeposition; XRD; SEM; corrosion
2. Experimental Section
The commercial composition of the AZ63 alloy was 90.8% Mg, 6.07% Al, 2.79% Zn, and 0.34% Mn. The disc-shaped Mg alloy working electrode substrates having an exposed area 1 cm in diameter was covered by a molded, compressed, and heated bakelite method. This is a conventional way to obtain the contact area and to isolate other sections of Mg alloy substrate from the electrolyte. The surface of the substrate was polished with a Struers-Laboforce-3 polishing set. Zn-Cu alloy was grown on the surface of the AZ63 substrates by using a traditional three electrode system. Pt flag and Ag/AgCl (saturated KCl) were used as working and reference electrodes, respectively. To grow the Zn-Cu alloys, the deposition baths were prepared from 0.90 M K4P2O7 (Merck, Darmstadt, Germany), 0.15 M KH2PO4 (Sigma Aldrich, Steinheim, Germany), 0.20 M ZnSO4 (Sigma Aldrich, Munich, Germany), and 0.02 M CuSO4 (Sigma Aldrich, Munich, Germany) in double-distilled water (pH = 9.2). Films shown in this study were grown by applying −1.4 V for 300 s, and all experiments were conducted at room temperature.
The corrosion resistance measurements of Mg alloys before and after coating were performed in 3 wt % aqueous NaCl solution in the same Pyrex glass cell. In each measurement step, the specimens were ground mechanically with different high sensitive abrasive SiC papers (400, 800, 1200, 1500, 2000, and 3000) and cleaned in distilled water, then finally subjected to hot air drying process.
The quantitative composition analysis of the coatings was examined by a JEOL JSM 6390 LV scanning electron microscope (SEM, JEOL Ltd., Tokyo, Japan) with an energy dispersive spectrometer (EDX, JEOL Ltd., Tokyo, Japan) working at 15–30 kV. Preferential crystal orientations of the deposits on the AZ63 substrate were determined by X-ray diffraction (XRD) analysis, using a Philips PANalytical X'Pert Pro X-ray diffractometer (PANalytical, Almelo, The Netherlands) with Cu Kα radiation (1.5418 Å). The 2θ diffraction angle range of 30°–90° was recorded at a rate of 0.02° 2θ/0.5 s. The crystal phases were identified comparing the acquired 2θ values and their intensities. The potentiodynamic measurements for cyclic voltammetry and linear sweep voltammetry were examined to obtain the corrosion characteristics of coated and uncoated AZ63.
3. Results and Discussion
3.1. X-ray Diffraction Analysis
Figure 1
shows typical X-ray diffraction patterns of Zn-Cu deposition on AZ63 substrate obtained from a solution of copper and zinc salts in a potentiostatic process. The experimentally obtained crystal planes (hkl) were compared with the expected values for the phases described in JCPDS.
The dominant crystal orientation of the coating depends on the experimental conditions, such as pH, current density, and temperature. The XRD pattern shows the formation of lines corresponding to ZnO phase, hexagonal close packed ε-phase, and Zn-Cu phase, with different crystallographic orientations, and the film has polycrystalline structures. The highest intensity peaks were observed at 2θ values of 34.74°, 37.12°, 43.65°, 58.10°, and 63.78°. These were well indexed to the planes of CuZn
2
, Cu
0.8
Zn
0.2
, Cu
0.8
Zn
0.2
, Cu
0.8
Zn
0.2
, and Cu
5
Zn
8
, respectively. There were also lower intensity peaks observed at the angles (2θ) of 32.56°, 37.7°, 38.9°, 41.4°, 48.53°, and 72.03°. These were indexed to the planes of ZnO, Cu
0.8
Zn
0.2
, CuZn
5
, ZnO, Cu
0.8
Zn
0.2
, and Cu
5
Zn
8
, respectively. The observed phase as expected is based on the binary equilibrium diagram of the Zn-Cu system.
Figure 1
shows that peaks are generally indexed to the diffractions of intermetallic ε phase of Zn-Cu, which is known to have the composition of Cu
0.8
Zn
0.2
. The peak intensity is in planes of hexagonal phase and was observed to be high for Zn-Cu, which indicates the crystallinity of a Zn-Cu alloy.
3.2. Scanning Electron Microscope Analysis
Figure 2
shows the results of the Zn-Cu coated AZ63 surface morphology and elemental analysis by means of SEM and EDX. The Zn-Cu film—grown from the concentration of ZnSO
4
(0.1 M) and that of CuSO
4
(0.01 M) in pyrophosphate deposition bath—had 82.9 wt % Zn and 17.1 wt % Cu.
Figure 2
a,b shows the different magnified images of Zn-Cu coated AZ63. The microstructure of the films consists of different spherical grains distributed uniformly throughout the surface. The intermetallic precipitates have an average diameter between 0.5 µm and 2 µm. As the coating of the precipitate appears compact and uniform, the coating on the matrix appeared uncracked and regular. This is the typical characteristic of a Zn-Cu alloy coated surface [
43
,
44
].
3.3. Cyclic Voltammetry Analysis
The cyclic voltammogram shown in
Figure 3
was obtained for AZ63 working electrode in the solution mentioned in the experimental section. The first cathodic peak seen at around −0.4 V is attributed to the reduction of Cu
2+
to Cu
+
. Further reduction continuing rapidly at around −1.3 V is due to the reduction of Cu
+
to solid Cu, associated with the reduction of solid Zn from Zn
2+
[
45
]. The same cyclic voltammograms were obtained from the solution containing zinc and copper electrolyte having a ligand [
46
]. Indeed, hydrogen evolution also occurs with co-deposition of the Zn-Cu alloy [
43
]. The hydrogen revealed during co-deposition of Zn-Cu alloy, however, does not affect Zn-Cu composition, as shown in the XRD results.
The film includes various oriented crystals consisting of only Zn-Cu alloy (see XRD section). On the reverse direction, the Zn-Cu alloy coating is stripped. The peak at around −0.8 V is associated to the oxidation of solid Zn (Zn
0
) to Zn
2+
and Cu
0
to Cu
+
. The other oxidation peak at around 0.2 V appears due to the oxidation of Cu
+
to Cu
2+
[
45
]. After that potential, the entire Zn-Cu alloy is dissolved. Although electrochemically obtained Zn-Cu alloy deposition has already been studied [
47
,
48
], the work presented here focuses on the corrosion resistivity of the Zn-Cu film.
3.4. Linear Sweep Voltammetry Analyses of Uncoated and Zn-Cu Coated AZ63
4. Conclusions
In this study, the structural, morphological, and corrosion behaviour of uncoated and Zn-Cu alloy-coated AZ63 substrate were investigated. The formation of peaks corresponding to hexagonal close-packed ε-phase of Zn-Cu with different crystallographic orientations were observed, indicating that the film is in a polycrystalline structure. According to microstructural analysis of the films, the surface of coated AZ63 alloy consists of uniformly distributed spherical grains between 0.5 µm and 2 µm in diameter.
The electroplating behaviour and corrosion characteristics were examined using cyclic and linear sweep voltammetric measurements. There is a significant change in the values of corrosion potential and corrosion current density for uncoated AZ63 in the NaCl solution. However, the values of
E
corr
and
i
corr
for Zn-Cu coated AZ63 remain unchanged with different immersion time in NaCl bath. AZ63 has pitting corrosion reaction in the NaCl media, and the corrosion is accelerated with immersion time of AZ63 in the chloride-based medium. Zn-Cu coating creates a barrier between Mg-based alloy and electrolyte and hence protects AZ63 against corrosion in the corrosive chloride environment. This study suggests that welded Mg-based alloys with similar/dissimilar materials can be protected against corrosion by a Zn-Cu coating.
Acknowledgments
This study is supported by University of Gaziantep, Scientific Research Projects Unit (BAPYB) by a research project number of MF.YLT.1608. The Authors would like to thank to Food Products R&D Centre, Gaziantep University.
Author Contributions
M.Y.H. and M.B. conceived and designed the experiments; M.Y.H. performed the experiments; M.Y.H., M.B. and A.Y. analysed the data; M.Y.H. and A.Y. wrote the paper.
Conflicts of Interest
The authors declare no conflict of interest.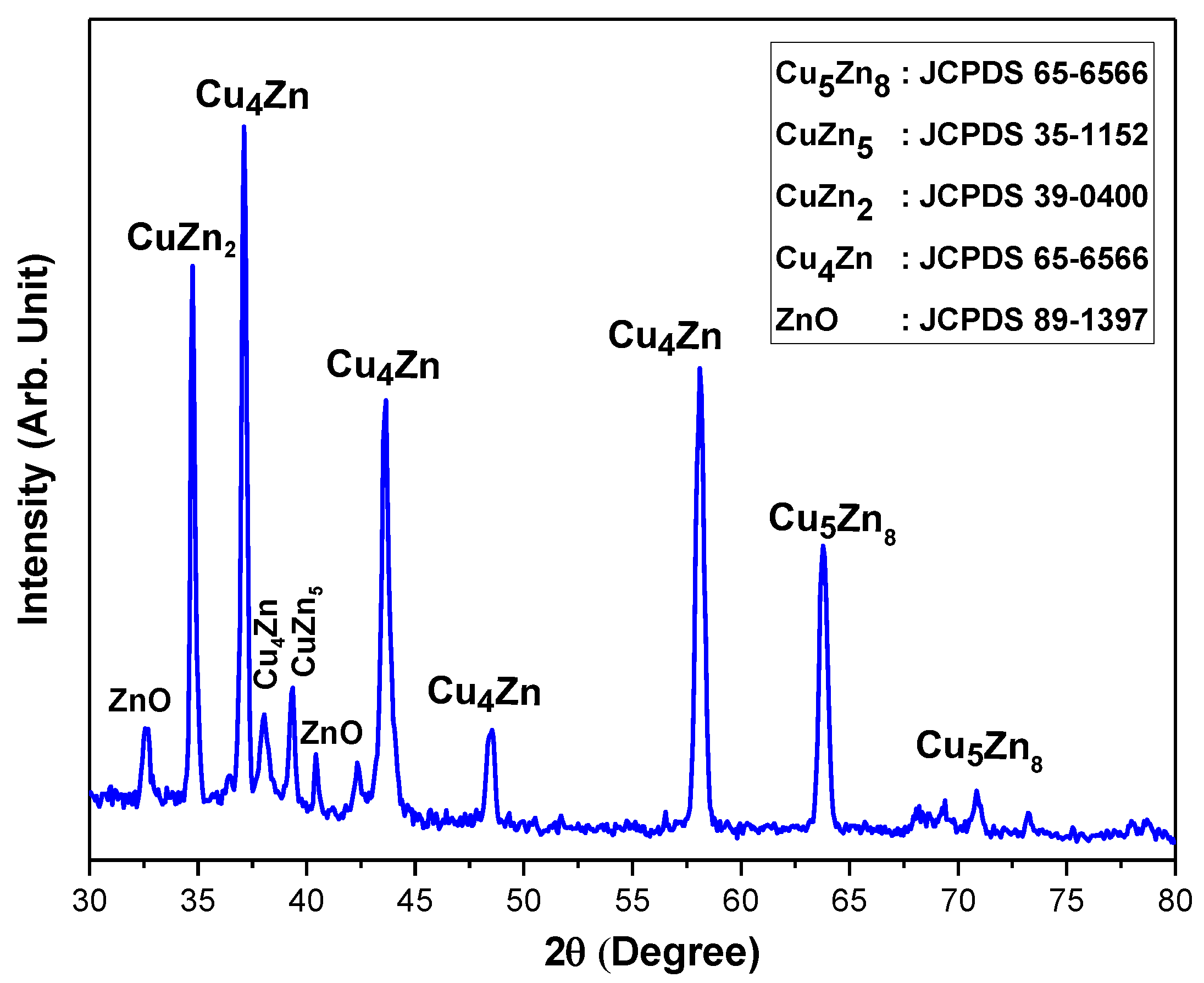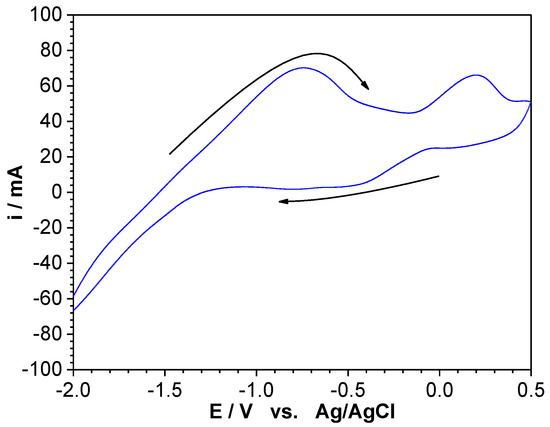 Figure 3. Cyclic voltammogram of AZ63 obtained from electrolytic solution between −2.0 V and +0.5 V at the scan rate of 100 mV·s−1.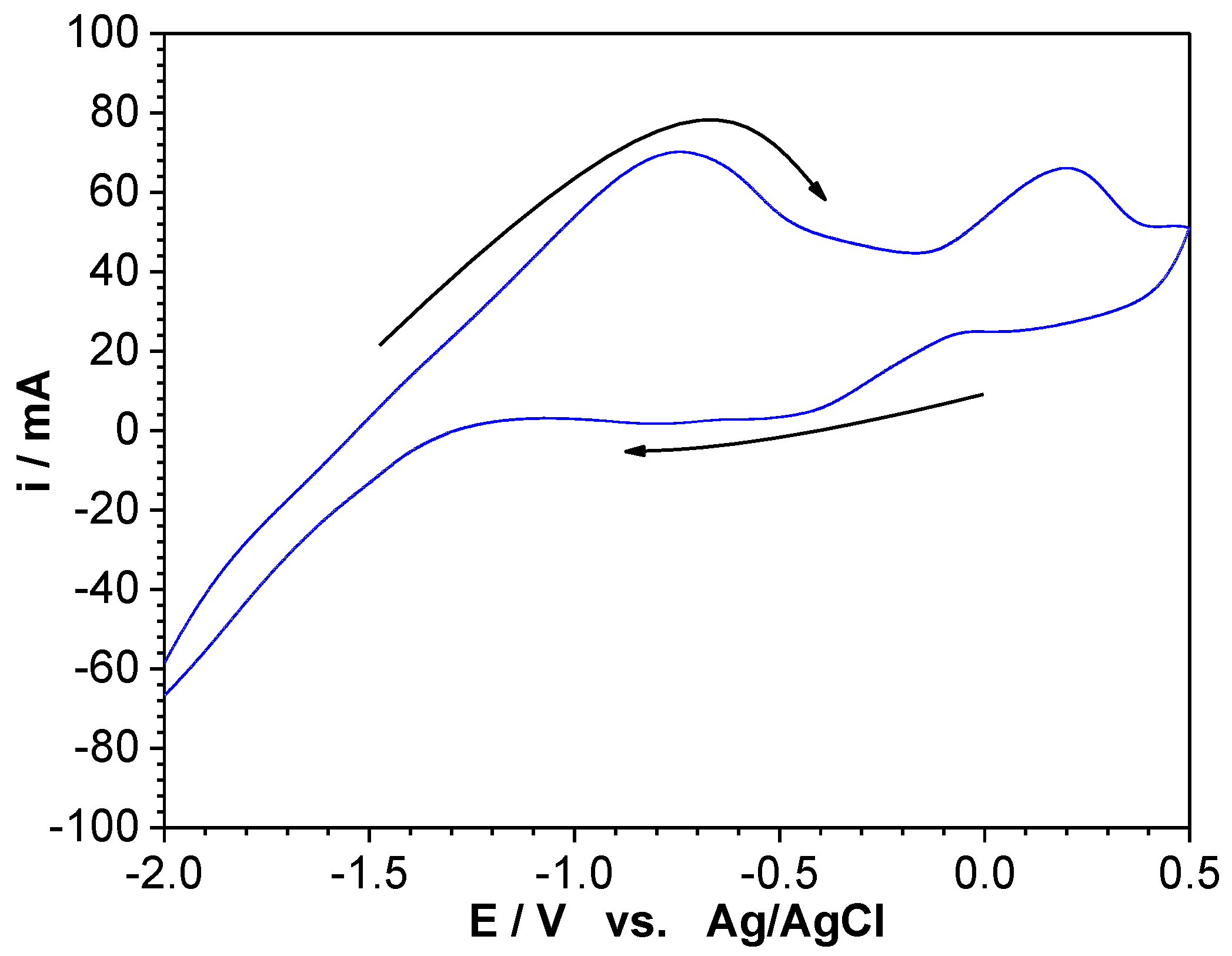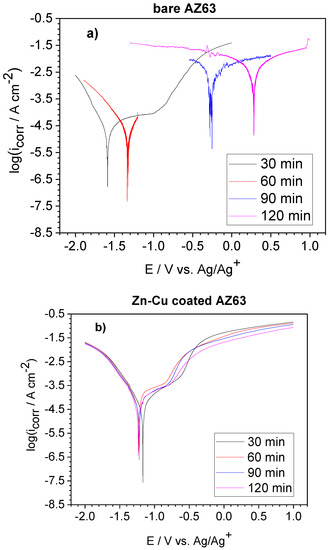 Figure 4. Potentiodynamic polarization curves for (a) uncoated AZ63 alloy and (b) Zn-Cu coated AZ63 in 3 wt % NaCl solution for 30, 60, 90, and 120 min.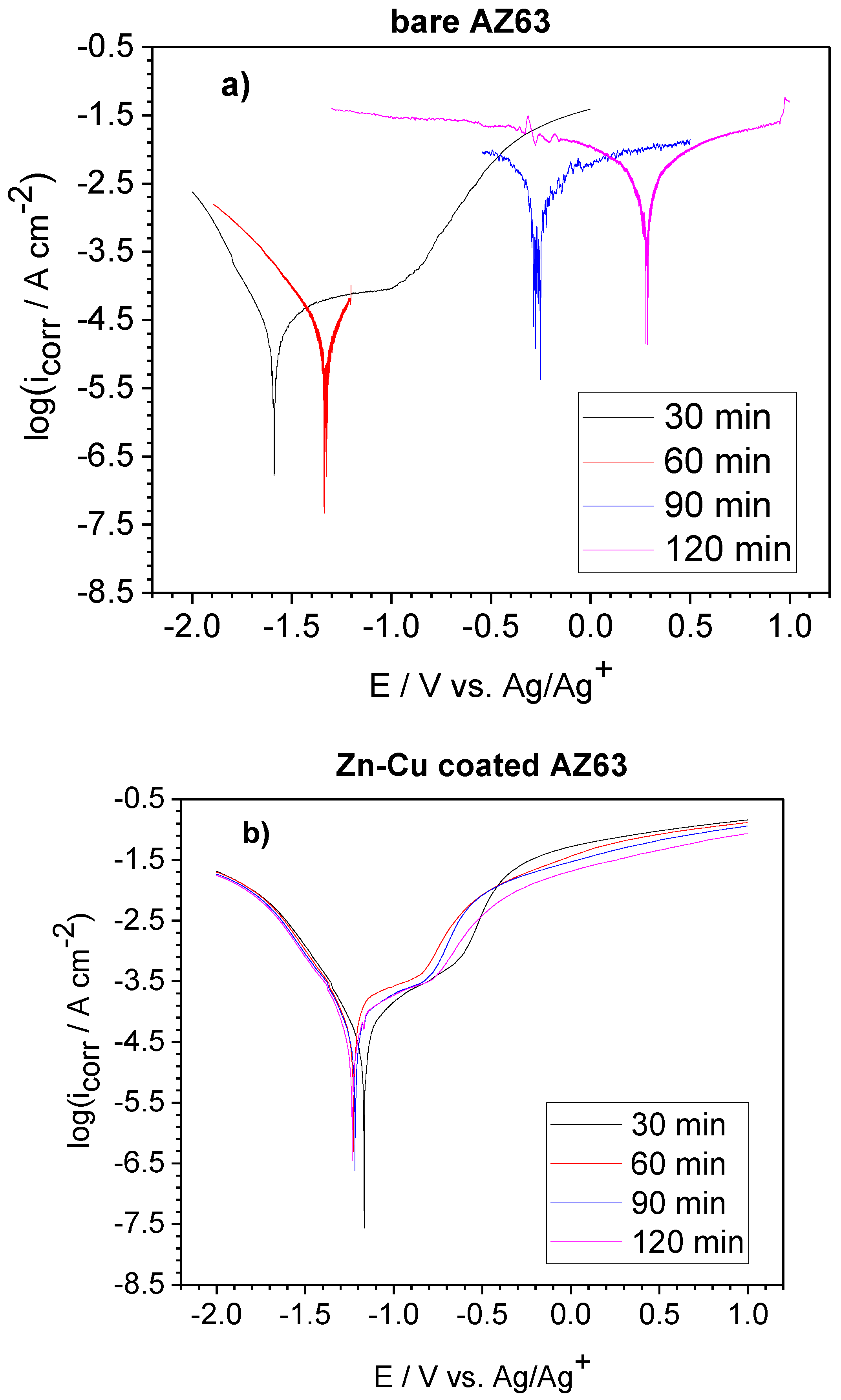 Table 1.
E
corr
and
i
corr
parameters extracted from Tafel plot of
Figure 4
in artificial seawater.
R
p
is calculated from the Sterm-Geary equation.
Table 1.

E

corr and

i

corr parameters extracted from Tafel plot of Figure 4 in artificial seawater.

R

p is calculated from the Sterm-Geary equation.
Duration in 3 wt % NaCl
Uncoated AZ63 Alloy
Zn-Cu Coated AZ63 Alloy

E

corr (V)

i

corr (µA·cm−2)

R

p (Ω·cm−2)

E

corr (V)

i

corr (µA·cm−2)

R

p (Ω·cm−2)
30 min
−1.61
19.1
4336
−1.17
26.3
1791
60 min
−1.31
26.9
1957
−1.23
70.8
1082
90 min
−0.23
2754
17.8
−1.22
46.8
1664
120 min
+0.29
4677
18.5
−1.23
49.0
1663
© 2016 by the authors; licensee MDPI, Basel, Switzerland. This article is an open access article distributed under the terms and conditions of the Creative Commons Attribution (CC-BY) license (http://creativecommons.org/licenses/by/4.0/).