Magnesium-Based Sacrificial Anode Cathodic Protection Coatings (Mg-Rich Primers) for Aluminum Alloys
School of Polymers and High Performance Materials, The University of Southern Mississippi, Hattiesburg, MS 39406, USA
*
Author to whom correspondence should be addressed.
Received: 31 May 2012 / Revised: 6 August 2012 / Accepted: 21 August 2012 / Published: 14 September 2012
Abstract
Magnesium is electrochemically the most active metal employed in common structural alloys of iron and aluminum. Mg is widely used as a sacrificial anode to provide cathodic protection of underground and undersea metallic structures, ships, submarines, bridges, decks, aircraft and ground transportation systems. Following the same principle of utilizing Mg characteristics in engineering advantages in a decade-long successful R&D effort, Mg powder is now employed in organic coatings (termed as Mg-rich primers) as a sacrificial anode pigment to protect aerospace grade aluminum alloys against corrosion. Mg-rich primers have performed very well on aluminum alloys when compared against the current chromate standard, but the carcinogenic chromate-based coatings/pretreatments are being widely used by the Department of Defense (DoD) to protect its infrastructure and fleets against corrosion damage. Factors such as reactivity of Mg particles in the coating matrix during exposure to aggressive corrosion environments, interaction of atmospheric gases with Mg particles and the impact of Mg dissolution, increases in pH and hydrogen gas liberation at coating-metal interface, and primer adhesion need to be considered for further development of Mg-rich primer technology.
View Full-Text
►

▼

Figures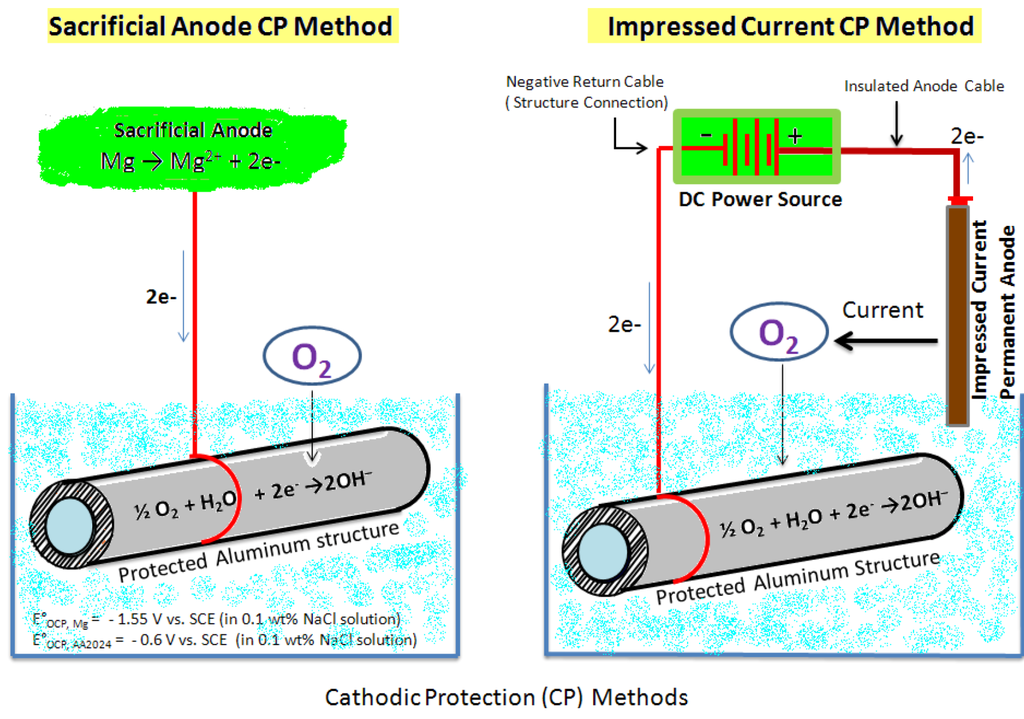 Figure 1

Share & Cite This Article
MDPI and ACS Style
Pathak, S.S.; Mendon, S.K.; Blanton, M.D.; Rawlins, J.W. Magnesium-Based Sacrificial Anode Cathodic Protection Coatings (Mg-Rich Primers) for Aluminum Alloys. Metals 2012, 2, 353-376.
Related Articles
Comments
[Return to top]