Open Access This article is
freely available
re-usable
Concept Paper
The Intertwined Relationship between Power and Patriarchy: Examples from Resource Extractive Industries
Resource Economics and Environmental Sociology, University of Alberta, Edmonton, AB T6G 2R3, Canada
Received: 16 December 2018 / Accepted: 6 February 2019 / Published: 9 February 2019
Abstract
:
This study examines the relationships between extractive industries, power and patriarchy, raising attention to the negative social and environmental impacts these relationships have had on communities globally. Wealth accumulation, gender and environment inequality have occurred for decades or more as a result of patriarchal structures, controlled by the few in power. The multiple indirect ways these concepts have evolved to function in modern day societies further complicates attempts to resolve them and transform the social and natural world towards a more sustainable model. Partly relying on queer ecology, this paper opens space for uncovering some hidden mechanisms of asserting power and patriarchal methods of domination in resource-extractive industries and impacted populations. I hypothesize that patriarchy and gender inequality have a substantial impact on power relations and control of resources, in particular within the energy industry. Based on examples from the literature used to illustrate these processes, patriarchy-imposed gender relations are embedded in communities with large resource extraction industries and have a substantial impact on power relations, especially relative to wealth accumulation. The paper ends with a call for researchers to consider these issues more deeply and conceptually in the development of case studies and empirical analysis.
Keywords:
patriarchy; resource extraction; power relations; inequality; capitalism; resource-distribution; gender dynamics; resource exploitation; energy industry; resource control
1. Introduction
The main hypothesis is that patriarchy and gender inequality have a substantial impact on power relations and control of resources, in particular within the energy industry. Through relying on some theoretical components of queer ecology, I argue that patriarchy-imposed gender relations are embedded in communities with large resource extraction industries and have a substantial impact on power relations, especially relative to wealth accumulation. I refer to two brief and contrasting examples addressing the same questions on different scales (country-wide vs. city-specific) to demonstrate the diversity of dynamics, general impacts and intricate details.
1.1. What Is Power?
The next section elaborates on patriarchy, briefly discussing its origins, and relates it to the main topics of this paper—power relations and energy extractive industries. It is essential to note that these are complex, intertwined concepts which comprise a strong network that is hard to deconstruct. Hence, I will rely on brief examples to assess the constituents of these networks and relationships between them and highlight some of the underlying important factors.
1.2. What Is Patriarchy?
Following the main objectives and goals, this paper theoretically discusses these often-hidden links and relationships—at least as hidden from mainstream literature and media—and the intricacies between them. Subsequently, this paper is not necessarily offering a solution to such institutional and systemic infestations of "power over", but merely starting the conversation and strengthening the path towards effective transformation, both academically and operationally, through proper framing of these intertwined concepts. Based on the literature and preliminary findings, it is clear that there is an undeniable link between power relations, traditional patriarchal structures, socio-economic inequalities and gender disparities. The impacts of this linkage have been found to take different forms, some more apparent than others. These forms are intricately complex and are difficult to resolve, as they are embedded in capitalistic systems and subsequent large-scale industries of all types. Focusing on extractive industries and the energy sector, we find these complexities reproduced over time and attempts to transform into alternative gender dynamics, social structures and power relations have ultimately failed and did not properly address the underlying problems.
2. Empirical Illustrations
This paper relies on empirical examples in order to analyze, contrast and compare patriarchal structures and power relations relative to extractive industry dependent economies. The two main examples chosen illustrate similar complexities at different scales (country-wide vs. city-specific), adding an element of diversity within the design and scope of inquiry. Using these two examples from the literature also facilitates comparisons of similar violence occurring in North and South America. Findings are analyzed based on the conceptual understandings and factors mentioned earlier. It is worth reiterating at this stage that these relationships and understandings can be found in the literature but need to be given more attention by researchers. This paper demonstrates that, pointing to the importance of accurately framing existing research findings relative to the underlying conceptual relations in order to enhance its applicability and potential reproduction in various contexts around the globe.
The first example is based on Elizabeth Peredo Beltran's [
21
] article on the unsuccessful social transformation process in Bolivia, which followed rebellions against neoliberalism, machismo, anti-colonialism and dictatorships. She describes this almost 40-year process as continuing resistance, rebellion and proposal-making, which mainly constituted regulating workers unions and inclusion of their demands as well as respect for human rights, and recognition of indigenous communities. However, this complex transformation process, Beltran [
21
] claims, was short lived, and rapidly shifted direction towards exacerbating power relations and the economic and wealth gap, and political inclusion. This deterioration in the main plans of social, economic and political change were also intertwined with continued, if not increasing environmental degradation and natural resource abuse. The main insight on the flaws of those who were advocating for change was overlooking power relations, and especially power as it pertains to patriarchy, feminism, nature and ecology, and the diversity of indigenous communities. What seems to have started with the nationalization of the oil and gas industry, evolved to an overall hunger for "power". Leaders of social movements and trade unions were only concerned with gaining access to positions of power in the government. Although environmental and leftist narratives were dispersed, maximizing "extraction" was well underway on the ground. National development plans revolved around the expropriation of gas and water, ignoring all the rights mentioned earlier, including the sanctity of indigenous lands. The oil and gas sector reached about 69% of GDP while 26% was mining activity [
21
]. The side effects of this included increasing infrastructure to support the shift towards extractive industry, which involved moving forward with building roads on indigenous lands regardless of previous agreements. The second upheaval, which started as a response to these atrocities in 2011, revealed true identities. The government clearly had no intention to abide by the earlier social movement's demands and instead continued on the path of economic growth from extractive industries. The president had this response when people were protesting against road construction on indigenous lands:
"If I had time, I'd go and flirt with all the Yuracaré women and convince them not to oppose it [the TIPNIS road]; so, you young men, you have instructions from the President to go and seduce the Yuracaré Trinitaria women so that they don't oppose the building of the road. Approved?"

[

21

] (p. 6; extracted from Bolivian news website, La Razon, 2011)
Furthermore, another Bolivian news agency, Pagina Siete, reported the following on the country's National Development Plan 2025:
"The new idea coming from this government is that we're going to be an energy power. The twenty-first century for Bolivia is to produce oil, industrialise petrochemicals, industrialise minerals."

([

21

] (p. 7; extracted from Bolivian news website, Pagina Siete, 2015)
This plan is one that clearly contradicts the International Panel on Climate Change's (IPCC) recommendations and all energy transition agreements and strategies regarding the mitigation of and adaptation to climate change [
21
]. Seemingly, what started with an idealistic hope for social transformation and trust in leftist leaders, evolved to become entrapments of power. Patriarchal systems of government remained in place and capitalism was relied on to allegedly achieve socialism. Patriarchy has been reproduced within this system of governance and power relations through violence (specifically against women and others); devaluing the different; erasing diversity in order for male leaders to become real men, cruel, or powerful and decide "what's best"; limiting/ bypassing any indigenous consultation; and exploiting women and nature [
21
]. Beltran [
21
] frames the main problem as capitalism, which is seen to persist due to its ancient connections to systems of oppression such as patriarchy. To address this, she recommends social change that aims at emancipating capitalism and examining the relevant ethical dimensions.
The example of Bolivia demonstrates the complexity of the intertwined capitalism, power and patriarchy, specifically following decisions to shift the country's economy towards resource extractive industries. Bolivia can be considered a macro-scale case study that shows the overall picture of modern-day inequality and environmental degradation. The next example is representative of a smaller scale and explores the aggravated and exacerbated patriarchy and male thirst for power following the relative growth of the resource extractive industry sector.
The second example provides a practical application of theories regarding extractive industries and patriarchy. Pennsylvania is discussed as a case study where capitalist patriarchy is most prominent due to the local socio-economic weave, especially relative to gender norms and relations. Matthew R. Filteau [
1
] provides an in-depth discussion of gender hierarchies in a natural-resource based local economy; an area of research which is found to be mostly gender-neutral. What started in 2003 with the first well dug in the Marcellus Shale oil reserve in Pennsylvania rapidly grew and 8200 wells were dug between 2009 and 2015, accompanied with an influx of mostly male laborers to satisfy the demand in what can be considered an early stage of development and extraction [
1
]. As mentioned, researchers found that towns where there is rapid economic growth, specifically due to the oil and gas industry, pose intriguing research problems due to their deeply troubling social nature (see [
22
,
23
,
24
,
25
,
26
]).
During the primary analysis of his qualitative grounded theory approach results, Filteau [
1
] found similarities amongst his interviewees where business owners, government officials, industry representatives, landowners, and leaders of local organizations—either men or women—demonstrated signs of hegemony, and residents who had high environmental awareness and did not necessarily abide by patriarchal capitalism were found to represent "alternative femininities" and "protest masculinities". Furthermore, striking factors indirectly or directly conducted by the oil and gas industry that have contributed to the imbalance in power relations and gender dynamics included the following [
1
]:
-

Enhancing economic and cultural strength of certain men within the industry

-

Perpetuating unequal gender relations between men, women and so-called "lesser men"

-

Promoting men's breadwinning mentality/responsibility

-

Facilitating women's compliance with traditional female roles (e.g., housewife, teacher, etc.)

-

Promoting ideas of continued stability for local businessmen in exchange for their support for the oil and gas industry
These factors are merely headlines to what seems to have become a web of control over local values and principles. To note, "lesser men" in the paper refers to men who are not necessarily assuming dominant roles at work or at home. Spreading ideologies regarding men's "responsibility" to provide for the family, the appeal of highly competitive salaries in the oil and gas industry and the complementary need for infrastructure, services and businesses to support the industry embeds it within the local community and culture. This example is very interesting as it clearly pertains to the third dimension of power [
11
] mentioned above, where social ideologies are shaped indirectly by economic demands and the overall stance of the government and the dominant industries.
4. Conclusions
Extractive industries and capitalistic governance systems have gone hand in hand with patriarchy and uneven distribution of power all over the world. Importantly, nature and natural resources are given the least attention in the pursuit of power under patriarchy [
17
]. This is not to say that a hierarchy of attention exists when valuing the environment and/or all genders. On the contrary—and as theorized in queer ecology—the relationship between power, gender and resources and the more-than-human world is entangled in a diverse spectrum of connections and interactions. Thus, it is important to note the meaning and true value of rejecting dualisms where naturecultures reject claims that nature is a blank canvas that has been given value through culture, and is mute and immutable, as nature has an intrinsic value that impacts human life [
5
,
7
].
The importance of this study is that it acknowledges such intertwined, highly complex relationships between all the factors mentioned above. Attempting to address patriarchy, for example, cannot be done without examining power relations, capitalism, gender roles, perceptions on nature and environmental rights, to name a few [
31
]. Isolating any of these from the rest will not only develop disparities but may also exacerbate problems further. Ensuring important claims to this paper are addressed in the literature is one way to avoid a narrow analysis and insignificant links between patriarchy and different industries. Research collaborations and interdisciplinarity are desperately needed to advance this area of research and realize tangible results through formulating theoretical frameworks, methodologies and solutions [
14
,
15
,
16
,
17
,
18
].
Perhaps the world requires a new lens that uncovers all the underlying injustice beyond resource extractive industry's patriarchy and capitalism as a whole. It is illogical to continue living obliviously in a world which is falling apart environmentally, socially, culturally and economically while thinking that maximizing profits is the main goal. Advancing research in this area can have substantial impacts in all decision-making venues and unprecedented progress on sustainability dreams and hopes. I urge researchers to adopt a similar social theory framework when exploring empirical evidence of these issues and to investigate beneath the surface, regardless of any institutional challenges or preconceived power/patriarchal influence.
Acknowledgments
I would like to acknowledge Chloe Taylor for her ongoing support and enlightenment while I wrote this paper.
Funding
This research received no external funding.
Conflicts of Interest
The authors declare no conflict of interest.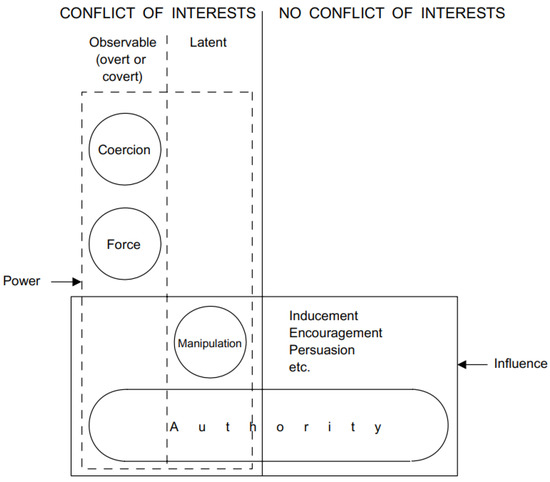 Figure 1.
Conceptual mapping of power as a three-dimensional concept, extracted from Lukes [
11
] (p. 36).

© 2019 by the authors. Licensee MDPI, Basel, Switzerland. This article is an open access article distributed under the terms and conditions of the Creative Commons Attribution (CC BY) license (http://creativecommons.org/licenses/by/4.0/).