Helicase Lymphoid-Specific Enzyme Contributes to the Maintenance of Methylation of SST1 Pericentromeric Repeats That Are Frequently Demethylated in Colon Cancer and Associate with Genomic Damage
1
Sanford-Burnham-Prebys Medical Discovery Institute, La Jolla, CA 92037, USA
2
Active Motif, 1914 Palomar Oaks Way, Suite 150, Carlsbad, CA 92008, USA
3
Institute of Predictive and Personalized Medicine of Cancer (IMPPC), Institut d'Investigació en Ciències de la Salut Germans Trias i Pujol (IGTP), Campus Can Ruti, Badalona 08916, Barcelona, Spain
4
Departament de Ciències Fisiològiques, Facultat de Medicina i Ciències de la Salut, Campus Ciències de la Salut, Bellvitge, Universitat de Barcelona, Hospitalet del Llobregat 08907, Barcelona, Spain
5
Institució Catalana de Recerca i Estudis Avançats (ICREA), Barcelona 08010, Spain
*
Authors to whom correspondence should be addressed.
Academic Editor: Ernesto Guccione
Received: 27 July 2016 / Revised: 8 September 2016 / Accepted: 14 September 2016 / Published: 22 September 2016
Abstract
DNA hypomethylation at repetitive elements accounts for the genome-wide DNA hypomethylation common in cancer, including colorectal cancer (CRC). We identified a pericentromeric repeat element called SST1 frequently hypomethylated (>5% demethylation compared with matched normal tissue) in several cancers, including 28 of 128 (22%) CRCs. SST1 somatic demethylation associated with genome damage, especially in tumors with wild-type
TP53
. Seven percent of the 128 CRCs exhibited a higher ("severe") level of demethylation (≥10%) that co-occurred with
TP53
mutations. SST1 demethylation correlated with distinct histone marks in CRC cell lines and primary tumors: demethylated SST1 associated with high levels of the repressive histone 3 lysine 27 trimethylation (H3K27me3) mark and lower levels of histone 3 lysine 9 trimethylation (H3K9me3). Furthermore, induced demethylation of SST1 by 5-aza-dC led to increased H3K27me3 and reduced H3K9me3. Thus, in some CRCs, SST1 demethylation reflects an epigenetic reprogramming associated with changes in chromatin structure that may affect chromosomal integrity. The chromatin remodeler factor, the helicase lymphoid-specific (HELLS) enzyme, called the "epigenetic guardian of repetitive elements", interacted with SST1 as shown by chromatin immunoprecipitation, and down-regulation of
HELLS
by shRNA resulted in demethylation of SST1 in vitro. Altogether these results suggest that HELLS contributes to SST1 methylation maintenance. Alterations in HELLS recruitment and function could contribute to the somatic demethylation of SST1 repeat elements undergone before and/or during CRC pathogenesis.
View Full-Text
►

▼

Figures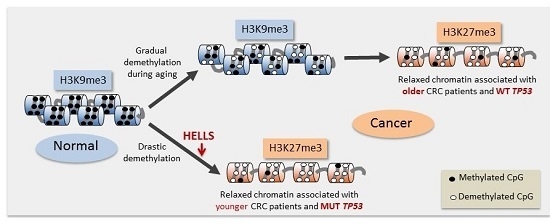 Graphical abstract
This is an open access article distributed under the
Creative Commons Attribution License
which permits unrestricted use, distribution, and reproduction in any medium, provided the original work is properly cited (CC BY 4.0).

Share & Cite This Article
MDPI and ACS Style
Samuelsson, J.K.; Dumbovic, G.; Polo, C.; Moreta, C.; Alibés, A.; Ruiz-Larroya, T.; Giménez-Bonafé, P.; Alonso, S.; Forcales, S.-V.; Perucho, M. Helicase Lymphoid-Specific Enzyme Contributes to the Maintenance of Methylation of SST1 Pericentromeric Repeats That Are Frequently Demethylated in Colon Cancer and Associate with Genomic Damage. Epigenomes 2017, 1, 2.
Note that from the first issue of 2016, MDPI journals use article numbers instead of page numbers. See further details here.
Comments
[Return to top]