Open Access This article is
freely available
re-usable
Review
Mosquito Innate Immunity
Vector Borne Diseases Group, International Centre for Genetic Engineering and Biotechnology (ICGEB), New Delhi-110067, India
†
Authors have contributed equally.

Received: 28 April 2018 / Accepted: 18 June 2018 / Published: 8 August 2018
Abstract
:
Mosquitoes live under the endless threat of infections from different kinds of pathogens such as bacteria, parasites, and viruses. The mosquito defends itself by employing both physical and physiological barriers that resist the entry of the pathogen and the subsequent establishment of the pathogen within the mosquito. However, if the pathogen does gain entry into the insect, the insect mounts a vigorous innate cellular and humoral immune response against the pathogen, thereby limiting the pathogen's propagation to nonpathogenic levels. This happens through three major mechanisms: phagocytosis, melanization, and lysis. During these processes, various signaling pathways that engage intense mosquito–pathogen interactions are activated. A critical overview of the mosquito immune system and latest information about the interaction between mosquitoes and pathogens are provided in this review. The conserved, innate immune pathways and specific anti-pathogenic strategies in mosquito midgut, hemolymph, salivary gland, and neural tissues for the control of pathogen propagation are discussed in detail.
Keywords:
mosquitoes; innate immunity; pathogens; signaling pathways; RNA interference
2. The Immune System of Mosquitoes
Mosquitoes possess physical barriers such as a hard exoskeleton, and they lack an adaptive immune system, unlike higher organisms. Mosquitoes entirely depend on their innate immune system to fight infections caused by pathogens such as viruses, bacteria, fungi, and parasites [
26
,
27
,
28
].
3. Future Perspectives
This review reveals the underlying mechanism of innate immunity of mosquitoes against pathogens. Studying the immune system of mosquitoes will provide insights into significant opportunities to link tissue damage, immune invasions mechanisms, and immune response against pathogens. More importantly, unraveling the riddles of mosquito's immune system will shed light on the fight against disease-spreading pathogens. Understanding the triggers that allow pathogens to grow and replicate in mosquitoes and those that restrict the pathogens to survive in low levels will provide insights into the mechanisms of mosquito-pathogen interactions. Finding the exact immune evasion strategies of pathogens will help to create effective ways to control them. Although successful pathogen dissemination in the mosquito midgut, hemocytes, fat body, salivary glands, and all tissues depends on tissue barriers such as MIB, MEB, SGIB, and SGEB, there is a lack of knowledge about the exact mechanisms and barriers at the molecular and biochemical levels. The know-how of molecules involved in signaling, tissue damage, activation, and regulation of the immune response, recognition of pathogens, and signaling pathways that activate the immune system of mosquitoes is essential for a better control of the host–pathogen interactions. Several methodologies based on molecular imaging, new molecular technologies, and biochemical and genomic analyses will strengthen the studies of immune mechanisms and provide insights into the basis of the functionality of each component that can further be utilized to evaluate host-pathogen interactions.
Author Contributions
Conceptualization, S.S.; Methodology, A.K., P.S. (Priyanshu Srivastava), P.S. (PDNN Sirisena), J.S., S.S.; Data Curation, A.K., P.S. (Priyanshu Srivastava), P.S. (PDNN Sirisena), R.K., S.K.D., J.S., S.S.; Writing—Original Draft Preparation, A.K., P.S. (Priyanshu Srivastava), P.S. (PDNN Sirisena), R.K., S.K.D., J.S., S.S.; Writing—Review and Editing, A.K., P.S. (Priyanshu Srivastava), S.S.; Supervision, S.S.; Funding Acquisition, S.S.
Funding
This research was funded by ICGEB internal funding grant number [Core Fund].
Conflicts of Interest
The authors declare no conflict of interest.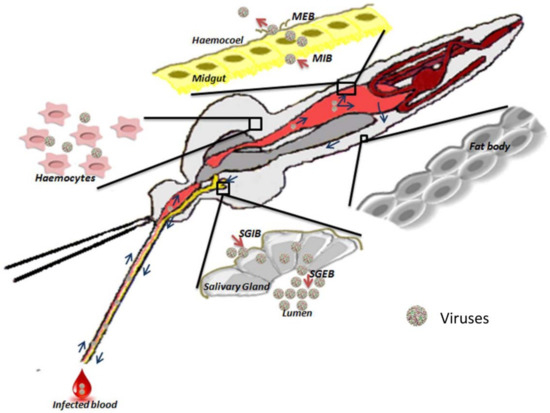 Figure 1. The schematic representation of immune responses using physical and physiological barriers upon infection in mosquitoes. MIB: midgut-infection barrier (pathogens establish an infection in the midgut epithelium and replicate in the midgut epithelial cells); MEB: midgut-escape barrier (pathogens pass through the basal lamina and replicate in other organs and tissues); SGIB: salivary gland infection barrier; SGEB: salivary gland escape barrier (these transmission barriers infect the salivary gland and escape into the lumen of the salivary gland).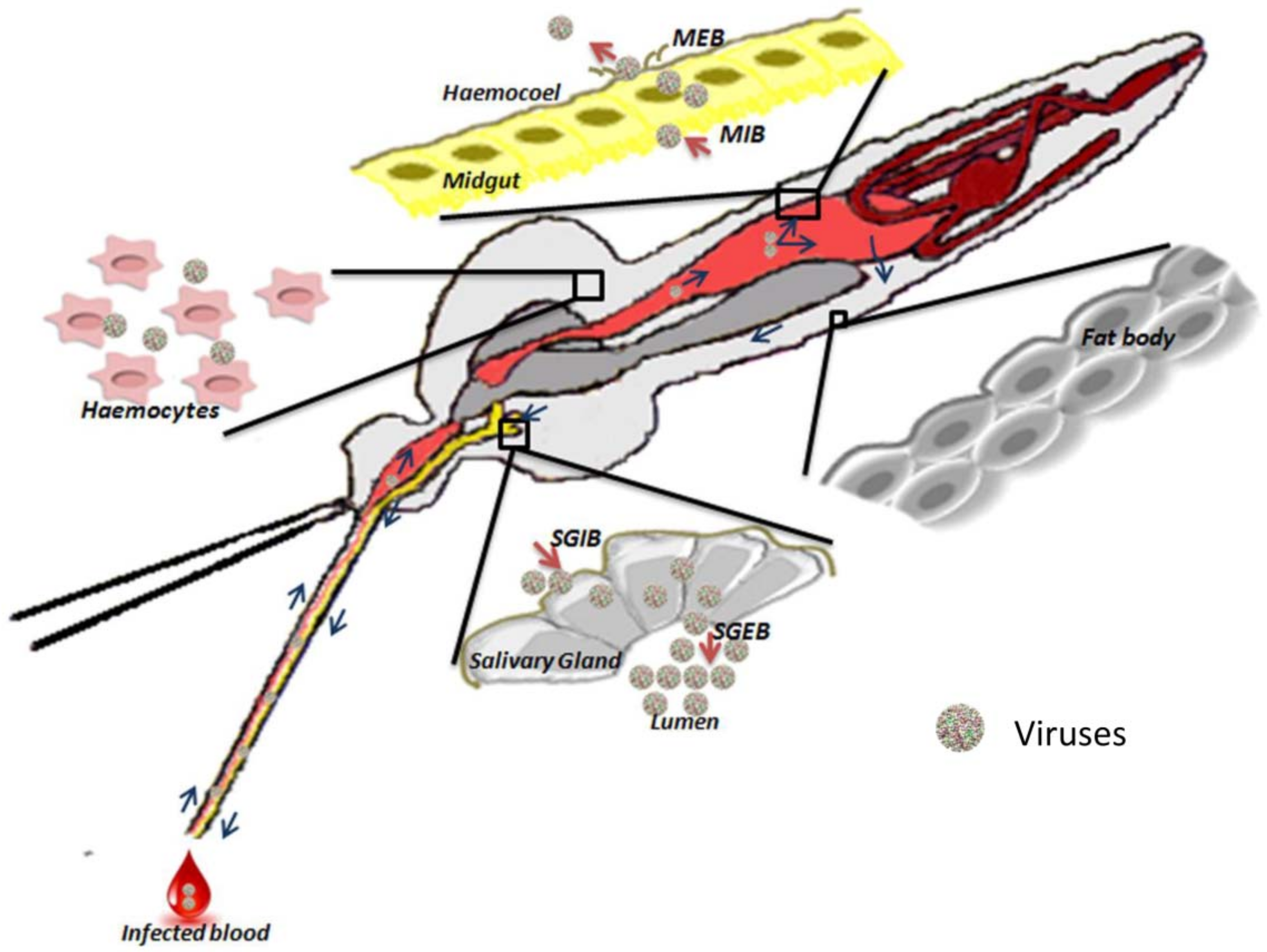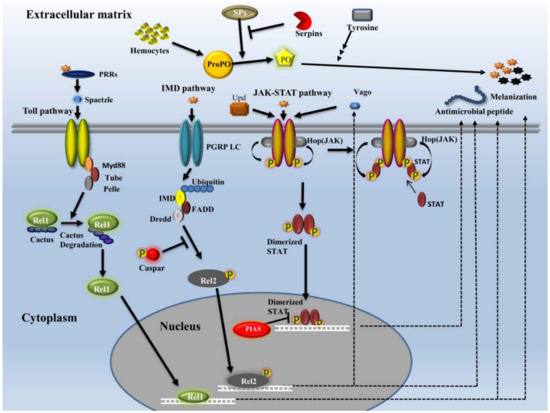 Figure 2. The signaling pathway of mosquito's innate immunity. Recognition of pathogen-associated molecular patterns by pattern-recognition receptors (PRRs) activates the Toll pathway by proteolytic cleavage of spaetzle which binds to Toll receptors and triggers the signalling through adaptor proteins. This results in phosphorylation and degradation of the Cactus protein, which is an inhibitor of Rel1. Degradation of Cactus allows Rel1 to be translocated to the nucleus for the activation of transcription of genes regulated by Toll pathway. The IMD pathway is triggered by the binding of pathogens with PGRP-LC, which further triggers the signalling through IMD, FADD, and Dredd. This results in the phosphorylation of Rel2 by the activity of the Dredd protein. This step is regulated by the Caspar protein which is a negative regulator of the IMD pathway. Now Rel2 enters the nucleus to regulate the transcription of IMD-regulated genes, which are also involved in the synthesis of antimicrobial peptides. The JAK-STAT pathway is triggered by the binding of Upd with receptor proteins (Dome), leading to the activation of Hop proteins. Activated Hop proteins phosphorylate each other and STAT proteins, which are dimerized upon phosphorylation. This dimer of STAT proteins translocates to the nucleus and activates the transcription of JAK-STAT regulated genes, some of which are involved in the synthesis of antimicrobial peptides. PIAS is a negative regulator of dimerized STAT proteins inside the nucleus, and over-expression of PIAS inhibits JAK-STAT signalling pathway. Melanization is triggered by the activity of hemocytes, which is induced by the recognition of pathogens by PRRs. This results in the cleavage of prophenoloxidases (ProPO) by the activity of serine proteases (SPs), to form phenoloxidases (PO). Here, the activity of serine proteases is negatively regulated by serpins. Activated phenoloxidases trigger a series of reactions initiated in the presence of Tyrosine, ultimately leading to the melanization of invading pathogens.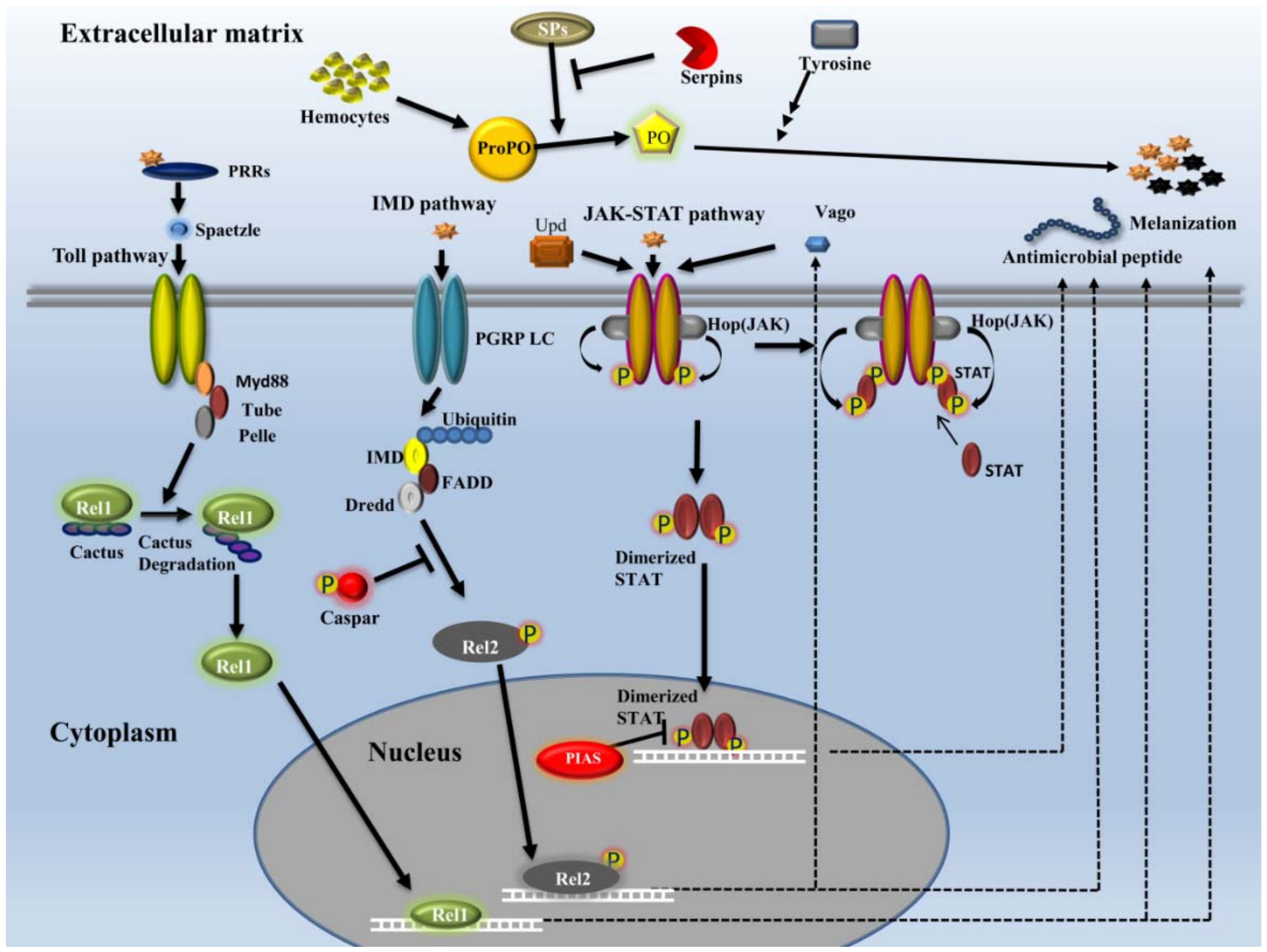 Figure 3. Endogenous siRNA processing and role of these siRNAs in nucleus and cytoplasm. In the nucleus, siRNA-generating locus produces ssRNA, which is converted into dsRNA by RNA-dependent RNA polymerase in the nucleus and cytoplasm. In cytoplasm, this dsRNA is processed by Dcr2 and Loqs complex leading to the formation of endogenous duplex siRNA population (1° & 2° siRNAs duplex form), which is further converted into siRNA by the action of Ago1 and loaded to the RNA-induuced transcriptional silencing (RITS) complex. RITS is a multiprotein complex containing chromodomain protein chp1, argonaute interacting protein tas3. This complex is transported into the nucleus and binds with a nascent transcript in a sequence-specific manner, which leads to the recruitment of Stc1 and Rik4 proteins (the CLRC complex). This complex further recruits the Clr4, that is, methyltransferase, and attaches the methyl group on H3K9 (9th position of lysine in histone-3). H3K9 methylation stabilizes Swi6 (HP1 protein), which leads to the formation of heterochromatin or the silencing of transposons. In cytoplasm, the RISC complex is involved in post-transcriptional gene silencing.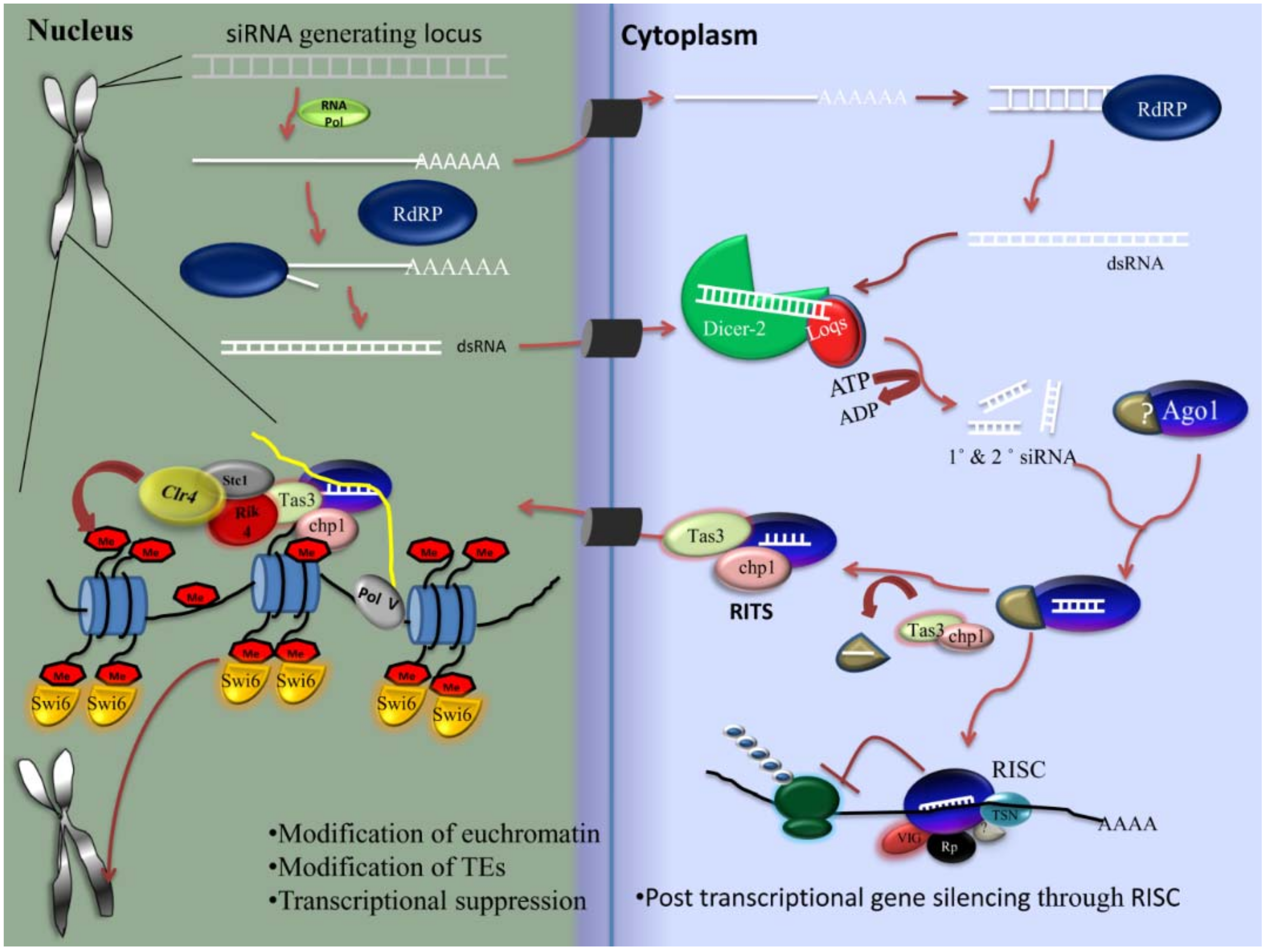 Figure 4. The processing and mechanism of action of exogenous siRNA and miRNA. In the nucleus, pri-miRNA is produced by a genome which is processed by Drosha and Pasha and converted into Pre-miRNA. Pre-miRNA is transported to the cytoplasm through exportin 5, which is further processed by Dicer-1 and the Loqs complex in the cytoplasm. A miRNA–miRNA* duplex is formed, which is involved in the formation of guide RNA by the degradation of passenger strand. Loading of the miRNA–miRNA* duplex to argonaute is sequence-specific. The 5′ end and central mismatch in the miRNA–miRNA* duplex are sorted into Argonaute 1, which leads to the formation of 3′ uridine guide RNA. The 3′end mismatch in the miRNA–miRNA* duplex is sorted into Argonaute 2, which leads to the formation of 5′ cytidine guide RNA. Exogenous dsRNA from different sources are processed in the cytoplasm by RLC complex (Dcr2 and R2D2) into small RNA (sRNA) duplex. The activity of the RLC complex is enhanced by TAF11. Holo-RISC complex is made up of different proteins: Ago2 or Ago1, VIG, Dicer-2 or Dicer-1, TSN, ribosomal proteins, and other unknown proteins. Incorporation of the sRNA duplex into Ago2 leads to the formation of active RISC complex and the passenger strand is degraded by C3PO, an endonuclease. In case of both miRNA and siRNA, the active RISC complex containing guide strand binds to target mRNA, leading to its translational suppression or degradation of target mRNA.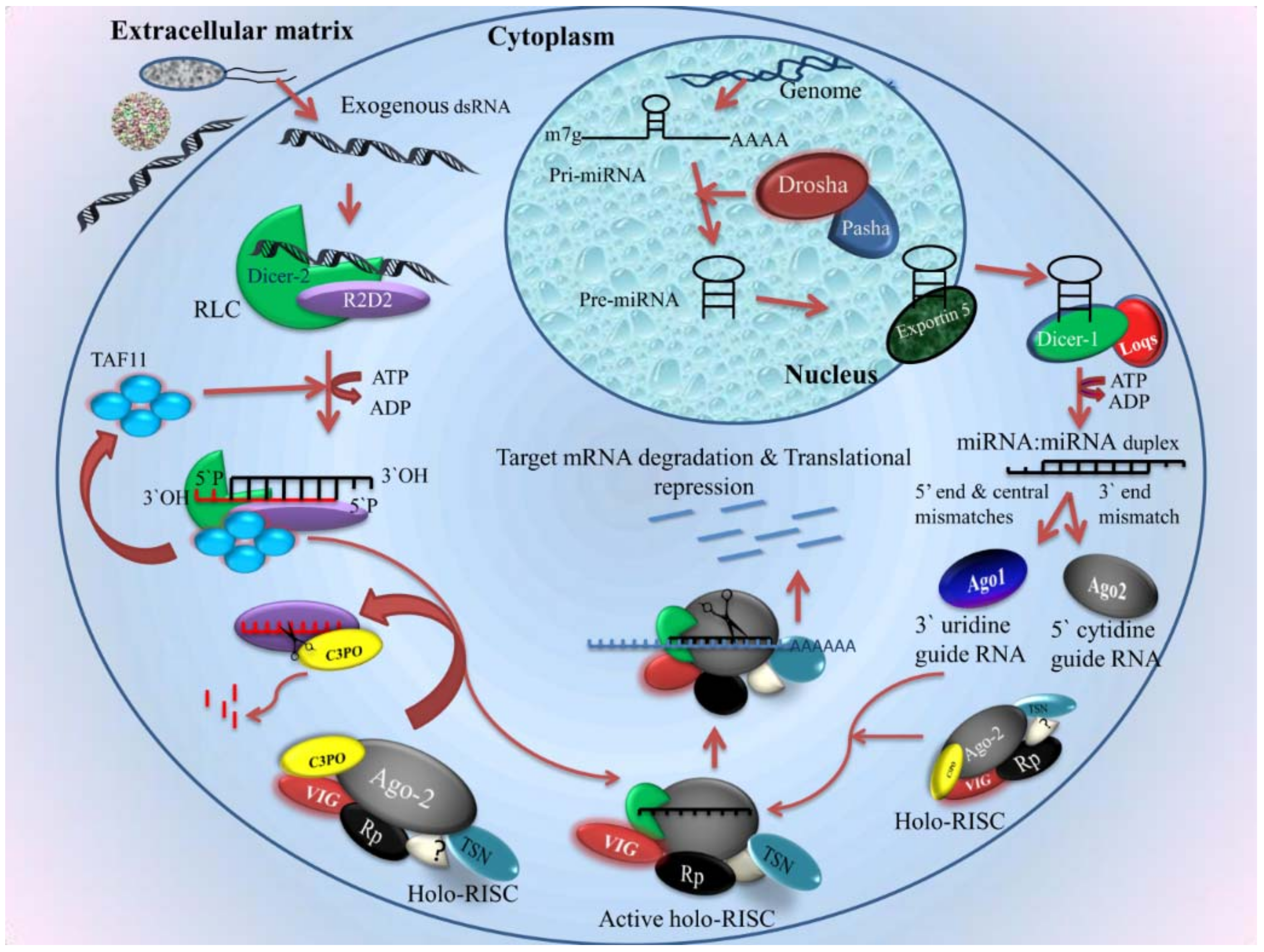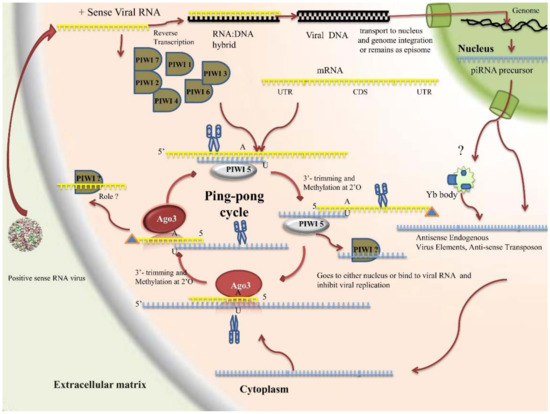 Figure 5. PIWI pathway in mosquitoes. Upon RNA virus infection, as the RNA strand reaches the cytoplasm of the host, it is either utilized by PIWI protein or the viral genome integrates into the host genome after reverse transcription, replication, and integration. In the first category, as viral RNA genome enters the host cells, it is bound with unknown PIWI protein (PIWI 1-7) and is directly fed into the ping-pong cycle, thereby amplifying the piRNAs. RNA from viral genome or mRNA binds to complementary antisense RNA bound to Piwi5. Viral RNA or mRNA is cleaved at 5′ end and trimmed at 3′ end by nucleases and methylated at 2′-OH. Antisense RNA is then released bounded to an unknown PIWI protein and binds to viral RNA inhibiting viral replication, whereas processed sense RNA binds to Ago3 and to precursor long-length antisense piRNA. Antisense precursor is then cleaved at 5′ end and 3′ end by nucleases and methylated at 2′-OH. The sense piRNA is released although its function is not known, whereas antisense piRNA binds to Piwi5 and starts another round of ping-pong cycle. In the second category, the viral RNA genome is reverse transcribed and replicated, which then enters into the host cell nucleus and then integrates into the genome. It is later transcribed and transported to the cytoplasm, and fed into ping-pong cycle, although it is not known whether it directly binds to complementary RNA bound to Ago3 or there is a role of Yb body as in the case of germinal cells.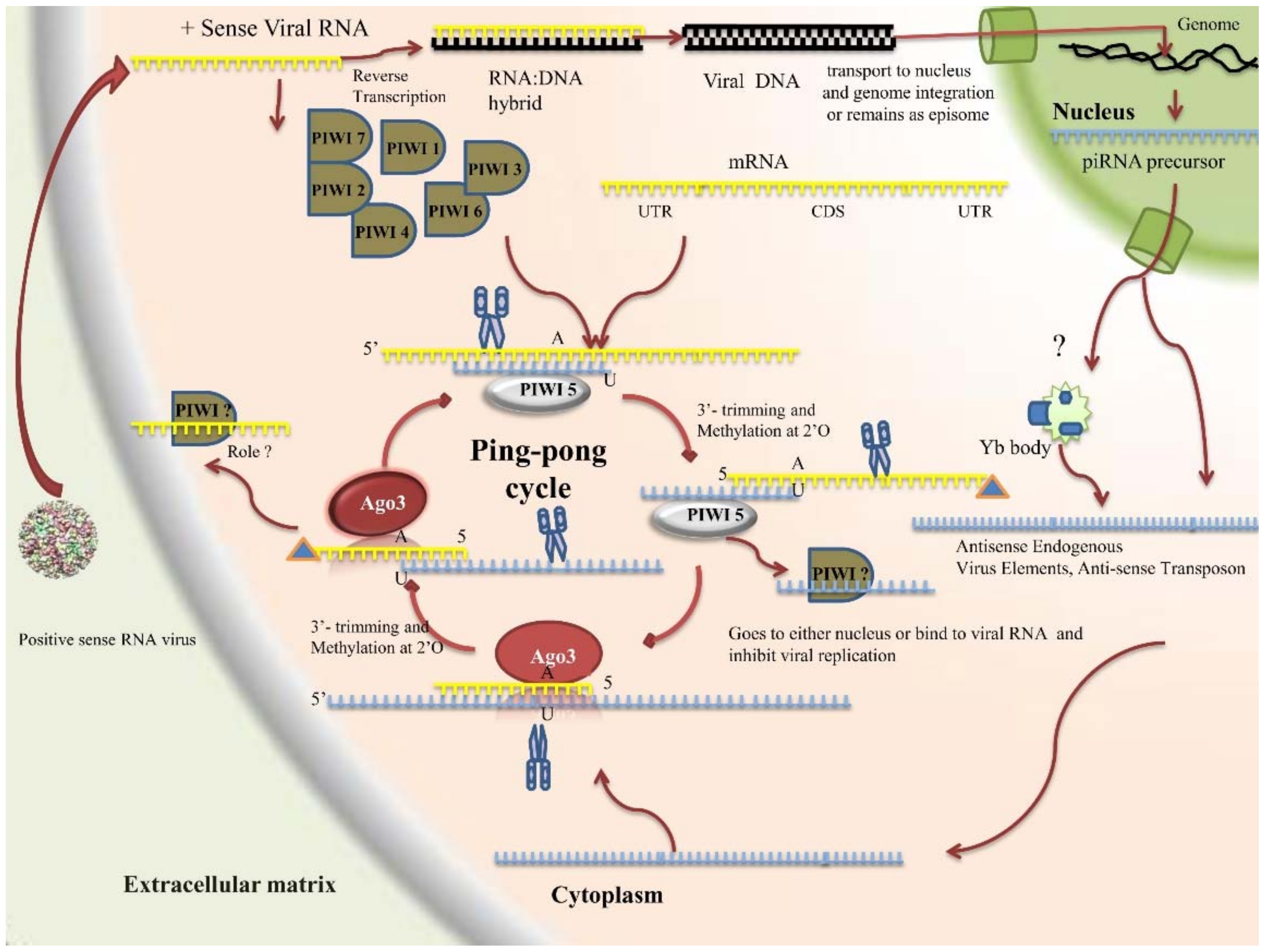 © 2018 by the authors. Licensee MDPI, Basel, Switzerland. This article is an open access article distributed under the terms and conditions of the Creative Commons Attribution (CC BY) license (http://creativecommons.org/licenses/by/4.0/).