Interactions among the Predatory Midge
Aphidoletes aphidimyza

(Diptera: Cecidomyiidae), the Fungal Pathogen

Metarhizium brunneum

(Ascomycota: Hypocreales), and Maize-Infesting Aphids in Greenhouse Mesocosms

Department of Plant and Environmental Science, University of Copenhagen, 1871 Frederiksberg C, Denmark

*

Author to whom correspondence should be addressed.

Academic Editors: Andrew G. S. Cuthbertson and Eric W. Riddick

Received: 16 November 2016 / Revised: 3 April 2017 / Accepted: 6 April 2017 / Published: 12 April 2017
Abstract
The generalist entomopathogenic fungus,
Metarhizium brunneum
, has proved to have great potential as a versatile biological pest control agent. The gall midge
Aphidoletes aphidimyza
is a specialist predator that occurs naturally in Europe and has been successfully used for aphid suppression. However, the interaction between these two biological control organisms and how it may affect the biological control of aphids awaits further investigation. As part of the EU-supported project INBIOSOIL, this study was conducted in greenhouse conditions to assess the possible effects of combining both biological control agents. In a randomized complete block design, sweet corn (
Zea mays
var.
saccharata
) plants were grown in large pots filled with natural soil or natural soil inoculated with
M. brunneum
. At the third leaf stage, before being individually caged, plants were infested with
Rhopalosiphum padi
and
A. aphidimyza
pupae were introduced in the soil.
Aphidoletes aphidimyza
midge emergence, number of living midges and number of aphids were recorded daily. The presence of conidia in the soil and on leaves was assessed during the experiment. At the conclusion of the experiment, the number of live aphids and their developmental stage, consumed aphids, and
A. aphidimyza
eggs was assessed under stereomicroscope. This study's findings showed that the presence of
M. brunneum
did not affect
A. aphidimyza
midge emergence. However, longevity was significantly affected. As the study progressed, significantly fewer predatory midges were found in cages treated with
M. brunneum
compared to untreated cages. Furthermore, by the end of the study, the number of predatory midges found in the
Metarhizium
-treated cages was four times lower than in the untreated cages. Both daily and final count of aphids were significantly affected by treatment.
Aphidoletes aphidimyza
applied alone suppressed the aphid population more effectively than
M. brunneum
applied alone. Additionally, the aphid population was most suppressed when both agents were combined, though the suppression was less than additive.
View Full-Text
►

▼

Figures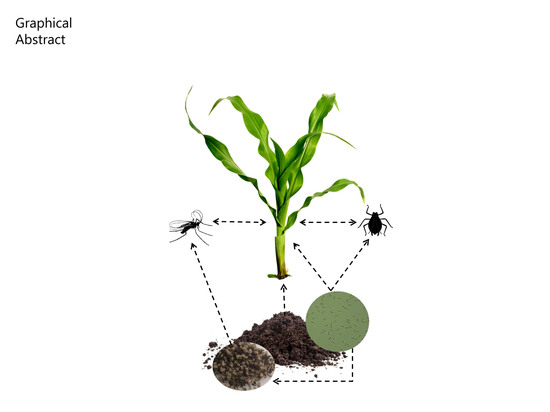 Graphical abstract
This is an open access article distributed under the
Creative Commons Attribution License
which permits unrestricted use, distribution, and reproduction in any medium, provided the original work is properly cited (CC BY 4.0).

Share & Cite This Article
MDPI and ACS Style
Azevedo, A.G.C.; Steinwender, B.M.; Eilenberg, J.; Sigsgaard, L. Interactions among the Predatory Midge Aphidoletes aphidimyza (Diptera: Cecidomyiidae), the Fungal Pathogen Metarhizium brunneum (Ascomycota: Hypocreales), and Maize-Infesting Aphids in Greenhouse Mesocosms. Insects 2017, 8, 44.
Note that from the first issue of 2016, MDPI journals use article numbers instead of page numbers. See further details here.
Related Articles
Comments
[Return to top]