Open Access This article is
freely available
re-usable
Review
Gene Disruption Technologies Have the Potential to Transform Stored Product Insect Pest Control
Center for Grain and Animal Health Research, Agricultural Research Service, USDA, 1515 College Avenue, Manhattan, KS 66502, USA
*
Author to whom correspondence should be addressed.
Academic Editors: Vincenzo Palmeri, Christos G. Athanassiou, Nickolas G. Kavallieratos and Orlando Campolo
Received: 7 July 2016 / Accepted: 9 September 2016 / Published: 19 September 2016
Abstract
:
Stored product insects feed on grains and processed commodities manufactured from grain post-harvest, reducing the nutritional value and contaminating food. Currently, the main defense against stored product insect pests is the pesticide fumigant phosphine. Phosphine is highly toxic to all animals, but is the most effective and economical control method, and thus is used extensively worldwide. However, many insect populations have become resistant to phosphine, in some cases to very high levels. New, environmentally benign and more effective control strategies are needed for stored product pests. RNA interference (RNAi) may overcome pesticide resistance by targeting the expression of genes that contribute to resistance in insects. Most data on RNAi in stored product insects is from the coleopteran genetic model,
Tribolium castaneum
, since it has a strong RNAi response via injection of double stranded RNA (dsRNA) in any life stage. Additionally, Clustered Regularly Interspaced Short Palindromic Repeats (CRISPR) technology has been suggested as a potential resource for new pest control strategies. In this review we discuss background information on both gene disruption technologies and summarize the advances made in terms of molecular pest management in stored product insects, mainly
T. castaneum
, as well as complications and future needs.
Keywords:
stored product pests; pest management; RNAi; CRISPR
2. Technology Background
2.3. RNAi vs. CRISPR as Insect Control Strategies
CRISPR edits the DNA of the cell, thereby changing gene expression permanently if it is a stable transformation. RNAi interferes with existing gene expression and has diminishing effects unless dsRNA is continuously administered, although in some cases a parental RNAi effect has been documented [
57
]. A modification of the RNAi technology called CRISPR interference (CRISPRi) has reversible effects, but targets DNA instead of RNA. CRISPRi uses a catalytically deactivated Cas9 (dCas9) that reversibly binds to target DNA to inhibit gene expression [
58
,
59
]. CRISPR does not interfere with the endogenous cellular machinery, which can be a problem with siRNAs or short hairpin RNAs (shRNA) that may cause cell death [
45
]. While there are advantages of CRISPR for permanent gene modification, RNAi has advantages in applied use, whereas CRISPR technology has thus far been limited by delivery methods as well as biosafety containment considerations. RNAi and CRISPR gene disruption technologies complement each other in gene function research.
3. Application in Pest Management
3.1. Current Delivery Mechanisms
Implementation and delivery mechanisms present unique advantages and challenges for stored product pests. Unlike field pests that are feeding on actively growing plants, grain and grain products are post-harvest and destined for human or animal consumption. Grain is typically treated and stored in large storage structures such as large bins, silos, and bunkers, where it must stay dry, clean, and uninfested. Current stored product pest management of bulk grain relies mostly on fumigation and aeration to lower grain temperature. Food processing facilities are large indoor facilities where insects are found in hidden and hard to reach areas, and the facility must stay clean and meet government and industry standards for human consumption. Facilities for processed grain focus on prevention of infestation by exclusion of insects through sanitation, treating surfaces like concrete, treating cracks and crevices where food material can accumulate, and using insect resistant packaging [
9
]. New molecular techniques will need to be adaptable to these diverse situations.
Some delivery methods that might be compatible with molecular techniques include grain protectants, surface or crack and crevice treatments, and lure and kill products, each with specific applications. Grain protectants are residual insecticides that are applied to the grain as it is being transferred to a storage bin, and can be applied to all of the grain or just to the top layer of grain in a bin [
9
]. The main issue with developing molecular products to incorporate into grain protectants is the cost, as well as limited types of protectants and efficacy against storage pests. Insecticides can also be applied to surfaces or cracks and crevices in empty bins, equipment and structures where food material accumulates, and it's conceivable that dsRNA could be used in these products. Lure and kill methods involve attractants to draw insects to a location where they are exposed to an insecticide, another possibility for dsRNA. Lure and kill requires less insecticide and reduces the hands-on time of identifying and treating all infested locations with insects, so it has more potential for molecular products [
60
].
Attractants used for both monitoring traps and lure and kill can be chemical cues such as pheromones or kairomones or visual cues such as specific wavelengths of light [
61
,
62
,
63
]. Pheromones are often species and sex specific, which can be an advantage if targeting a specific pest, but pheromones are commercially available for only some of the common pest species, and not all species respond strongly.
T. castaneum
has an aggregation pheromone that attracts males and females, but attraction is limited under conditions that lack air movement [
62
]. Many commercially available pheromones are sex pheromones that attract males, which can successfully impact population growth. For example, Entostat (Exosect, Hampshire, UK) is a pheromone-laden powder that attracts males that transfer the powder to other males and females through contact and thus propagate through a population [
64
,
65
]. Kairomones, or food odors, can attract a wider range of species and both sexes, but need to compete against other food odors in the environment [
62
]. Sequenced genomes and transcriptomes from stored product insects are providing data on sensory genes that will lead to the development of better lures [
66
,
67
].
3.2. New Delivery Mechanisms
4. Complications
Like all new technologies, RNAi and CRISPR come with potential complications and limitations. In this section we highlight some of the main issues in terms of developing environmentally friendly, logistically possible, and inexpensive pest management tools.
4.1. RNAi
One of the most discussed issues with RNAi in pest management is the problem of off-target effects and contrasting opportunity for pest specificity. Ulrich et al. [
34
] demonstrated that many candidate target genes thus far have orthologs in other insects. It will be essential that all candidate genes are rigorously tested and carefully selected in order to eliminate the possibility of off-target effects in other insects, especially beneficial insects, such as honeybees. One advantage for stored products is that treatments are inside facilities and grain bins, reducing the opportunity for off-target species contact with the treatment. As more genomes are sequenced, including stored product insects and non-targets, the ability to identify species-specific sequences will be enhanced through bioinformatic screening.
Other limiting issues are those dealing with the integrity and potency of the dsRNA itself. Concerns include the length of time dsRNA remains active in the environment: too long could be harmful to a beneficial insect, and not long enough would reduce potency. Research is not yet available on the stability of dsRNA in stored product insects. Endonucleases in
Lygus lineolaris
salivary glands can degrade dsRNA similar to commercial RNase III [
94
]. More research is needed on the stability of dsRNA in the alimentary tract of stored product insects, as well as in the application environment.
Lastly, there are concerns with the potential for insect populations to become resistant to RNAi. Stored product insects have been successful in developing resistance to many insecticides, including phosphine, malathion, pyrethroids, and deltamethrin [
18
,
19
,
90
]. Will they be able to find a way around RNAi mediated knockdown? Insects may acquire viruses with RNAi suppressors, the RNAi machinery could become overwhelmed with high doses of dsRNA, or genetic variation that is found within insect populations could lead to selection of RNAi-insensitive populations—all scenarios whereby RNAi could be rendered ineffective [
25
].
4.2. CRISPR
CRISPR technology also has potential complications. Two primary issues are off-target effects of gene editing and concern over gene drives. An unintentional off-target effect may be due to sequence similarity between insect species, which was not identified in the bioinformatic studies due to the lack of sequence data, incorrect sequence, and/or single nucleotide polymorphisms (SNPs) which can be found in all insect populations. Most off-target effects are mitigated by careful planning, selecting guides with excellent on-target scores, using a modified endonuclease with dual guides, and modifications to the original CRISPR methods that tailor the gene cassette to the targeted insect's genetics [
46
].
There are also concerns that a gene drive system would escape the lab or cause undesired consequences in the wild. This issue is being addressed by new safeguards, designed to "undo" gene editing effects by developing a second gene drive, or conditionally linking to another gene so that expression can be tightly controlled [
86
,
87
,
95
]. Recently, the U.S. Academies of Science gave the go-ahead for gene drive research but cautioned that more research is required before release into wild populations [
96
]. CRISPR-based gene drive technology in
Tribolium
is currently under investigation in our laboratory and others.
4.3. Future Needs
Two primary bottlenecks in developing molecular-based pesticides are the need for sequencing more pest insect genomes and bioinformatics analysis of the mass amount of genetic data that already exist. The cost of sequencing has been decreasing steadily, and in some cases, single-insect sequencing is now possible, eliminating the need for multiple generations of inbreeding. Sequencing data and analysis on emerging pests will help to identify insect-specific vulnerabilities and potentially prevent infestations of new pests, including invasive species.
Stored product insects are easy to rear, with fast generation times for most species. Therefore, we make the argument that stored products insects are a great system to study new, molecular-based pest management strategies. Combining the current molecular data, biological life history and behavior, and engineering technologies will be powerful in determining the next steps to incorporate these strategies into IPM. As with all entomology research, cross discipline collaborations are needed to develop new and creative ways to solve pest problems in safe and environmentally friendly ways.
5. Conclusions
RNAi and CRISPR gene disruption technologies are advancing rapidly. There is a need for research focused on specific pest control and target gene selection in stored product insects. Data on gene functions, as they relate to insecticide resistance, biological insecticides, and natural insect attractants should be a priority. RNAi and CRISPR technologies have created the potential for novel and yet untested stored product pest control methods, gene expression modification, gene editing, and gene modification. Continued discussion among all stakeholders will promote the use of these technologies in appropriate and effective pest management strategies.
Acknowledgments
The authors would like to thank James Campbell for his contribution in brainstorming and editing. Mention of trade names or commercial products in this publication is solely for the purpose of providing specific information and does not imply recommendation or endorsement by the U.S. Department of Agriculture. USDA is an equal opportunity provider and employer.
Conflicts of Interest
The authors declare no conflict of interest.
Abbreviations
The following abbreviations are used in this manuscript:
| | |
| --- | --- |
| RNAi | RNA interference |
| CRISPR | clustered regularly interspaced palindromic repeats |
| IPM | Integrated pest management |
| PH3 | phosphine |
| MeBr | methyl bromide |
| CRISPR-Cas9 | clustered regularly interspaced palindromic repeats and associated Cas9 protein |
| dsRNA | double stranded RNA |
| siRNA | short interfering RNA |
| RISC | RNAi-induced silencing complexes |
| CDA | chitin deacetylase |
| CHS | chitin synthase |
| ADC | aspartate 1-decarboxylase |
| RH | relative humidity |
| gRNA | guide RNA |
| sgRNA | single guide RNA |
| dsDNA | double stranded DNA |
| NHEJ | non-homologous end joining |
| HDR | homology-directed repair |
| INDELS | insertions/deletions |
| TALEN | transcription activator-like effector nucleases |
| CRISPRi | clustered regularly interspaced palindromic repeats interference |
| Cas9 | CRISPR associated protein 9 (endonuclease) |
| dCas9 | deactivated Cas9 |
| shRNA | short hairpin RNA |
| PCR | polymerase chain reaction |
| SNP | single nucleotide polymorphisms |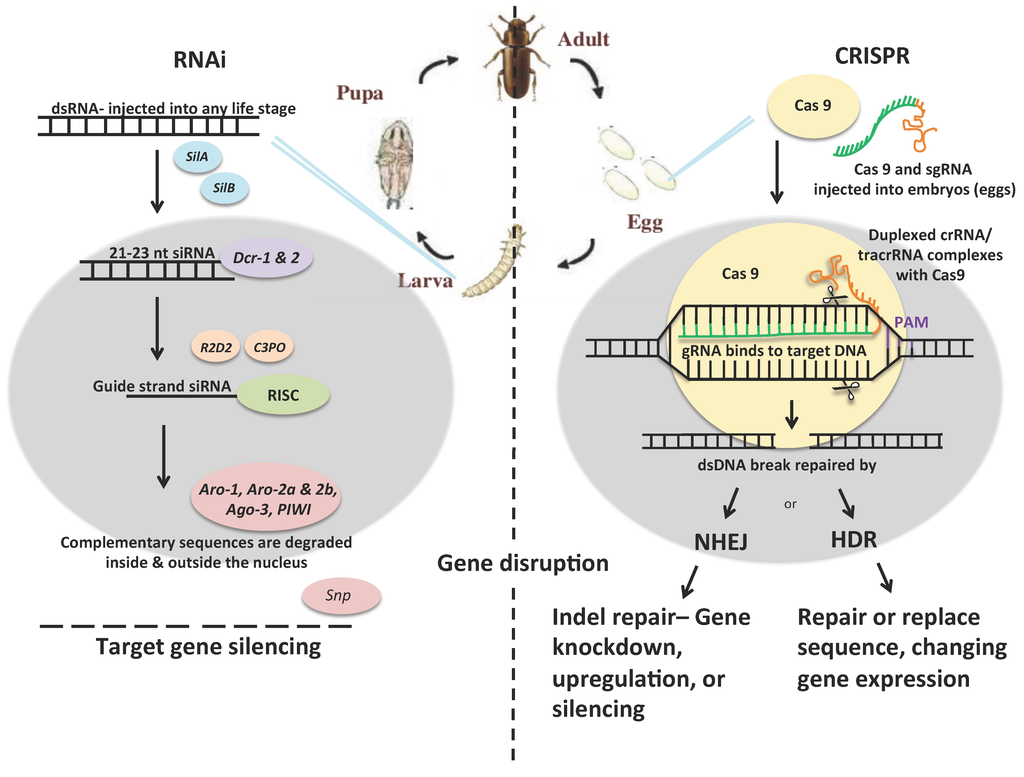 Figure 1.
Schematic of RNA interference (RNAi) (
a
) and CRISPR-Cas (
b
) technology in
Tribolium castanem
. The grey oval represents the cell nucleus. On the RNAi side (
a
), dsRNA can be injected into any life stage. The double stranded RNA (dsRNA) is incorporated into the cell with
SilA
and
SilB
(SID-1 orthologs).
Dcr-1
and
2
(
Dicer
) cleave the dsRNA into 21 nt pieces,
R2D2
and
C3PO
help load the RNAs into the silencing complex.
Aro-1, 2a, 2b, 3,
and
PIWI
endonucleases degrade the complementary RNA inside the nucleus while
Snip
(
SNP
) exonuclease degrades the complementary RNA outside of the nucleus. On the CRISPR side (
b
), Cas9 and single guide RNA (sgRNA) is injected into eggs. Duplexed crRNA/tracrRNA complexes with Cas9 endonuclease, resulting in a precise dsDNA break. The break is repaired by either non-homologous end joining (NHEJ) or homology-directed repair (HDR), which results in gene knockdown, upregulation, silencing, or changes in gene expression.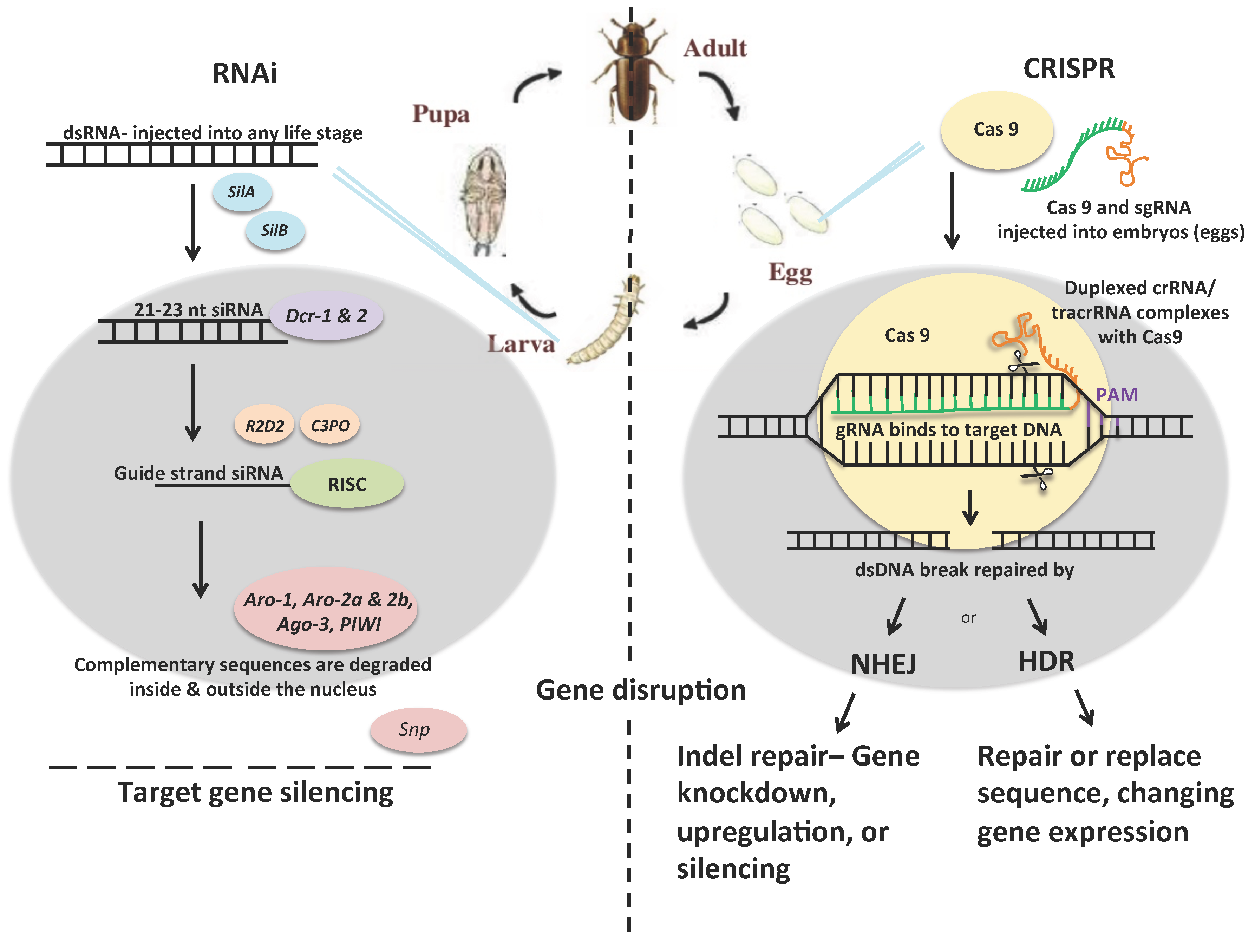 Table 1.
Insecticide-resistant strains of
Tribolium castaneum
(Tc) maintained at the USDA ARS CGAHR (Center for Grain and Animal Health Research) laboratory.
Table 1. Insecticide-resistant strains of

Tribolium castaneum

(Tc) maintained at the USDA ARS CGAHR (Center for Grain and Animal Health Research) laboratory.

| Tc Strain | Resistance | Source |
| --- | --- | --- |
| A20 Rdiel | Dieldrin | n/a |
| QTC-279 | Pyrethroid | Collins, P.J. (Australia) [22] |
| Rdiel BC9 Lab-S | Dieldrin | n/a |
| BRZ-4, BRZ-5 | Organophosphate, Phosphine | Rice patty, Pacheco, (Brazil, September 1987) |
Table 2. Strains of

T. castaneum

with a black phenotype, all mapped to LG3.

| Tc Allele | Name/Alias | Origin |
| --- | --- | --- |
| B | Black | Alexander Sokoloff, University of California, Berkeley |
| B (eve) | Black (eve) | n/a |
| B (i-2) | Black (i-2) | Jeff Stuart, Purdue |
| B (New) | Black (New) | n/a |
| B (ST) | Black (Scott Thomson) | M. Scott Thomson, University of Wisconsin, Riverside |
| B (t) 2 | Black (tawny) | C.E. Dyte and Miss Dorothy G. Blackman Ministry of Agriculture, Fisheries and Food, England |
© 2016 by the authors; licensee MDPI, Basel, Switzerland. This article is an open access article distributed under the terms and conditions of the Creative Commons Attribution (CC-BY) license (http://creativecommons.org/licenses/by/4.0/).