Zelus renardii

Roaming in Southern Italy

1

Dipartimento di Scienze del Suolo, della Pianta e degli Alimenti, University of Bari Aldo Moro, 70126 Bari, Italy

2

Faculty of Sciences of Tunis, University of Tunis El-Manar, Rommana, Tunis 1068, Tunisia

3

Laboratory of Plant Protection, INRAT—National Institute of Agronomic Research of Tunisia, Carthage University, Ariana 2049, Tunisia

4

Laboratory of Phytopathology, Department of Marine Science and Applied Biology, University of Alicante, San Vicente del Raspeig, 03690 Alicante, Spain

5

CIHEAM—Centre International de Hautes Etudes Agronomiques Méditerranéennes, Mediterranean Agronomic Institute of Bari, 70010 Valenzano, Italy

*

Author to whom correspondence should be addressed.

Academic Editors: Lukasz L. Stelinski and Jiří Skuhrovec

Received: 26 October 2021

/

Revised: 30 November 2021

/

Accepted: 30 January 2022

/

Published: 31 January 2022
Simple Summary
The leafhopper assassin bug Zelus renardii (Hemiptera: Reduviidae) first entered Europe in 2012 and has since acclimatised. Z. renardii is now a common insect predator in agroecosystems and urban and peri-urban areas. We performed a metadata analysis of 165 years of Z. renardii literature. Moreover, we provide laboratory tests of Z. renardii predation. The latter indicates Z. renardii interplay with relevant insect targets, such as Philaenus spumarius, Neophilaenuscampestris, Bactrocera oleae, Kermes vermilio, Nidularia pulvinata, Harmonia axyridis, Apis mellifera, Aleurocanthus spiniferus, Aleurothrixus floccosus, Macrohomotoma gladiata, Drosophila suzukii, Drosophila melanogaster, Megaselia scalaris, Pseudococcidae, Miridae, and Issidae. Furthermore, predation on Aphrophoridae and other olive pests brands Z. renardii as a good mass-rearing candidate for inundative biocontrol programs of Xylella fastidiosa pauca ST53 infections and could also reduce damage caused by other olive pests. Overall, this reduviid is harmless to humans and beneficial insects.
This study collects data from the literature and updates our
Zelus renardii
Kolenati, 1856 (Leafhopper Assassin Bug, LAB) prey knowledge. The literature consists of ca. 170 entries encompassing the years 1856 to 2021. This reduviid originated in the Nearctic region, but has entered and acclimatised in many Mediterranean countries. Our quantitative predation experiments—in the laboratory on caged plants plus field or environmental observations—confirm that LAB prefers a selected array of prey. Laboratory predation tests on living targets (Hemiptera, Coleoptera, Diptera, and Hymenoptera) agree with the literature.
Zelus renardii
prefers comparatively large, highly mobile, and readily available prey. LAB preferences on available hemipterans targets suggest that
Zelus renardii
is a good inundative biocontrol agent for
Xylella fastidiosa
pauca
ST53 infections. LAB also prey on other important olive pests, such as
Bactrocera oleae
. Therefore,
Zelus renardii
is a major integrated pest management (IPM) component to limit
Xylella fastidiosa
pandemics and other pest invasions.
View Full-Text
►

▼

Show Figures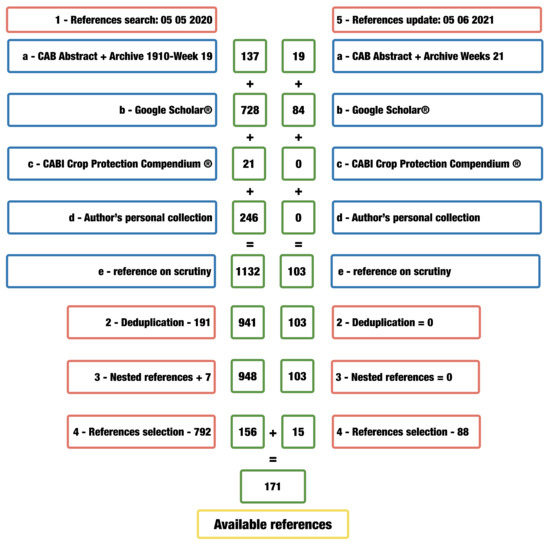 Figure 1
This is an open access article distributed under the
Creative Commons Attribution License
which permits unrestricted use, distribution, and reproduction in any medium, provided the original work is properly cited.

MDPI and ACS Style
Lahbib, N.; Picciotti, U.; Sefa, V.; Boukhris-Bouhachem, S.; Porcelli, F.; Garganese, F. Zelus renardii Roaming in Southern Italy. Insects 2022, 13, 158. https://doi.org/10.3390/insects13020158
AMA Style
Lahbib N, Picciotti U, Sefa V, Boukhris-Bouhachem S, Porcelli F, Garganese F. Zelus renardii Roaming in Southern Italy. Insects. 2022; 13(2):158. https://doi.org/10.3390/insects13020158
Chicago/Turabian Style
Lahbib, Nada, Ugo Picciotti, Valdete Sefa, Sonia Boukhris-Bouhachem, Francesco Porcelli, and Francesca Garganese. 2022. "Zelus renardii Roaming in Southern Italy" Insects 13, no. 2: 158. https://doi.org/10.3390/insects13020158
Note that from the first issue of 2016, MDPI journals use article numbers instead of page numbers. See further details
here
.