Impacts of Dietary Nutritional Composition on Larval Development and Adult Body Composition in the Yellow Fever Mosquito (
Aedes aegypti

)

Department of Entomology and Nematology, University of California, Davis, Davis, CA 95616, USA

*

Author to whom correspondence should be addressed.

Received: 1 July 2020 / Revised: 8 August 2020 / Accepted: 13 August 2020 / Published: 15 August 2020
Simple Summary
The mosquito Aedes aegypti (Ae. aegypti) is responsible for the spread of viruses such as Zika and Dengue. The nutritional environment of immature Ae. aegypti is important for development of larvae and resulting adult mosquitoes. Larval mosquitoes with inadequate nutrition can result in developmental failure or impact the size and reproductive ability of adults. Understanding the nutritional requirements of larval mosquitoes allows us to optimize lab reared mosquitoes and identify new targets for mosquito control. We tested the effect of diets with different ratios of protein to carbohydrates on the life history traits of Ae. aegypti. Each diet was composed of autolyzed Brewer's yeast (protein), and/or rice flour (carbohydrates). Larvae fed a medium-low protein diet had the shortest pupation time. As adults, the medium-low protein dietary group also had the longest wing lengths, highest weights, and increased lipid stores compared to the adults in all other dietary groups. These findings indicate that both carbohydrates and protein are essential components of Aedes aegypti larval diets. However, Ae. aegypti larvae fed a diet rich in carbohydrates and lower in protein seem to flourish as long as they receive enough dietary protein to fulfill basic biochemical requirements for growth and development.
Background: the mosquito
Aedes aegypti
(
Ae. aegypti
) is an important vector of arboviruses, including Zika, Dengue, and Chikungunya. The dietary requirements of larval
Ae. aegypti
are not well understood and likely impact developmental and physiological parameters knowledge of which could be important for vector control. This study examines the effects nutrition has on growth and development of larval
Ae. aegypti
of laboratory-reared Rockefeller strain mosquitoes. Methods: mosquito larvae were split into five feeding groups with diets providing different ratios of protein and carbohydrates. Each group received autolyzed Brewer's yeast (AY - high-protein), and/or rice flour (RF—high-carbohydrate). The groups were monitored to record larval developmental times, adult sizes and nutritional stores. Results: the 100% AY group failed to pupate, suggesting the AY alone is either lacking in critical nutrients or is toxic at higher concentrations. The 100% RF group resulted in the smallest adults that took the longest time to reach pupation. Of the remaining groups, the 25% AY/75% RF (Med–low) diet yielded adult mosquitoes with highest average weight, wing length, and lipid stores relative to the other diets. Conclusions: the dietary requirements for development, body size, and nutrient stores of
Ae. aegypti
mosquitoes appear to be dependent on a relatively low but essential proportion of dietary protein to carbohydrates to achieve optimal developmental outcomes.
View Full-Text
►

▼

Show Figures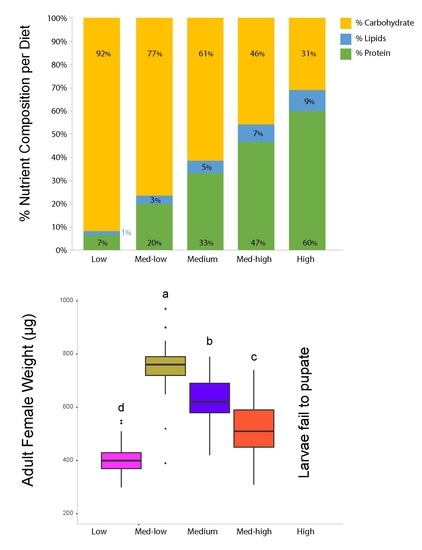 Graphical abstract
This is an open access article distributed under the
Creative Commons Attribution License
which permits unrestricted use, distribution, and reproduction in any medium, provided the original work is properly cited

MDPI and ACS Style
van Schoor, T.; Kelly, E.T.; Tam, N.; Attardo, G.M. Impacts of Dietary Nutritional Composition on Larval Development and Adult Body Composition in the Yellow Fever Mosquito (Aedes aegypti). Insects 2020, 11, 535.
Show more citation formats
Show less citations formats
Note that from the first issue of 2016, MDPI journals use article numbers instead of page numbers. See further details
here
.