The Longevity of Colonies of Fungus-Growing Termites and the Stability of the Symbiosis
Laboratory of Genetics, Wageningen University, Droevendaalsesteeg 1, 6708 PB Wageningen, The Netherlands
*
Author to whom correspondence should be addressed.
Received: 15 June 2020 / Revised: 8 August 2020 / Accepted: 10 August 2020 / Published: 13 August 2020
Simple Summary
Fungus-growing termites cultivate monocultures of a specific fungi (of a genus called Termitomyces) for food in their colony, analogously to human farmers growing crops. The termites forage for dead plant material in the environment, bring this into the mound and provide it to the fungus as a growth substrate. After fungal growth, the termites use the mixture of fungus and degraded plant material and also the asexual spores produced by the fungus as food. They also use the spores to inoculate new fungus gardens. The termite-fungus symbiosis is obligatory for both partners, the termites provide growth substrate and a protected growth environment for the fungi in exchange for a nitrogen-rich food source. Termites and fungi have been partners for more than 30 million years and although the symbiosis looks harmonious, the partners have some hidden conflicts about reproduction and resource investment. These conflicts raise questions on how the symbiosis apparently has remained stable for such a long time. We summarize our current understanding on the short-term stability of a single generation of termites, and also the long-term stability of the symbiosis across multiple generations. We identify unsolved questions in the field and suggest possible avenues to address these questions.
The agricultural mutualistic symbiosis between macrotermitine termites and
Termitomyces
fungi is obligate for both partners. The termites provide a protective growth environment for the fungus by cultivating it inside their colony and providing it with foraged plant material. The termites use the fungus for plant substrate degradation, and the production of asexual fruiting bodies for nourishment and re-inoculation of the fungus garden. The termite colony can reach an age of up to several decades, during which time it is believed that a single fungal monoculture is asexually propagated by the offspring of a single founding royal pair. The termite-fungus mutualism has a long evolutionary history dating back more than 30 million years. Both on the time-scale of a termite colony lifespan and that of the mutualistic symbiosis, questions arise about stability. We address the physical stability of the mound, the termite colony and the monoculture fungal garden during a colony's lifetime. On the long-term evolutionary scale, we address the stability of the symbiosis, where horizontal transmission of the symbiotic fungus raises the question of how the mutualistic interaction between host and symbiont persists over generations.
View Full-Text
►

▼

Show Figures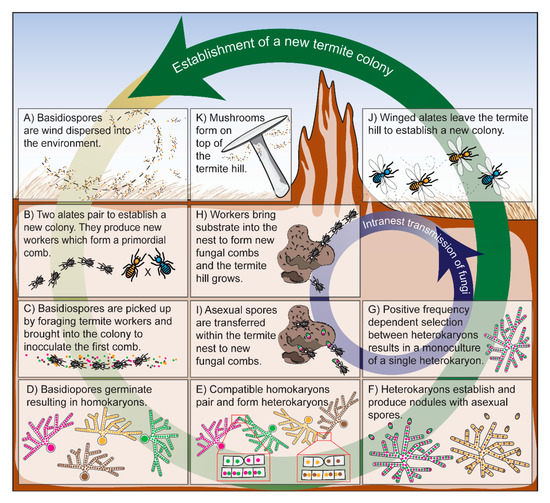 Figure 1
This is an open access article distributed under the
Creative Commons Attribution License
which permits unrestricted use, distribution, and reproduction in any medium, provided the original work is properly cited

Note that from the first issue of 2016, MDPI journals use article numbers instead of page numbers. See further details
here
.