Changes in Honey Bee Head Proteome in Response to Dietary 24-Methylenecholesterol
Department of Horticulture, Oregon State University, Corvallis, OR 97331, USA
*
Authors to whom correspondence should be addressed.
Received: 27 August 2020 / Revised: 8 October 2020 / Accepted: 27 October 2020 / Published: 29 October 2020
Simple Summary
Phytosterols are important micronutrients that are essential for production of insect molting hormones and cellular membrane integrity. Past research has shown that the key phytosterol that honey bees need is 24-methylenecholesterol. This phytosterol improves honey bee longevity and sustains brood production. Hence, it is important to understand how 24-methylenecholesterol can shape honey bee physiology by altering protein profiles of vital honey bee tissues. Nurse bees secrete glandular secretions (brood food) using hypopharyngeal and mandibular glands in their head regions. Further, it has been shown that this sterol is selectively accumulated in nurse bee heads. Thus, it is imperative to examine the protein profiles of nurse bee heads, in response to dietary 24-methylenecholesterol manipulation. In this study, groups of newly emerged nurse bees were fed with varying concentrations of dietary 24-methylenecholesterol, while the control groups received no sterol. We found that dietary sterol manipulation altered the protein profiles in nurse bee heads, with important nutritional marker proteins being upregulated in high dietary sterol groups. The important proteins identified in this study may serve as vital markers of nutritional stress related to sterols in honey bees, paving the way for future research on bee nutrition.
Phytosterols are important micronutrients that are precursors of important molting hormones and help maintain cellular membrane integrity in insects including bees. Previous research has shown that 24-methylenecholesterol is a key phytosterol that enhances honey bee longevity and improves nurse bee physiology. Nurse bees have the ability to selectively transfer this sterol to developing larvae through brood food. This study examines the physiological impacts of 24-methylenecholesterol on nurse bees, by analyzing the protein profiles of nurse bee heads upon dietary sterol manipulation. Dietary experimental groups consisting of newly emerged honey bees were provided with varying concentrations of 24-methylenecholesterol for three weeks. At the end of the study, honey bees were collected and proteomic analysis was performed on honey bee heads. A total of 1715 proteins were identified across experimental groups. The mean relative abundances of nutritional marker proteins (
viz
. major royal jelly proteins 1, 4, 5, 7) were higher in experimental groups supplemented with higher dietary sterol concentrations, when compared with the control dietary group. The mean relative abundances of important enzymatic proteins (aminopeptidase and calcium-transporting ATPase) were higher in control groups, whereas mean relative abundances of oxysterol-binding protein and fatty acid-binding protein were higher in higher dietary sterol groups.
View Full-Text
►

▼

Show Figures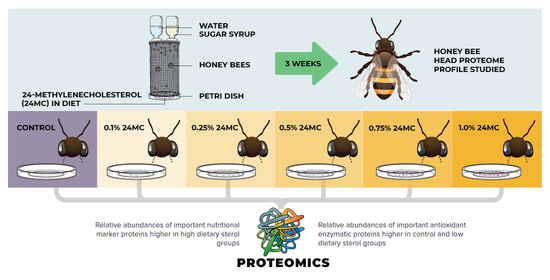 Graphical abstract
This is an open access article distributed under the
Creative Commons Attribution License
which permits unrestricted use, distribution, and reproduction in any medium, provided the original work is properly cited

Note that from the first issue of 2016, MDPI journals use article numbers instead of page numbers. See further details
here
.