Validating Morphometrics with DNA Barcoding to Reliably Separate Three Cryptic Species of
Bombus

Cresson (Hymenoptera: Apidae)

1

Department of Environmental Conservation, University of Massachusetts Amherst, 160 Holdsworth Way, Amherst, MA 01003, USA

2

Private Practice, Eau Claire, WI 54701, USA

*

Author to whom correspondence should be addressed.

Received: 14 September 2020 / Revised: 21 September 2020 / Accepted: 27 September 2020 / Published: 30 September 2020
Simple Summary
Evidence of bumble bee population declines has led to an increase in conservation efforts to protect these important pollinators. However, effective conservation requires accurate species identification. We provide quantitative methods to accurately identify three cryptic species of bumble bees using morphometric measurements of the cheek length and width, and antennal segments. We validated the accuracy of our methods with DNA analysis. We predicted that these methods would reliably identify both the queens and worker bees of Bombus vagans and B. sandersoni. We expanded these methods to include an uncommon form of Bombus perplexus with all light hair on its thorax, rather than the more common light on top and dark below, that can mistakenly be identified as B. vagans or B. sandersoni. Although the species we consider here, Bombus vagans, B. sandersoni and B. perplexus, are not currently listed as species of concern in North America, there is uncertainty of their population status, some of which is due to difficulty in species identification, which we have resolved. Recent history informs us that some bumble bee species experience rapid declines within a few decades. Our methods to correctly identify these cryptic species is key to monitoring their status and population trends.
Despite their large size and striking markings, the identification of bumble bees (
Bombus
spp.) is surprisingly difficult. This is particularly true for three North American sympatric species in the subgenus
Pyrobombus
that are often misidentified:
B. sandersoni
Franklin,
B. vagans
Smith
B. perplexus
Cresson. Traditionally, the identification of these cryptic species was based on observations of differences in hair coloration and pattern and qualitative comparisons of morphological characters including malar length. Unfortunately, these characteristics do not reliably separate these species. We present quantitative morphometric methods to separate these species based on the malar length to width ratio (MRL) and the ratios of the malar length to flagellar segments 1 (MR1) and 3 (MR3) for queens and workers, and validated our determinations based on DNA barcoding. All three measurements discriminated queens of
B. sandersoni
and
B. vagans
with 100% accuracy. For workers, we achieved 99% accuracy by combining both MR1 and MR3 measurements, and 100% accuracy differentiating workers using MRL. Moreover, measurements were highly repeatable within and among both experienced and inexperienced observers. Our results, validated by genetic evidence, demonstrate that malar measurements provide accurate identifications of
B. vagans
and
B. sandersoni
. There was considerable overlap in the measurements between
B. perplexus
and
B. sandersoni
. However, these species can usually be reliably separated by combining malar ratio measurements with other morphological features like hair color. The ability to identify bumble bees is key to monitoring the status and trends of their populations, and the methods we present here advance these efforts.
View Full-Text
►

▼

Show Figures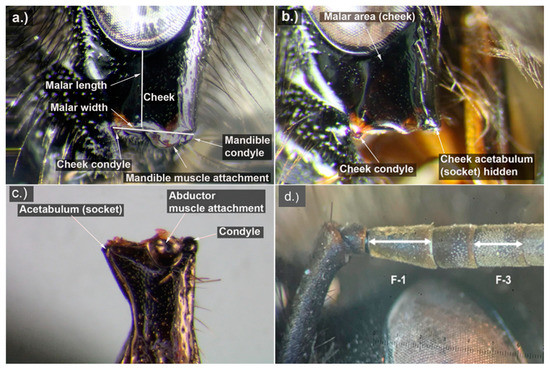 Figure 1
This is an open access article distributed under the
Creative Commons Attribution License
which permits unrestricted use, distribution, and reproduction in any medium, provided the original work is properly cited

MDPI and ACS Style
Milam, J.; Johnson, D.E.; Andersen, J.C.; Fassler, A.B.; Narango, D.L.; Elkinton, J.S. Validating Morphometrics with DNA Barcoding to Reliably Separate Three Cryptic Species of Bombus Cresson (Hymenoptera: Apidae). Insects 2020, 11, 669.
Show more citation formats
Show less citations formats
Note that from the first issue of 2016, MDPI journals use article numbers instead of page numbers. See further details
here
.