Molecular Characterizations of Double-Stranded RNA Degrading Nuclease Genes from
Ostrinia nubilalis
1
Department of Entomology, 123 Waters Hall, Kansas State University, Manhattan, KS 66506, USA
2
Institute of Applied Biology, Shanxi University, Taiyuan 030006, China
3
Department of Entomology and Plant Pathology, Campus Box 7613, North Carolina State University, Raleigh, NC 27695, USA
*
Authors to whom correspondence should be addressed.
Received: 22 August 2020 / Revised: 18 September 2020 / Accepted: 21 September 2020 / Published: 23 September 2020
Simple Summary
RNA interference is a gene suppression tool that uses double-stranded RNA to prevent specific genes from producing proteins. By targeting essential genes RNA interference can be developed for control of insect pests. Unfortunately, RNA interference is not equally effective for all insects. Previous investigation suggested that RNA is rapidly digested by unidentified components of body fluids in the European corn borer caterpillar. We characterized genes encoding proteins from European corn borer that are associated with RNA digestion in other insects. Our results suggest that two proteins (RNA interference efficiency-related nuclease and double-stranded RNA-degrading endonuclease 2) may be responsible for digesting RNAs in the European corn borer gut, whereas two other proteins (double-stranded RNA-degrading endonuclease 1 and double-stranded RNA-degrading endonuclease 4) may be responsible for digesting RNA in European corn borer body fluid. These findings suggest digestion of RNA in the European corn borer is likely due to the activity of these proteins. These findings provide information about the mechanism(s) influencing RNA stability in insects. The knowledge generated by this study will facilitate the development of strategies for enhancing RNA interference in insects.
Variable RNA interference (RNAi) efficiencies limit RNAi-based pest management strategies for many pests. Previous efforts to understand mechanisms contributing to low RNAi efficiency indicate that double-stranded RNA (dsRNA) is degraded in the European corn borer (ECB),
Ostrinia nubilalis,
due to nuclease activity. To investigate the contribution of dsRNA-degrading endonucleases (dsRNases) and lepidopteran-specific RNAi efficiency-related nucleases (REases) to dsRNA instability and low RNAi efficiency in ECB, five complementary DNAs putatively encoding four dsRNases (
OndsRNase1, 2, 3,
and
4
) and one REase (
OnREase
) were sequenced. Characterization of these transcripts revealed that substrate specificity might vary among the four dsRNases due to different amino acid combinations in the substrate-binding sites. Gene expression analysis indicated that
OndsRNase2
and
OnREase
were highly expressed in the larval gut, and
OndsRNase1
showed the highest expression in hemolymph, especially in older developmental stages. Transcript level analysis after dsRNA exposure revealed that expression of
OnREase
rapidly increased upon dsRNA ingestion or injection, whereas
OndsRNase4
expression only increased after long-term ingestion of dsRNA. While the biological function of these nucleases remains to be verified, our results suggest that OnREase and OndsRNase2, and OndsRNase1 and OndsRNase4 may be responsible for degradation of dsRNAs in the ECB gut and hemolymph, respectively, thereby contributing to low RNAi efficiency.
View Full-Text
►

▼

Show Figures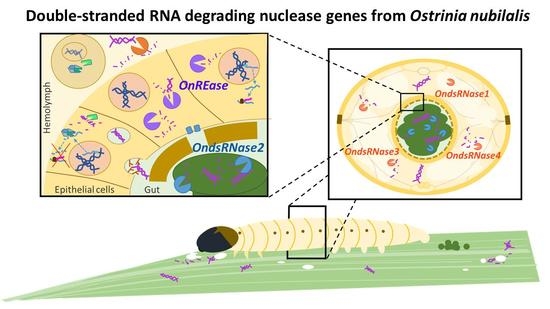 Graphical abstract
This is an open access article distributed under the
Creative Commons Attribution License
which permits unrestricted use, distribution, and reproduction in any medium, provided the original work is properly cited

MDPI and ACS Style
Cooper, A.M.W.; Song, H.; Shi, X.; Yu, Z.; Lorenzen, M.; Silver, K.; Zhang, J.; Zhu, K.Y. Molecular Characterizations of Double-Stranded RNA Degrading Nuclease Genes from Ostrinia nubilalis. Insects 2020, 11, 652.
Show more citation formats
Show less citations formats
Note that from the first issue of 2016, MDPI journals use article numbers instead of page numbers. See further details
here
.