Efficacy of Two Entomopathogenic Fungi,
Metarhizium brunneum

, Strain F52 Alone and Combined with

Paranosema locustae

against the Migratory Grasshopper,

Melanoplus sanguinipes

, under Laboratory and Greenhouse Conditions

1

Department of Veterinary Pathobiology, College of Veterinary Medicine, University of Missouri, Columbia, MO 65211, USA

2

Food and Agriculture Organization of the United Nations (FAO UN), 00153 Rome, Italy

3

Department of Agriculture, USDA, Agriculture Research Service (ARS), Sidney, MT 59270, USA

*

Author to whom correspondence should be addressed.

Received: 8 March 2019 / Revised: 25 March 2019 / Accepted: 29 March 2019 / Published: 30 March 2019
Abstract
Grasshopper outbreaks cause significant damage to crops and grasslands in US. Chemical control is widely used to suppress these pests but it reduces environmental quality. Biological control of insect pests is an alternative way to reduce the use of chemical insecticides. In this context, two entomopathogenic fungi,
Metarhizium brunneum
strain F52 and
Paranosema locustae
were evaluated as control agents for the pest migratory grasshopper
Melanoplus sanguinipes
under laboratory and greenhouse conditions. Third-instar grasshoppers, reared in the laboratory, were exposed up to fourteen days to wheat bran treated with different concentrations of each of the fungi alone or the two pathogens combined. In the greenhouse, nymphs were placed individually in cages where they were able to increase their body temperatures by basking in the sun in an attempt to inhibit the fungal infection, and treated with each pathogen alone or in combination. Mortality was recorded daily and presence of fungal outgrowth in cadavers was confirmed by recording fungal mycosis for two weeks' post-treatment (PT). For combination treatment, the nature of the pathogen interaction (synergistic, additive, or antagonistic effects) was also determined. In laboratory conditions, all treatments except
P. locustae
alone resulted in grasshopper mortality. The application of the pathogen combinations caused 75% and 77%, mortality for lower and higher concentrations, respectively than each of the pathogens alone. We infer a synergistic effect occurred between the two agents. In greenhouse conditions, the highest mortalities were recorded in combination fungal treatments with a
M. brunneum
dose (60% mortality) and with a combination of the two pathogens in which
M. brunneum
was applied at high rate (50%) two weeks after application. This latter combination also exhibited a synergistic effect. Exposure to the
P. locustae
treatment did not lead to mortality until day 14 PT. We infer that these pathogens are promising for developing a biopesticide formulation for rangeland pest grasshopper management.
View Full-Text
►

▼

Figures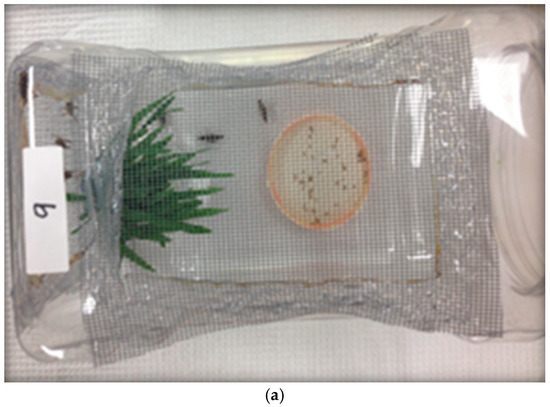 Figure 1
This is an open access article distributed under the
Creative Commons Attribution License
which permits unrestricted use, distribution, and reproduction in any medium, provided the original work is properly cited (CC BY 4.0).

Share & Cite This Article
MDPI and ACS Style
Dakhel, W.H.; Latchininsky, A.V.; Jaronski, S.T. Efficacy of Two Entomopathogenic Fungi, Metarhizium brunneum, Strain F52 Alone and Combined with Paranosema locustae against the Migratory Grasshopper, Melanoplus sanguinipes, under Laboratory and Greenhouse Conditions. Insects 2019, 10, 94.
Note that from the first issue of 2016, MDPI journals use article numbers instead of page numbers. See further details here.
Related Articles
Comments
[Return to top]