Open Access This article is
freely available
re-usable
Article
Properties of Subhalos in the Interacting Dark Matter Scenario
1
Instituto de Física Teórica UAM-CSIC, Universidad Autónoma de Madrid, C/ Nicolás Cabrera, 13-15, 28049 Madrid, Spain
2
Departamento de Física Teórica, M-15, Universidad Autónoma de Madrid, E-28049 Madrid, Spain
3
Institute of Cosmology and Gravitation, University of Portsmouth, Dennis Sciama Building, Portsmouth PO1 3FX, UK
4
Instituto de Astrofísica de La Plata (CCT La Plata, CONICET, UNLP), Observatorio Astronómico, Paseo del Bosque, B1900FWA La Plata, Argentina
5
Facultad de Ciencias Astronómicas y Geofísicas, Universidad Nacional de La Plata, Observatorio Astronómico, Paseo del Bosque, B1900FWA La Plata, Argentina
6
Consejo Nacional de Investigaciones Científicas y Técnicas (CONICET), Godoy Cruz 2290, C1425FQB CABA, Argentina
7
Observatorio Astronómico, Universidad Nacional de Córdoba, Laprida 854, X5000BGR Córdoba, Argentina
8
Instituto de Astronomía Teórica y Experimental (IATE), CONICET-Universidad Nacional de Córdoba, Córdoba, Argentina
*
Author to whom correspondence should be addressed.
Received: 26 July 2019 / Accepted: 18 September 2019 / Published: 21 September 2019
Abstract
:
One possible and natural derivation from the collisionless cold dark matter (CDM) standard cosmological framework is the assumption of the existence of interactions between dark matter (DM) and photons or neutrinos. Such a possible interacting dark matter (IDM) model would imply a suppression of small-scale structures due to a large collisional damping effect, even though the weakly-interacting massive particle (WIMP) can still be the DM candidate. Because of this, IDM models can help alleviate alleged tensions between standard CDM predictions and observations at small mass scales. In this work, we investigate the properties of the DM halo substructure or subhalos formed in a high-resolution cosmological N-body simulation specifically run within these alternative models. We also run its CDM counterpart, which allowed us to compare subhalo properties in both cosmologies. We show that, in the lower mass range covered by our simulation runs, both subhalo concentrations and abundances are systematically lower in IDM compared to the CDM scenario. Yet, as in CDM, we find that median IDM subhalo concentration values increase towards the innermost regions of their hosts for the same mass subhalos. Similarly to CDM, we find IDM subhalos to be more concentrated than field halos of the same mass. Our work has a direct application to studies aimed at the indirect detection of DM where subhalos are expected to boost the DM signal of their host halos significantly. From our results, we conclude that the role of the halo substructure in DM searches will be less important in interacting scenarios than in CDM, but is nevertheless far from being negligible.
Keywords:
dark matter halos; subhalos; indirect dark matter searches; cosmological model
2. Interacting Dark Matter
In our effective theory of IDM, the interactions between DM and photons (or alternatively neutrinos) result in additional terms in the equations governing the evolution of the cosmic components (see, e.g., [
52
]),
where is the gravitational potential, is the conformal Hubble rate, is the baryon sound speed, and , , and are the density, velocity divergence, and anisotropic stress potential, respectively, associated with the baryon (b), photon (), and DM fluid. For the electromagnetic interactions (EM) in the SM, the first two equations include terms with the Thomson scattering rate , where
c
is the speed of light and the density of free electrons (the scale factor
a
appears since the derivative is taken with respect to conformal time). The ratio of the baryon to photon density, , is a pre-factor to ensure momentum conservation. and are the new interactions terms that have to be added to include interactions between DM and the cosmic photon background with as the scaling of the counter term in the momentum, and is the dark matter energy density. Analogous to the EM interaction,
depends on the new interaction rate . Here, is the elastic scattering cross-section between DM and photons, while is the DM number density. For the DM–neutrino interactions, similar modifications can be added. In [
38
], an implementation of these modified Euler equations for the
CLASS
Boltzmann solver was presented. We are using this work to calculate the linear evolution of the Universe up to the point (in this work, at redshift ) where we switch to simulations to also cover the full non-linear evolution and resulting structure formation accurately (for more details, see also [
51
]).
3. Simulations
For this work, we calculated the non-linear evolution of the matter distribution using a suite of cosmological DM-only simulations. This includes both simulations of single-resolution periodic volumes of 100 Mpc, as well as zoom-in simulations, which focus on representative sub-volumes to improve the maximum resolution for a subset of the obtained DM structure samples.
We performed these simulations with the parallel tree-particle mesh
N
-body code,
P-Gadget3
[
53
], for both a standard, collision-less CDM and a CDM model with a cross-section . This value is (roughly) the upper bound obtained in previous works from satellite number counts of Milky-Way-sized halos [
34
,
51
]. In [
54
], a more conservative constraint was claimed using measurements of the ionization history of the Universe at several redshifts, results from N-body simulations, and recent estimates of the number of Milky Way satellite galaxies. However, the approach implemented can generate large uncertainties since the presence of low-mass subhalos in galactic halos, which simulations cannot resolve, and extrapolations are necessary to obtain the results. Note that whereas larger cross-sections would erase most of the observed substructure, smaller cross-sections would imply results in between CDM and IDM. The simulations begin at a redshift of (the DM–radiation interaction rate is negligible at all times afterwards). For the initial conditions, we used the same cosmology (WMAP7), random phases, and second-order Lagrangian perturbation theory (2LPT) method [
55
] as the
APOSTLE
project [
56
] and our previous studies of the impact of IDM on galactic substructures [
51
]. After having performed the full-volume run for both standard CDM and CDM with a particle mass and a comoving softening length , we identified the DM structures within using the
Rockstar
halo finder [
57
]. All halo properties were determined for spherically-overdense regions with a density of 200-times the critical density of the Universe at present, . With these results, a cubic sub-volume was chosen at with a side length of 14 Mpc/h that reproduces the overall halo mass function on the mass scales covered by it. A -wide margin was added, and the resulting volume traced back to the initial redshift. We checked that the sub-volume thus constructed was still convex in these Lagrangian coordinates. This ensured that the progenitors of the structures within the targeted region evolved well within the high-resolution region, when the resulting volume was re-run using a zooming technique [
58
] with and in the targeted region.
Throughout this work, we use the term
Box
to refer to the full-volume simulation (100 Mpc) at for each cosmology. The zoom re-simulations model four Local Groups (
LGs
). We filtered the results to pick only those halos that were well within the higher resolution region, namely inside a ∼2.1-Mpc/h radius at . This was done in order to avoid boundary affects, such has halos that consist partly of higher-mass particles, which are ignored here. The total number of halos and subhalos found in both Box and LGs simulations is given in
Table 1
, together with the most relevant parameters of these simulations.
4. Results
As mentioned, IDM exhibits a linear matter spectrum different from the one of CDM [
28
,
35
,
36
,
37
,
38
,
39
,
40
]. The IDM matter power spectrum features a cut-off around a smooth scale of ∼100 kpc for the cross-section that we are considering in this work (). Therefore, a suppression of the number of halos below the scale of those hosting dwarf galaxies was expected (i.e., for halo masses below ∼). In addition, such a linear matter power spectrum impacts the structural halo properties, such as shape, spin, density profile, and halo concentrations [
34
,
50
,
51
]. In this section, we show the results we found for halo and subhalo concentrations in our simulations, as well as subhalo abundances.
4.2. Subhalo Concentrations
5. Summary and Discussion
Author Contributions
Conceptualization, Á.M.; Data curation, Á.M., J.A.S., A.A.-S. and S.A.C.; Formal analysis, Á.M.; Funding acquisition, M.A.S.-C. and S.A.C.; Investigation, Á.M., J.A.S., A.A.-S. and M.G.A.; Methodology, Á.M. and M.A.S.-C.; Project administration, Á.M.; Resources, J.A.S.; Software, J.A.S.; Supervision, Á.M. and M.A.S.-C.; Validation, Á.M.; Writing—original draft, Á.M.; Writing—review & editing, J.A.S., M.A.S.-C. and M.G.A.
Funding
A.M., A.A.-S., and M.A.S.-C. are supported by the
Atracción de Talento
Contract No. 2016-T1/TIC-1542 granted by the Comunidad de Madrid in Spain. They also acknowledge the support of the Spanish Agencia Estatal de Investigación through the grants PGC2018-095161-B-I00, IFT Centro de Excelencia Severo Ochoa SEV-2016-0597, and Red Consolider MultiDark FPA2017-90566-REDC. A.M. also thanks the Institute of Astrophysics and Space Sciences of Portugal, where part of this work was done and the partial support of the RAICES Argentinian program. We made use of the DiRACData Centric system at Durham University, operated by the ICC on behalf of the STFCDiRAC HPC Facility (
www.dirac.ac.uk
). This equipment was funded by BIS National E-infrastructure Capital Grant ST/K00042X/1, STFCCapital Grant ST/H008519/1, STFC DiRAC Operations Grant ST/K003267/1, and Durham University. DiRAC is part of the National E-Infrastructure. Furthermore, numerical computations were also done on the Sciama High Performance Compute (HPC) cluster, which is supported by the ICG, SEPNet, and the University of Portsmouth. SAC acknowledges funding from Consejo Nacional de Investigaciones Científicas y Técnicas (CONICET, PIP-0387), Agencia Nacional de Promoción Científica y Tecnológica (ANPCyT, PICT-2013-0317), and Universidad Nacional de La Plata (G11-124; G11-150), Argentina.
Conflicts of Interest
The authors declare no conflict of interest. The funders had no role in the design of the study; in the collection, analyses, or interpretation of data; in the writing of the manuscript, or in the decision to publish the results.
| | |
| --- | --- |
| 1. | Which are not affected by tidal forces. |
| 2. | |
Figure 1. Median halo concentrations and errors as found in our set of simulations, Box (blue) and LGs (red), at . (a) Left panel: median values as a function of . (b) Right panel: as a function of . In both panels, the circle symbols refer to the IDM simulations, whereas the triangles to CDM.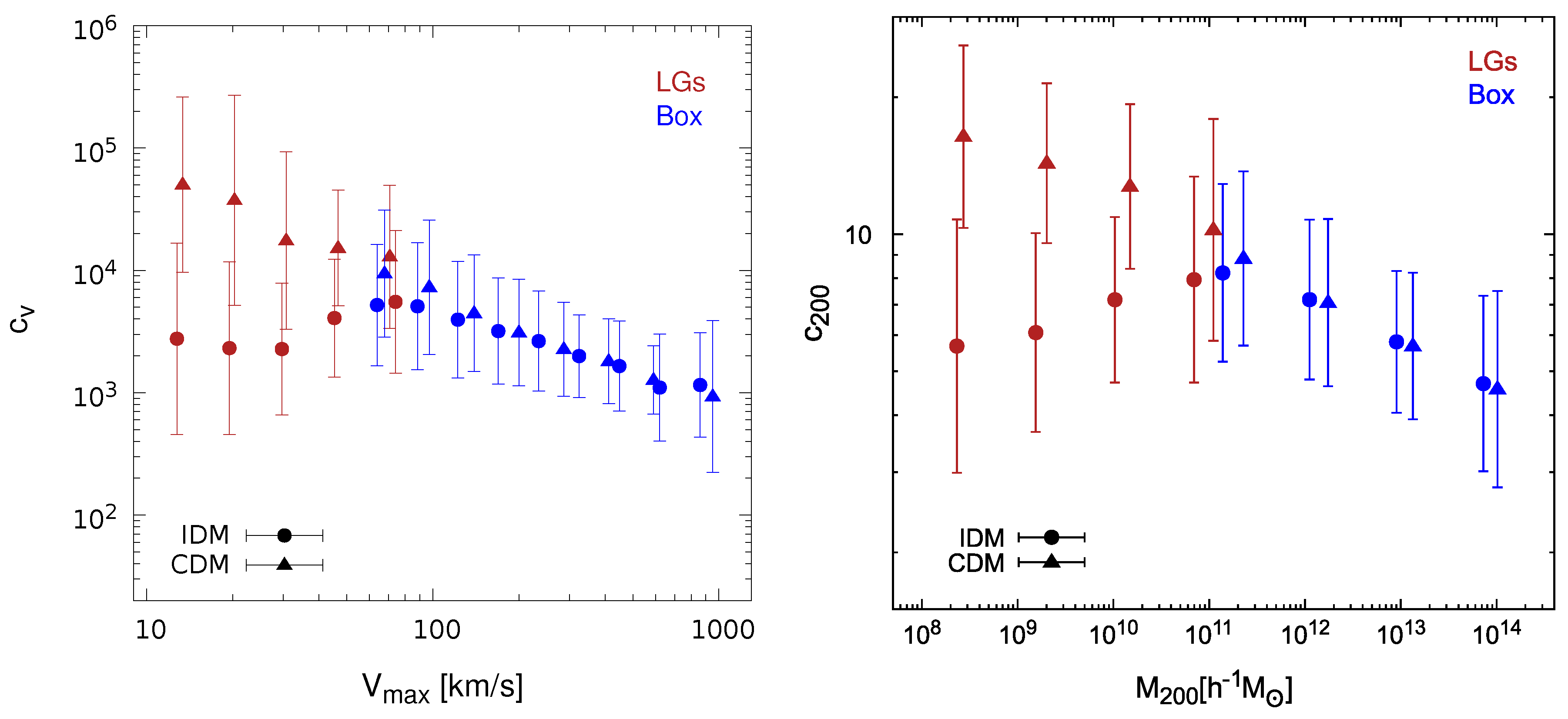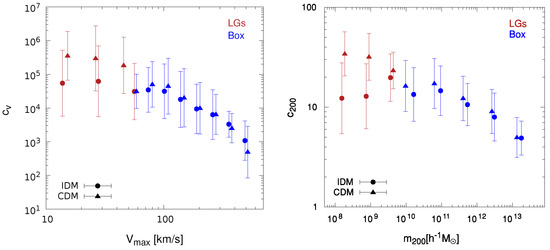 Figure 2.
Median subhalo concentrations and errors as found in our set of simulations, Box (blue) and LGs (red), at . The circle symbols represent the results from the IDM simulations, whereas the triangle symbols correspond to the CDM results. (
a
) Left panel: the median as a function of . (
b
) Right panel: as a function of as obtained using Equations (
6
) and (
7
) for every subhalo in the simulations.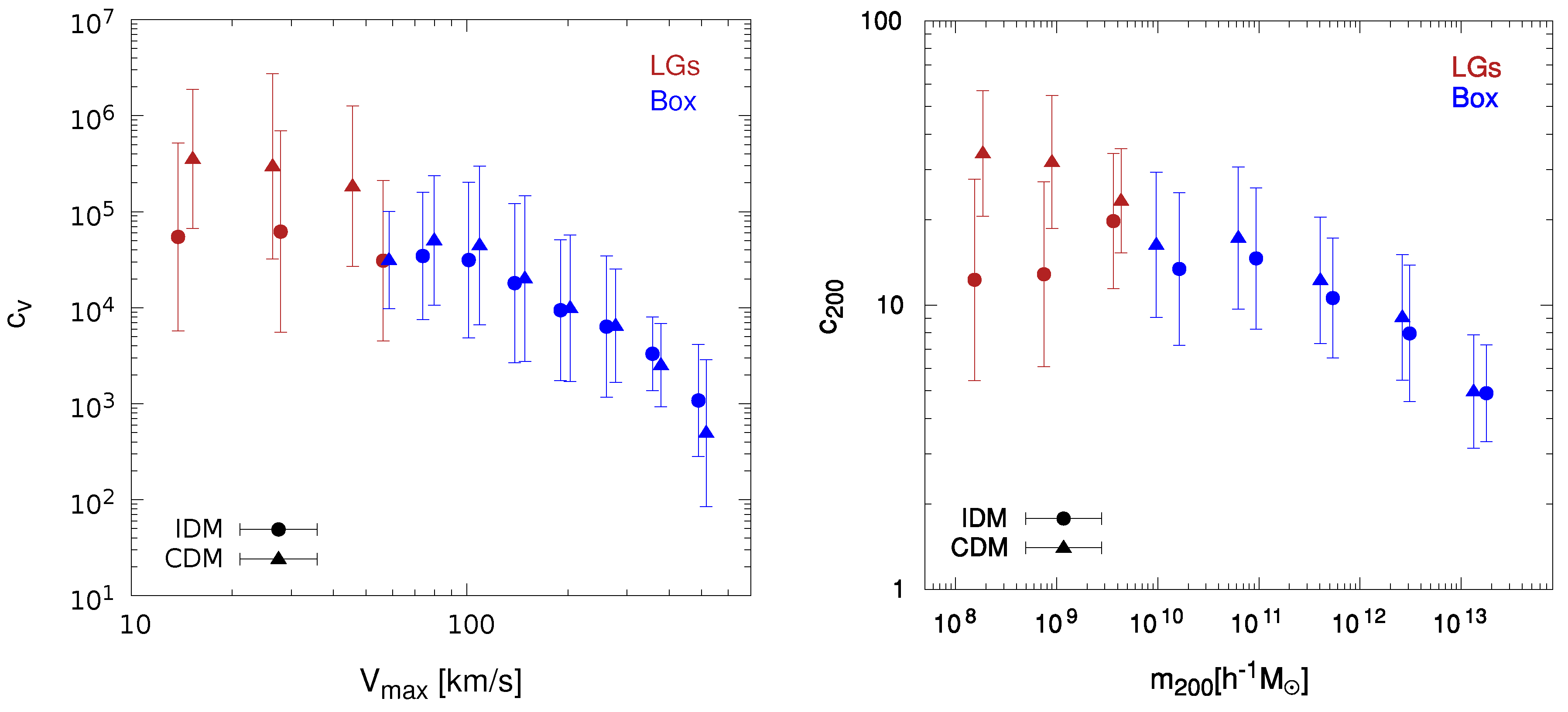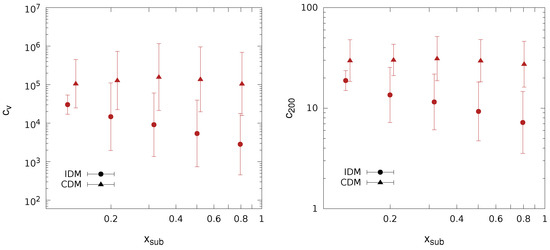 Figure 3. Median subhalo concentrations and errors as a function of , i.e., the distance to the centre of the host halo normalized to . We show results for (left) and (right) as derived from our set of LG simulations.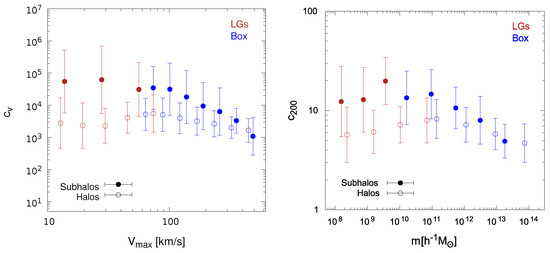 Figure 4. Left panel: Median halo (open circles) and subhalo (filled circles) concentration values and corresponding errors, as a function of , as found in our set of simulations for interacting dark matter (IDM) at : Box (blue) and LGs (red). Right panel: the same, but for as a function of .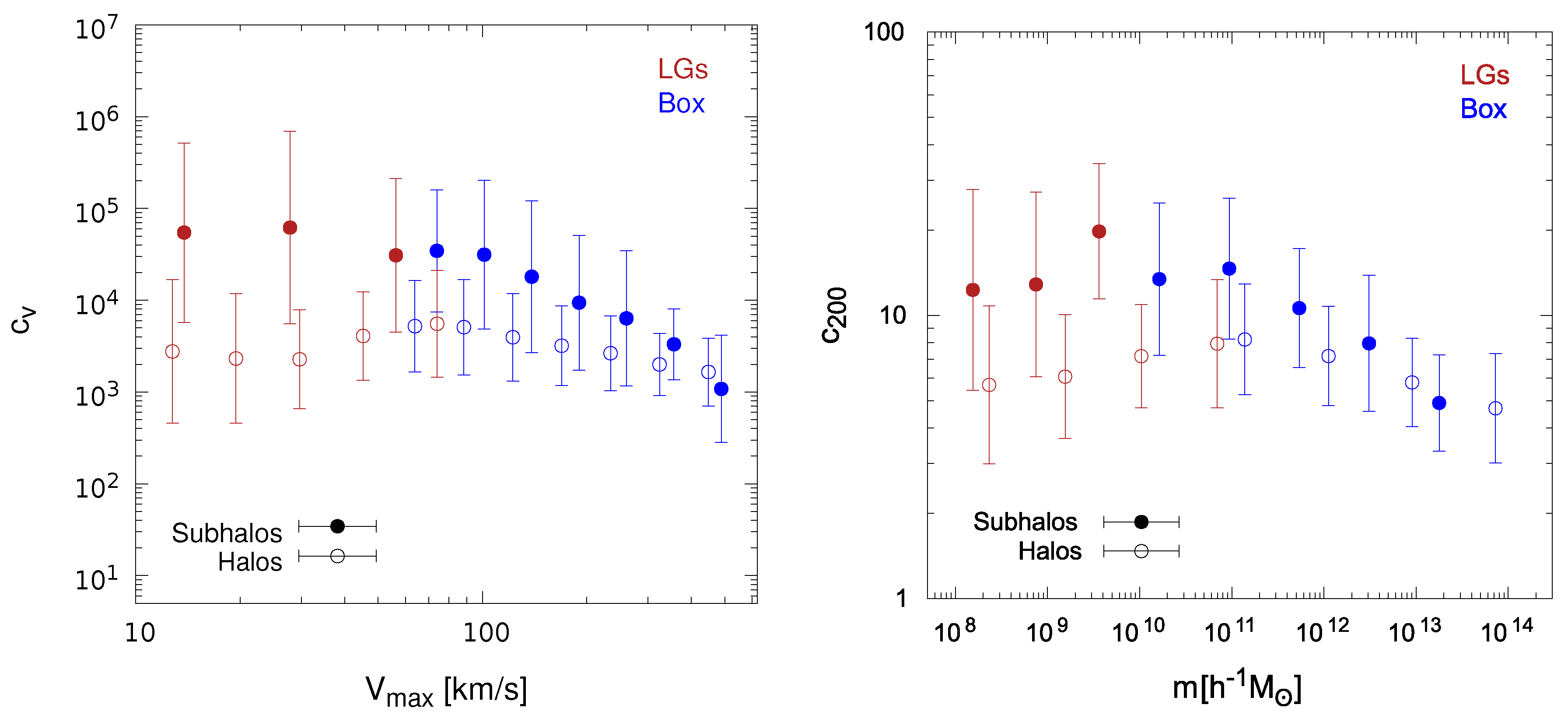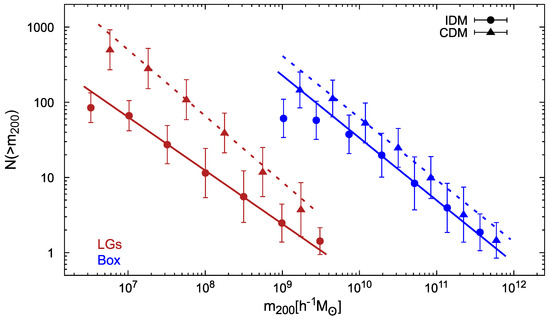 Figure 5.
Cumulative number of subhalos, , as a function of subhalo mass, , in the case of IDM (circle symbols) and CDM (triangles) as obtained from Box (blue) and LG (red) simulations at . We also show the corresponding fits using Equation (
8
) with the best-fit parameters reported in
Table 2
(solid coloured lines).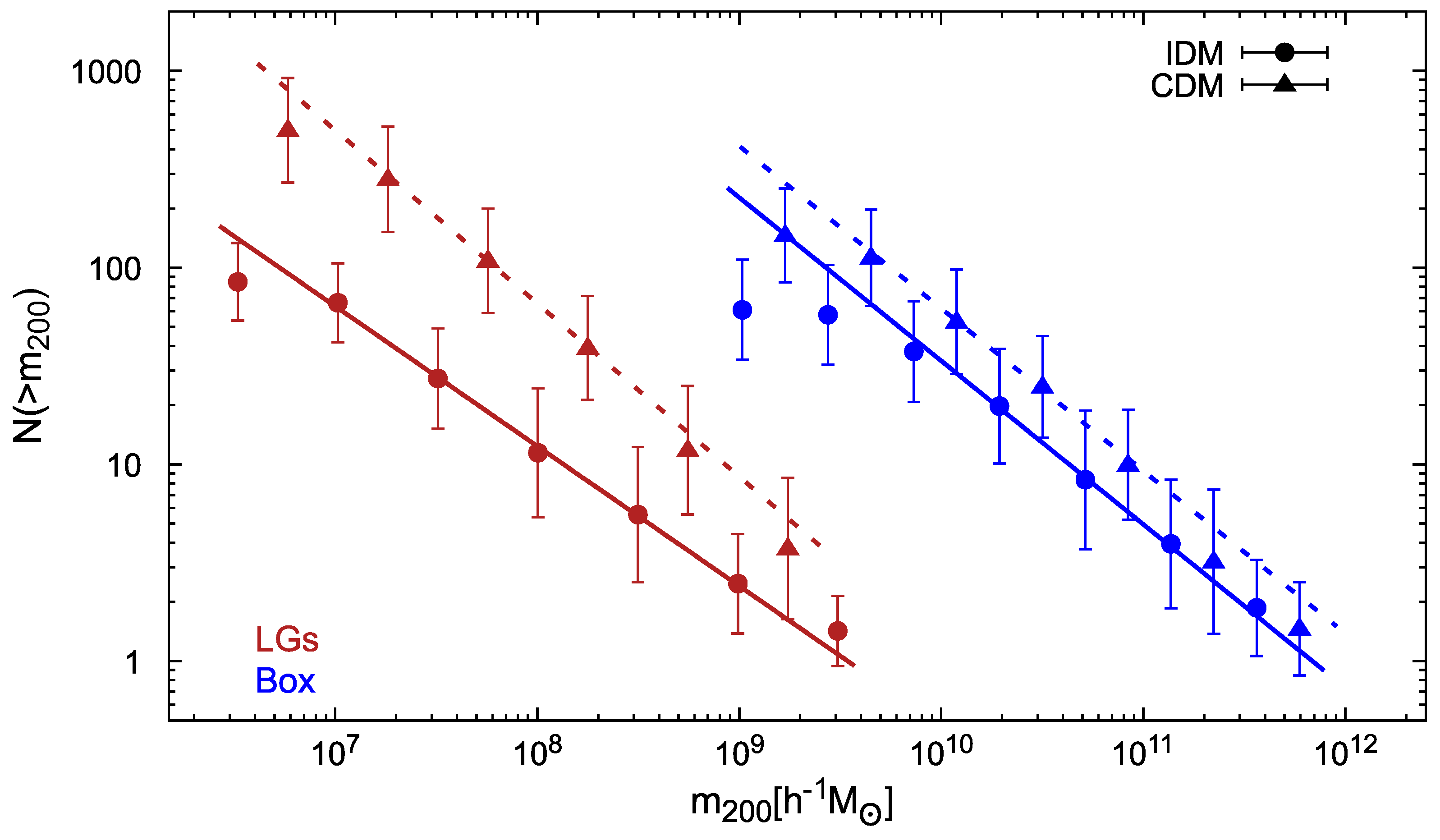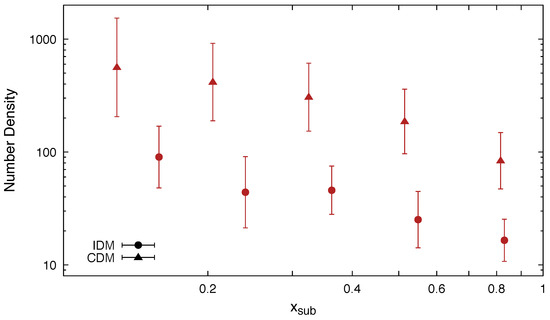 Figure 6. Number density of subhalos as a function of distance to the host halo centre, . We show results for both IDM (circle symbols) and CDM (triangles). Both cases refer to the LG simulation set; see the text for details.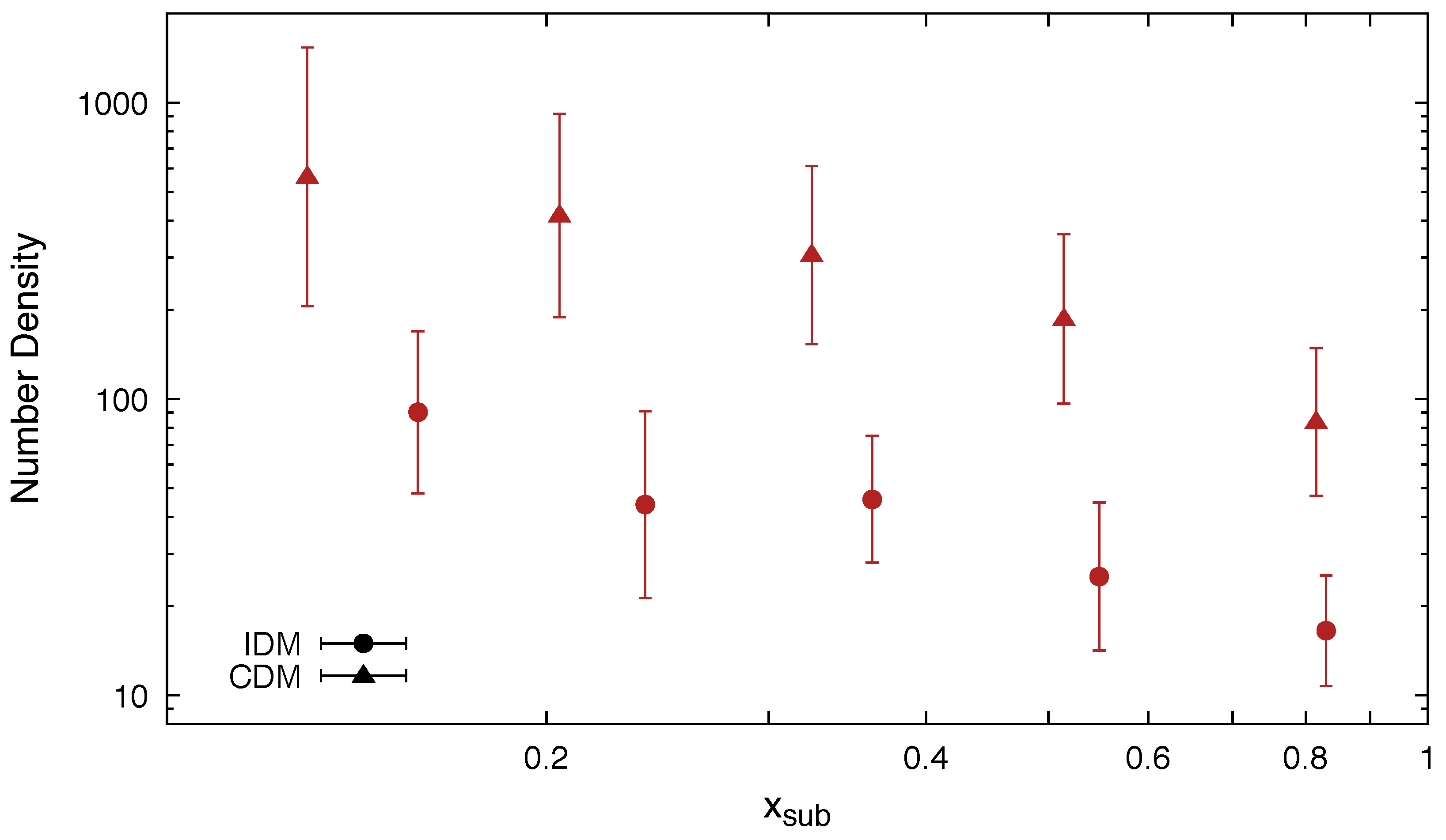 Table 1.
Most relevant parameters of Box and Local Groups (
LGs
) simulations, together with their corresponding halo and subhalo abundances. Columns 2–4 indicate the box size , the particle mass , and the comoving softening length . The rest of columns provide the total number of subhalos and halos for each cosmological model. We remind that there are 4 LGs in each case.
| | | | | | | | |
| --- | --- | --- | --- | --- | --- | --- | --- |
| Box | 100 Mpc | | | 17,481 | 27,973 | 125,704 | 197,208 |
| LGs | 15 Mpc/h | | | 1606 | 11,092 | 10,513 | 40,874 |

Table 2.
Best-fit parameters and values for the cumulative subhalo mass function given in Equation (
8
) according to our data. We show results for both IDM and CDM as obtained from our LG and Box simulations.
| | | | | | | |
| --- | --- | --- | --- | --- | --- | --- |
| IDM | | 6.04 | 0.27 | | 6.74 | 0.068 |
| CDM | | 7.22 | | | 1.10 | 0.36 |

© 2019 by the authors. Licensee MDPI, Basel, Switzerland. This article is an open access article distributed under the terms and conditions of the Creative Commons Attribution (CC BY) license (http://creativecommons.org/licenses/by/4.0/).