Open Access This article is
freely available
re-usable
Article
Relativistic Aspects of Accreting Supermassive Black Hole Binaries in Their Natural Habitat: A Review
Institute for Theoretical Physics, Johann Wolfgang Goethe-Universität Max-von-Laue-Str. 1, 60438 Frankfurt am Main, Germany
Received: 4 December 2018 / Accepted: 24 May 2019 / Published: 31 May 2019
Abstract
:
In this review a summary is given on recent theoretical work, on understanding accreting supermassive black hole binaries in the gravitational wave (GW)-driven regime. A particular focus is given to theoretical predictions of properties of disks and jets in these systems during the gravitational wave driven phase. Since a previous review by Schnittman 2013, which focussed on Newtonian aspects of the problem, various relativistic aspects have been studied. In this review we provide an update on these relativistic aspects. Further, a perspective is given on recent observational developments that have seen a surge in the number of proposed supermassive black hole binary candidates. The prospect of bringing theoretical and observational efforts closer together makes this an exciting field of research for years to come.
Keywords:
GRMHD; numerical relativity; relativistic astrophysics; jets; high energy astrophysics
1. Introduction
The study of supermassive black hole binary evolution is an old research field dating back at least as far as 1980 [
1
,
2
] where key physical processes operating on a diverse range of length scales were identified. In this pioneering work it was readily realized that following a galaxy merger event, the two black holes assumed at the centers of each progenitor galaxy would slowly sink towards the center of the common gravitational potential via a combination of dynamical friction and more generally through N-body interactions with the stellar population. While the arguments draw a rather clear picture free from major ambiguities at large separations, the behavior nearing scale separations and lower would later prove to be much more involved.
2. Results
A previous review article [
50
] focussed on Newtonian aspects of accreting black hole binaries. Since then several studies were conducted that have taken into account relativistic aspects of gravity. These findings have advanced our understanding of the role of accreting black hole binaries as electromagnetic counterparts to gravitational wave sources. Therefore an update to [
50
] is in order.
Initially, relativistic studies of black hole binaries in gaseous environments did not include magnetic fields due to numerical/technical issues arising from highly magnetized regions near the black hole event horizons, which is inherently more difficult to handle in the dynamic spacetime case compared to a time-independent spacetime like a Kerr black hole. The potential for electromagnetic (EM) counterparts to a strong GW source based on purely hydrodynamic studies [
51
,
52
,
53
,
54
] were underestimated due to the neglect of magnetic fields [
55
,
56
,
57
,
58
]. In the end, the role of binary tidal torques on driving accretion was overestimated. Instead, effective viscosity due to turbulent motion driven by the magneto-rotational instability [
59
,
60
] by far dominates angular momentum transport. This can most clearly be seen in the side-by-side comparison of a pure hydrodynamic and a magnetized model with the same code and grid setup, see Figure 6 in [
57
]. In fact, there were already strong indications for this in an earlier Newtonian study [
61
]. Now with magnetic field dynamics and relativistic gravity included, it is becoming ever more clear that accretion rates onto black hole binaries can be of the same magnitude as is known in single black hole systems, albeit with a different, certainly non-axisymmetric structure composed of two dense accretion streams. The parameter space describing an accreting binary black hole system is naturally higher dimensional and hence more computationally expensive to explore than the single black hole case.
First explorations in mass ratio [
57
,
58
], different separations [
62
] and disk height dependence [
63
] have led to an enhanced understanding of these systems.
3. Discussion/Conclusions
Funding
This work is supported in part by the ERC synergy grant "BlackHoleCam: Imaging the Event Horizon of Black Holes" (Grant No. 610058).
Conflicts of Interest
The author declares no conflict of interest.
1.

We have normalized to a separation of as was used in studies with full general relativistic magnetohydrodynamics (GRMHD). This value is only slightly smaller than the decoupling radius in Equation (

5

). After all, these time scales only give crude estimates and due to the steep scaling of with

a

the resulting inspiral time scales can seem prohibitively large.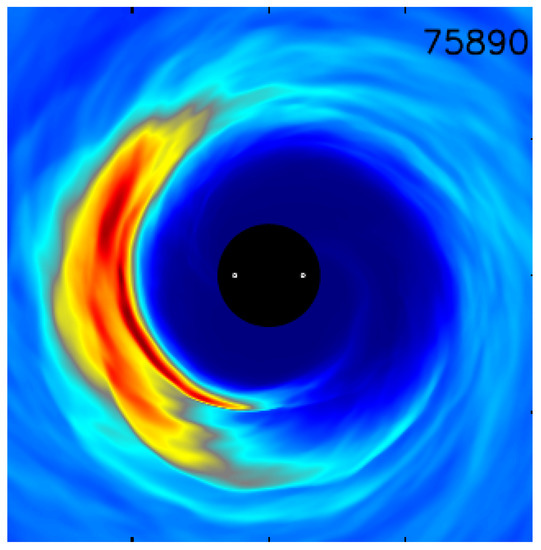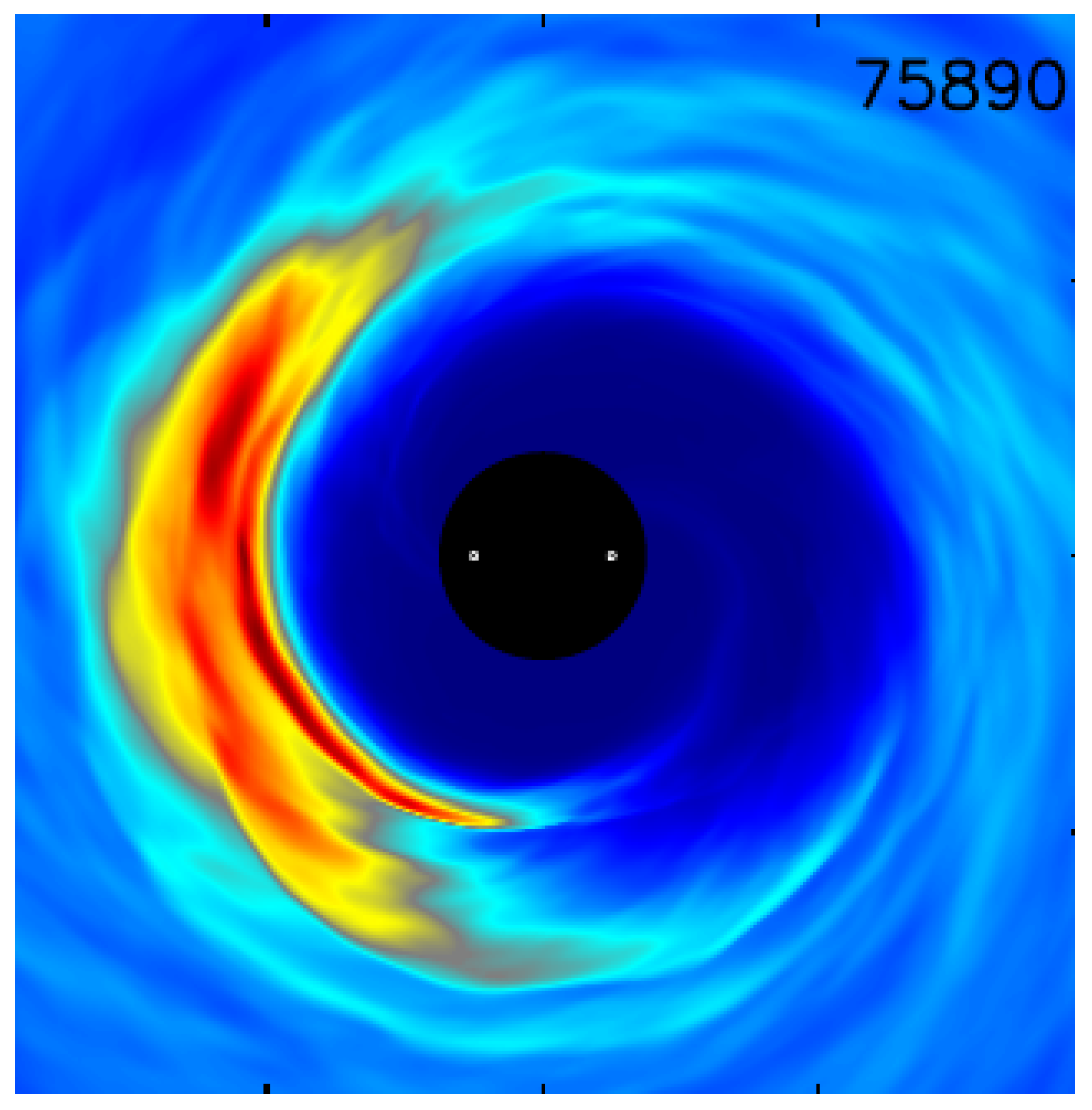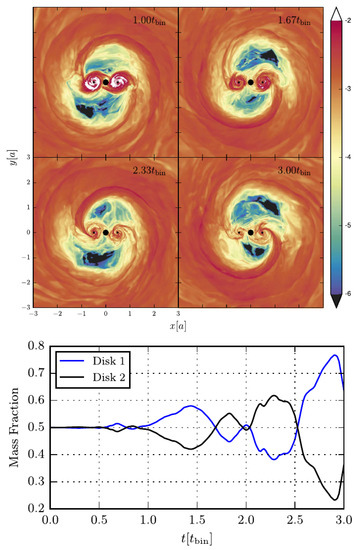 Figure 2.
Rest-mass density (linear color scale) from a GRMHD simulation in a spacetime framework similar to [
69
,
72
] (
upper panel
) and individual disk masses as a function of orbital phase (
lower panel
). One can clearly see in the lower panel, that mass is sloshing back and forth between the two mini disks. This effect is shown to persist over longer time scales in the follow-up work [
70
].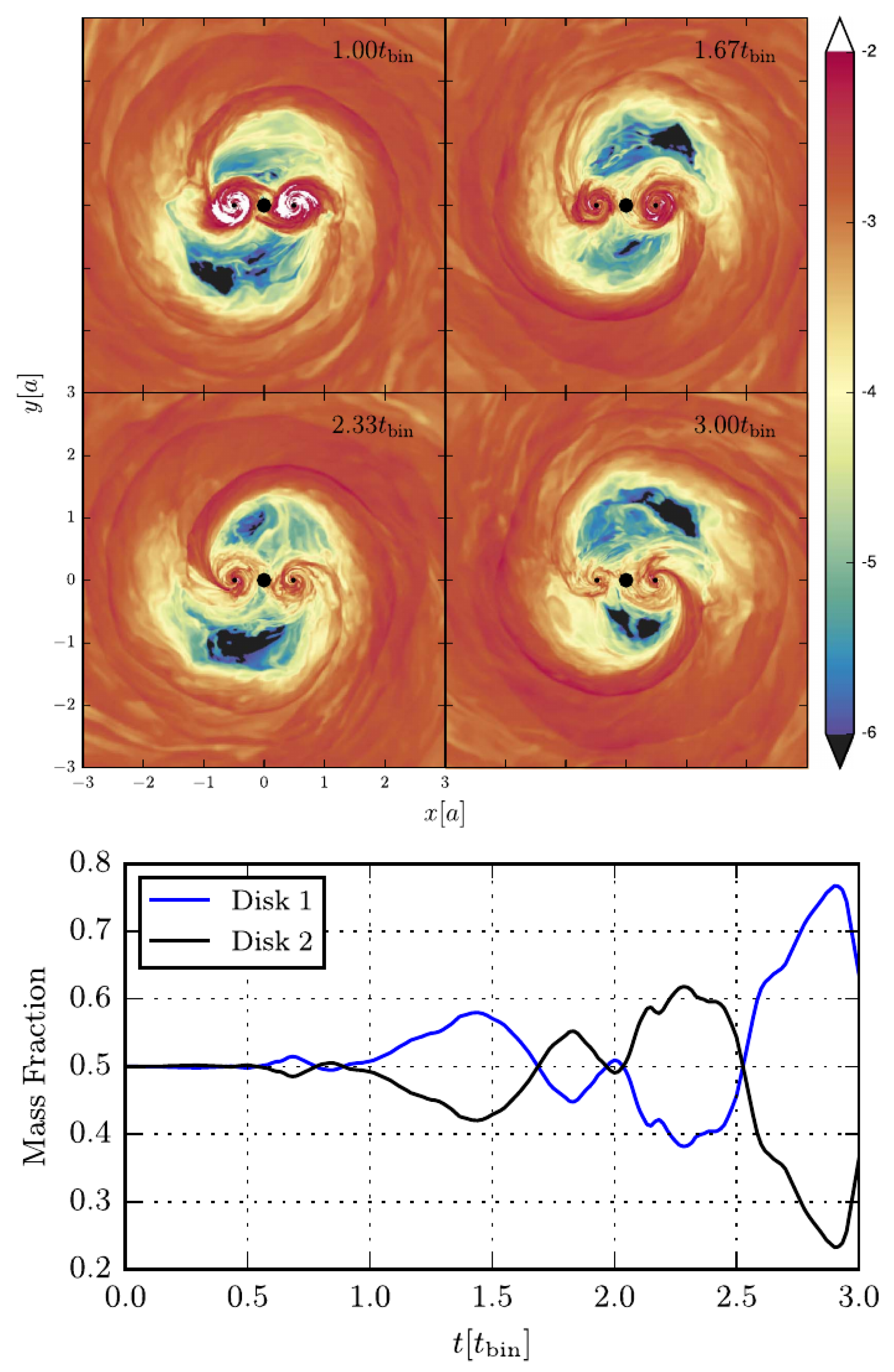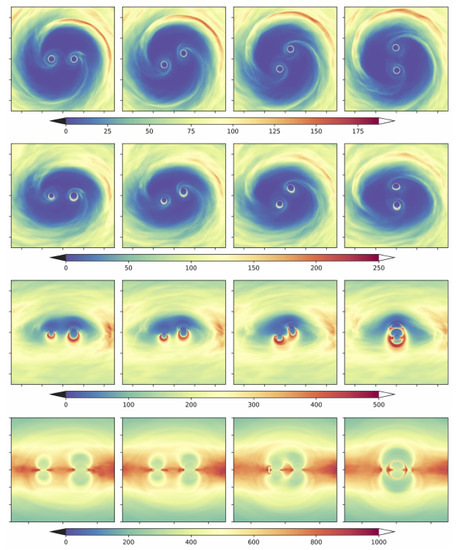 Figure 3.
Images of optical depth obtained by properly tracing light rays through the spacetime for different times (columns) from circumbinary accretion around supermassive black holes from [
74
] for inclination angles 0, 39, 71, 90 (from top to bottom row). Strong lensing effects introducing complicated image distortions are clearly visible.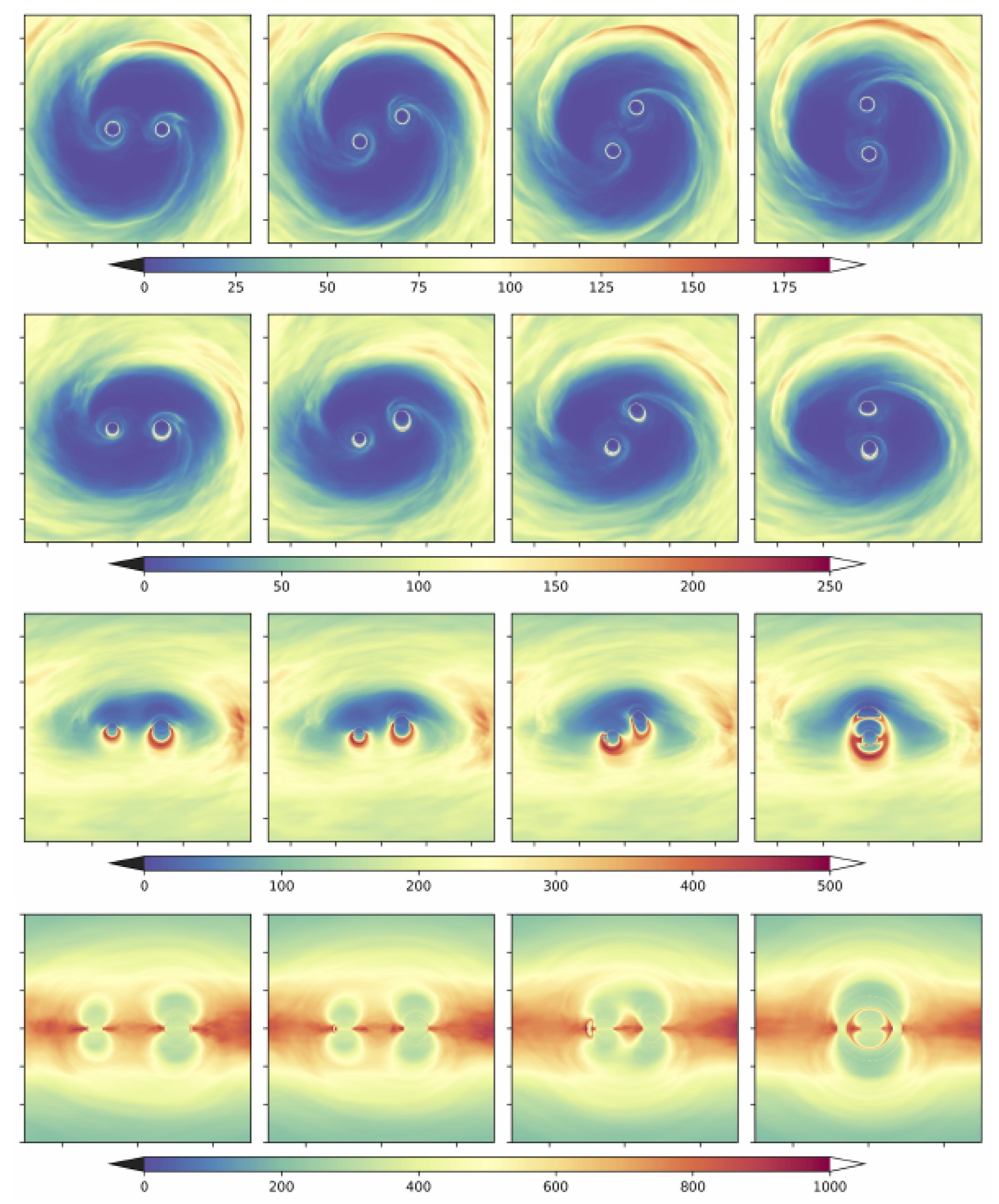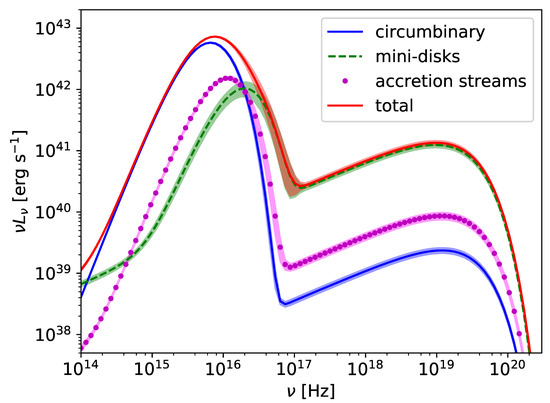 Figure 4.
Different components from the various disks present in the system of [
74
] contributing to the spectrum. Mini disks reveal their emission at higher energies whereas emission from the circumbinary disk at larger radii contributes more at lower frequency. Emission from the accretion streams falls in the middle of these two regimes and based on this analysis may be difficult to distinguish from the other contributions.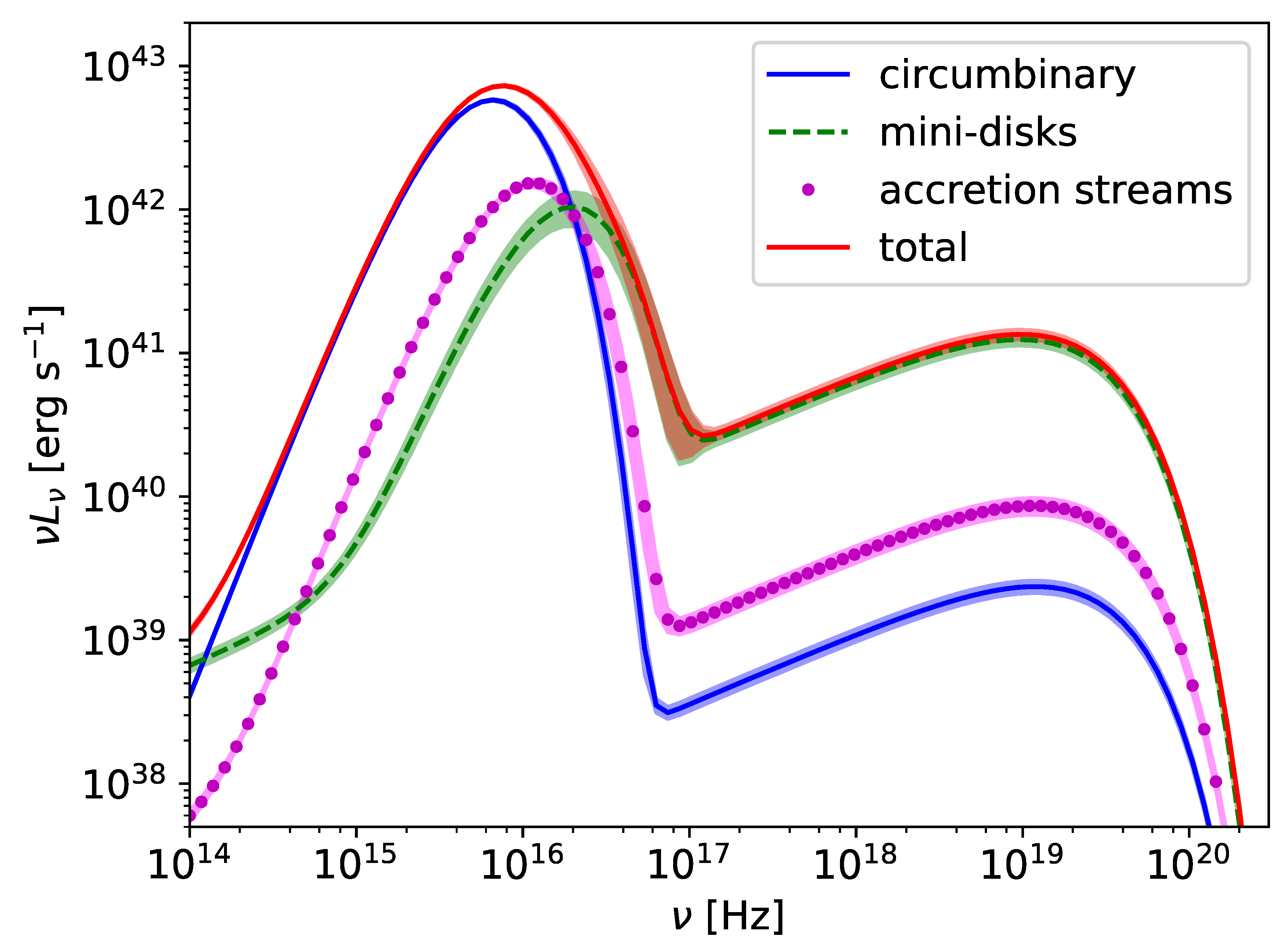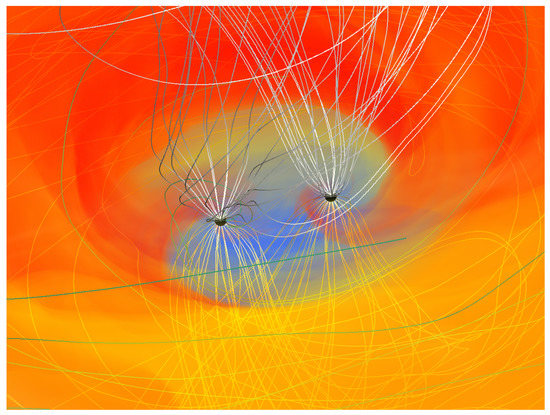 Figure 5.
Rest-mass density (color scale) and magnetic field structure (white lines) of a fully relativistic GRMHD simulation in dynamical spacetime from [
58
].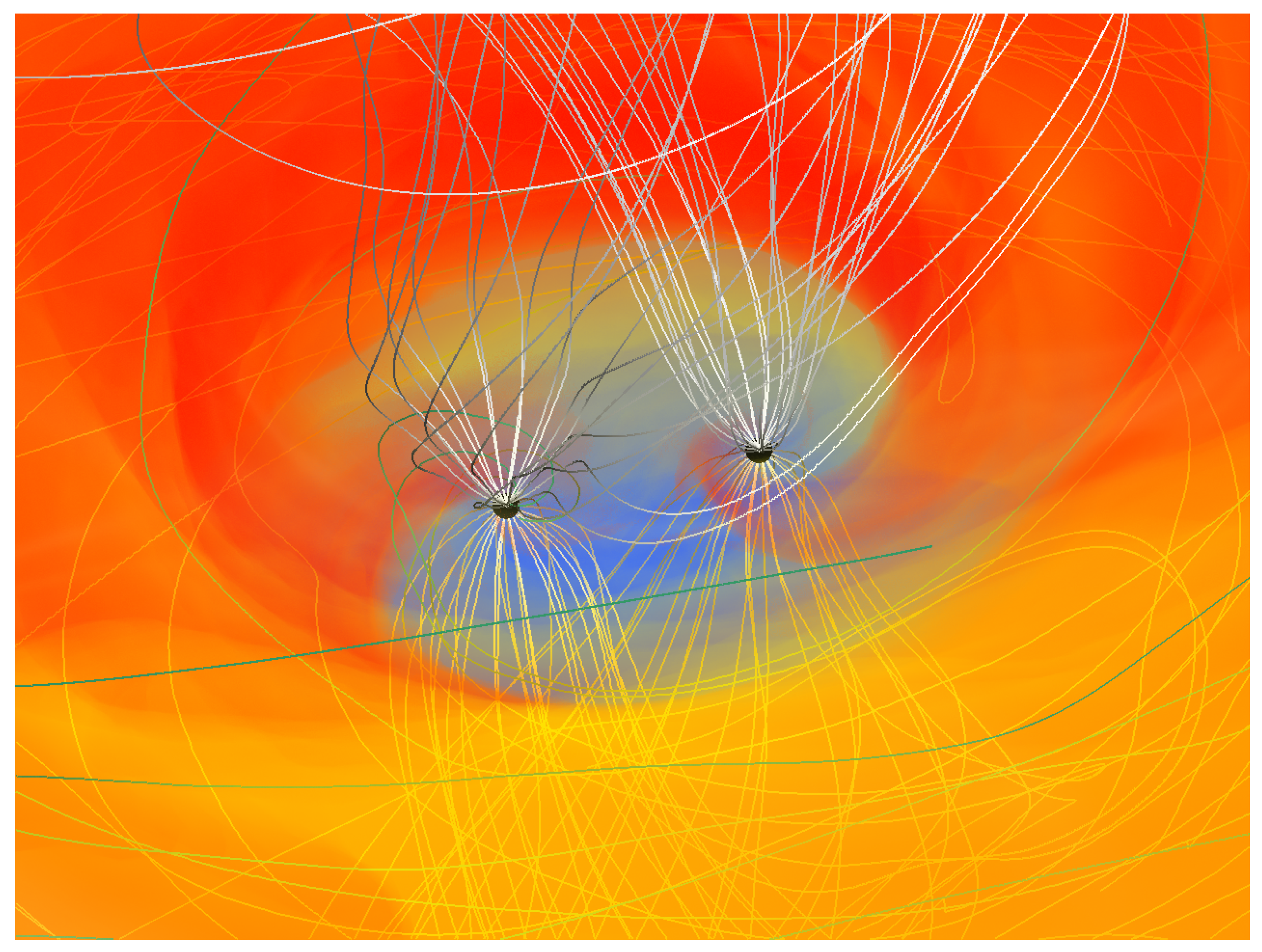 © 2019 by the author. Licensee MDPI, Basel, Switzerland. This article is an open access article distributed under the terms and conditions of the Creative Commons Attribution (CC BY) license (http://creativecommons.org/licenses/by/4.0/).