Halo Concentrations and the Fundamental Plane of Galaxy Clusters
1
Department of Earth and Space Science, Graduate School of Science, Osaka University, Toyonaka, Osaka 560-0043, Japan
2
Physics and Astronomy Department, Michigan State University, East Lansing, MI 48824, USA
3
INAF, Osservatorio di Astrofisica e Scienza dello Spazio, via Pietro Gobetti 93/3, 40129 Bologna, Italy
4
INFN, Sezione di Bologna, viale Berti Pichat 6/2, I-40127 Bologna, Italy
5
Institute of Astronomy and Astrophysics, Academia Sinica, P.O. Box 23-141, Taipei 10617, Taiwan
6
INAF, Osservatorio Astronomico di Trieste, via Tiepolo 11, I-34131 Trieste, Italy
7
Department of Astrophysical Sciences, 4 Ivy Lane, Princeton, NJ 08544, USA
8
Department of Physical Science, Hiroshima University, 1-3-1 Kagamiyama, Higashi-Hiroshima, Hiroshima 739-8526, Japan
9
Space Telescope Science Institute, 3700 San Martin Drive, Baltimore, MD 21208, USA
*
Author to whom correspondence should be addressed.
Received: 25 October 2018 / Revised: 3 December 2018 / Accepted: 21 December 2018 / Published: 2 January 2019
Full-Text
|
PDF
[2036 KB, uploaded 3 January 2019]
|
|

Review Reports
Abstract
According to the standard cold dark matter (CDM) cosmology, the structure of dark halos including those of galaxy clusters reflects their mass accretion history. Older clusters tend to be more concentrated than younger clusters. Their structure, represented by the characteristic radius
and mass
of the Navarro–Frenk–White (NFW) density profile, is related to their formation time. In this study, we showed that
,
, and the X-ray temperature of the intracluster medium (ICM),
, form a thin plane in the space of
. This tight correlation indicates that the ICM temperature is also determined by the formation time of individual clusters. Numerical simulations showed that clusters move along the fundamental plane as they evolve. The plane and the cluster evolution within the plane could be explained by a similarity solution of structure formation of the universe. The angle of the plane shows that clusters have not achieved "virial equilibrium" in the sense that mass/size growth and pressure at the boundaries cannot be ignored. The distribution of clusters on the plane was related to the intrinsic scatter in the halo concentration–mass relation, which originated from the variety of cluster ages. The well-known mass–temperature relation of clusters (
) can be explained by the fundamental plane and the mass dependence of the halo concentration without the assumption of virial equilibrium. The fundamental plane could also be used for calibration of cluster masses.
View Full-Text
►

▼

Figures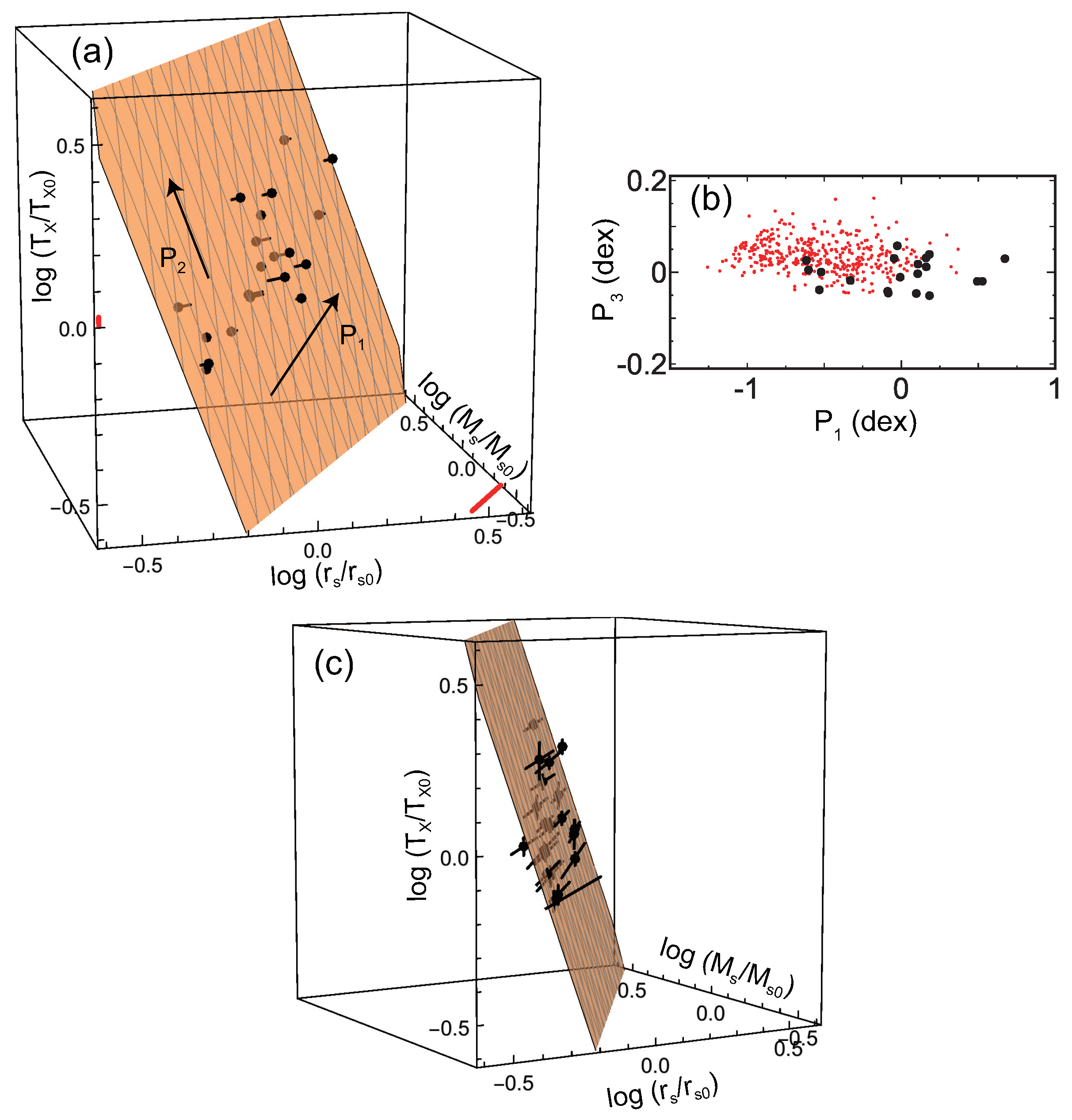 Figure 1
This is an open access article distributed under the
Creative Commons Attribution License
which permits unrestricted use, distribution, and reproduction in any medium, provided the original work is properly cited (CC BY 4.0).

Share & Cite This Article
MDPI and ACS Style
Fujita, Y.; Donahue, M.; Ettori, S.; Umetsu, K.; Rasia, E.; Meneghetti, M.; Medezinski, E.; Okabe, N.; Postman, M. Halo Concentrations and the Fundamental Plane of Galaxy Clusters. Galaxies 2019, 7, 8.
Note that from the first issue of 2016, MDPI journals use article numbers instead of page numbers. See further details here.
Related Articles
Comments
[Return to top]