Open Access This article is
freely available
re-usable
Article
Magnetic Fields Around Galactic Discs
1
School of Mathematics, University of Manchester, Manchester M13 9PL, UK
2
Department of Physics, Moscow State University, Moscow 119991, Russia
3
IZMIRAN, Kaluzhsjoe Chausse, 4, Troitsk, Moscow 108840, Russia
†
These authors contributed equally to this work.

Received: 25 January 2019 / Accepted: 27 February 2019 / Published: 7 March 2019
Abstract
:
Magnetic fields in the discs of spiral galaxies are quite well understood, although, of course, many details still require investigation and future observations with new generations of radio telescopes will be valuable here. Magnetic configurations around galactic discs and, in particular, the magnetic field components perpendicular to galactic discs seem to be much more poorly understood and deserve further investigation both observationally and by modelling. Another problem to be addressed in future investigations is the magnetic configuration in galactic halos and, in particular, interactions with the intergalactic medium and various winds. Finally, the importance of the observational determination of such drivers of galactic dynamo action as mirror asymmetry of the turbulent galactic flows are briefly discussed.
Keywords:
magnetic fields; galactic dynamo; galactic halos
1. Introduction
The topic of magnetic configurations around galactic discs seems to be much more poorly understood and deserves further investigation, both observationally and by modelling. Here, we present our vision of some specific problems.
Conventional models for galactic dynamos have concentrated their efforts on magnetic field components parallel to the galactic equatorial plane. The governing equations have often been formulated to give results that are presented in terms of integral quantities calculated perpendicular to galactic discs. This is what is found directly from observations.
2. The Magnetic Field Perpendicular to the Galactic Disc
In all these models solenoidality of the dynamo excited magnetic field is provided by the form of the mean-field dynamo equations, being conserved by the numerical and analytical methods of solution. There are now a number of large-scale numerical simulations (DNS) for parts of, or even entire, galaxies, although computational limitations mean that they have not been as fully explored as the computationally much simpler mean-field models. It seems that mean-field models, maybe with some calibration from selected DNS, are likely to remain important in making wider surveys of parameter space and rapid testing of new ideas.
Observational verification of the true magnetic field symmetry of galactic discs and halos is an important goal. The point here is that traditional narrow-bandwidth radio polarisation observations of magnetic fields in discs of external face-on galaxies give integral quantities taken in the direction perpendicular to the galactic plane and it is not easy to separate the two types of symmetry based on such data. Observations of edge-on galaxies are suitable mainly for understanding magnetic field configurations in galactic halos. However, if the resolution is high enough these can be used to test the symmetry of the disc field (even or odd) as well.
3. A Note on Some Recent Papers
4. Magnetic Fields in Galactic Halos
Of course, this device is only an auxiliary step and a more or less consistent mean-field description for a dynamo in a multiphase medium is very desirable. Even a formulation of basic approaches to the point would be highly welcome for the understanding of magnetic field generation in galactic halos. We note that the problem is important for magnetic field generation in the disc as well.
5. Effects of Galactic Motion Through the Intergalactic Medium and Dynamo Action
Galaxies move through the intergalactic medium and this motion can affect gas in galaxies, galactic hydrodynamics and galactic magnetic fields. It is natural to expect that the effects are more pronounced in galaxies belonging to clusters. In particular, clear cases of the interaction between a galactic wind and the intra-cluster medium in the galaxy NGC 4388 are presented in [
40
]. This problem has attracted some attention (e.g., [
41
,
42
]).
The problem of the interaction of galactic magnetic fields with the intra-cluster medium is to some extent similar to the classical problem of interaction between the Earth's magnetic field and the solar wind, which leads to the development of the Earth's magnetosphere. Understandably, modelling of galactic magnetospheres is not directly analogous to modelling the Earth's magnetosphere. One point to be discussed here is that magnetic fields in galactic discs are assumed to have quadrupolar symmetry while the Earth's magnetic field is dipolar. General properties of magnetospheres of celestial bodies with quadrupolar magnetic fields still need to be understood, and the problem can be important for some stars where magnetic fields with quadrupolar symmetry are expected from stellar dynamo studies (e.g., [
43
]).
The main novelty of the problem is however that the motion of galaxies through the intra-cluster medium can affect the galactic interstellar medium. In contrast, the solar wind can hardly affect the motions in the liquid outer part of the Earth's core where the geodynamo is active. As a result, when modelling the Earth's magnetosphere, the Earth's magnetic field can be considered as prescribed. The same assumption has been made in the simplest models of galactic magnetospheres. In fact, the external flows associated with galactic motion through the intra-cluster medium can penetrate to the interior of galaxies and so affect internal dynamo action. As a result, instead of prescribing the magnetic field, it is better to consider dynamo generated galactic magnetic fields where the dynamo governing parameters are affected by the galactic motion through an external medium. A pilot research in this direction presented in [
44
] demonstrates that the effects of such a system can be quite pronounced and rather unexpected (an example of such an unexpected magnetic configuration is given in
Figure 1
). In particular, galactic tails can be substantially asymmetric with respect to the galactic motion. The point needs modelling of more realistic and complicated cases but looks both interesting and promising.
6. Quantifying Dynamo Drivers
The galactic mean-field dynamo is based on the joint action of two drivers, i.e., differential rotation and mirror asymmetry of interstellar turbulence. If we know anything for certain about spiral galactic hydrodynamics, it is galactic rotation curves, i.e., differential rotation. The situation with other drivers represented in the mean-field equations, such as the -effect, is dramatically different. The degree of mirror asymmetry as quantified by helicity is a quantity that is quite difficult to determine by laboratory measurements, and of course even more so from astronomical observations. The point is that a direct measurement of the helicity of the vortex lines, known as hydrodynamic helicity, requires measurement of three velocity components as well as their derivatives. The traditional tool for making velocity measurements in astronomy is the Doppler effect, which gives the line-of-sight velocity component only. This is a more general problem which arises in comparing the results of dynamo modelling with observations for various celestial bodies.
At the moment, solar astronomy has had the most success towards solving this problem. This has been achieved as follows. The starting point is that there are two factors that contribute to the mirror asymmetry of magnetised flows, i.e., the velocity field represented by hydrodynamic helicity and the mirror asymmetry of the magnetic field, represented by magnetic line linkage, i.e., magnetic helicity, or a related quantity known as current helicity. The determination of magnetic field mirror asymmetry also requires knowledge of three magnetic field components. The solar magnetic field can be measured by the Zeeman effect, which can give all three magnetic field components. Seehafer [
45
] recognised that current helicity is the most accessible quantity for observational determination and suggested that this should be the first milestone, even if it is not the most attractive from a theoretical viewpoint. The suggestion has been generally accepted. Observational interpretation can be found in, e.g., [
46
]. Later methods for the observational identification of magnetic helicity [
47
], hydrodynamic helicity [
48
] and even their joint contribution to the -effect [
49
,
50
] have been suggested. There are many remaining problems, however the direction of development is clear.
Similar developments in the field of galactic dynamo studies provide an obvious challenge for observers as well as for theoreticians. An important point is that galaxies are more or less transparent and it is possible to perform observations within the region of dynamo action, while solar observations are only possible at the solar surface and in the solar atmosphere, while the solar dynamo acts within the solar interior.
An obvious obstacle here is that the main tool to observe galactic magnetic fields is Faraday rotation. This gives the line of sight magnetic field component only. The degree of polarisation for radio continuum depends however on all three magnetic field components. This dependency provides the possibility of looking for various correlations in quantities that are associated with the degree of polarisation and are sensitive to mirror asymmetry. A correlation of this type is suggested in [
51
,
52
]. In 2018, West (see [
53
]) reported observational identification of such an effect in Milky Way observations. Bearing in mind the wisdom that even a ten thousand li journey begins with the first step, we hope that it is a first step on this promising yet difficult road.
In principle, it should be possible to estimate helicity from large-scale numerical simulations. However, existing attempts using box model (e.g., [
54
]) have been rather inconclusive, and there are many uncertainties in the models.
7. Conclusions
We have presented our view of how we might develop our understanding of the nature of magnetic fields in spiral galaxies. Of course, traditional statements of the problems still contain many points that deserve further clarification. The point however is that new interesting and important problems continue to appear. We hope that the younger generation of radioastronomers and MHD modellers will address the problems summarised above.
Author Contributions
The text was jointly written by the authors. However, the numerical results cited belong mainly to D.M. while discussion of observational ideas as well as analytical results can be mainly attributed to D.S.
Funding
D.S. is grateful to RFBF for financial support under grant 18-02-00085.
Acknowledgments
We are grateful to R.Beck and M.Krause for useful discussions.
Conflicts of Interest
The authors declare no conflict of interest.
1.

Indeed, and in axisymmetric disc dynamo models gives a physically infeasible situation, see

Section 3

.

2.

The problem is relevant for stellar dynamos as well (e.g., [

21

]).

3.

For historical reasons, we also mention here [

27

].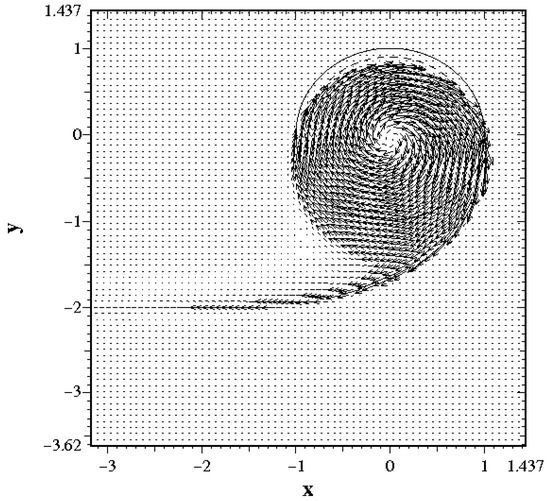 Figure 1.
An example of a rather unexpected magnetic configuration produced by dynamo action (axisymmetric within the circle , which is shown) and a streaming velocity in the negative
x
-direction. This figure appeared in [
44
] where more examples can be found. The figure is reproduced by permission of A&A.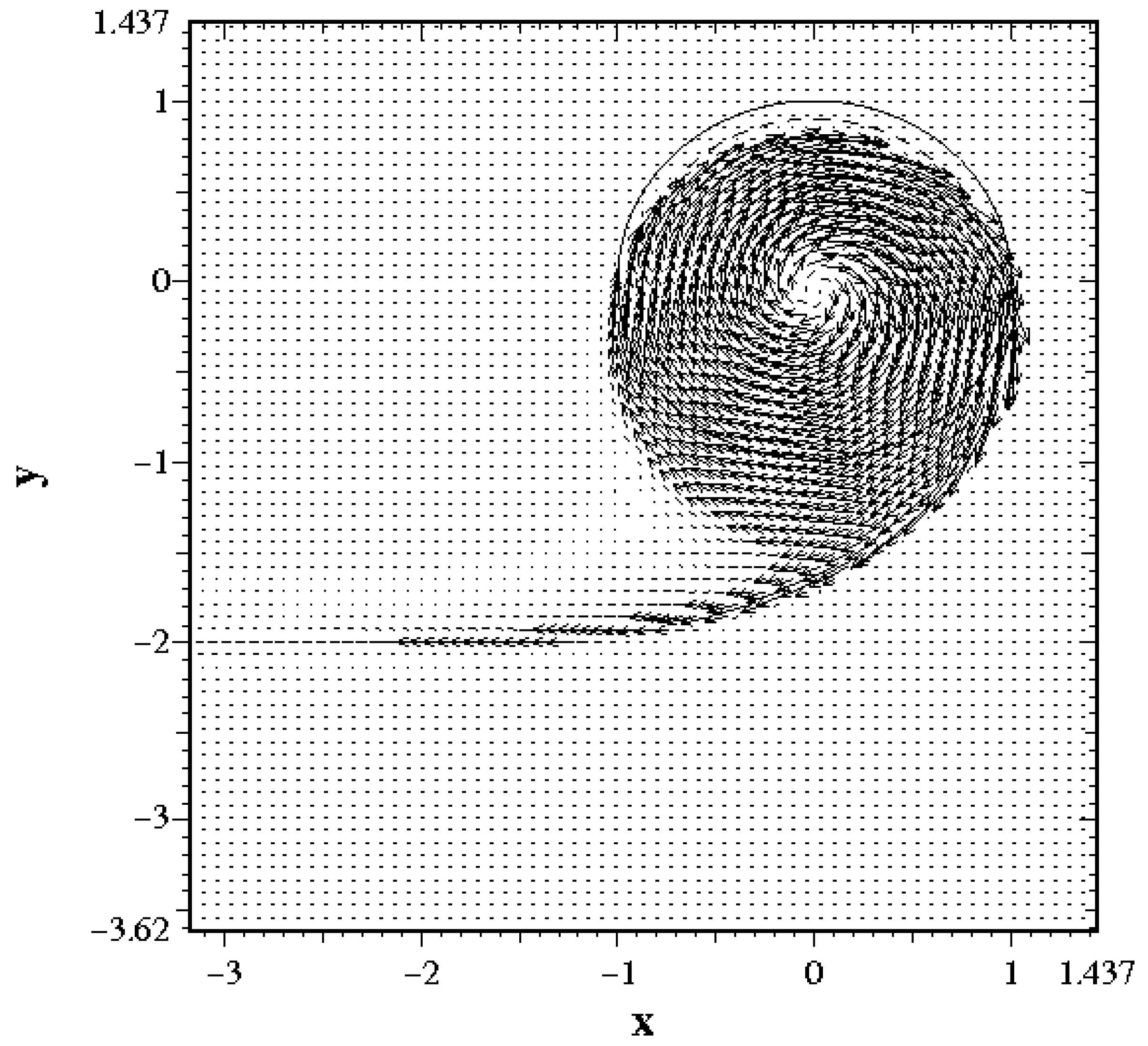 © 2019 by the authors. Licensee MDPI, Basel, Switzerland. This article is an open access article distributed under the terms and conditions of the Creative Commons Attribution (CC BY) license (http://creativecommons.org/licenses/by/4.0/).