Open Access This article is
freely available
re-usable
Article
The University of Michigan Centimeter-Band All Stokes Blazar Monitoring Program: Single-Dish Polarimetry as a Probe of Parsec-Scale Magnetic Fields
Department of Astronomy, University of Michigan, Ann Arbor, MI 48109-1107, USA
*
Author to whom correspondence should be addressed.
Received: 7 September 2017 / Accepted: 8 November 2017 / Published: 13 November 2017
Abstract
:
The University of Michigan 26-m paraboloid was dedicated to obtaining linear polarization and total flux density observations of blazars from the mid-1960s until June 2012, providing an unprecedented record tracking centimeter-band variability over decades at 14.5, 8.0, and 4.8 GHz for both targeted objects and members of flux-limited samples. In the mid-1970s through the mid-1980s, and during the last decade of the program, observations were additionally obtained of circular polarization for a small sample of radio-bright (S > 5 Jy), active sources. Key program results include evidence supporting class-dependent differences in the magnetic field geometry of BL Lac and QSO jets, identification of linear polarization changes temporally associated with flux outbursts supporting a shock-in-jet scenario, and determination of the spectral evolution of the Stokes V amplitude and polarity for testing proposed models. Recent radiative transfer modeling during large flares supports a jet scenario with a kinetically-dominated, relativistic flow at parsec scales with embedded turbulent magnetic fields and dynamically-weak ordered components which may be helical; the circular polarization observations are consistent with linear-to-circular mode conversion within this turbulent jet environment.
Keywords:
blazars; linear polarization; centimeter-band; magnetic fields
Acknowledgments
This work was funded, in part, by a series of grants from the NSF (most recently AST-0607523) and by a series of Fermi G.I. awards from NASA (NNX09AU16G, NNX10AP16G, NNX11AO13G, and NNX13AP18G). Funds for operation of UMRAO were provided by the University of Michigan. M.A. received travel support from RadioNet. RadioNet has received funding from the European Union's Horizon 2020 research and innovation program under grant agreement No. 730562.
Author Contributions
Hugh D. Aller and Margo F. Aller obtained, reduced, and analyzed the observations. Philip A. Hughes led the radiative transfer modeling program and developed the computer codes used to simulate the light curves. All participated in the analysis of the data described here.
Conflicts of Interest
The authors declare no conflict of interest.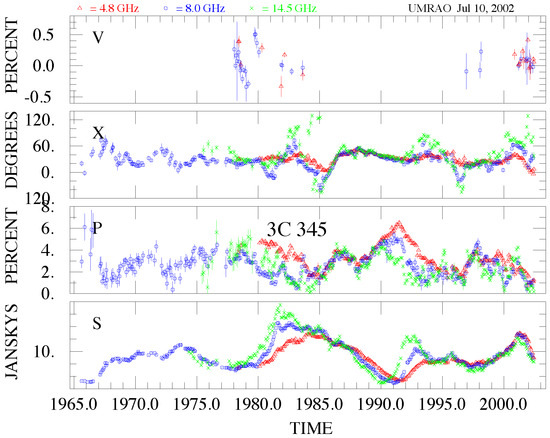 Figure 1. From bottom to top: Long-term total flux density (S), fractional linear polarization (P%), electric vector position angle (EVPA or ), and fractional circular polarization (V%) for the quasar 3C 345. The three centimeter-band frequencies are symbol and color coded as denoted at the top left. Polarity changes in V occurred at both 4.8 and 8.0 GHz in 1978–1984 contemporaneous with a large self-absorbed outburst in total flux density.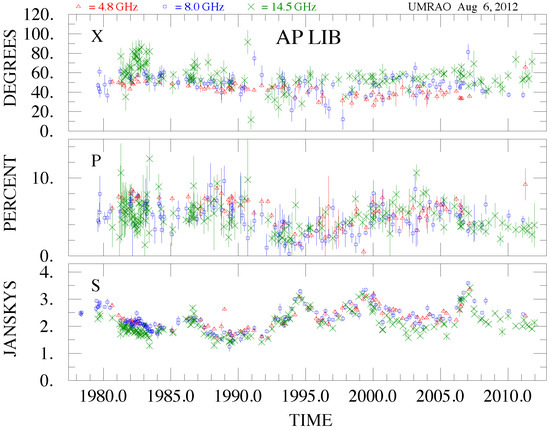 Figure 2.
From bottom to top: Long-term total flux density (S), fractional linear polarization (P%), and EVPA for AP Librae. Two-week-averaged data are shown. No rotation measure was determined for this source in [
10
]: the fractional polarization was weak (0.7%) during the MOJAVE epoch analyzed, 28 April 2006.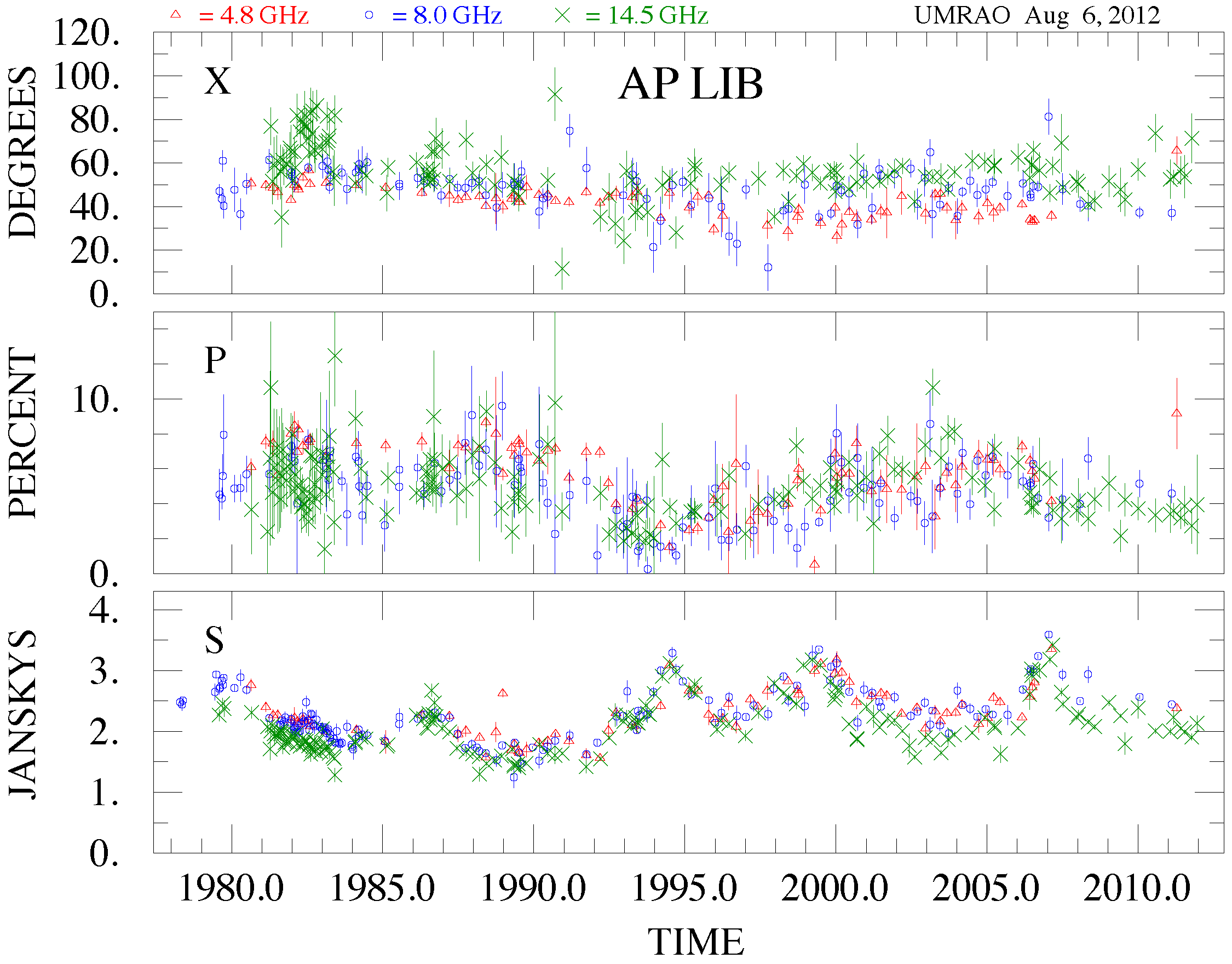 Figure 3. Example of EVPA rotations in the quasar 0420-014 (Left) and in the BL Lac object OJ 287 (Right). Due to n ambiguities in the EVPA determination, the range is restricted to 180° in these plots.


Figure 4. (Left): bottom to top: Long-term 2-week averaged Stokes parameters for the radio galaxy 3C 84 showing polarity changes at 4.8 GHz during the late-1970s through the early-1980s. Note the change in amplitude of V at 14.5 GHz associated with the commencement of new flaring circa 2008. (Right): total flux density, fractional linear polarization, EVPA and fractional circular polarization for 3C 279 illustrating polarity reversals which are most evident at 4.8 GHz.

| Property | Optical Band | Radio Band |
| --- | --- | --- |
| Timescale | A week to a few months | A few years |
| Range of EVPA | >90° to 720° | A few hundred degrees |
| P% during Rotation | Mean P% < P% during non-event | P% over a range (see Figure 3) |
| No. cells/regions | Many | A few VLBI-scale components |
| Emission Site | Shock/moving disturbance in helical jet | Disturbance in turbulent kinetic or MHD jet |
| Emission Location | Upstream of the 43 GHz core | Parsec-scale jet |

© 2017 by the authors. Licensee MDPI, Basel, Switzerland. This article is an open access article distributed under the terms and conditions of the Creative Commons Attribution (CC BY) license (http://creativecommons.org/licenses/by/4.0/).